As we enter the final stretch of 2018, we've rounded up 10 things you need to experience in Portugal. From rooftop cocktails to river cruises here are the country's most unmissable travel experiences. And yes, here is still warm and sunny, just a hint.
Rush and book now, from half-day tours and experiences to "your imagination is the limit", ask us how and say goodbye to 2018 vacations with the perfect experience and the perfect mood.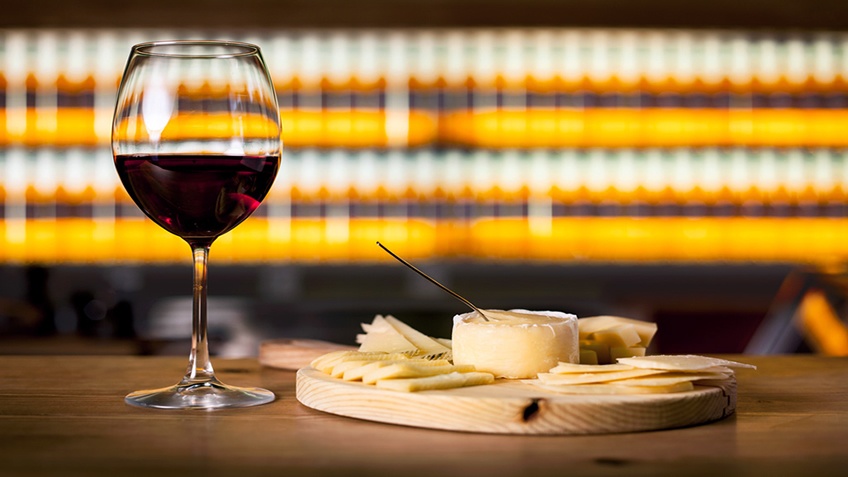 Port Wine Masterclass at Taylor's
Established over three centuries ago in 1692, Taylor's is one of the oldest of the founding port houses and it is dedicated entirely to the production of Port wine. Opened throughout the year, they have been recently renovated to incorporate a modern museum circuit.
The visitor is given the opportunity to choose from a range of port tastings including a choice of different Tawny or Vintage Ports, accompanied with classic pairings such as roasted almonds, cheese, and chocolate.
The visitor has also the option to take a masterclass led by in-house wine professionals where they'll learn about vintage or tawny port. A private tour of the famous lodges is also included, with a visit to the staggering wine cellar, piled to the ceiling with huge barrels, followed by a wine tasting.
◈ Extra tip
If you're having trouble deciding which wine cellars to visit and in what order, our Port Wine Cellars Tour may be your answer. The wine cellars are located within walking distance from each and the entire tour is done on foot, which is a great opportunity to explore this less-known part of the city. With this pre-planned tour, you'll get the best of both worlds: everything is taken care of for you and you'll get to try some great wine, while enjoying the freedom of traveling unguided.
Port Wine feat Fado Performance at Calém
Caves Calém are one of the many cellars that have established their headquarters on the city's south bank, with spectacular views of Porto's historic city centre and the iconic two-tier bridge that connects both cities. However, Calém is entirely unique among their peers as they are the only ones offering a Fado concert aside from their regular tours and Port tastings.
Fado - which means literally "destiny" or "fate" - is Portugal's traditional folk music. The genre took root two centuries ago in working-class neighborhoods in Lisbon and was recently added to UNESCO's Intangible Cultural Heritage.
Also, Caves Calém have been recently renovated to incorporate a modern museum circuit that includes an array of digital platforms which tell the story of the brand and Port, including a Douro Valley 3D Map, aroma sampling table, a logo evolution timeline, among many other things. There's also a 5D movie theater where you can enjoy a short film on Port wine with all the perks of virtual reality technology.
Sunset Cocktail at Espaço Porto Cruz
On the opposite river bank from Porto - in the suburb of Gaia - is the contemporary looking DeCastro Gaia. Located on the third floor of Espaço Porto Cruz, this riverfront restaurant led by talented Chef Miguel Castro e Silva matches ports and wines with local staples rooted in traditional Portuguese flavors.Try the Brás Style Codfish or the Pork Cheek cooked in Red Wine and Cumin and have a Port Wine Cocktail on the rooftop with all-around views across the Douro to the old city.
This contemporary project was created with Port wine in mind, as a place where visitors can explore all things related to the production and culture of this famous wine, taking advantage of their multimedia resources. While there, you can also sample different kinds of wine paired with chocolate and cheese.
◈ Extra tip
The most difficult thing when visiting a new place is often knowing what to do first. This Culture and Wine Tour with a River Cruise gives you that starting point. Once you submit your booking request, we'll put together an itinerary for you with all the visits scheduled for your selected date. You'll kick start the day at the city's beautiful downtown on a private walking tour, followed by lunch and visit to one of the city's famous wine cellars. You'll close your day with a 1-hour cruise along the city banks, which allows for an entirely different perspective of the city and the beautiful colorful houses along the river margins all the way to the city's beachfront.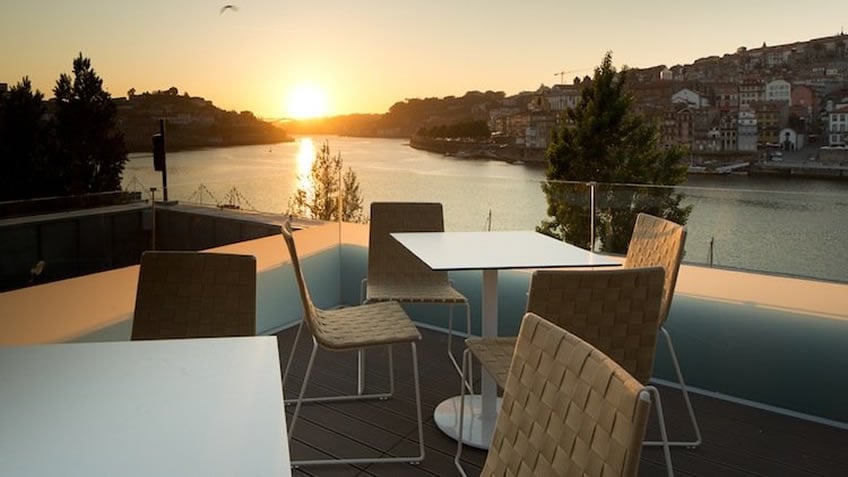 Private Guided Tour of the Vineyard at Quinta das Carvalhas
Located in Pinhão, in the heart of the Alto Douro Wine Region, Quinta das Carvalhas is the biggest vineyard in the area, situated on a privileged position overlooking the river.
On their one-on-one tour you'll have a genuinely unique experience walking around the vineyards with an insightful guide and ending with a tasting of wines and regional cheese. What really makes it special is the fact that the tour is led by the in-house agriculturalist, which offers the unique experience of visiting a traditional estate side by side with someone who knows it by heart.
◈ Extra tip
Many of those who visit the valley, pair it with a city break in Porto - the nearest big city - and this tour would give you the opportunity to explore both places in one sitting. If you don't have too much time to spend, you can still have this experience on our 1-day tour in Douro with Picnic in the Vineyard, which includes private transportation during the entire tour, starting with a pick-up in Porto. In just 8 hours you can explore an entirely different region.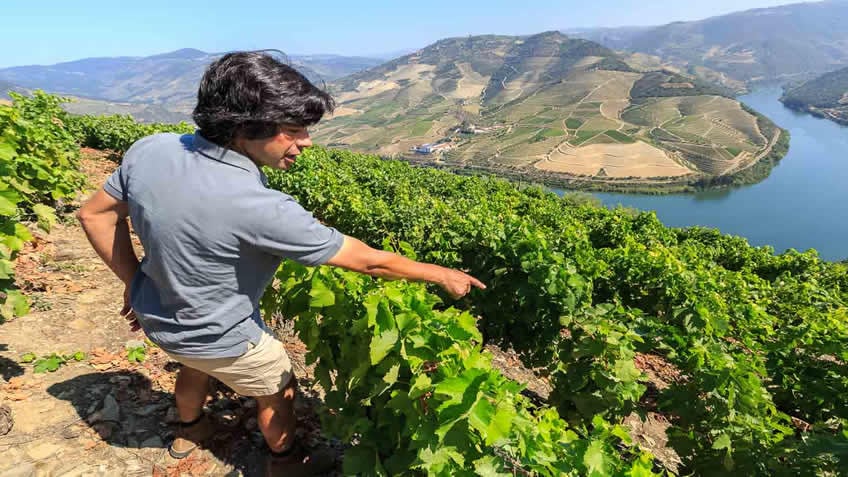 Food and Wine Pairing at Quinta Nova Luxury Winery House
With great views of the river and the estate's vineyard, Quinta Nova Luxury Winery House was billed as the first wine hotel in Portugal. Visitors can take part in a number of wine-themed activities, which combined have earned it the Luxury Hotel & Winery of the Year Award for 2018 by the English-born Luxury Travel Guide.
Their guided tours include a visit to the 1764 winery, vineyard, and underground cellar where the best lots selected by the family age. The visit ends at a panoramic room where tasting sessions take place. There are different visits available, varying in the number and type of wines offered. The estate offers some other unusual experiences, such as the winemaker for a day program, fire bottle opening, as well as 6 miles (8 km) of hiking and biking trails which you can enjoy free of charge.
Quinta Nova's in-house restaurant offers excellent food in a stunning outdoor setting overlooking the valley. At Conceitus Winery Restaurant – Quinta Nova in-house restaurant - there's no menu and you will get served whatever the kitchen has cooked, in perfect tune with the property's wines. We'd also recommend doing the wine pairings, so that you can try their various wines.
◈ Extra tip
If you're planning a weekend getaway, our 3-day tour in Douro makes the most of a short trip. We'll take you inland to the Douro Valley where you'll have the chance to stay at a local winery, visit some others, and try some of the best wines produced in the region. Sometimes, a weekend trip is all you need to have a memorable and rejuvenating experience.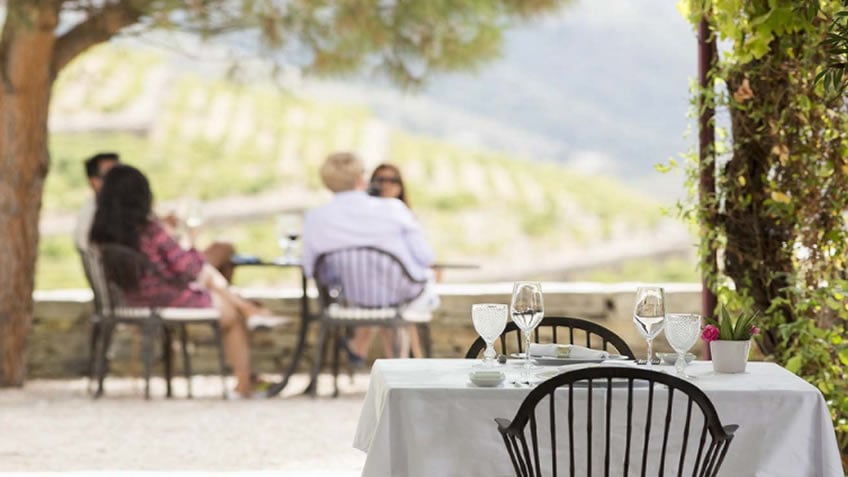 Douro River Cruise in the Heart of the Valley
River cruising is one of the most enjoyable travel experiences available to those seeking to get to know the Douro region. The journey upriver is one of the most scenic in the world, with staggering views of the dramatic valley covered in rows of grape vines.
There are several programs available for direct purchase through our website, which can be tailored to your specific needs. From short 1-hour cruises to full-day programs or overnight stays, there's plenty to choose from depending on how much time you have to spend and what your budget and preferences are.
Even though weather is more volatile during this time of the year, there's still plenty of sunshine up and down the country and temperatures rarely fall below 10ºC (50ºF).
One of our favorites is Pipadouro, which offers classic or tailor made programs. These are luxury river cruises, entirely private, which draw inspiration from the character and old-fashioned charm of classic gentleman's yachts.
There are several programs available for direct purchase through our website, which can be tailored to your specific needs, from starting times to lunch menus. Some 1-day programs include a visit to a nearby winery followed by a wine tasting session, or even lunch or dinner on board catered by Michelin-awarded chef Rui Paula.
◈ Extra tip
From entire events, ceremonies and venues to the smallest details, Pipadouro offers complete custom tours designed according to your own wishes. If you have something special in mind, ask for a quote and we'll help you make it happen.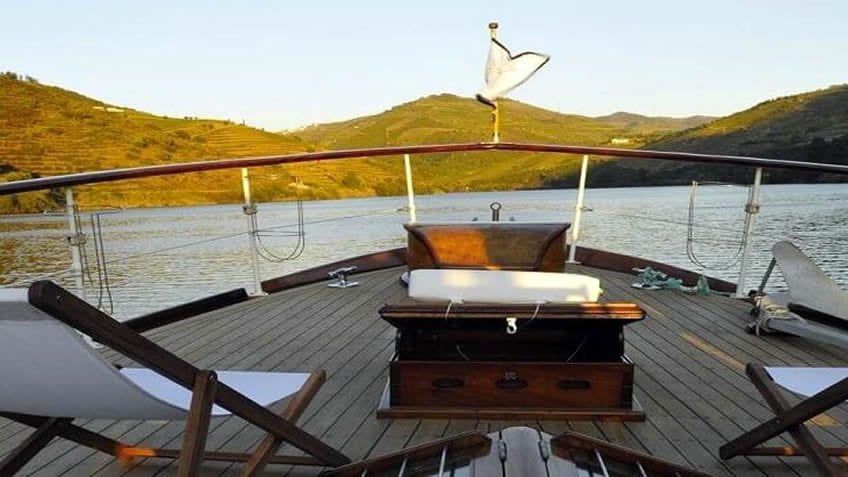 Wine Tasting Workshop at L'AND Vineyards
One hour east of Lisbon, you'll find the exclusive wine resort L'AND Vineyards. This oenophile's dream location is the perfect haven for those keen to enjoy the calm of the countryside. Indulge in relaxing spa experiences at the in-house wine therapy spa by Caudalie and revel in a gastronomic experience at the Michelin-starred restaurant - the first in Alentejo.
Led by Miguel Laffan, the Portuguese chef has been reinventing, reinterpreting and reinvigorating the roots of Portuguese cuisine and traditions. The menu has incredible dishes and food is creative and finely crafted. The dining room is absolutely beautiful, sparse and comfortable, with dozens of Tom Dixon-designed pendant lamps.
As you'd expect, wine resort L'AND Vineyards also offers a Complete Wine Experience Course which will not only guide you through the basics of wine production and tasting, but wine pairing as well. This experience also includes a tour of the vineyards and cellar led by an in-house expert.
◈ Extra tip
If you find yourself looking for a day-tour with a wine loving twist, our one-day private tour in Alentejo is a great option right at the doorstep of the capital city. Even if you don't have that much time, this tour will offer you a glimpse into what this wonderful region has to offer. Starting with a pick up in Central Lisbon - all the way to the end of the tour - a private driver will allow you to quickly move around, and you'll have the chance to visit two of the main wineries in the area.
Medieval Palace a Short Drive Away from Lisbon
Quinta da Bacalhôa is an innovative winery, palace and museum, with an astounding collection of contemporary sculptures and African art. Located in the Setúbal Peninsula - a wine region to the south of Lisbon - is so close by that it's worth mentioning. Over the years, Bacalhôa has developed a wide range of wines, standing on a former royal estate dating back to the 15th century, complete with a formal miniature maze, a large pond, and vines all within its walls. Aside from the daily group tours, they offer specific wine tastings paired with regional products, as well as the unique opportunity to have an entirely private dinner at the palace, available for a minimum of 6 people.
◈ Extra tip
Our wine tour in the Setubal Peninsula is also a great option for those based in Lisbon. The Setubal Peninsula lays on the opposite bank of the River Tejo, a short 45-minute drive away from the capital. It's also a very popular destination due to the natural landscapes, particularly its long and beautiful coastline and lofty mountains. This half-day tour will take you to two wine producing estates where you will have the opportunity to taste some worldly awarded Muscat Wines.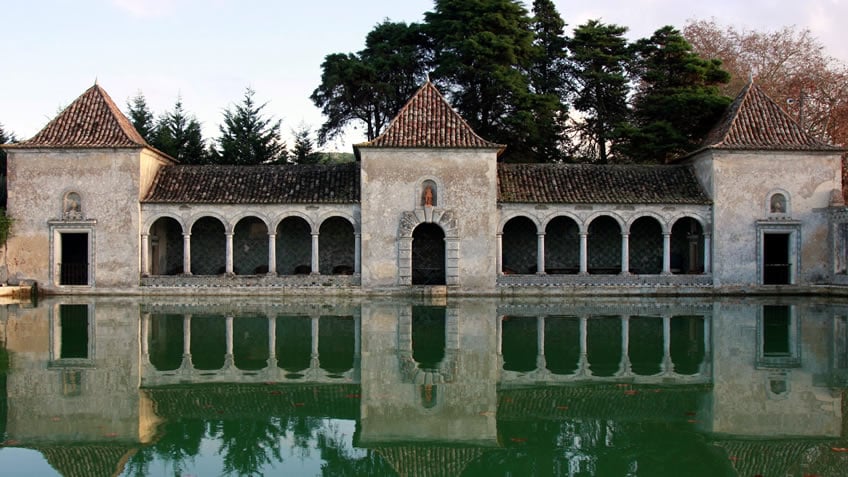 Lunch with a View at Quinta do Gradil
About 1 hour north of Lisbon is Quinta do Gradil. Dubbed one of the oldest wineries in the area, it once belonged to the family of Marquis of Pombal, the man responsible for rebuilding Lisbon after the devastating 18th-century earthquake.
During the tour, you'll learn about the history of the location with a visit to the ruins of the palace and the chapel and sample wines from Quinta do Gradil paired with cheese and regional charcuterie products. The in-house restaurant serves a good range of upmarket local cuisine paired with their own wine, served by the bottle or by the glass. There is also a shop on site to stock up on after your visit.
◈ Extra tip
Our full-day tour through Lisbon's wine producing estates will take you through a number of wineries, offering you the chance to sample some of the best wines produced in the region, paired with locally-grown traditional products. You will also have the opportunity to have lunch at one of the wineries - with a breath-taking view over the vineyards - as well as visit the largest Oriental Garden in Europe and the picturesque village of Óbidos.
Although you can reach some of these places by public transport, for the most part, you'll need a car. For that reason, a guided tour is the best practical option when visiting Lisbon wineries. A private driver will leave you free to fully appreciate the wines and views, while helping you get more out of your cultural experiences.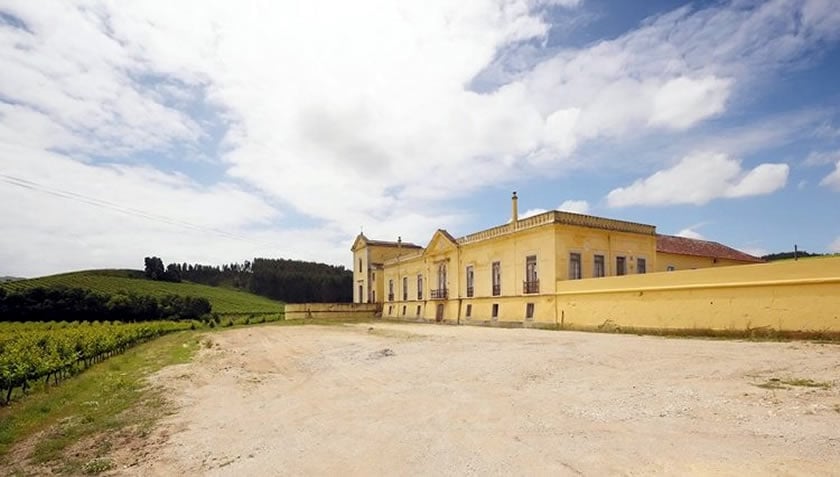 Wine and Tapas in Lisbon
As downtown evolves, a new wave of up-and-coming neighborhoods filled with cozy cafes, and trendy restaurants and bars has emerged. Young chefs are reinventing traditional gastronomical staples, while Portuguese wines have been garnering increasing international praise.
Downtown's joint By the Wine doubles as a wine bar and restaurant featuring the entire wine portfolio of José Maria da Fonseca as well as cheese and charcuterie platters, tapas, and other international favorites like ceviche, quesadilla, and grilled entrecote.
New and upscale, it really is beautifully designed with bottles on the walls and arched ceiling, which is nothing short of Instagramable.
◈ Extra tip
If you don't have much time to spare, you can still get to know the city with our half-day Culture and Wine Tour in Lisbon which will take you on a guided walking itinerary through the historic centre, followed by a wine tasting - which will give you the opportunity to sample a wide range of wines from different Portuguese regions - and a light lunch at one of the most popular wine bars in the city.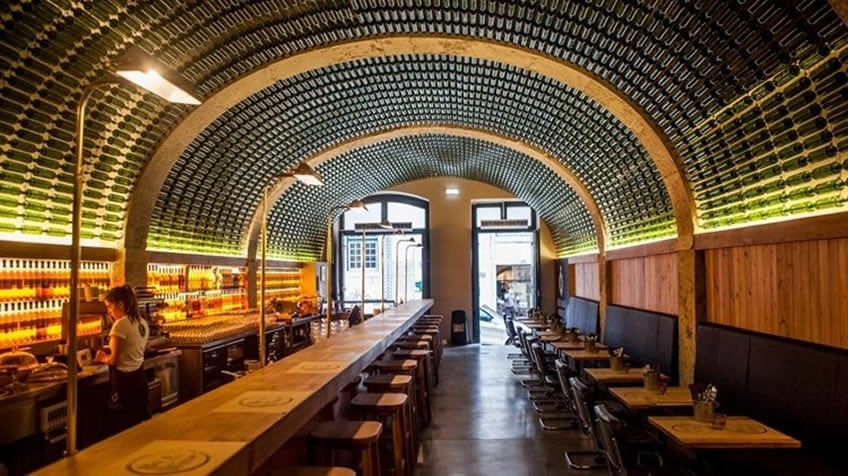 Savvy travelers know that booking a holiday well in advance means that you have a wide range of options as to where and when to go. By booking with us, you'll have saved hours of research comparing hotels and experiences, cross referencing review sites, and looking at endless pictures of your chosen destination.
Our expertise is in creating an itinerary that runs smoothly and is perfectly suited to your needs. You will work with one dedicated consultant, who will not only take time to listen to your requests, but also discuss different options with you. All of this coupled with a knowledge of the country means you'll get the best out of the time you have to spend on your next tour in Portugal.