If you're planning to visit one, you should definitely make time for the other. On our Tour in Douro and Porto we combine country and city on a luxury 7-day trip which will give you enough time to explore the best both locations have to offer. Simply put, they're just better together.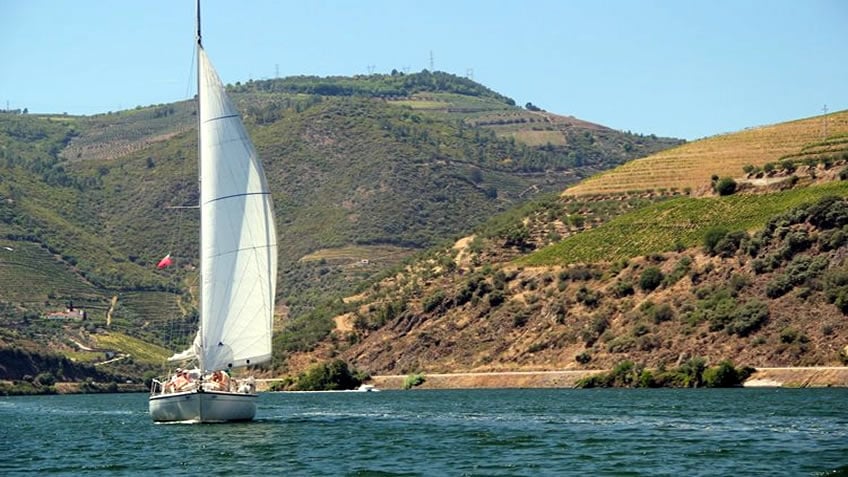 The Douro Valley is perhaps one of Portugal's most beautiful regions, famed for its stair-like terraced vineyards and the winding "river of gold", cutting across the steep hills. Worldly recognized for its wines and beautiful scenery, Douro's quiet country living has a strong appeal to those looking to escape the hectic city life.
However, many of those who visit the valley, pair it with a city break in Porto - the nearest big city - which was elected Best European Destination for the third-time last year. The river is the region's defining feature - winding from the Spanish border to the sea - with rows of terraced vineyards carved into the mountains, that give way to colurful townhouses as the river approaches the mouth.
With our 7-day tour in Douro and Porto you will have the opportunity to explore both places in one sitting. The journey upriver is absolutely jaw dropping and, as you head further into the countryside, it only gets better. While here, you will have the opportunity to visit many of the region's famous wine producing estates, sample some fine wines, dine at Michelin-starred restaurants, and spend the night at the best of the best. Besides that, what better way to enjoy the region's sights than on an exclusive helicopter tour and private sailing boat cruise?
Day 1
Starting with a pick up at the city's Airport - all the way to the end of the tour - you'll head inland to the upper Douro Region, where you'll be staying at Six Senses Douro Valley. Perched on a mountain among the surrounding vines, the first European property of the Six Senses Group combines elegance with the region's traditional heritage. This beautifully restored 19th-century manor house offers a selection of rooms, suites and villas, an excellent spa, several dining options, as well as a wine library and beautiful outdoor swimming pool. Upon arrival, you'll enjoy a relaxing massage.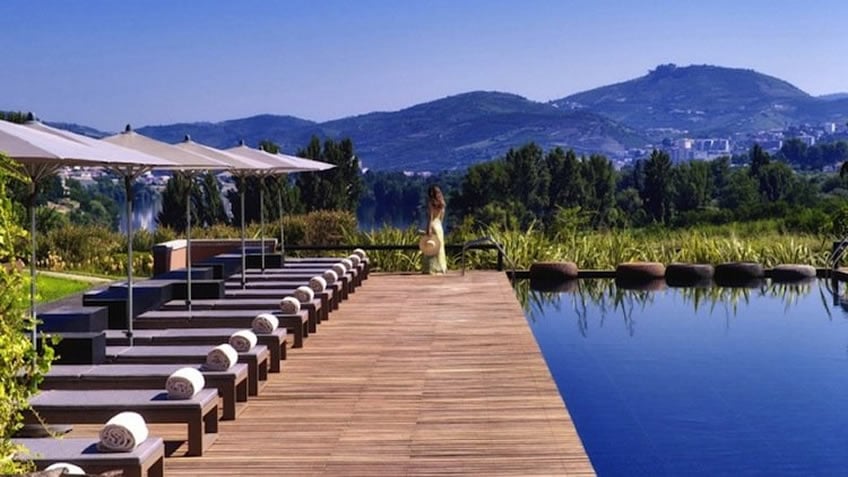 Day 2
Head downriver to Port wine town and cruise centre of Peso da Régua. Neighboring Quinta da Pacheca is a historic property that has been bottling under its own name for over two hundred years. You'll take a cooking class, where you'll learn traditional techniques while preparing your very own meal, followed by a guided visit of the estate and wine tasting.
After lunch, you'll visit nearby Quinta do Vallado. Established in 1716, it's one of the oldest and most famous wine producing estates in the region and encompasses 158 acres, some with vines more than 70 years old. You'll take a guided visit through the property's ultramodern winery and cellar, followed by a wine tasting.
In the evening, you'll participate in a unique chef's table experience at nearby Six Senses Douro Valley, their first location in Europe. You'll have the opportunity to follow all the cooking steps, while enjoying an impressive ten-course meal - generously portioned and beautifully plated - as well as wine pairings.
Day 3
Today, the main stop is beautiful Quinta do Crasto. This family-run property has a privileged position high on a cliff above the river, with vineyards in every direction and an infinity pool, designed by Pritzker-winner Eduardo Souto de Moura. Its stone terrace outside serves as a dining room when the weather is nice, with views up and down the valley. You will have a guided tour of the estate and wine tasting, followed by a delicious lunch. This is all about traditional comfort food, with delicious regional dishes such as Grilled Cod, Roasted Octopus and Roasted Pork Loin, accompanied by in-house wines.
Following the Douro river east, there's Quinta Nova Luxury Winery House. With great views of the river and the estate's vineyard, it was born from the rehabilitation of a 19th century-old manor and you will take part in a guided tour of the vineyard, winery, and underground cellar, naturally followed by a premium wine tasting.
Dinner will be at the in-house restaurant Conceitus Winery Restaurant. There's no menu and you will get served whatever the kitchen has cooked, in perfect tune with the property's wines. Quinta Nova's in-house restaurant offers excellent food in a stunning outdoor setting overlooking the valley.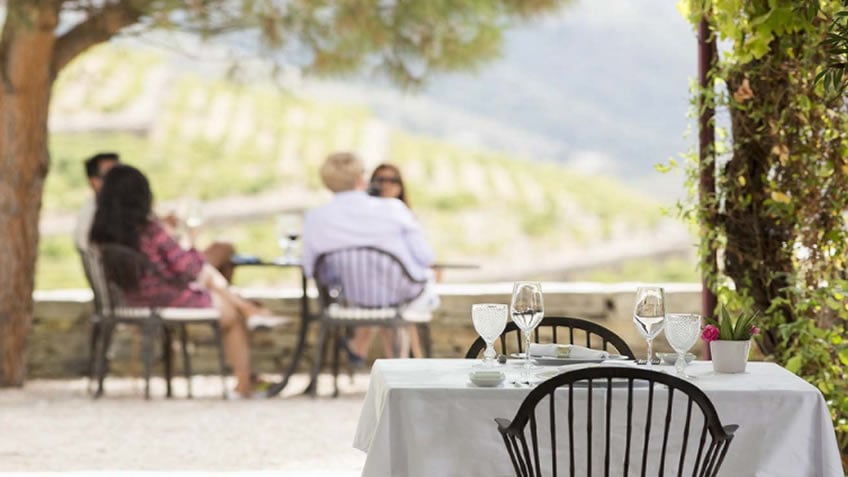 Day 4
Lie back and enjoy a river cruise aboard a private sailing boat. The journey upriver is one of the most scenic in the world, with staggering views of the dramatic valley covered in bright green rows of grape vines.
Lunch will be at Rui Paula's DOC. Built over the river at Folgosa - just across the pier - this creative and sophisticated spot lives up to the expectations surrounding the Michelin starred-Chef, with a colorful menu rooted in both tradition and modernity, smartly paired with a comprehensive wine list.
In the afternoon, you'll get close and personal with the picturesque landscape from a very unique viewpoint with a guided tour through the vineyards at Quinta das Carvalhas. This is the biggest vineyard in the Douro Region, situated on a privileged position overlooking the river. On a one-on-one tour, guided by the in-house agriculturalist, you'll have a genuinely unique experience walking around the vineyards side by side with someone who knows them by heart, ending with a tasting of four wines and a cheese platter.
Across the river from Pinhão, is Quinta do Seixo, where the well-known Sandeman winery combines state-of the-art cellar technology with great wine experiences. The view is absolutely breath-taking throughout the year and you'll have the opportunity to sample some famous Port wines.
At the end, you'll be driven back to Porto, where you'll be staying at The Yeatman. In this luxury wine hotel and spa everything revolves around wine. It has a wine cellar - one of the largest in Portugal - wine bar, two-time Michelin starred restaurant and even a wine spa.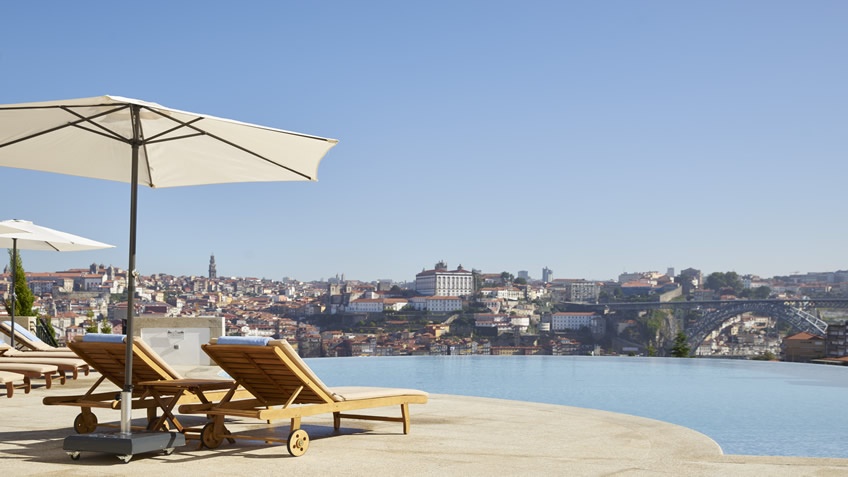 Day 5
Take some time to relax and enjoy the many wonderful facilities the hotel offers. You can soak in a hot tub, get a perfumed massage, wallow in one of the two swimming pools, or take a guided tour with the in-house sommelier through the 25,000-bottle wine cellar.
Lunch will be at cozy and hip restaurant Traça, midway between the riverfront and the city's main avenue. Housed in a 17th-century building with beautiful azulejos covering the interior, it serves rich soul food inspired dishes.
In the afternoon, you'll take a private walking tour of the city. Standing as one of the most eclectic destinations in Europe, it has something to offer to everyone: historic splendor paired with a contemporary buzz, sweeping views, and beautiful architecture - with one of the most beautiful train stations and bookshops in the world.
Dinner will be at Michelin starred-Chef Rui Paula's DOP. Tucked in a beautiful building where once stood an old monastery, it offers a creative menu - with ingredients like Octopus, Veil Tenderloin and Salted Cod - smartly paired with a comprehensive 60-page wine list.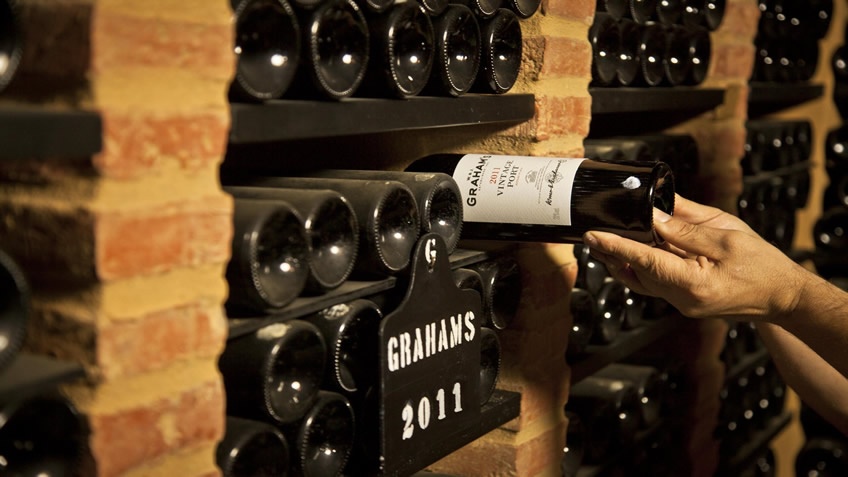 Day 6
There's far more to the city than its most famous wine but it'd be a shame not to give it a try. Port has been produced in the Douro Valley for centuries, and then taken downriver to the city to be stored before shipping. A large number of port warehouses soon began to spring up in the suburb of Gaia, across the river from the city, and are now open for visits - and wine tastings.
For a Portuguese-born wine experience, Ferreira Wine Cellars are the place to go. They belong to a century-old winemaking family, whose most famous member - a 19th century business woman named Dona Antónia Adelaide Ferreira - was behind the brand's continued and long-standing success. You'll be taken on a guided tour of the cellars paired with an explanation of the history of the house's ports, as well as a tasting of five wines.
The second stop of the day will be at Graham's Port Lodge. It stands on a commanding ridge across the Douro River from Porto, affording spectacular views of Porto's historic city centre. The private tour will give you a personal, in-depth experience and conclude with a tasting of three top-of-the-range port wines.
The last tour of the day will be at Calém. In addition to the guided tour and wine tasting, you'll also attend a fado concert - a musical symbol of Portuguese culture and tradition - where two instrumentalist accompany a female and a male singer.
For dinner, head to the contemporary looking DeCastro Gaia. Located on the third floor of Espaço Porto Cruz - where visitors can explore all things related to the production and culture of port wine - this riverfront restaurant led by talented Chef Miguel Castro e Silva matches ports and wines with petiscos rooted in traditional Portuguese flavors. Try the Brás Style Codfish or the Pork Cheek cooked in Red Wine and Cumin and have a Port Wine Cocktail on the rooftop with all-around views across the Douro to the old city.
Day 7
End the tour with a unique and unforgettable helicopter ride over the city. Fly over Porto's famous river bridges all the way out to the beaches on the westernmost part of town and enjoy a different perspective of the city.
Depending upon flight times you will be driven to the Porto Airport. If you plan to extend your stay in Portugal, we can help you with that as well!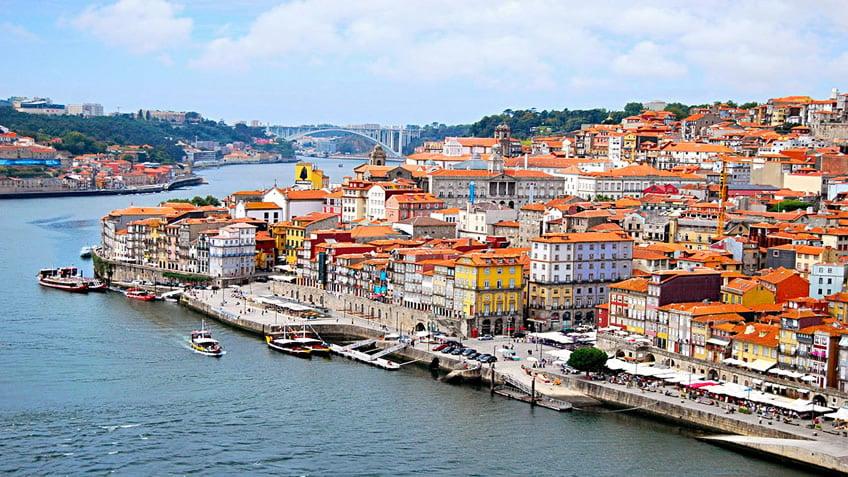 Are you looking for a shorter trip? Or maybe you want to visit some other places outside Lisbon?
Custom trips are only limited by your imagination. Our expertise is in creating an itinerary that runs smoothly and is perfectly suited to your needs. Tell us your plan and we'll do the rest!