The Summer is here and if there is a place in Portugal where we can feel it in its peak is in Alentejo. The hot summer temperatures in Alentejo make it almost mandatory to spend some time in the pool and relax in the shade. But the only thing better than a lounging poolside or diving in the light blue water on a hot day, is doing it with a great view and finishing the day tasting some of the best wines from Alentejo.
From luxurious infinite pools overlooking the Alenetjo plains to pools surrounded by vineyards, discover the best views at some of the best wine hotels in Alentejo:
Look at the plains while sipping a fresh wine at the pool at Herdade da Malhadinha Nova
Designed in a perfect harmony between design in a perfect harmony between nature and the surrounding landscape, at Herdade da Malhadinha Nova you can easily forget about the woprld and just chill by the pool, before or after tasting the wines of the region. After taking a dive, to enjoy this estate at its most, try the cellar tours and wine and regional products tastings.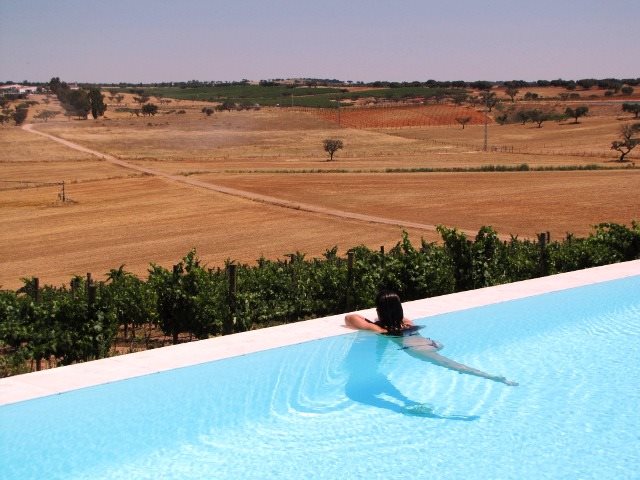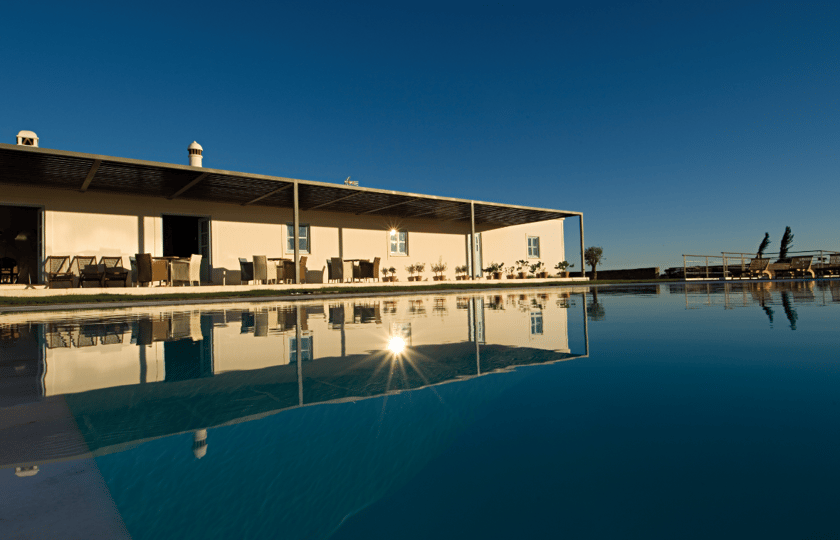 Enjoy The Beautifully Designed Gardens at Convento do Espinheiro
Convento do Espinheiro is inserted in a sumptuous garden of 8 hectares, inlcuding an imposing church with valuable golden leaf and tiles of several époques. While sunbathing you can enjoy the pool view overlooking the splendid pool and garden areas as well as the local landscape.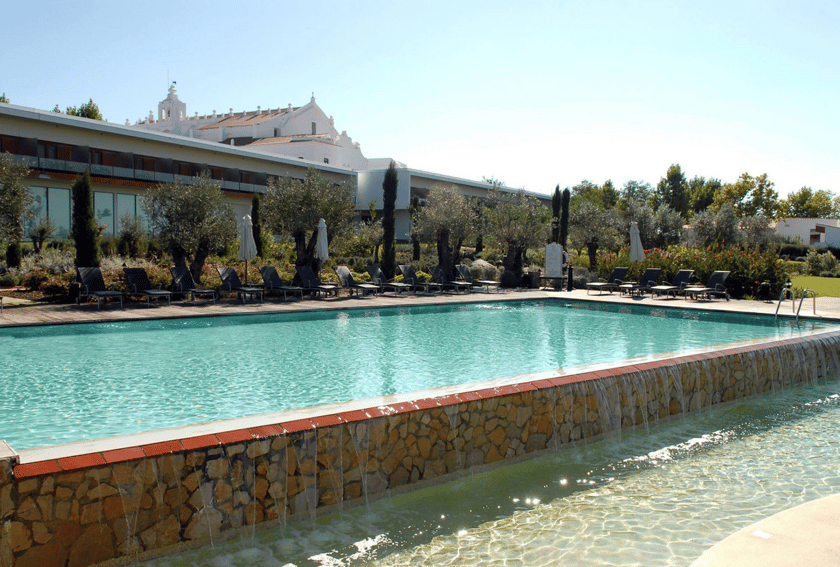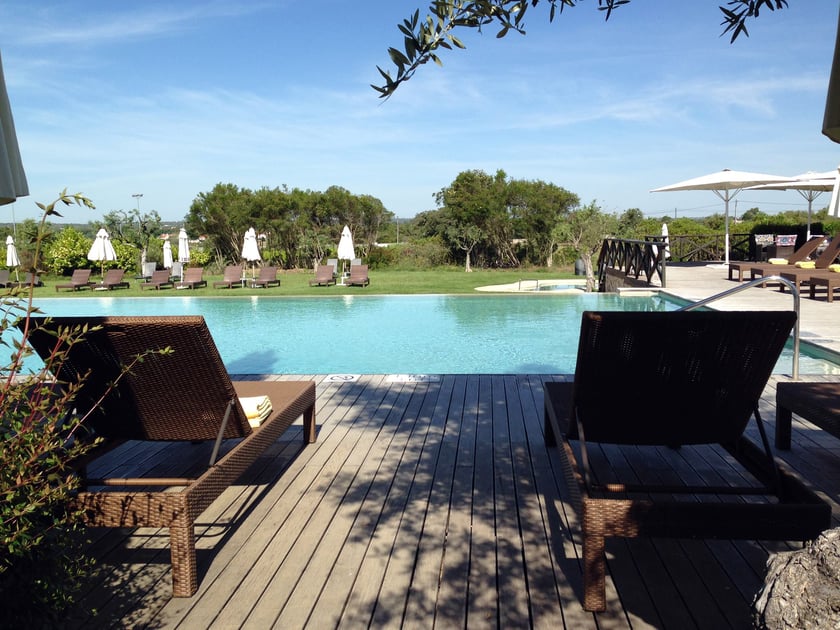 Enjoy Pure Luxury and Relaxation at L'AND Vineyards
Located in the heart of Alentejo, at the pool of L'AND Vineyards Resort you will have a breathtaking view over the surrounding vineyards, the lake and Medieval hilltop castle of Montemor. Here you can relax doing yoga by the pool or engage in different wine activities, since the culture of wine and the viniculture is an important aspect of L'AND Vineyards' identity.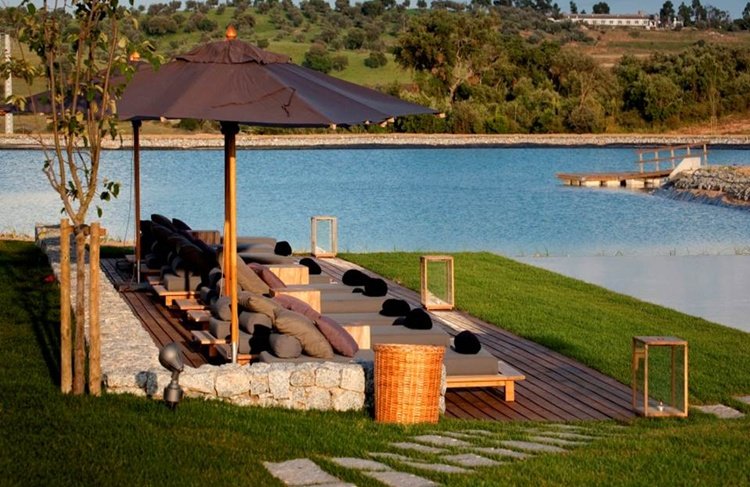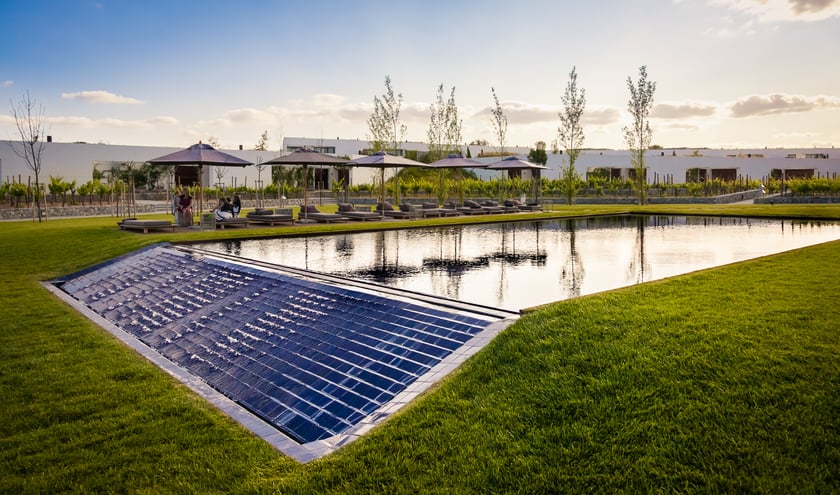 Discover Torre de Palma, Where past and Present Merge
Torre de Palma Wine Hotel is a real treasure in the heart of the Alto Alentejo. The view from the pool couldn't be more idyllic, surrounded by the vineyards, the outdoor pool offers you moments of peace that is typical of the Alentejo landscape. Let the vineyards inspire you and recover your energy at the pool before a walk in the vineyards or a tour to the wine regions in Alentejo.
Summer vacations are just around the corner so I'm sure you'll want to jump into a swimming pool soon to refresh and recover your strengths. Make sure you'll visit one of those pools when you visit Alentejo and don't forget to share your experience with us!

For more inspiring images of what it's like to spend a vacation in Portugal check Wine Tourism in Portugal Pinterest!