Did you notice Valentine's Day is getting closer? Well, if you are still wondering about where to go and what to do to spend a spectacular romantic time with your other half, we have just the perfect tip: Spend the weekend in Portugal and live happily ever after!
Portugal is the perfect scenario for those who love to make the most of a romantic getaway! A short break will really be ideal, but if you are truly extremely busy (and have a valid reason for that) the tours we are recommending also can be enjoyed in a shorter version.
So, either you have just a half-day or an entire weekend to dedicate to the love of your life, you will have the chance to sense intimately the surreal beauty of Portugal's unique landscapes, the excitingly original flavors of local wines and food as well as to feel like the character of a passionate thrilling romance in Porto, Douro, or Lisbon's novel-like surroundings.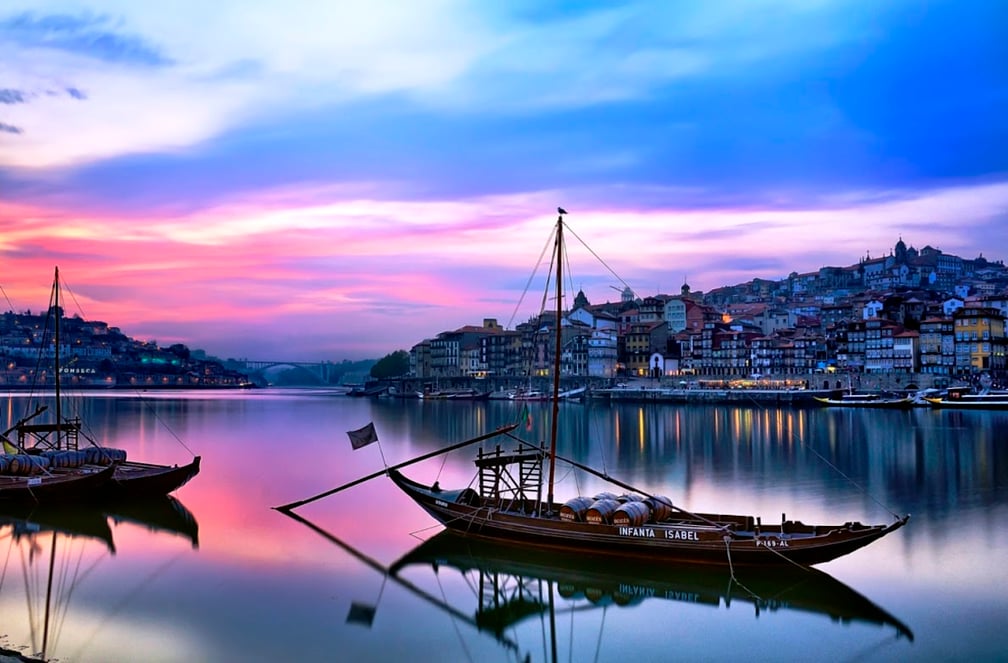 Our first suggestion relies on two picturesque half-day tours in Porto. Both tours will take you in an original ride along the historic Vila Nova de Gaia margin, where you have one of the most fascinating and romantic views over Douro River and Porto, and where you will visit the famous Port Wine cellars, strolling around in charming movie-like vehicles that will vary according to each tour: one that has a vintage charm and a side-car, and another, the riquitó, which is a pedal rickshaw vehicle, a lovely carriage for 2! Touring in such romantic vehicles, tasting different Port Wines and enrolling in other Port Wine related experiences will turn you two into true connoisseurs and most certainly will warm your hearts!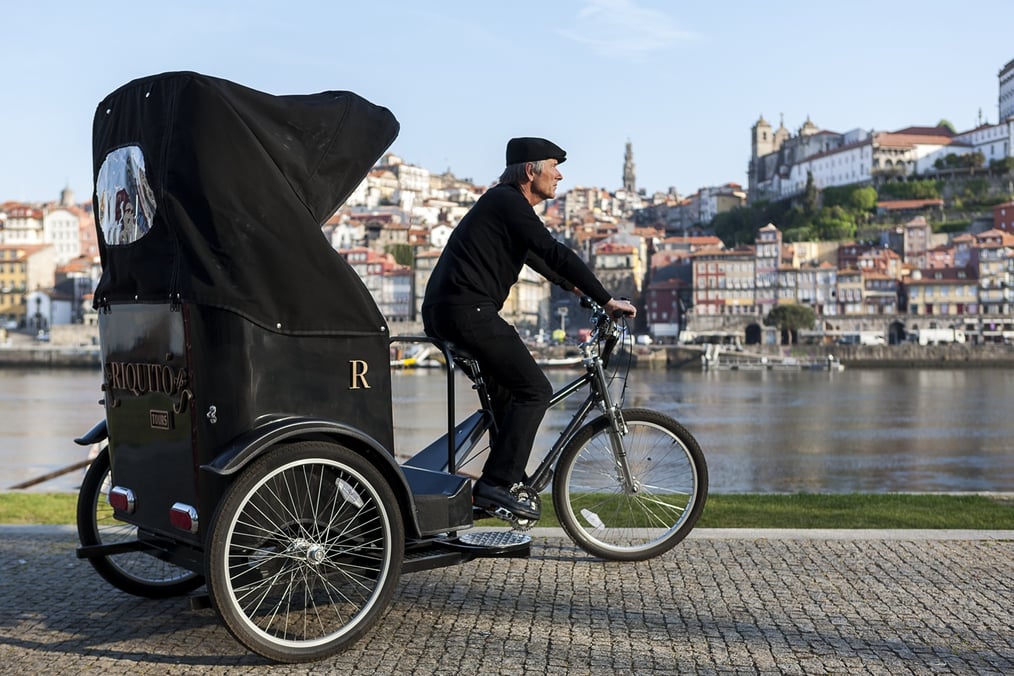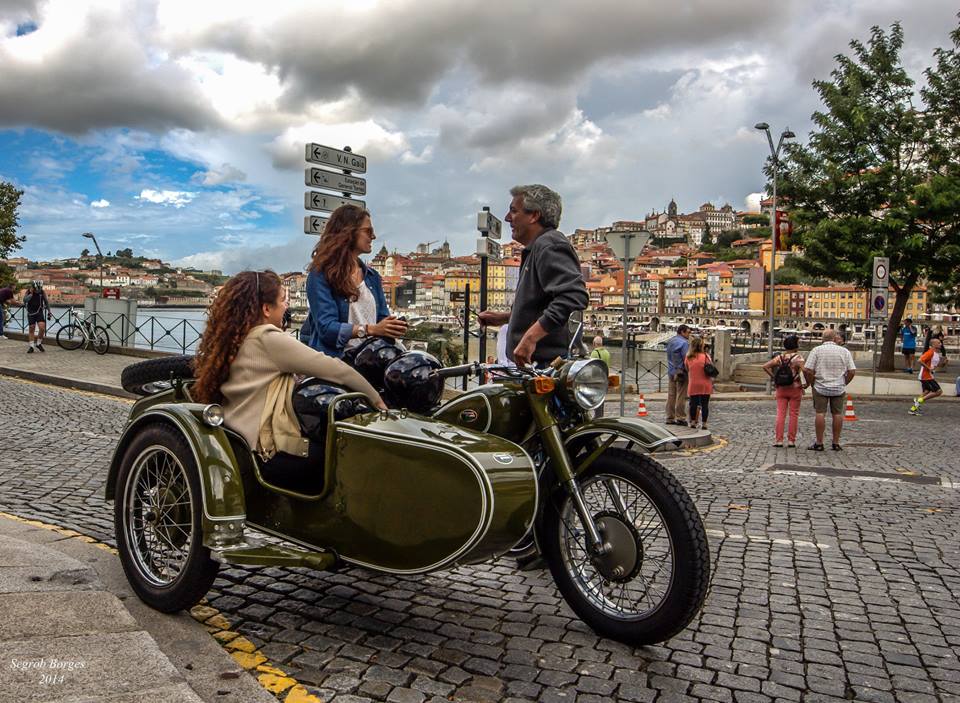 At this point, we propose 3 options to spend a romantic night in an exquisitely charming hotel:
You can choose between staying in Porto in Hotel Carris Porto Ribeira from €138.00 / per night/room, go towards Douro and spend the night at Quinta de La Rosa from €90.00 / per night/room or go south to know the country's capital, Lisbon, and sleep at Jerónimos 8 from €110.00 / per night/room.
Although all destinations are really propitious for romance, Porto was elected by USA Today readers as the Best Under-the-radar Romantic Destination, and truly has a ton of fascinating places to know. That's why we recommend a Cultural and Wine Tour in Porto with a River Cruise and Tour to The Port Wine Cellars, because it is undoubtedly the ideal tour to intensify your knowledge of this amazing singular city!
We will take you to iconic monuments like Clérigos Tower, located near Livraria Lello, considered by Lonely Planet one of the three most beautiful bookstores in the world, and that is said to have inspired J.K. Rowling to create Hogwarts imaginary during the years she lived in Porto! Also, you will stroll in Aliados Avenue, and stop at São Bento Station, a magnificent train station with its twenty thousand painted tiles. The Sé do Porto Cathedral and Palácio da Bolsa, are also mandatory stops, for the view, historic charm and spectacular architectural styles .You will discover not only the main differences between all varieties of Portuguese wines, helped by an oenologist, but also the excellent quality in all of them!
To enhance the already awesomely poetic weekend, an incomparable and completely private 2-hour boat trip on the Douro River. You cannot get much more romantic than this!
But if instead of remaining in Porto, you have decided to go towards Douro and to write the second volume of your own Romance amongst the vineyards with a privileged view over the homonymous river and its painting-like gorgeously sculpted margins, we propose a One Day Tour in Douro with a Douro River Cruise.
Although Douro is known for its splendorous characteristic beauty, the best way to sense it in all its perspectives is to visit its most renowned luxurious quintas where besides being so welcoming, having splendid cuisine, and being places where you can taste and feel the essence of great wine, the history, and commitment in every winery, in every vineyard, they are all very different in style and personality!
Places like Quinta da Pacheca, one of the oldest wine estates in Douro, Quinta do Crasto with its infinite pool overlooking the Douro River and Quinta das Carvalhas, Real Companhia Velha's crown jewel and the largest estate in Douro. This tour has its high point in an intimate sailing cruise in the Douro River, where you will enjoy not only the surreally beautiful landscape, but also some delightful Port wine.
If you preferred to take the next chapter of your love story to another emblematic city, and have been dreaming about knowing all about bustling, lively Lisbon where the trendiness of being the new hip European Capital of Cool goes wonderfully together with a fascinating old movies' classic charm, we suggest an extraordinary Historic and Wine Tour in Lisbon.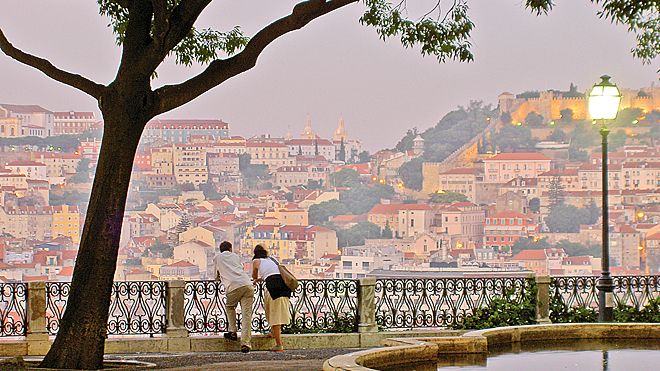 In Lisbon's historic center you will have the opportunity to be the star character in an exciting but classic love story, with the heartwarming scenes taking place in enigmatically gorgeous and lively colorful places like Lisbon's Cathedral, (the only building that survived the 1755 earthquake), the unique and characteristic Alfama neighborhood, the prominent Castelo de São Jorge, and the astonishing view it offers, the fascinating Baixa Pombalina, Rua Augusta Arch, the Santa Justa Lift, the most important and spacious square Praça do Comércio (or Terreiro do Paço), the iconic and trendy Chiado Neighborhood, the imposing and magnificent Belém Tower, Padrão dos Descobrimentos and Jerónimos Monastery, all amazing proof of the great achievement of the Portuguese explorers and discovery expeditions throughout the yet unknown world. And just to make sure you are having the time of your life, you will be tasting the best Portuguese wines and food in the best wine bars in Lisbon, and, to sweeten your classic love novel even more, you will taste the typical world-famous Belém pastry.
As you have frequent flights from Lisbon as well as from Porto, and Douro is the Region to which Porto belongs to, all the fantastic destinations and experiences we referred are extremely accessible, so, the only thing you have to think about now is which kind of love novel your one and only would genuinely love to live for Valentine's Day!
Check out some useful Travel Tips about the Top Things To Do in Lisbon, Porto and Douro Valley!