Your next luxury vacation spot can be anywhere in the world and whatever you wish. With that in mind, our travel experts have put together an insider's luxury guide to Douro's best hotels, restaurants, and itineraries.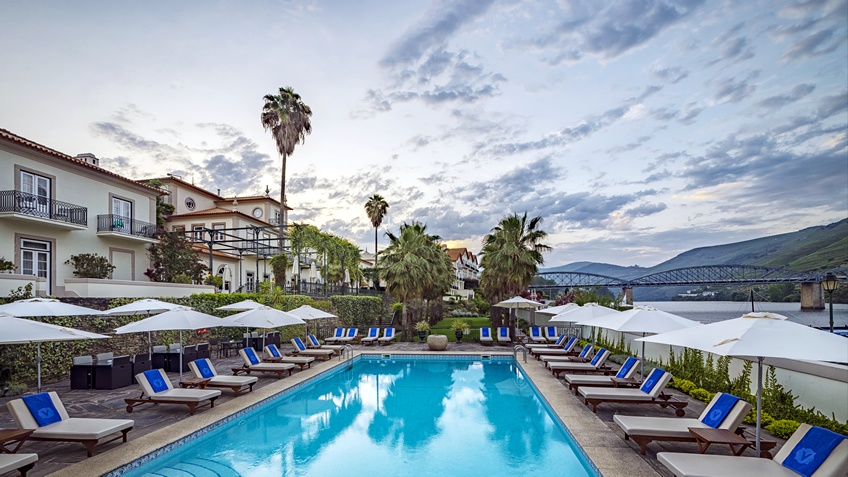 Why Douro?
Just a couple of hours away from Porto - the nearest airport - the Douro Valley has a spirit of its own. Known for its outstanding wine culture and breathtaking landscapes, which have earned it a UNESCO World Heritage listing, it has become one of the most exciting places to visit in Portugal.
And like every great destination, you'll never run out of things to do. Either on a 5-day experience or 7-day luxury tour, we'll make sure you won't leave any stone unturned. You'll have the opportunity to stay at the best hotels, visit the most emblematic wineries and restaurants in the area, while crossing some things off your bucket list on the way.
A bed to call your own
Perched on a mountain among the surrounding vines, Six Senses Douro Valley is the first European property of the Six Senses Group and combines elegance with the region's traditional heritage. This beautifully restored 19th-century manor house offers a selection of rooms, suites and villas, an excellent spa, several dining options, as well as a wine library and beautiful outdoor swimming pool.
Following the Douro river east, there's Quinta Nova Luxury Winery House, with great views of the river and the estate's vineyard. Billed as the first wine hotel in Portugal - born from the rehabilitation of a 19th century-old manor - visitors can take part in a number of wine-themed activities, which combined have earned it the Luxury Hotel & Winery of the Year Award for 2018 by the English-born Luxury Travel Guide.
Located right on the riverfront of Pinhão - one of the region's most-visited locations - Vintage House Hotel is a fine base for exploring the area. This 19-century wine lodge has been entirely revamped and now features 50 spacious rooms, most with terraces or balconies with river views, a beautiful riverside pool, as well as a wine shop selling Douro wines.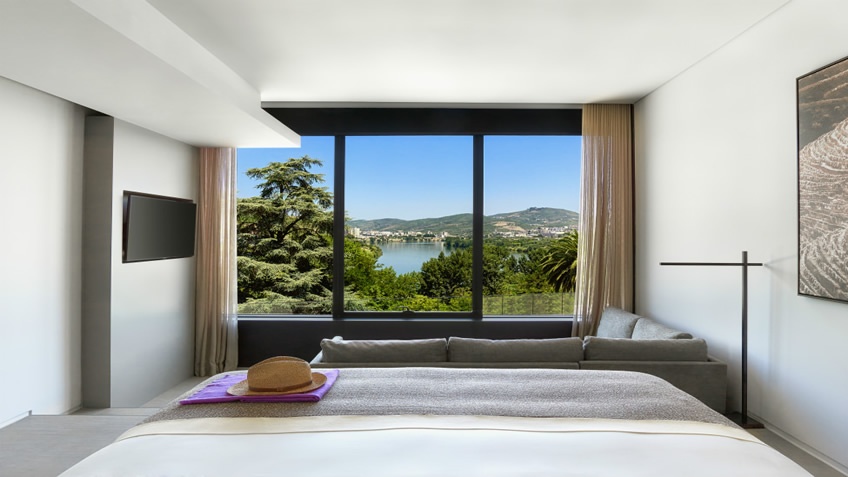 Book a table
Located near Port wine town and cruise centre of Peso da Régua, is Rui Paula's DOC. Built over the river at Folgosa, this creative and sophisticated spot lives up to the expectations surrounding the Michelin starred-Chef, with a colorful menu rooted in both tradition and modernity, smartly paired with a comprehensive wine list. It's no wonder it took the 15th place in TripAdvisor Traveler's Choice Awards for best restaurant in the world.
If you wish, in the meanwhile, you can also enjoy an online cooking workshop with the amazing Rui Paula, and start your trip while still at home.
At Terraçus Winery Restaurant there's no menu and your meal will be cooked with whatever fresh ingredients the kitchen has in that precise day. Always in perfect tune with the property's wines. Quinta Nova's in-house restaurant offers excellent food in a stunning outdoor setting overlooking the valley. We'd also recommend doing the wine tastings and pairings, so that you can try their various wines.
Located a 20-minute drive from Pinhão, Quinta do Portal stands beautifully isolated in the middle of their own vineyards. It belongs to a century-old winemaking family, who has been here for hundreds of years. The estate also houses a splendid restaurant, led by the talented and experienced Chef Milton Ferreira, who uses locally-grown ingredients splendidly paired with in-house wines in a creative way. His mastery is recognized worldwide and claimed by each client of the restaurant.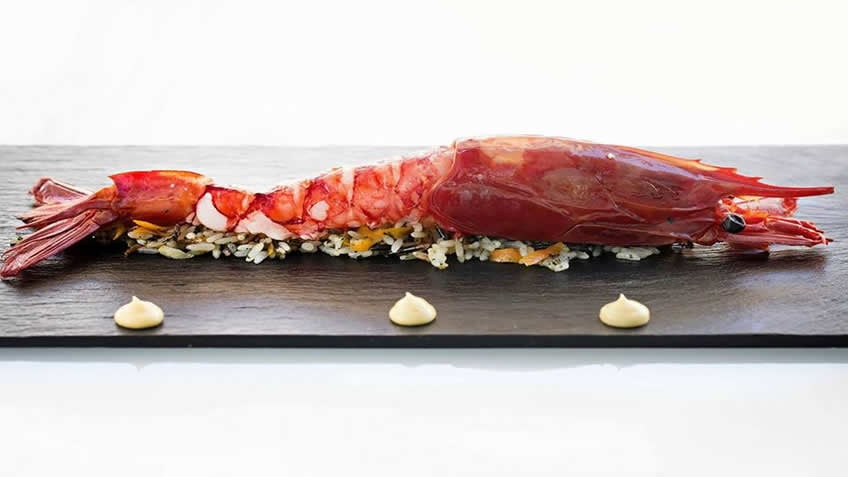 What to do
In the heart of the Alto Douro Wine Region, you can get close and personal with the picturesque landscape from a unique viewpoint with a guided tour through the vineyards at Quinta das Carvalhas. This is the biggest vineyard in the Douro Region, situated on a privileged position overlooking the river. On a one-on-one tour, guided by the in-house agriculturalist, you'll have a genuinely unique experience walking around the vineyards side by side with someone who knows them by heart, ending with a tasting of four wines and a cheese platter.
Also, no trip to the Douro Valley would be complete without some time on the water. The journey upriver is one of the most scenic in the world, with staggering views of the dramatic valley covered in bright green rows of grape vines. Relax on board of a private sailing boat while cruising upriver and enjoy the vineyards and terraces leading down to the river.
River cruises can last from two hours to one or more days, with or without meals, and are a delightful way to enjoy the landscape. Whether you want to sit back and enjoy a sunset sail ride, an on-board picnic or dinner catered by DOC Restaurant itself, there are options for all. You may also enjoy a full-day tour with stopovers at a couple wineries along the way for wine tasting and lunch, or maybe a night's stay. These cruises will cater to all tastes and ensure that you experience the very best of this wonderful region.
Back on high ground, spend the evening at the gorgeous Six Senses Douro Valley. The hotel's Vale Abraão Restaurant offers a range of dining options, including a chef's table where you can enjoy an impressive ten-course meal - generously portioned and beautifully plated - as well as wine pairings. Nicely installed in the chef's table, you will be able to accompany all the cooking of the tasted dishes under the attentive guidance of the restaurant staff. Everything is presented beautifully and a lot of the products come directly from the organic garden.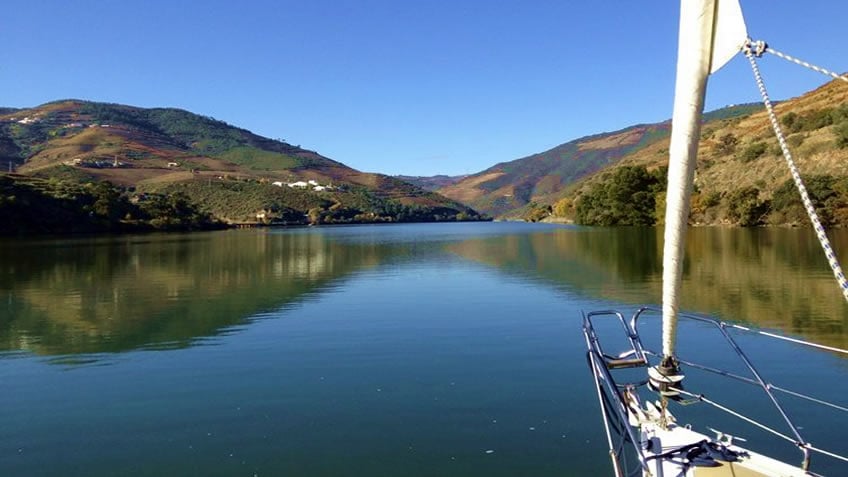 A shopper's paradise
For those looking to purchase some wine, it's great fun buying direct from the country estates. These shops stock cheese, honey and jams, as well as a good selection of olive oils and wines.
If you're looking to combine the most luxurious experiences, we'd be more than happy to tailor-make you a trip from scratch. By booking with us, you'll work with one dedicated consultant, who will not only take time to listen to your requests, but also discuss different options with you. All of this coupled with a knowledge of the country means you'll get the best out of the time you have to spend on your next tour in Portugal. Do you know when is the best time to visit Douro Valley?