The awards in Portugal can't stop coming! This time, Portugal was awarded important titles in the World Luxury Hotel Awards, a global organization which provides luxury hotels with recognition for their excellence in service as well as in world class accommodation units and facilities.
The prizes are awarded to luxury hotels all over the world, in different categories on a global, continent and country basis, encouraging the increasing service standards within the luxury hotel industry.
Portugal has 17 hotels awarded in different categories. Check the list below!
Portuguese Luxury Hotels Awarded at the World Luxury Hotel Awards
Myriad by Sana Hotels – Luxury Hotel
Malhadinha Nova Country House & Spa – Luxury Country House
Vidago Palace Hotel – Luxury Spa Hotel
Vila Vita Parc Resort & Spa – Luxury Family Hotel
InterContinental Porto Palácio das Cardosas – Luxury City
Hotel Cascais Miragem – Luxury Hotel & Conference Centre
Corinthia Hotel Lisbon – Luxury Green Hotel e Luxury Business Hotel
Fazenda Nova Country House – Luxury Country Hotel
Hotel do Chiado – Best Hotel Website
1872 River House – Luxury Guest House
Altis Belém Hotel & Spa – Luxury Romantic Hotel
Companhia das Culturas – Luxury Country Hotel
Dunas Douradas Beach Club – Luxury Beach Resort
Epic Sana Lisboa – Luxury Rooftop View Hotel
Pocinhobay – Luxury Design Hotel
Terra Nostra Garden Hotel – Luxury Hotel Best Scenic Environment
Valverde Hotel – Luxury New Hotel
Best Luxury Hotel - Myriad by Sana Hotels
The Myriad by Sana Hotels is a luxury hotel located in the Tagus riverside, offering amazing panoramic views over the river and over Lisbon, from both the rooms and the public areas. The rooms are spacious, where comfort and sophistication are the key words. With a unique luxury and contemporary decoration, the hotel offers also a restaurant with an excellent selection of Portuguese wines, a stylish bar and an indoor swimming pool with SPA facilities and fitness.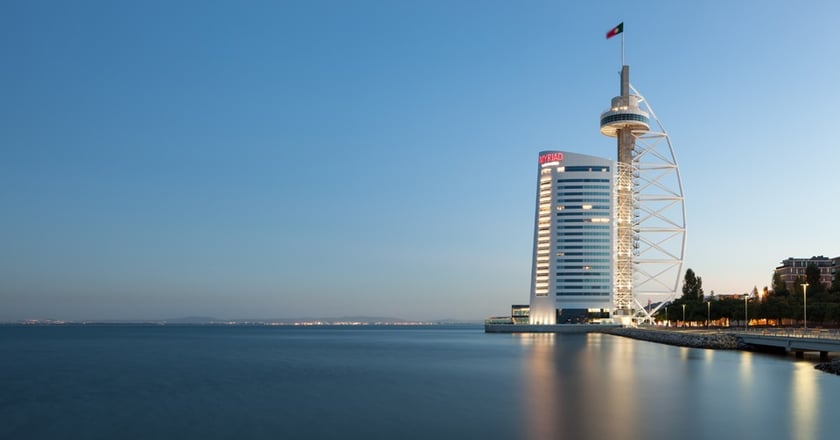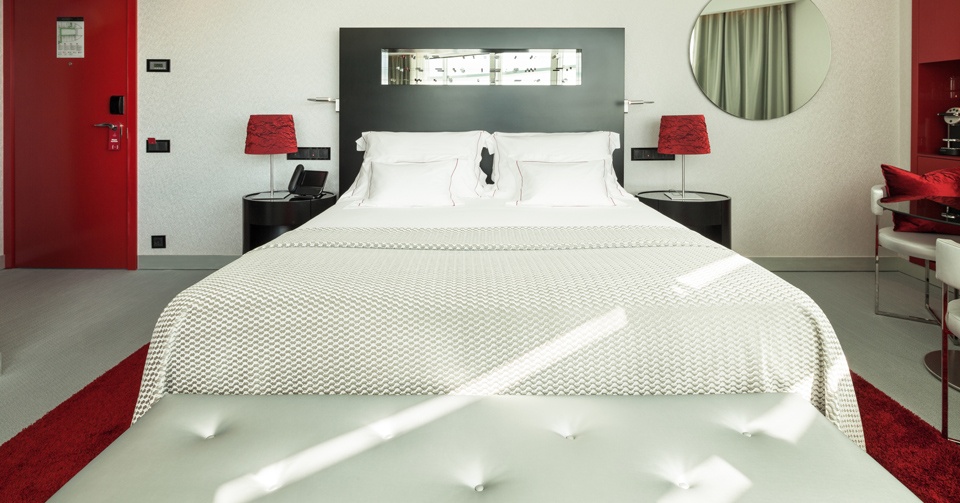 Luxury Country House - Malhadinha Nova Country House & Spa
Malhadinha Nova Country House & Spa was elected the Best Luxury Country House, and it is a well-deserved award, since this family-owned wine estate provides its guests with top quality services, accommodation and a wide range of activities that make a stay at Herdade da Malhadinha Nova an unforgettable one.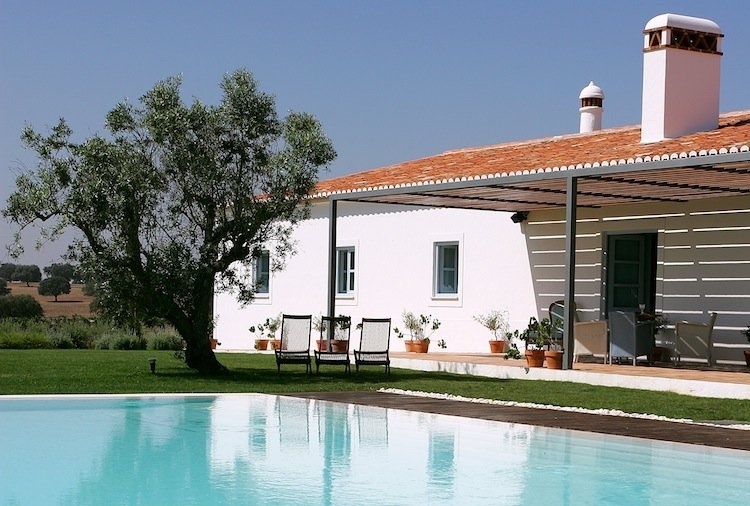 The basic concept of the estate is the wine, offering different wine-related activities such as guided tours to the estate, vineyards and cellar, as well as regional products tasting, where you will be able to experience some of the best typical flavours of the Alentejo. Besides the wine production the Herdade has complementary areas: the production of Olive Oil 100% Galega, traditional olive grove, breeding of the Alentejana DOP caw, breeding of the Alentejano DOP black pig and the Lusitano thoroughbred horse.
Most of all, the Herdade reflects a huge respect for the Nature and provides a perfect contact with nature and the surrounding landscape.
Luxury Spa Hotel - Vidago Palace Hotel – Luxury Spa Hotel
The Vidago Palace Hotel is an iconic Palace opened, for the first time, in 1910, still keeping its luxury environment and the splendour from old times. Completely recovered in 2010, the cultural and architectural heritage of the building was preserved, standing out once again as a reference among the finest historic hotels in Europe.
Awarded best Hotel Spa by the World Luxury Hotel Awards, the Thermal Spa was designed by the famous architect Álvaro Siza Vieira among the 100 acres of fragrant cedars, pines and holly, being a natural extension of the hotel. The superb quality of the Thermal Spa at the Vidago Palace is in its history and quality of its waters, extracted from the granitic subsoil and recognized for its therapeutic cures, requested by the royalty of the old times. Along with Clarins and Aromatherapy Associates, the Vidago Palace SPA offers a wide range of face and body beauty treatments, including regenerating facial treatments for men and women, as well as all kind of specific treatments. It is a place of sophisticated elegance and glamour, combining expertise and the most modern treatments with the traditional thermal waters of Vidago to provide the perfect treatment for mind, body and soul.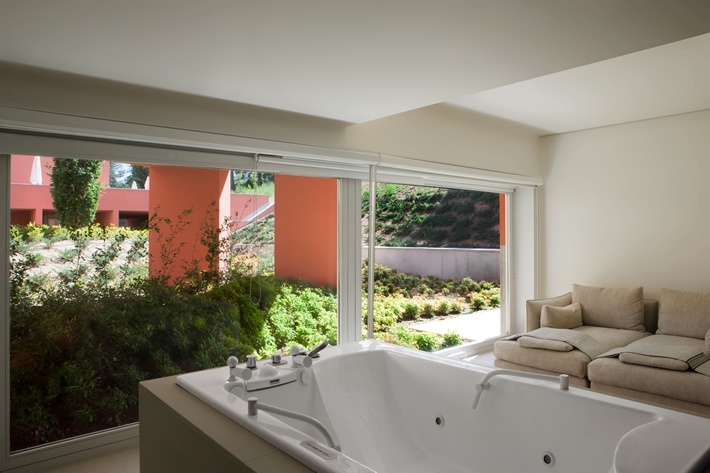 Vila Vita Parc Resort & Spa – Luxury Family Hotel
Vila Vita Parc Resort & Spa is a luxury beach resort in Algarve, offering the perfect conditions for a family vacation, either for family with young children or teenagers.
Besides the hotel's fantastic facilities by a private beach, luxury rooms and apartments and an amazing wine cellar (for parents!), the hotel provides accompanied playrooms and different types of sports and games so that children can entertain themselves all day, with babysitting services also available. For teenagers, the hotel offers to organize multiple outdoor activities such as adventure jeep tours, where teenagers can get a look at the wild side of Southern Portugal, as well as surf lessons.
For the whole family there's also the possibility to book a private cruise along the coastline, where you will be able to explore Algarve's most secluded beaches and caves and even have the chance to watch dolphins in their natural environment, so it is no difficult to see why Vila Vita Parc has won the Luxury Family Hotel Award.
If you feel inspired by these awards and want to check these luxurious hotels and its excellence of service for yourself, just book now or contact us, so that we can book for you or prepare you a personalized tour!
Enjoy your luxury stay in Portugal!