Discover the epitome of modern, exquisite, and not-to-be-missed with Condé Nast Traveller's list of the best hotels in Portugal. Renowned for its discerning taste and experience in the world of travel, Condé Nast Traveller has presented in an article on its blog an exclusive selection of accommodations that redefine hospitality.

From the historic charm of Lisbon to the sun-drenched shores of the Algarve, each hotel on this esteemed list has been meticulously chosen for its exceptional service, exquisite amenities, and breathtaking ambiance. Embark on a journey through Portugal's most enchanting destinations, where the allure of these distinguished hotels promises an unforgettable experience that perfectly combines opulence and authenticity.
The best hotels in Portugal at a glance
Best for location: Six Senses Douro Valley
Best for luxury: Four Seasons Hotel Ritz Lisbon
Best for families: Pine Cliffs Luxury Resort
Best new opening: Hotel Vermelho
It's no exaggeration to say that the best hotels in Portugal can easily compete with some of the best in the world. As a sought-after destination, Portugal is experiencing remarkable growth, making it a formidable choice for European city breaks, beach getaways, and road trips.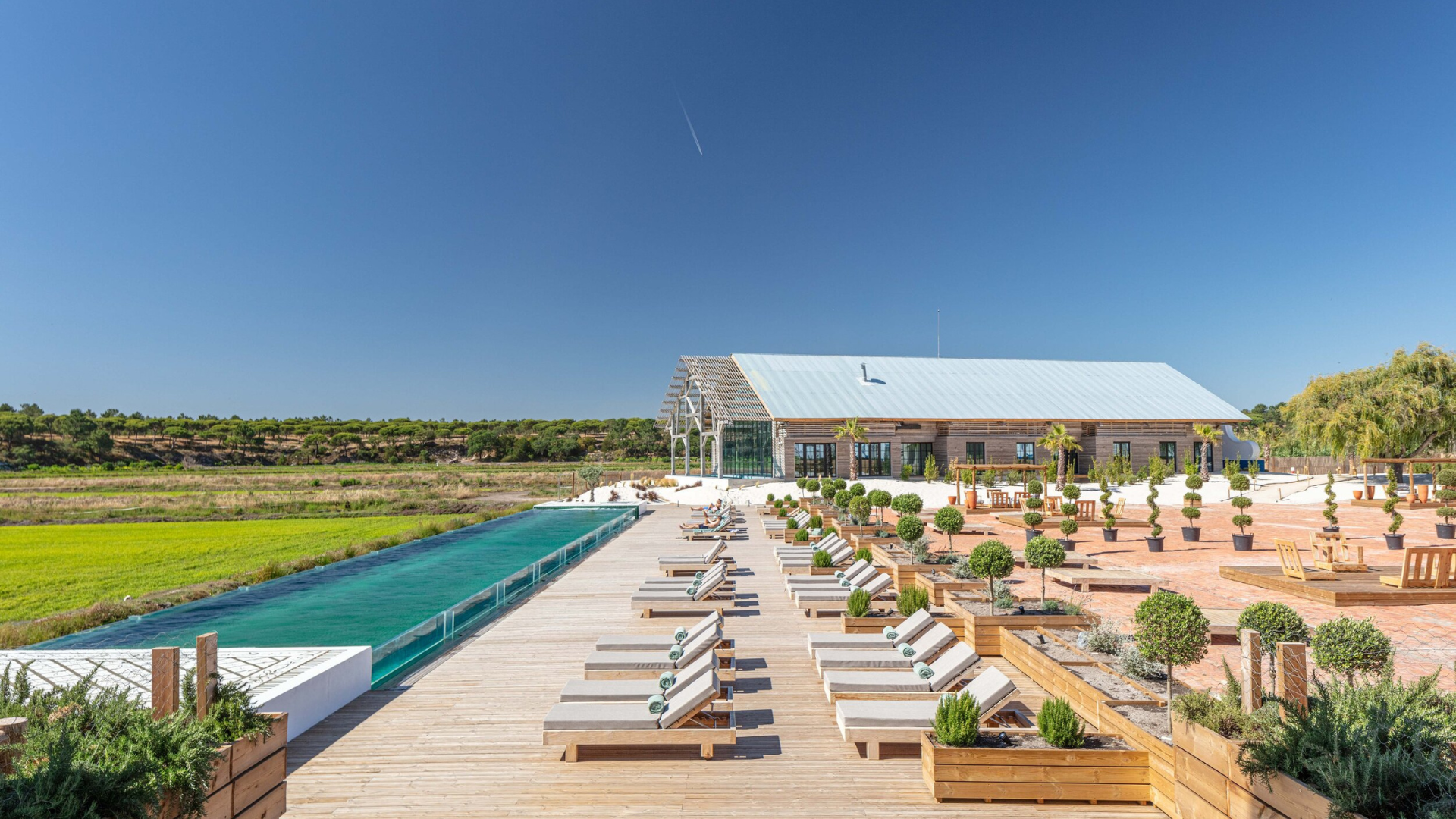 With its captivating golden coastline, vibrant cities, and renowned wine region, all conveniently accessible by a short flight from the UK, with direct flights to the Algarve now available from the United States, and within easy reach of several locations in Europe, it's surprising why it's taken us so long to fully appreciate its charm. The increased interest has led to sophisticated hotels popping up on practically every corner, injecting new vitality into Portugal's thriving cities and giving rise to bohemian coastal retreats such as Comporta and Melides - often referred to as the "new Ibiza".
Explore the complete array of Portugal hotels available for booking on your upcoming journey - according to Condé Nast Traveller.
Vermelho Hotel Melides
Vermelho is a familiar feature on our blog, established as one of our preferred dining spots in Melides. It stands out not only as a favorite for a meal but also as a recommended choice for an overnight stay. It's the perfect retreat for those seeking a departure from the vibrant activity of Comporta, offering a haven infused with a distinctive design.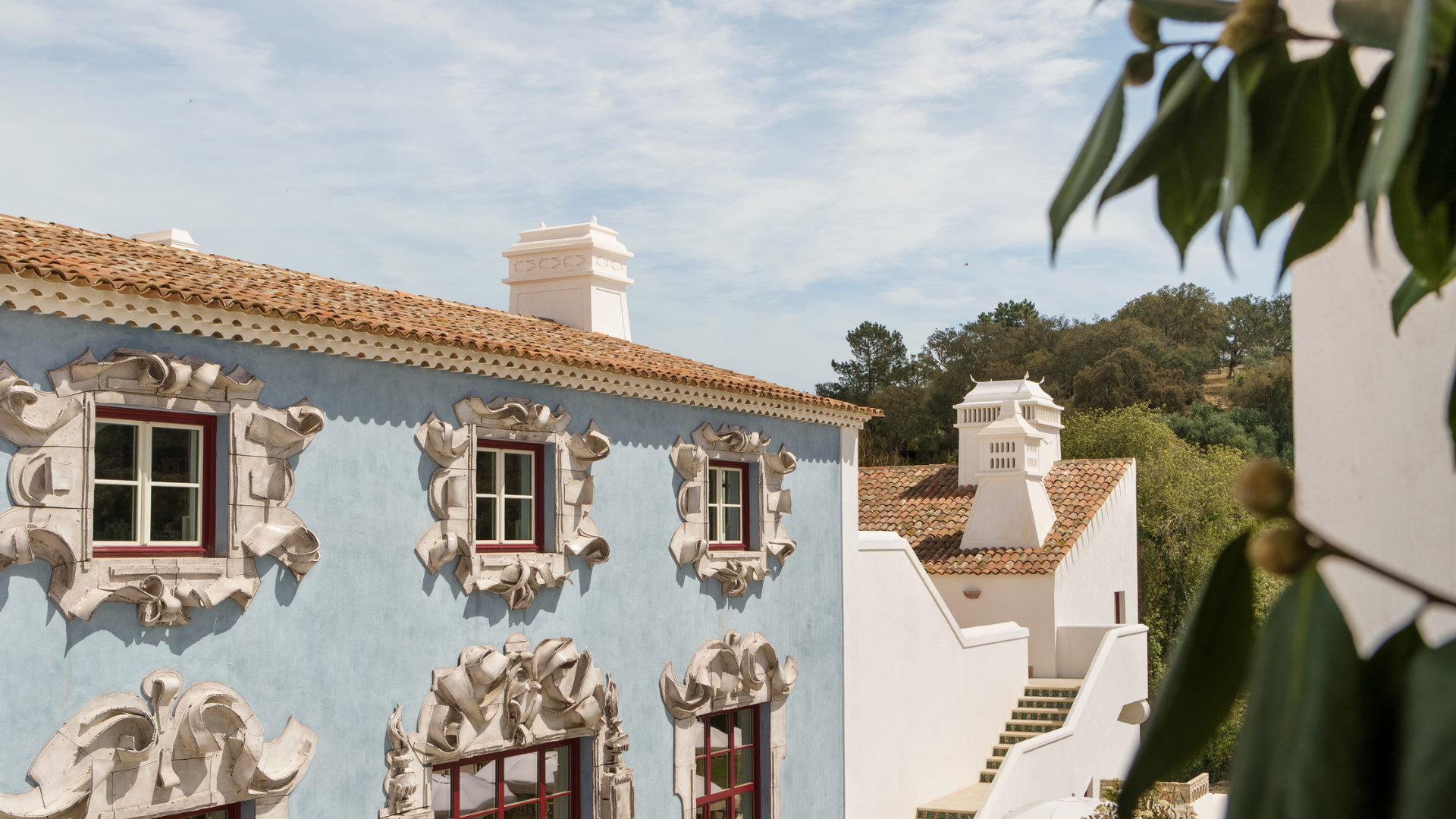 Marking Christian Louboutin's inaugural foray into the realm of hospitality, Vermelho Melides is gracefully situated in the heart of Melides, an intimately charming village nestled in Alentejo, Portugal—a region that holds a special place in his heart. Louboutin's affinity for Melides dates back a dozen years when, on his journey back from Santiago's hospital after sustaining an injury while sketching a new collection at his retreat in Comporta, he first encountered the village. Enchanted by the ethereal ambiance of Melides' sand pine forest and the unique allure of sunlight playing upon the rice lagoon, Louboutin embarked on the restoration of a small fisherman's shack. Since then, he has made an annual pilgrimage every June, utilizing the serene surroundings as inspiration for designing his winter collection.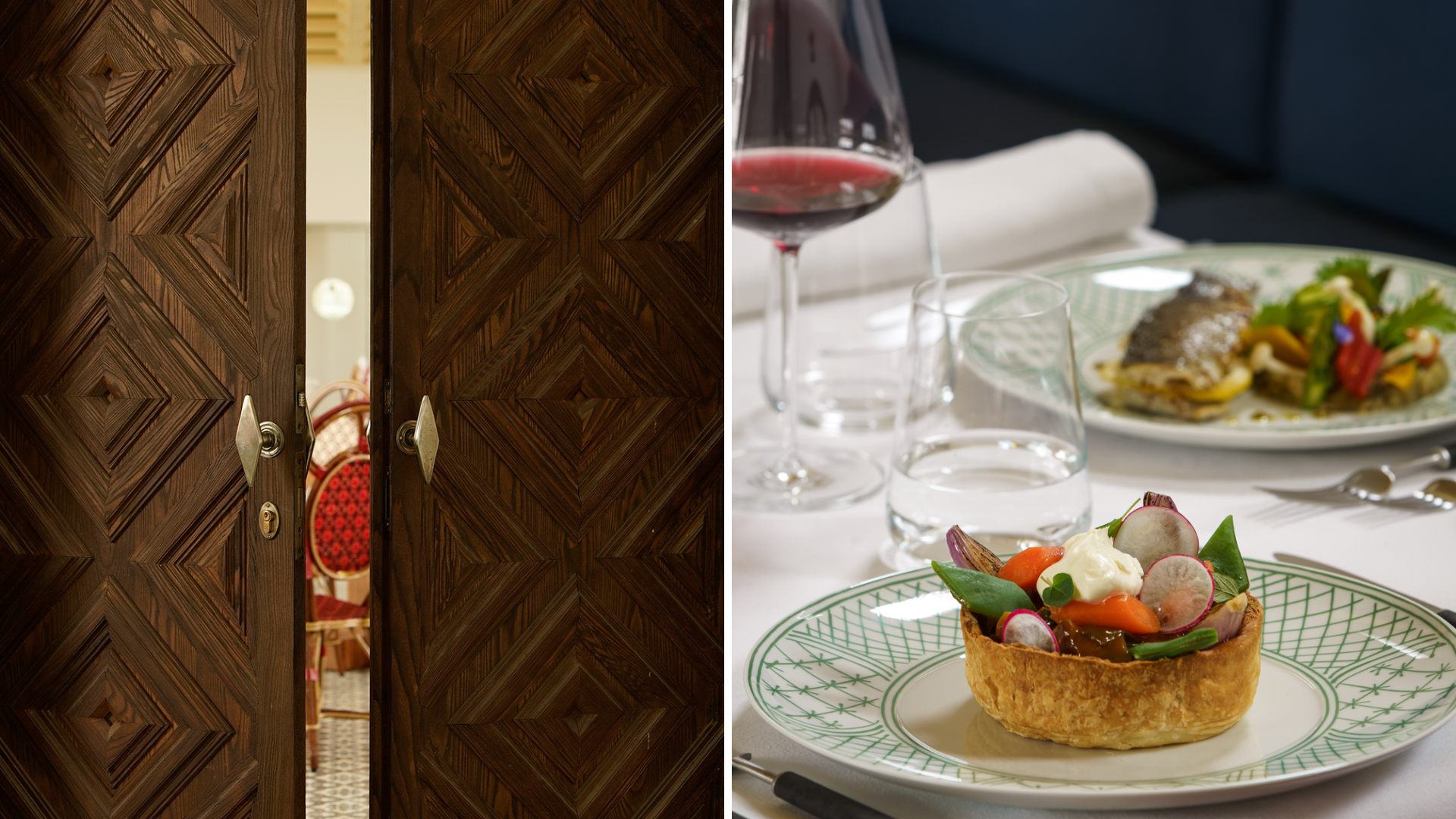 Guests are welcomed into an inviting, home-like atmosphere that seamlessly extends to the restaurant, named Xtian, offering an exploration of Portugal's culinary treasures. The Vermelho bar beckons for the tasting of cocktails, wines, and spirits. For those seeking further relaxation, care treatments and massages are also at the disposal of guests, providing a soothing experience for both body and soul.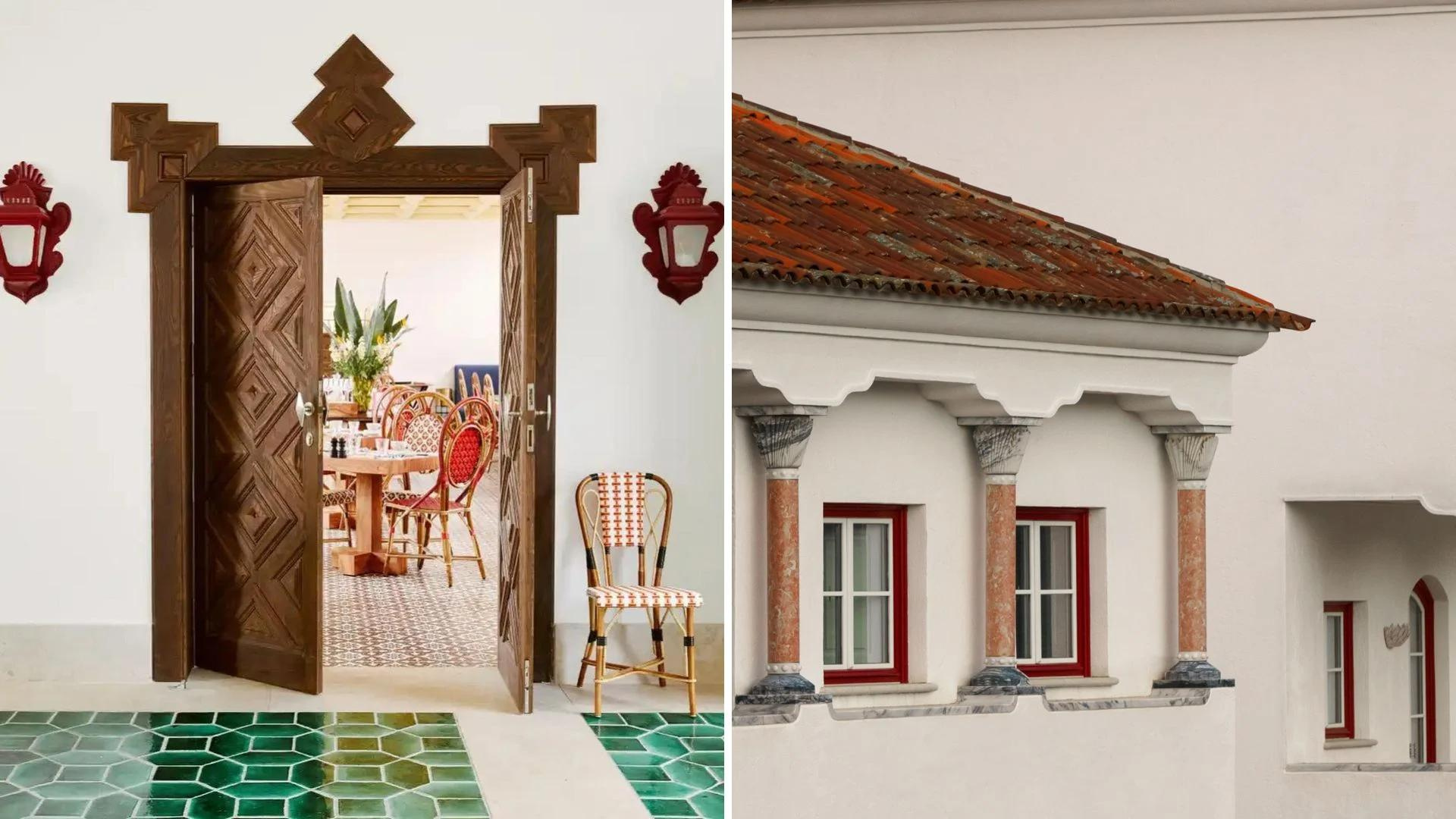 Deliberately selected, the hotel's name—Vermelho, meaning red in Portuguese—is a homage to the creator's distinctive color palette. The name resonates with the French word "merveille," signifying marvel in English, and also bears a resemblance to "vermeil," a term used in goldsmithing to denote silver plated with a delicate layer of gold. Capturing the very essence of Christian Louboutin's daring spirit, Vermelho Melides stands as an exclusive yet approachable hotel that welcomes guests from around the globe. It not only embraces a global perspective but also pays tribute to the savoir-faire and traditions of the Iberian Peninsula.
Sublime Comporta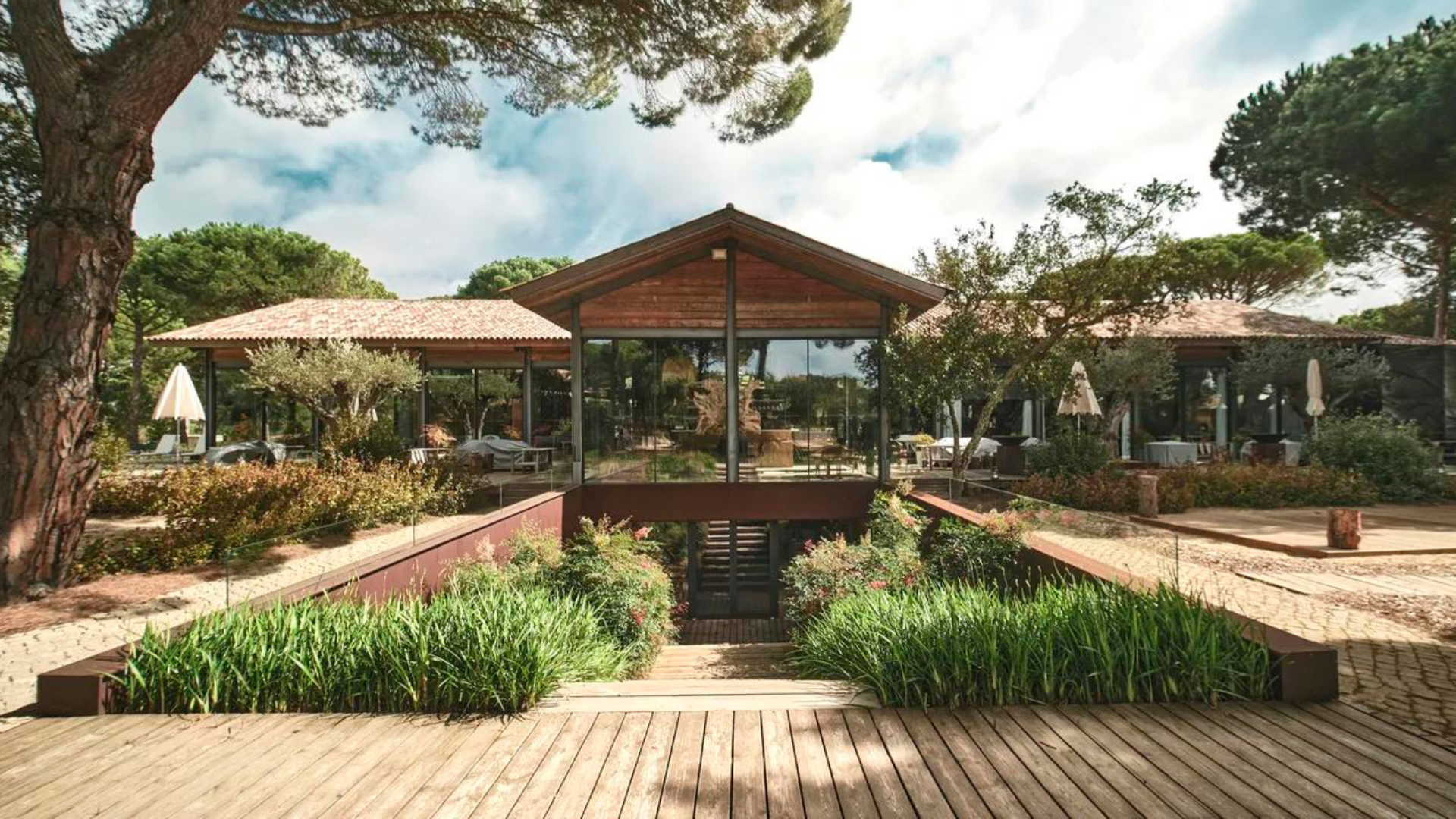 Sublime is a distinguished brand celebrated throughout Portugal for its breathtaking designs and warm hospitality. Located approximately 90 minutes from Lisbon, the Comporta property stands out as one of the most serene hotels in Portugal, owing to its idyllic location amidst the pine forests and sand dunes of the area.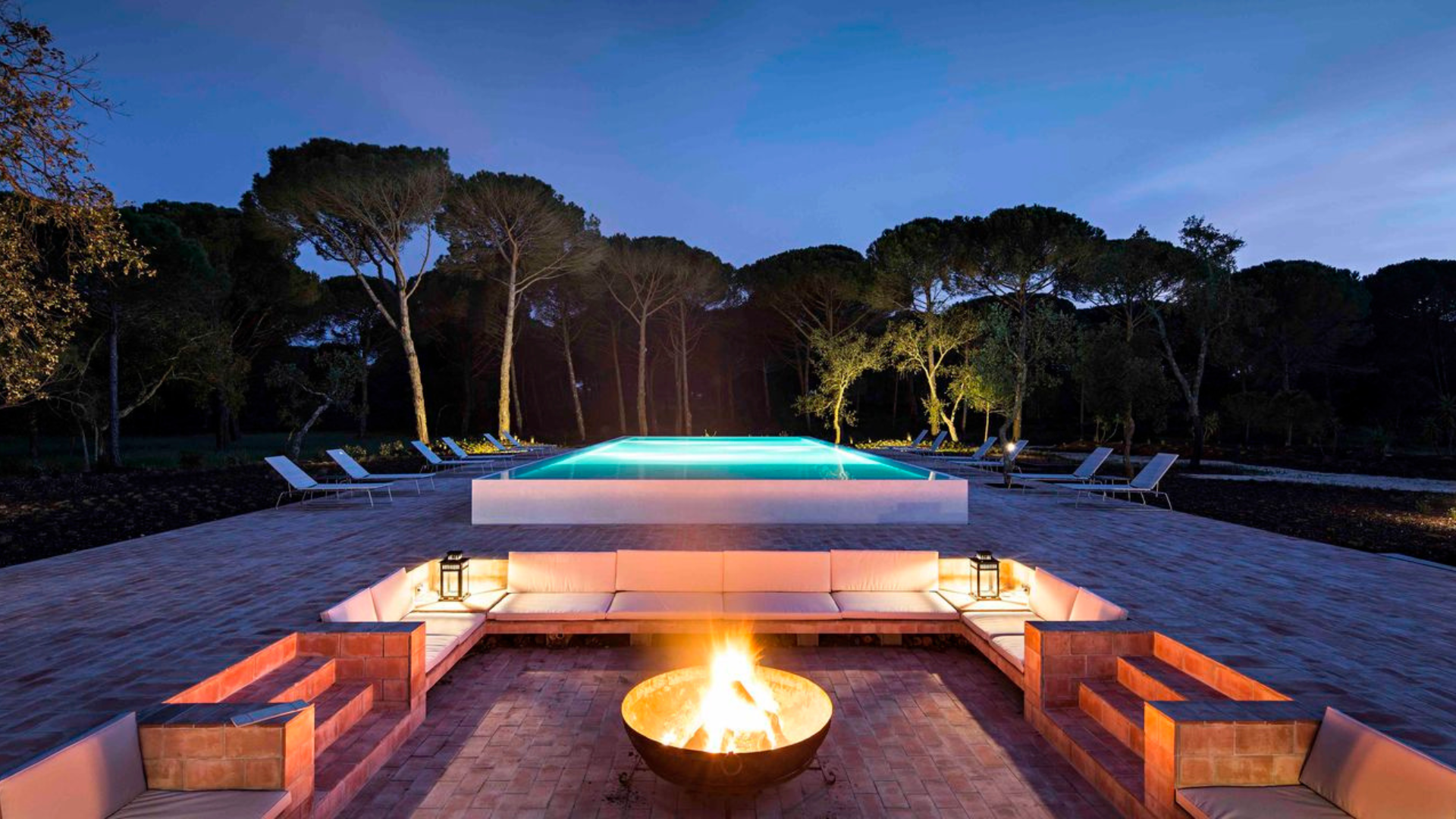 Encompassing 17 acres of land, the property boasts three pools, a spa, and three restaurants (with an additional one by the beach). For those seeking more than relaxation, a variety of activities are available to guests. The rooms, a pinnacle of luxury, showcase heated floors, free-standing bathtubs, and private terraces, providing a compelling reason to linger within the property's confines. Yet, situated in the captivating surroundings of Comporta, it would be remiss not to explore the landscape and revel in the invigorating fresh air. Spending a few nights in this haven is an unequivocal privilege.
Quinta da Comporta, Comporta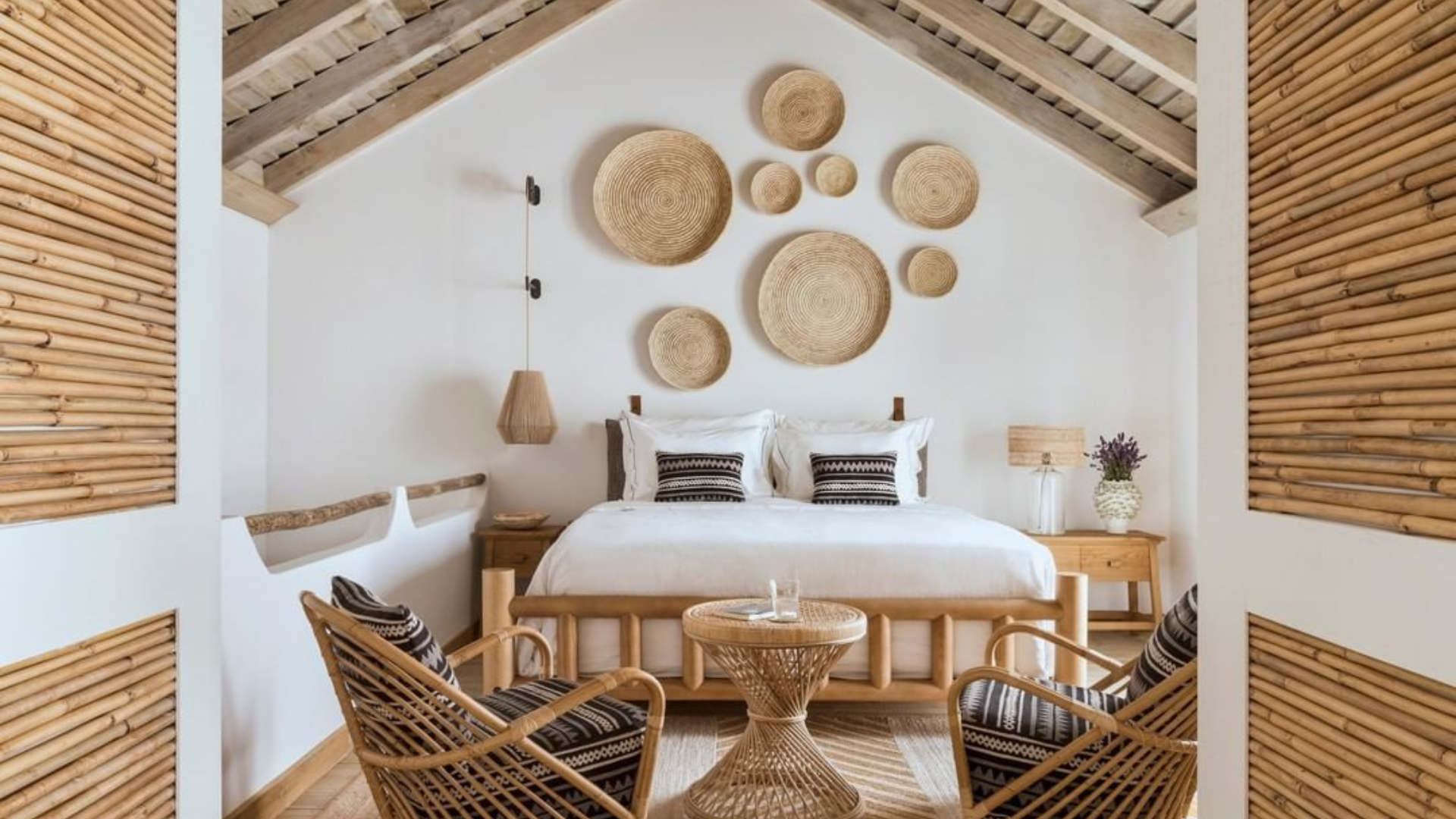 Emerging as a formidable competitor is a creation by Portuguese architect-designer Miguel Câncio Martins (known for the Buddha Bar in Paris). Meandering paths traverse the sandy landscape, guiding guests past white, barn-like structures—many formerly grain stores—overlooking the picturesque patchwork of paddy fields and a slender swimming pool. The interiors seamlessly blend with the surroundings, deliberately neutral, characterized by colossal reclaimed beams imported from Canada and adorned with pendant Balinese lampshades suspended from ropes, creating a sense of space in the double-height areas. Bedrooms evoke a beach-house ambiance, featuring rattan rugs, more of those distinctive lampshades, and abundant wood and wicker elements. The rooftop bedroom boasts two terraces—one catching the morning sun and the other providing views of captivating burnt-orange sunsets over the fields.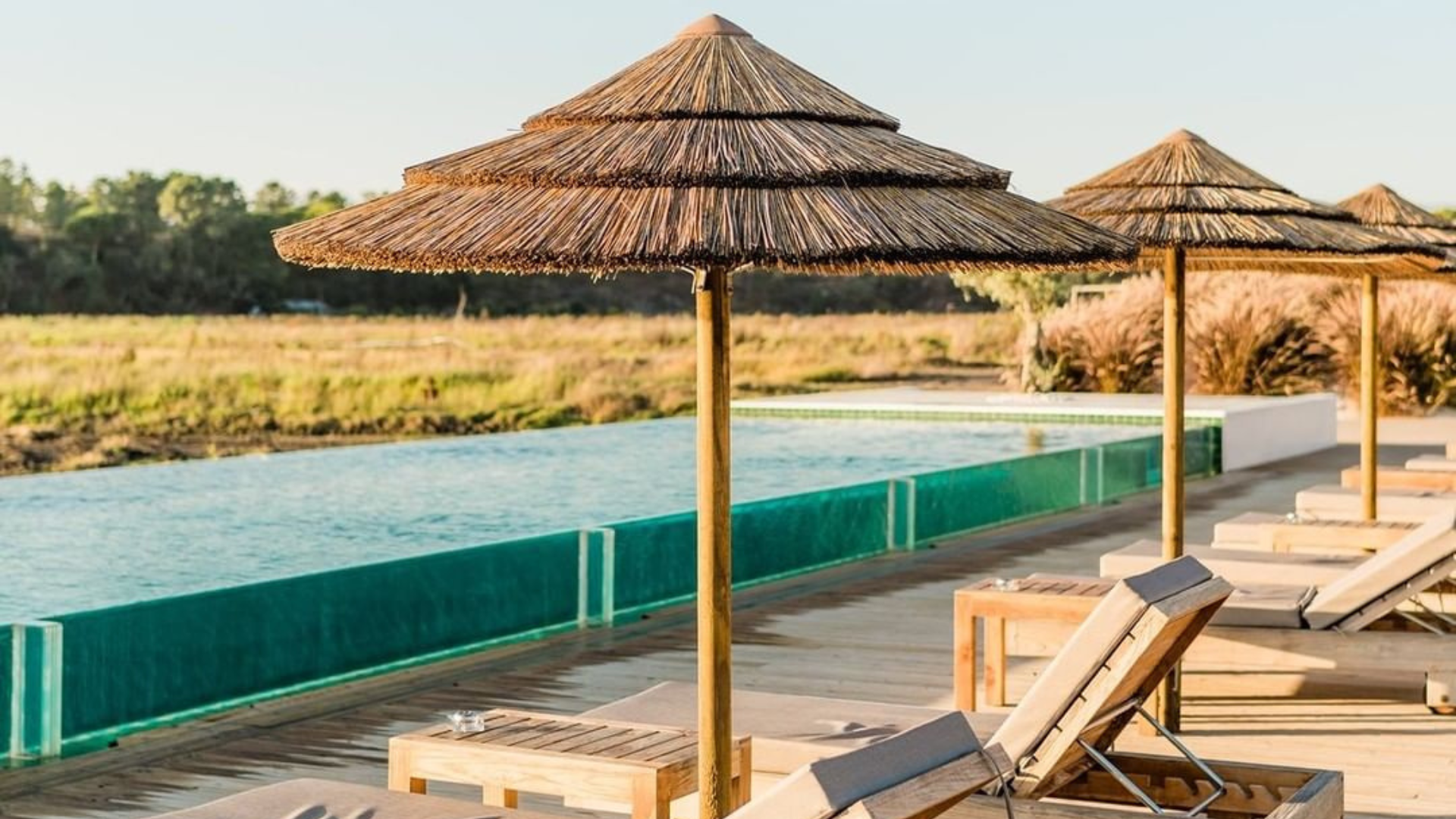 While Portugal's rustic Alentejo may seem an unconventional location for a comprehensive spa, this establishment has ambitious plans to incorporate rice, akin to how Caudalie has utilized grapes in France. Rice infuses various treatments, like the lavender foot bath, and the hotel is crafting its own products enriched with rice-bran oil, known for its benefits to skin and hair. The restaurant menu showcases an array of grains, featuring its signature Black Pig gin—best enjoyed in a cocktail infused with passionfruit and honeycomb—alongside puffed crackers flavored and colored with squid ink, saffron, and beetroot. An upcoming organic garden will further contribute to the kitchen's harvest. This new addition transcends expectations while remaining true to the breezy, sand-in-its-hair spirit of Comporta.
Four Seasons Hotel Ritz, Lisbon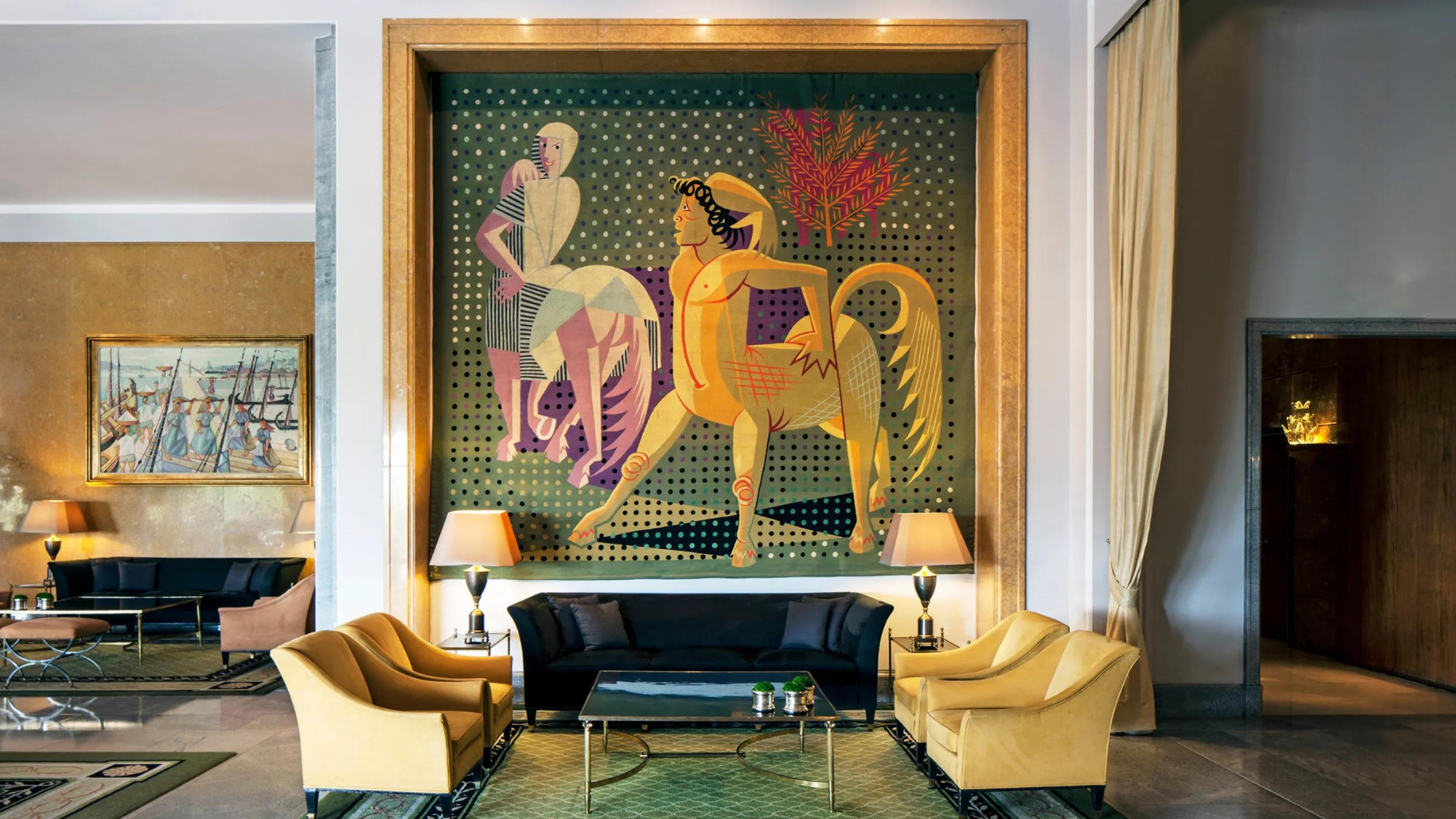 In the ever-expanding landscape of Lisbon's burgeoning hotel scene, one establishment stands as a paragon of timeless elegance. The Four Seasons Hotel Ritz Lisbon, inaugurated in 1959 under the auspices of Dictator Salazar, holds the distinction of being the city's inaugural luxury hotel. Throughout the ensuing decades, it has gracefully navigated the evolving urban panorama, maintaining its status as a bastion of classic grandeur. Adorned with an extensive collection of modern Portuguese art, ranging from tapestries to paintings and sculptures, the property exudes a distinctive charm in every corner. For those enamored with breathtaking vistas, the hotel's rooms and rooftop running track offer panoramic views of the city.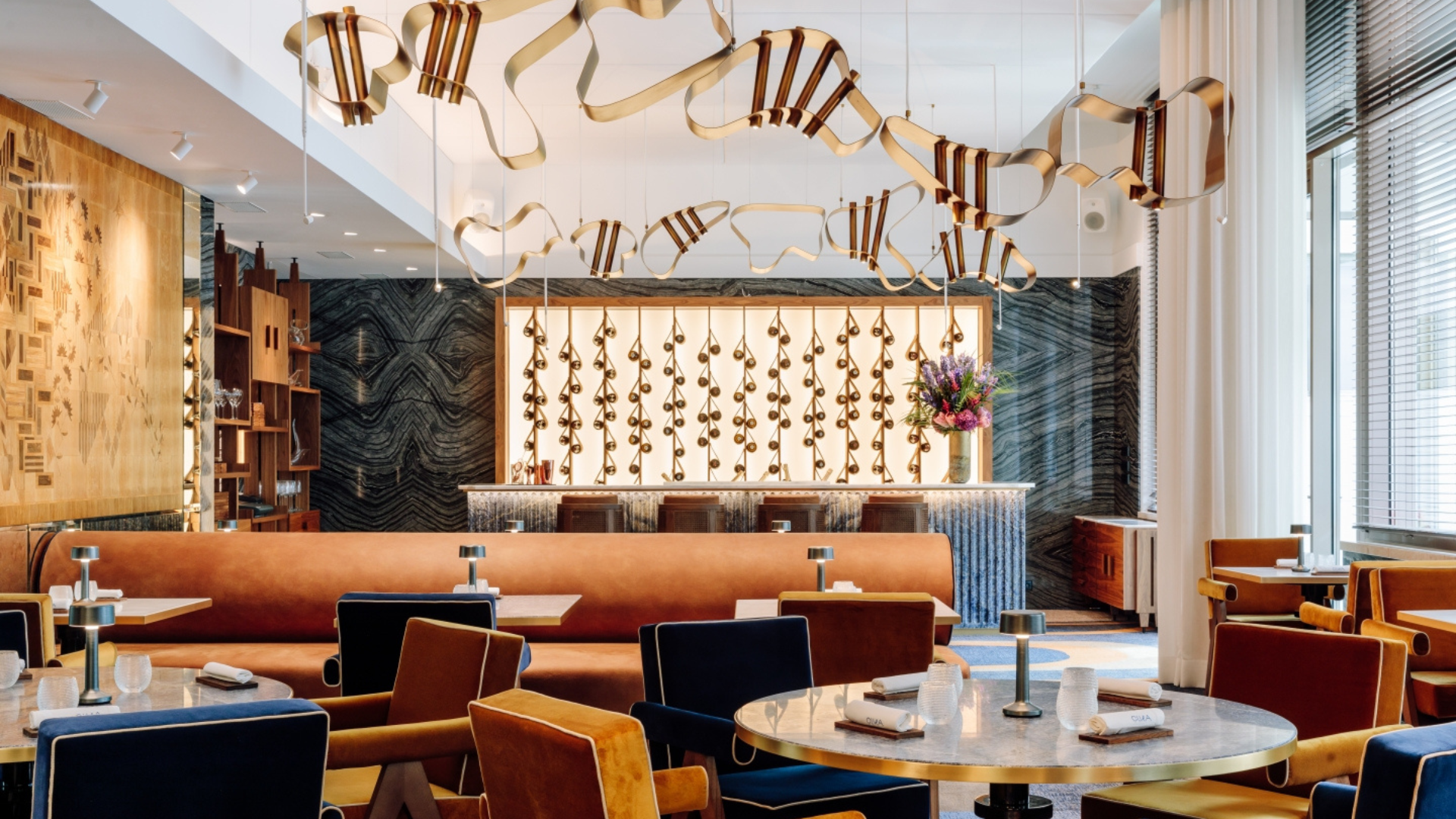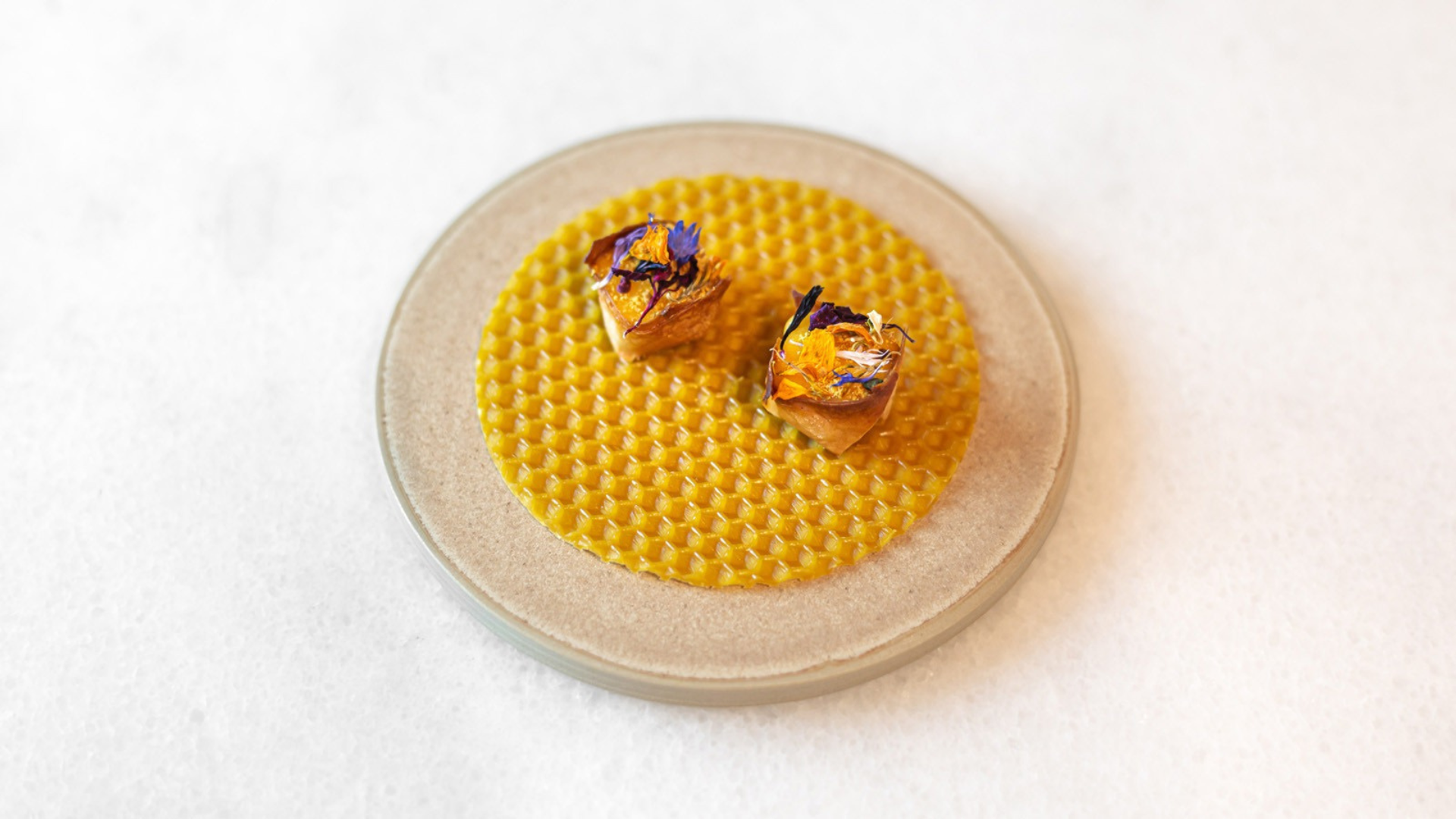 Beyond its aesthetic appeal, the Four Seasons Hotel Ritz Lisbon is renowned for its impeccable culinary offerings. Locals, in particular, laud its extravagant brunch, a regal affair featuring abundant tables adorned with an array of cheeses, meats, fish, sushi, desserts, and even a dedicated chocolate station. The breakfast experience is equally sumptuous and not to be overlooked. Adding to its culinary prestige, the hotel welcomed the Michelin-starred restaurant CURA in 2020, helmed by chef Pedro Pena Basto, offering a delightful tasting menu inspired by the rich flavors of Portugal.
Palácio Principe Real, Lisbon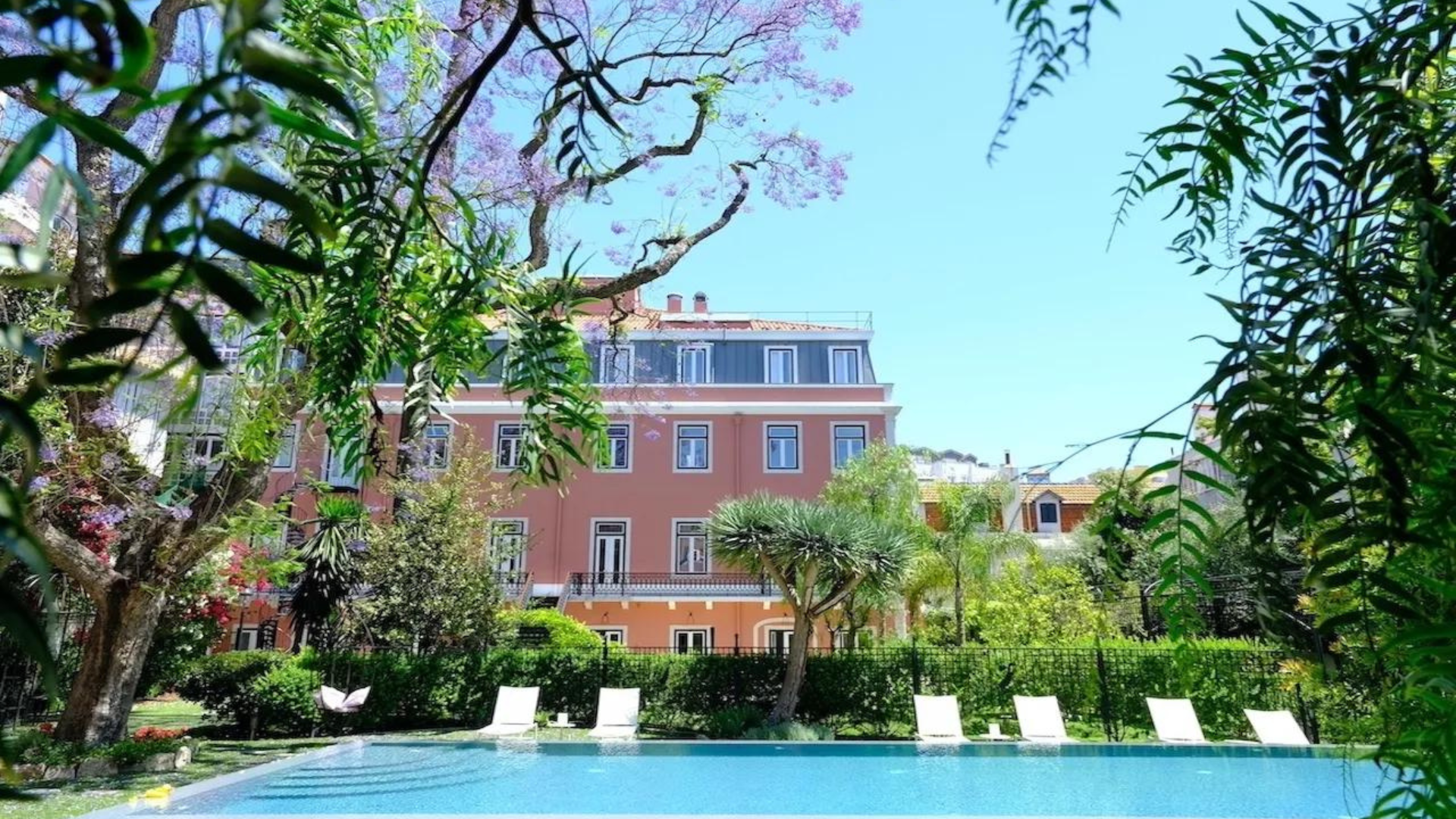 Indian mallards may not be the immediate avian association with Lisbon's verdant Príncipe Real neighborhood, where towering palm trees engage in a playful dance with the weathered façades. Within the confines of this charming peach-pink palace, however, they reign supreme. Whether perched on the counter of the aptly named Duck Bar, engraved in gold on leather key rings, or artfully incorporated into the iron railings of the expansive balconies, these ducks are an integral part of the ambiance. "We chose them as our logo because they come from Asia as we do," explains the British owners, Miles and Gail Curley, whose global experiences in Singapore and Madrid inspired their venture into hands-on hospitality. Captivated by the 19th-century palace during a visit to Lisbon, they decided to give it their own personal touch.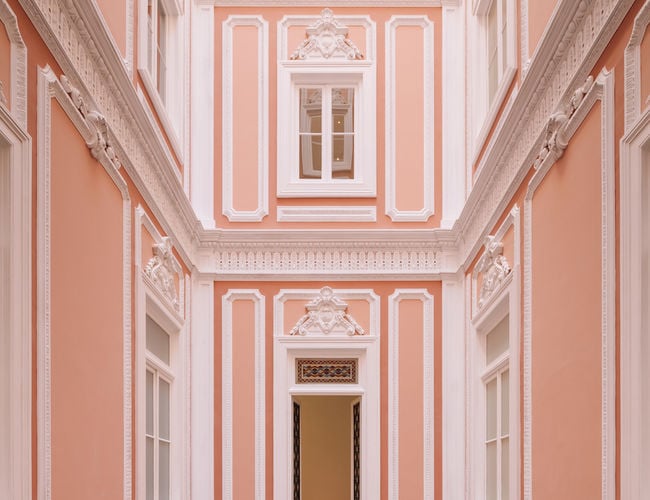 Respecting the building's heritage, preserved blue and white tiles and a vibrant arabesque ceiling rise above one of the beds. However, British nuances enhance these features, from the spacious freestanding baths by Drummonds to the convenience of Dyson hairdryers. The bathrooms feature barley-colored Sintra stone, heated floors, and luxurious Byredo bottles. The rooms invite guests to pamper themselves with do-it-yourself mini-bars - with seductive ginger shots - and pink pepper candles made in Lisbon. Breakfast is served in the gardens, under the shade of a majestic jacaranda tree, while the large swimming pool invites you to enjoy afternoons under the cloudless sky. Everywhere, an overarching sense of generosity prevails - whether in the abundance of space, the owners' dedicated time (Miles occasionally drives guests around in his vintage Renault 4 when an Uber is elusive), or the genuine warmth evident in their desire to please.
The Ivens, Lisbon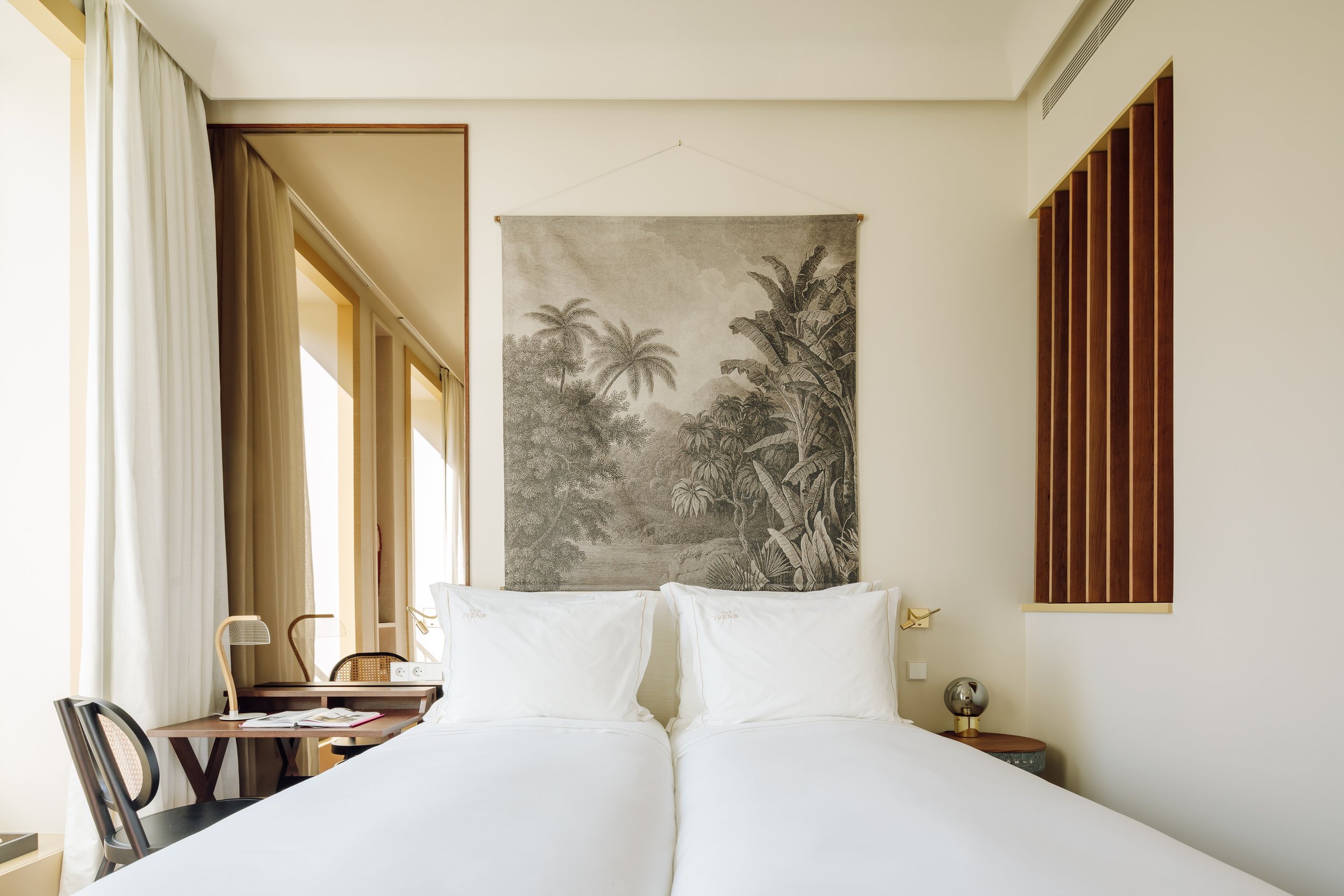 Credit: © Francisco Nogueira
Nestled in the heart of Chiado, the Ivens Hotel stands as a distinguished five-star establishment housed in an iconic building. Boasting 87 rooms infused with lively jungle vibes, this hotel exudes a unique charm.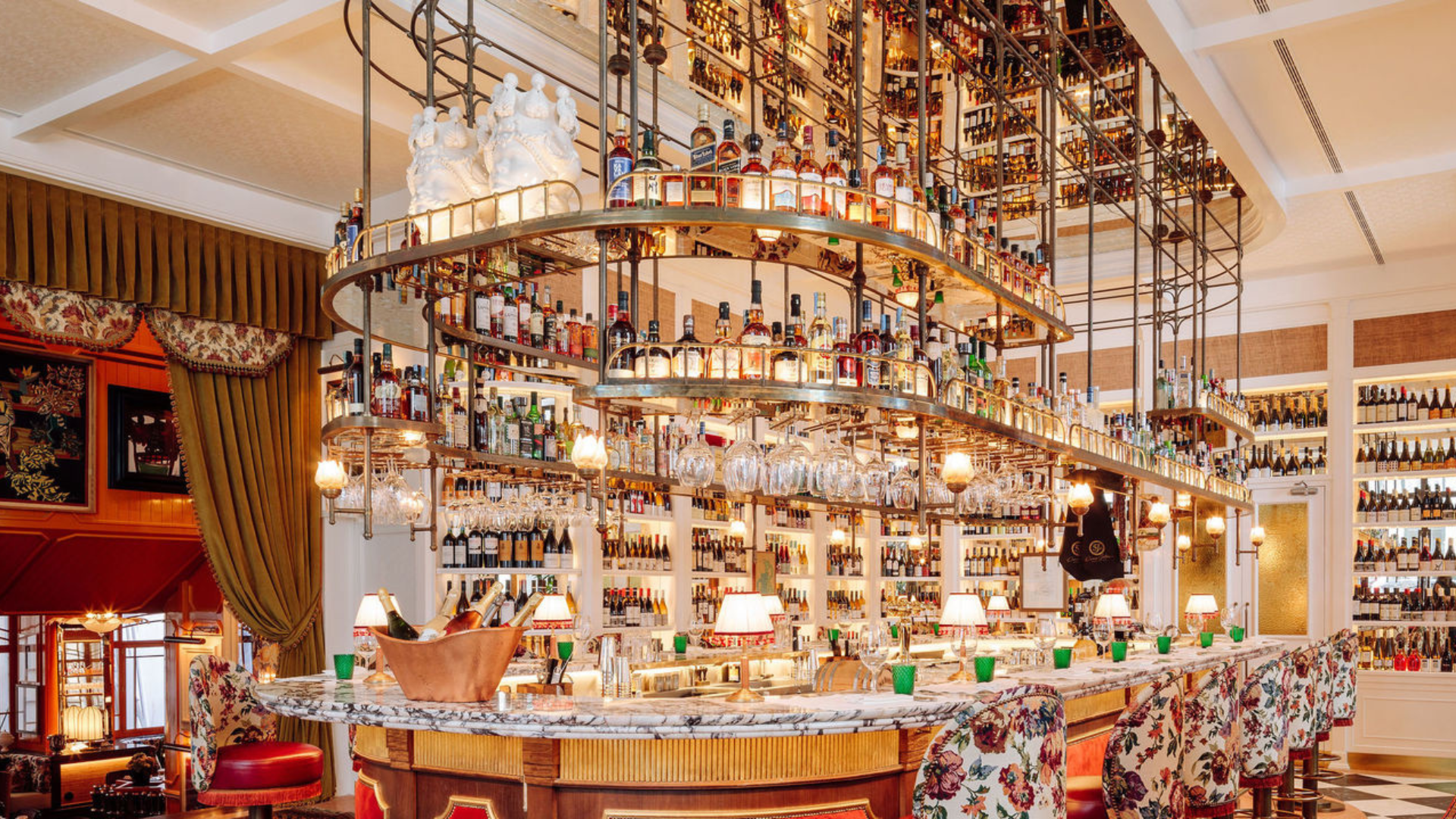 Drawing inspiration from the exploits of 19th-century adventurers Roberto Ivens and Hermenegildo Capelo, the hotel's decor pays homage to Portugal's Golden Age of Discovery. Each of the 87 rooms, including 10 suites, is adorned in colors and materials reminiscent of that era. With enchanting views of the city or river, these rooms are bathed in the beautiful light that is characteristic of Lisbon. The Ivens Hotel is distinguished by its three exquisite restaurants and bars, meticulously designed by Lázaro Rosa-Violan. These venues offer a diverse range of culinary experiences, with a particular emphasis on traditional Neapolitan cuisine.
Herdade Da Malhadinha Nova, Alentejo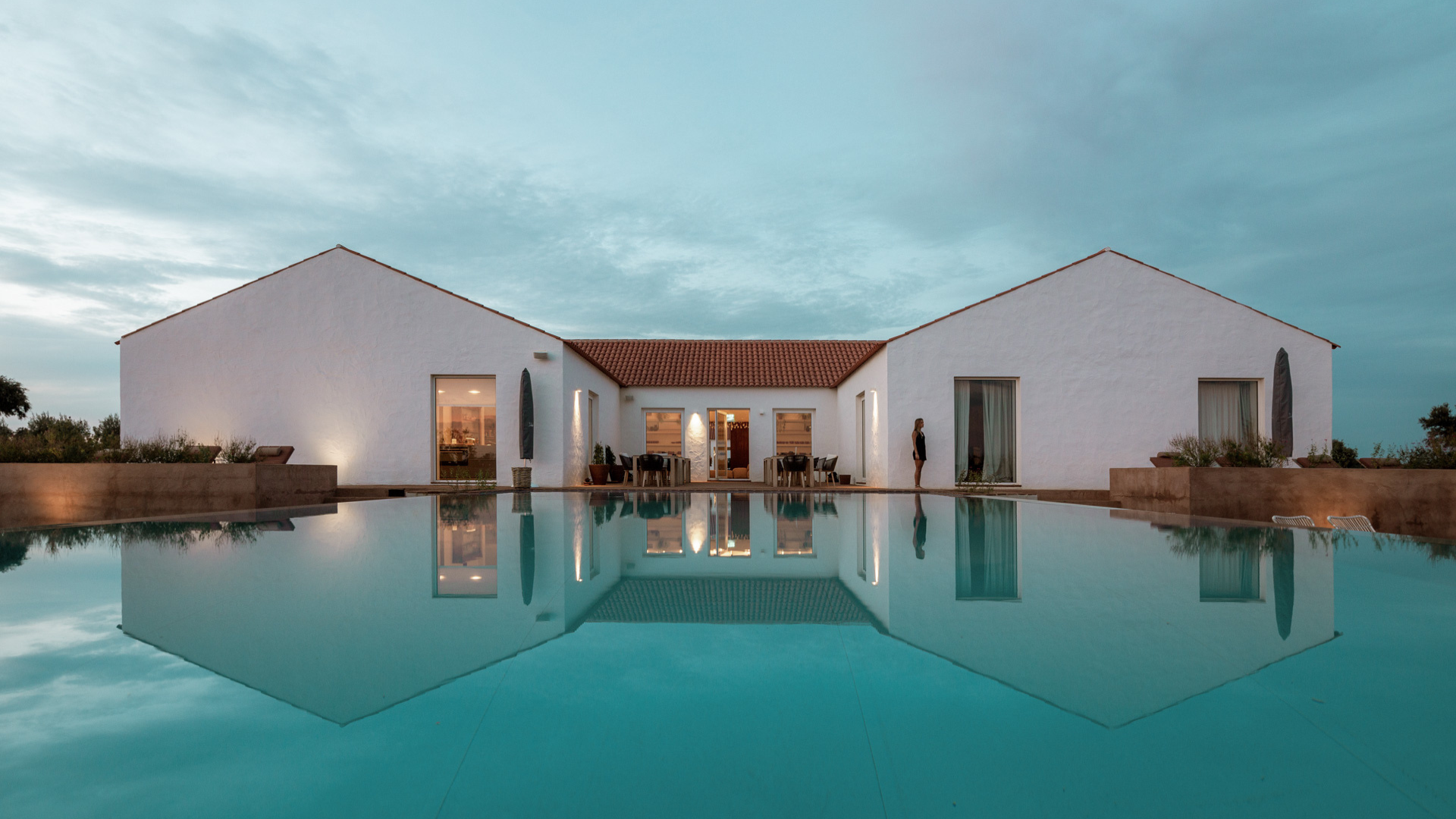 In the Alentejo's olive-filled plains, where storks still outnumber people, Herdade da Malhadinha Nova once set an exceptional standard at a time when hotels were even scarcer than they are today. This meticulously restored 10-bedroom farmhouse is ensconced amidst acres of fields and cork-oak woods, inhabited by pure-blood Lusitano horses, Iberian black pigs, and Merino sheep. The estate boasts a thriving vineyard, with labels on its acclaimed wines adorned with whimsical drawings by the Soares family's children – freckled cows, zebras, and bunches of grapes in vibrant crayon hues. Directed by Joachim Koerper from Lisbon's Michelin-starred Eleven, the restaurant presents innovative field-to-fork dishes, utilizing the abundant produce from the grounds: home-raised beef tartare, Malhadinha lamb with courgette tart, and rosemary sourced from the herb garden. In a significant expansion in 2020, the family revitalized several abandoned buildings, introducing individual villas with in-house dining.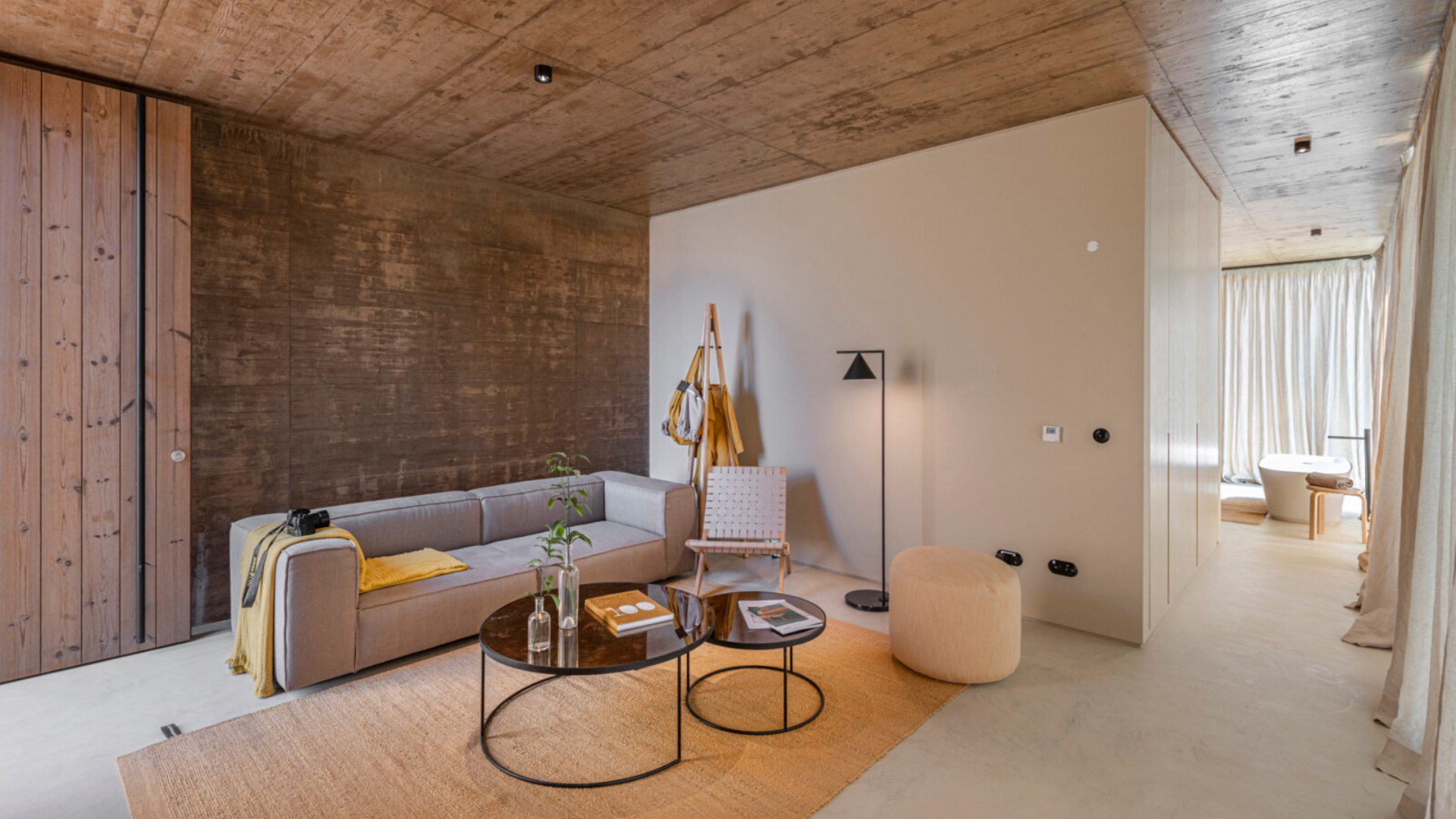 One standout addition is the terracotta-hued Casa do Ancoradouro, perched high with expansive views, featuring a vast swimming pool, games room, and seven bedrooms. A distinct sense of place permeates the interiors, evident in Alentejan antiques, bespoke artisanal ceramics, and notable pieces like the Heracleum light by Dutch designer Marcel Wanders, mirroring the wildflowers outside. Another testament to the Soares family's meticulous attention to detail is found in the two-bedroom Arts and Crafts house, where clay-covered walls in a natural olive-green pigment provide a modern twist on a cherished tradition. Beyond the interiors, the estate offers horseback riding and hot-air balloon excursions, with numerous secluded corners for those seeking solitude and silence.
Dá Licença, Alentejo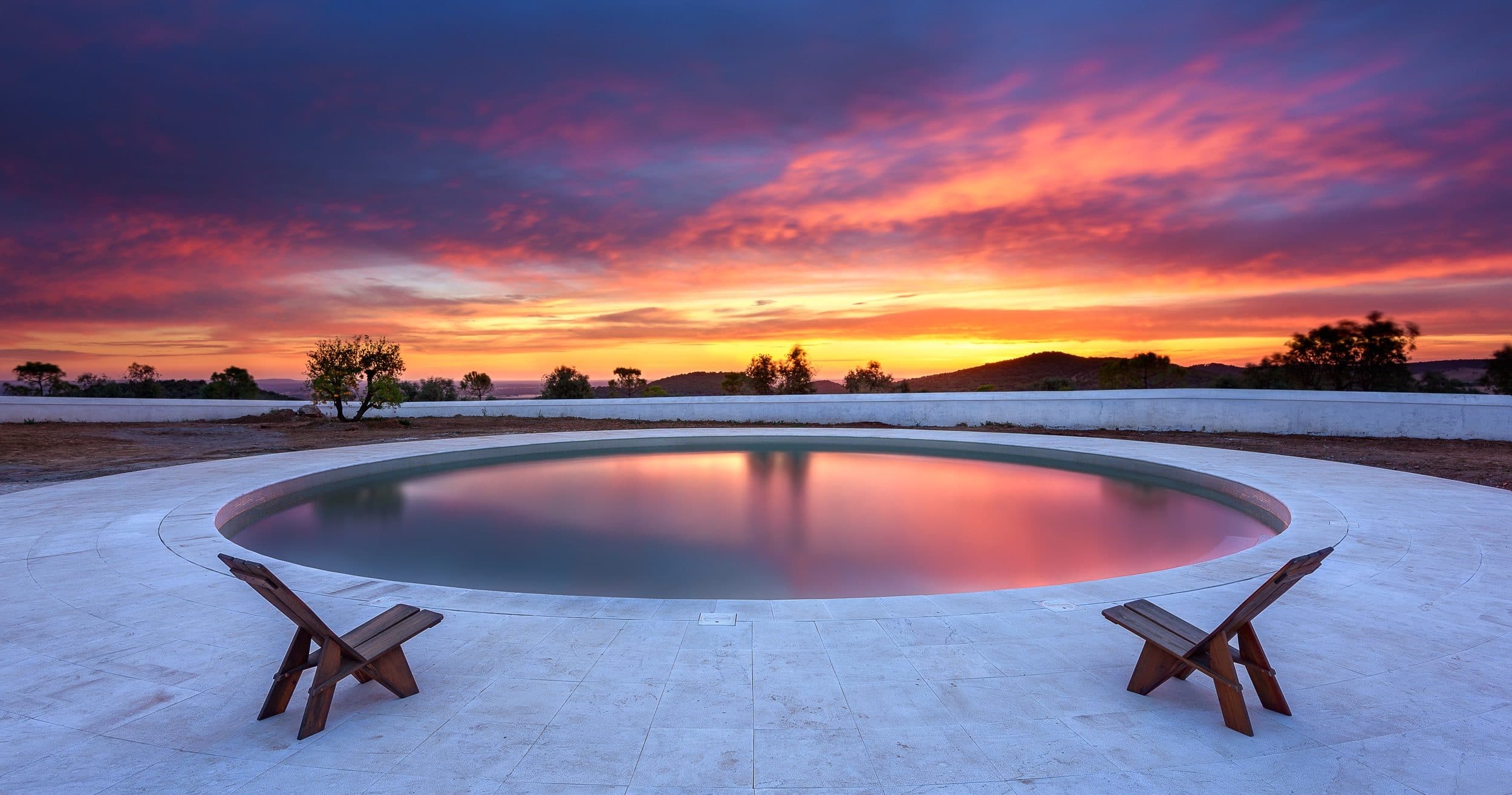 Credit: © Francisco Nogueira
Dá Licença is a serene boutique hotel and art gallery nestled in the awe-inspiring Alentejo countryside, featuring an impressive circular pool. Once a flourishing olive oil-producing estate, Dá Licença now presents five luxurious suites, each meticulously designed to evoke different inspirations – from Japanese-themed spaces to those reminiscent of a yacht; every suite emanates a harmonious blend of sophistication and innovation.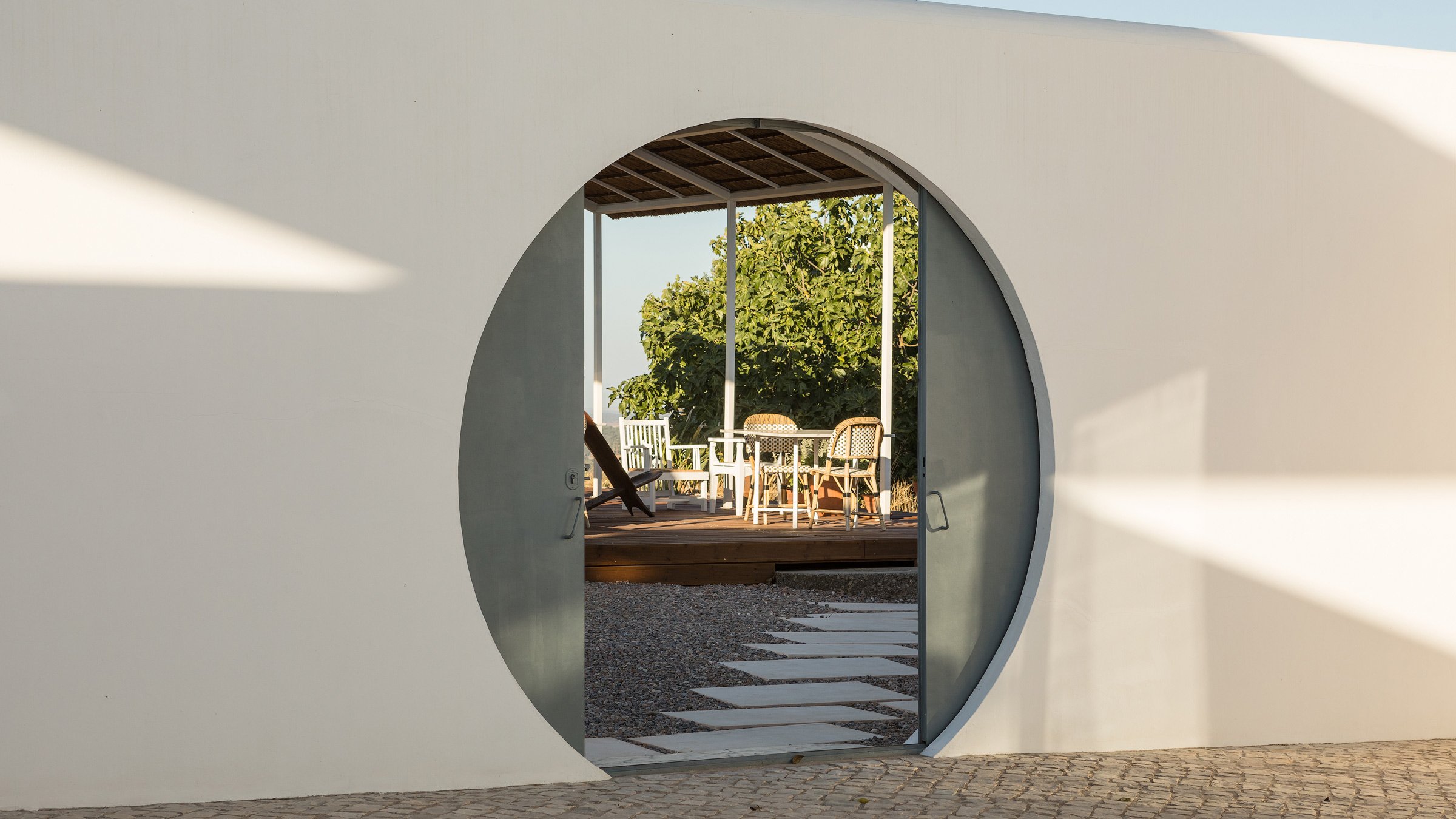 Credit: © Francisco Nogueira
Indulge in the hotel's art gallery, unwind alongside the tranquil circular pool, and immerse yourself in the vistas of Alentejo's undulating hills and medieval castles. Dá Licença offers a distinctive retreat where art and nature seamlessly intertwine, creating a sanctuary crafted from marble, cork, and local artisanship. The vision of Vitor Borges and Franck Laigneau, Dá Licença was passionately brought to life by these individuals who departed their successful careers in Paris to establish this haven.
L'AND Vineyards Resort, Alentejo

In a region where black pigs roam freely beneath oak trees and storks find sanctuary on ancient bell towers, a striking new hotel has emerged, nestled among vineyards within a series of low-slung, white modernist buildings. Brazilian architect Marcio Kogan has curated warm, earth-toned interiors dominated by wood and slate, featuring bespoke elements like the distinctive bench by George Nakashima. The 22 wonderfully spacious rooms, divided into L'AND View and Sky View categories, accentuate the natural surroundings with wooden-slatted walls, raw textiles, and expansive baths crafted from slate. Keeping pace with modern technology, the rooms are equipped with iPads and iPod docks, while the Sky View Suites boast electronically retractable ceilings, revealing the starry night sky.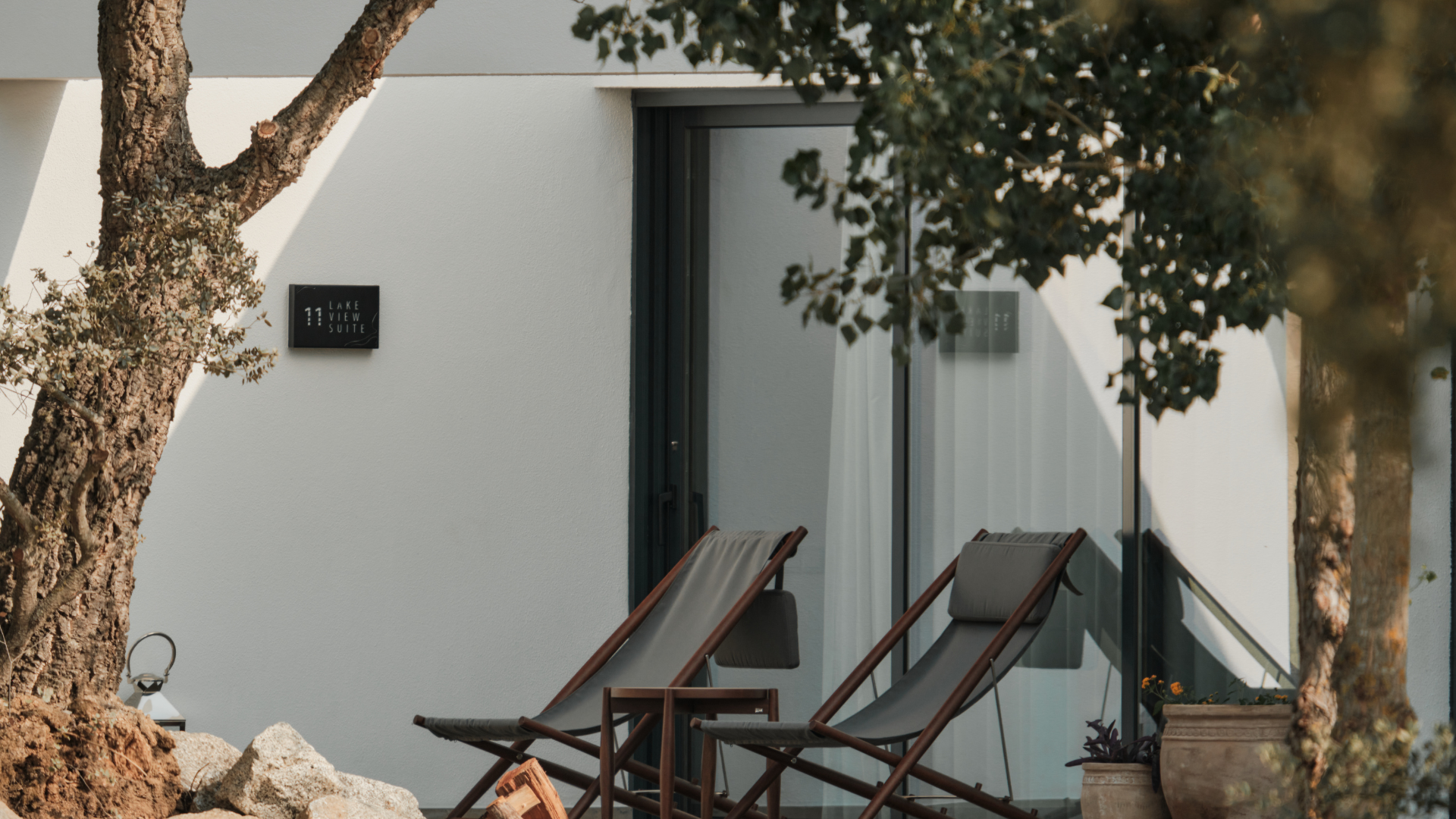 In the restaurant, Chef Miguel Laffan artfully utilizes local treasures such as sheep's cheese and porco preto horse mackerel to create sophisticated culinary masterpieces, including shrimp encrusted with delicate threads of batter. The sommelier conducts tastings of the vineyards' own highly drinkable red Reserva, and guests can unwind in the restful Vinothérapie Spa by Caudalíe. This hotel harmoniously combines modern elegance with the timeless beauty of the surrounding natural landscape.
Pine Cliffs Luxury Resort, Algarve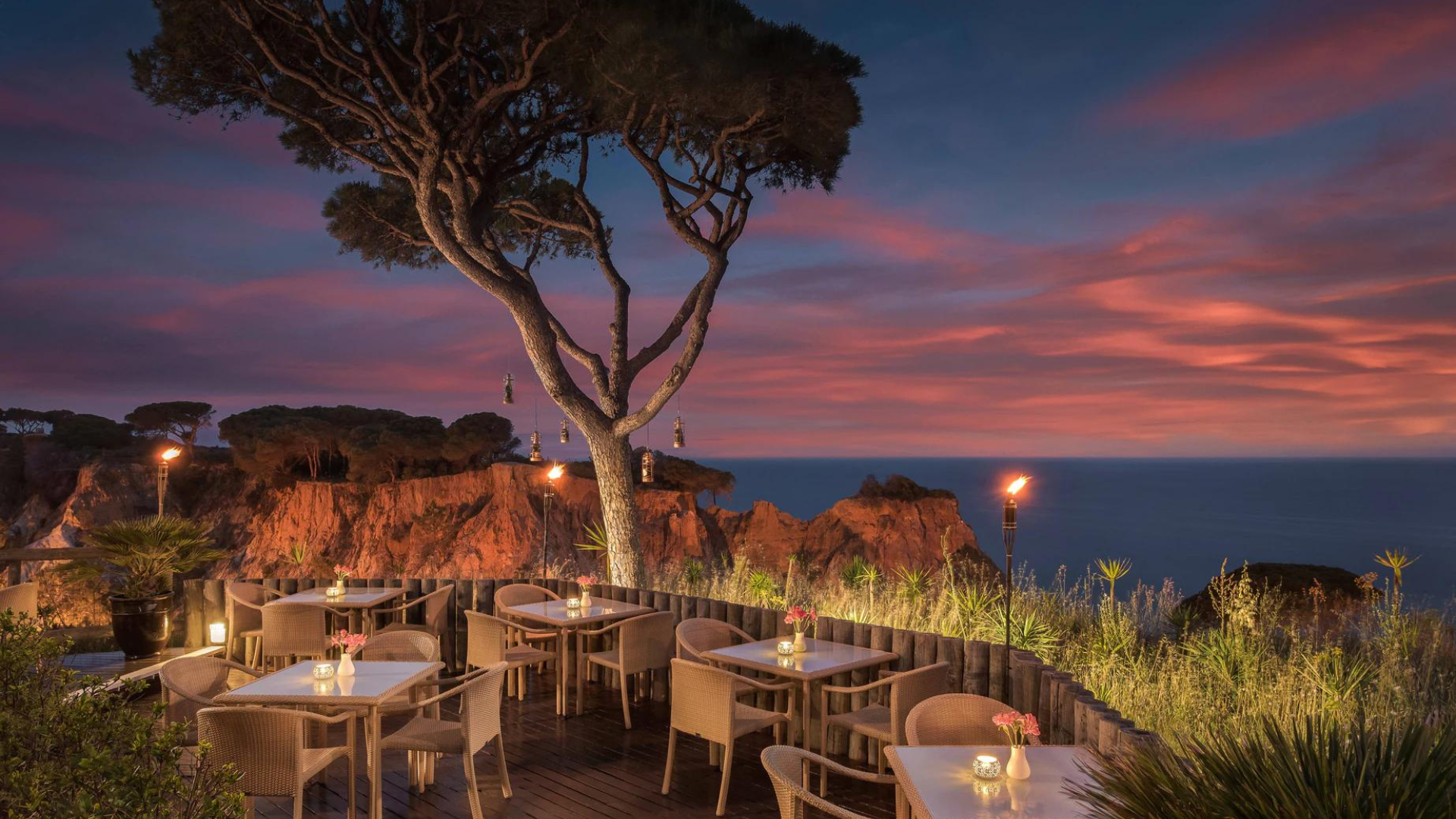 Situated along the Algarve coast in southern Portugal, Pine Cliffs Hotel, a Luxury Collection Resort, has undergone a stunning renovation to provide discerning travelers with an exclusive retreat perched atop cliffs overlooking the Atlantic Ocean. This cherished haven, a true home-from-home, maintains its iconic status within the Pine Cliffs Resort, capturing hearts since its inaugural opening in 1992.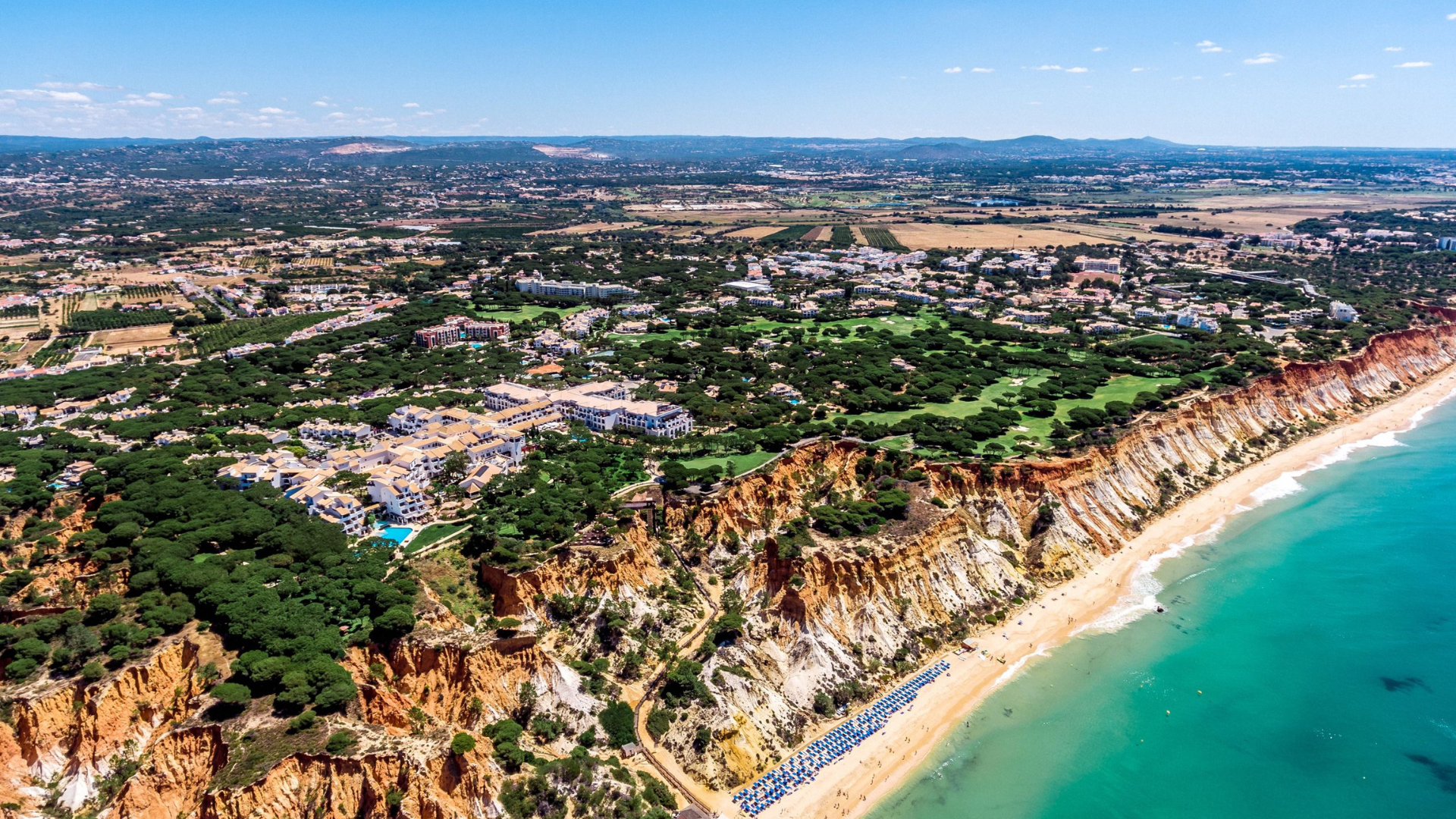 Conveniently located just thirty minutes from Faro International Airport, the hotel is nestled in the scenic expanse of the Algarve, surrounded by fragrant pine woods and a dramatic cliff formation adorned with vibrant orange sandstone. Enveloped by the 72-hectare Pine Cliffs Resort, the hotel boasts a traditional design infused with indigenous elements, where the narrative of Portuguese history unfolds through murals and hand-painted tiles, thoughtfully harmonized with native architecture.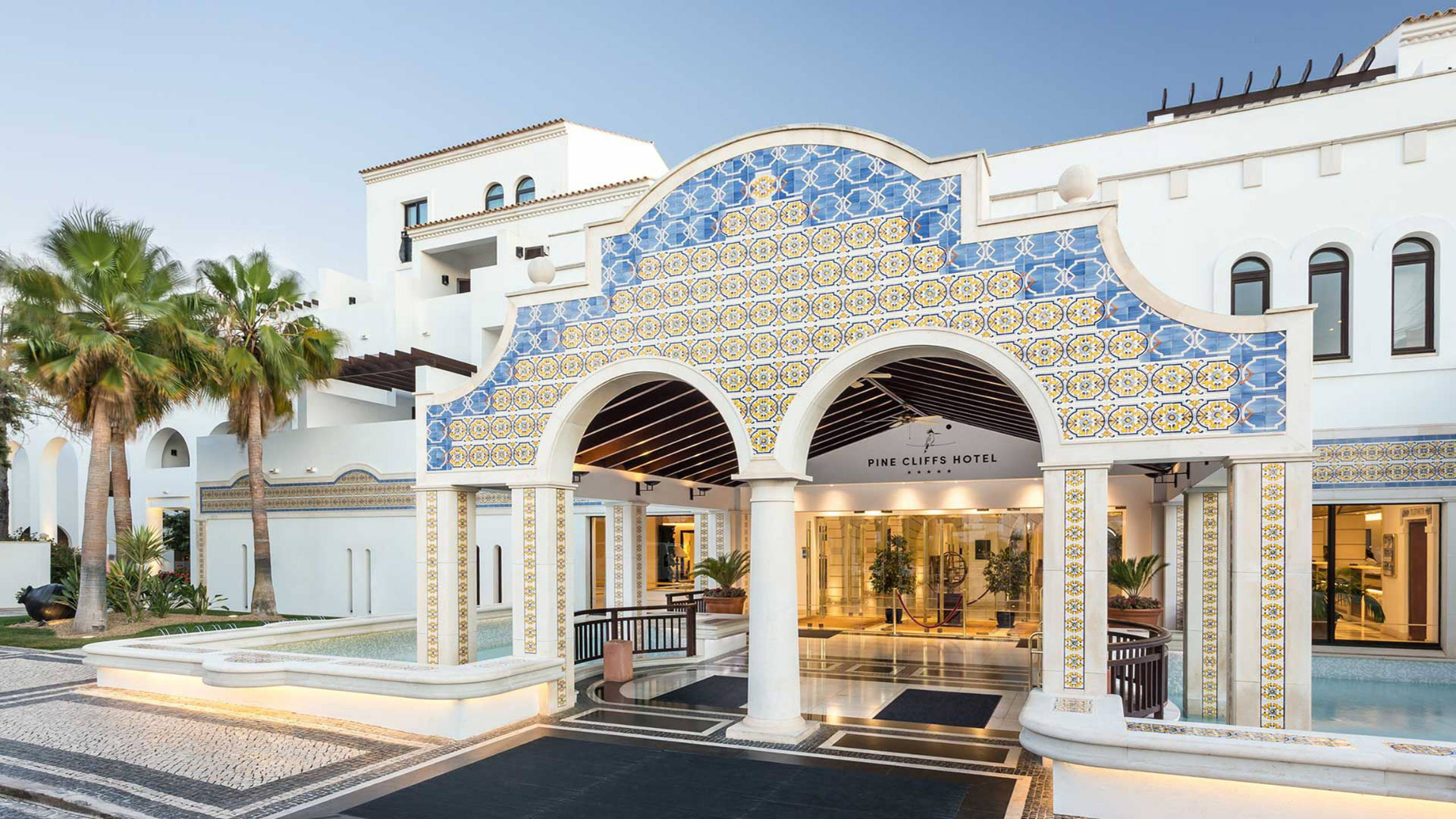 Offering a choice of five room categories spanning 217 spacious rooms and suites, the accommodations exude a light and airy ambiance with cooling terracotta-tiled floors and pristine white walls. Each room provides breathtaking views of either the ocean or meticulously landscaped resort grounds from a private balcony or terrace, complemented by elegantly designed en-suite bathrooms. Adorned by local artisans, the rooms feature a signature Luxury Collection bed, enhanced by an intricate hand-painted tiled headboard and equipped with cutting-edge technology, ensuring an authentic and comfortable retreat for guests.
Bela Vista Hotel & Spa, Algarve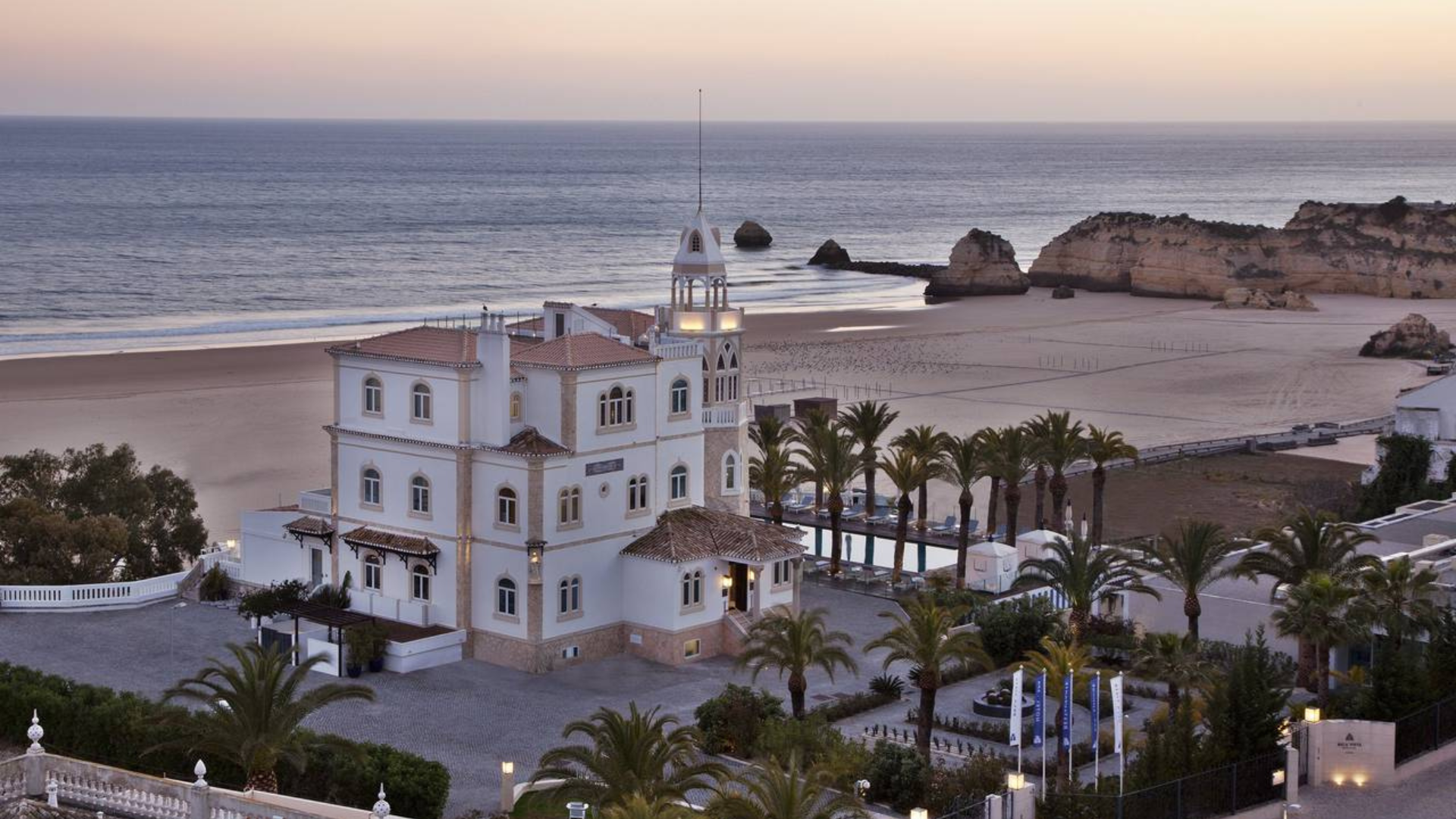 Transformed from a private residence into the pioneering hotel on the Algarve in 1934, this 19th-century gem graces the magnificent Praia da Rocha. Despite being surrounded by imposing concrete structures today, it maintains its coveted position on one of Portugal's finest beaches. Upon passing through the ornate, wrought-iron entrance gates, one cannot help but be enchanted by its century-old allure. The main building, housing a bar, sitting areas, and 11 bedrooms, exudes a delightful jewel-box ambiance adorned with vintage artifacts. Preserving its original charm, including painted wooden ceilings and captivating wall tiles, a recent refurbishment by the acclaimed designer Graça Viterbo has injected bold colors and striking materials, resulting in a fusion reminiscent of Miami meeting the Mediterranean (via the Atlantic).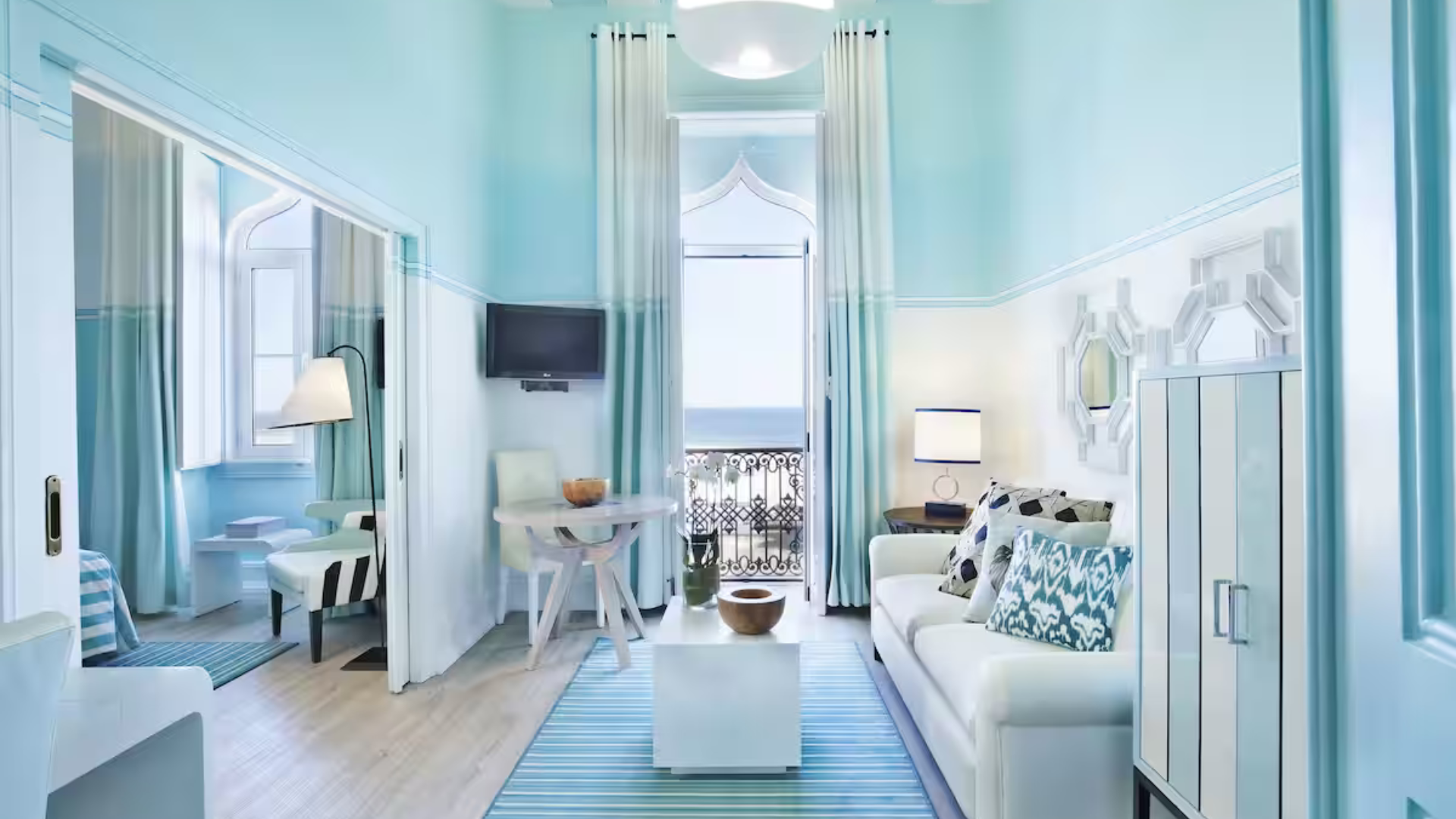 Within the grounds lies Casa Azul, a six-bedroom villa, alongside a new two-story extension with an additional 20 bedrooms that overlook a chic swimming pool bordered by majestic palms. Adding to the allure, a stunning L'Occitane spa, also a remarkable creation by Viterbo, made its debut in March. The culinary offerings by chef João Oliveira present innovative Portuguese dishes, such as oysters with green tomato and Alentejano bread or cheek nelly paired with artichokes and S. Jorge cheese, providing a delectable dining experience against the backdrop of waves gently washing ashore.
Torel Avantgarde, Porto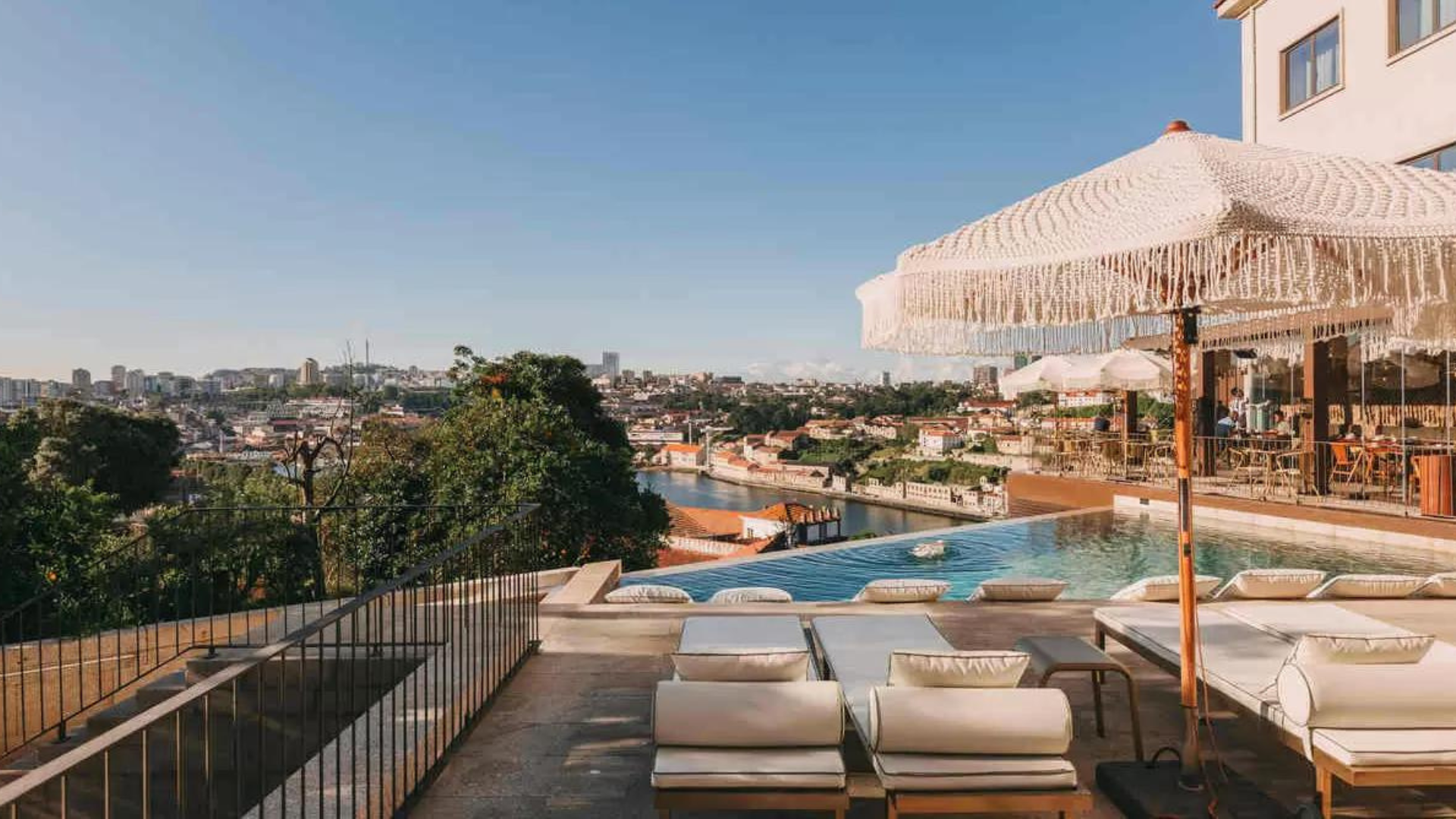 Located within a building that traces its origins back to the Estado-Novo period, this boutique hotel of exceptional quality presents guests with a meticulously renovated space that not only showcases art but also pays homage to individuals who perennially stood ahead of their time.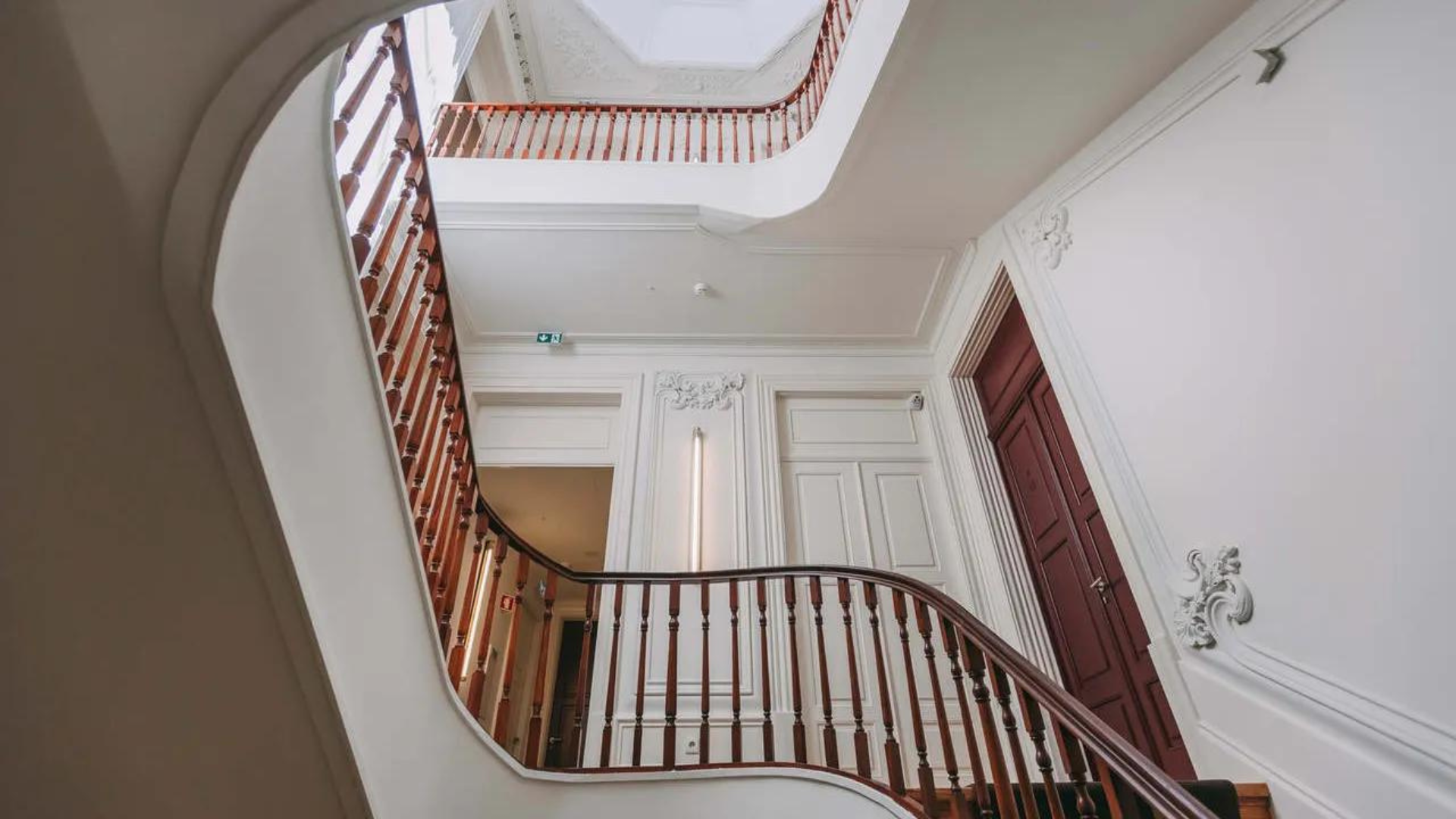 Art takes center stage here in its entirety. Drawing inspiration from the realms of fine arts, literature, science, music, architecture, and design, every element of the décor reflects this rich tapestry. Celebrities such as Charles & Ray Eames, Amadeo de Souza-Cardoso, Coco Chanel, Sigmund Freud, Fernando Pessoa, or, Nina Simone lend their names to the forty-seven distinct, exclusive, and bespoke rooms at Torel Avantgarde. While each room captivates, the flower room stands as a realm of delicacy and refined taste—an ideal space for savoring a drink, reading a book, or engaging in conversation during this venture through one of Porto's trendiest, most sophisticated, and charming hotels. Undoubtedly, it is the most standout space (and frequently the most photographed!).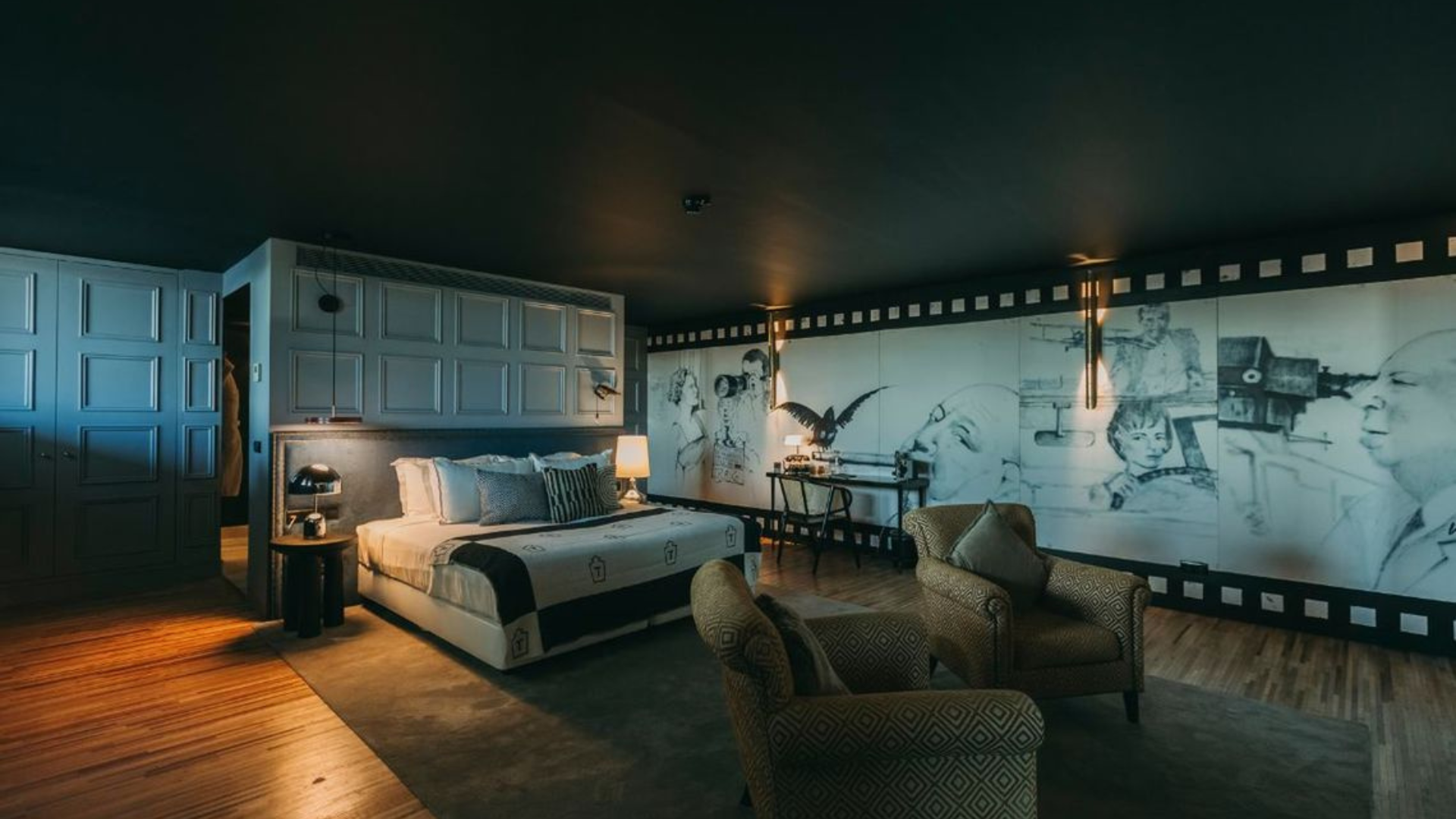 For a comprehensive experience, explore the terrace with its captivating view of the Douro, indulge in a refreshing dip in the pool, or pamper yourself with a spa treatment. Whichever option you choose, we are confident that your time at Torel Avantgarde will leave you thoroughly inspired and rejuvenated.
Quinta Da Corte, Douro Valley
The sun-drenched vineyards, in their primitive state, required the use of pickaxes and horse-drawn ploughs for taming. The Quinta, a white, ochre-yellow-framed stucco structure standing in solitary splendor on the periphery of a UNESCO-protected hillside, had succumbed to neglect following an extended inheritance dispute. Austruy enlisted the expertise of slick, Paris-based architect Pierre Yovanovitch to meticulously transform the low-slung, 19th-century building into an elegant rural retreat without altering any of its original structure. Yovanovitch's keen eye for detail ensures that the outcome feels deeply rooted and authentic, featuring custom-made, slim-limbed colorful sofas, alabaster light fittings, brushed-metal lamps, vintage rotary phones, musty editions of Proust and Brecht, and delicate ceramics adorning turmeric-orange walls.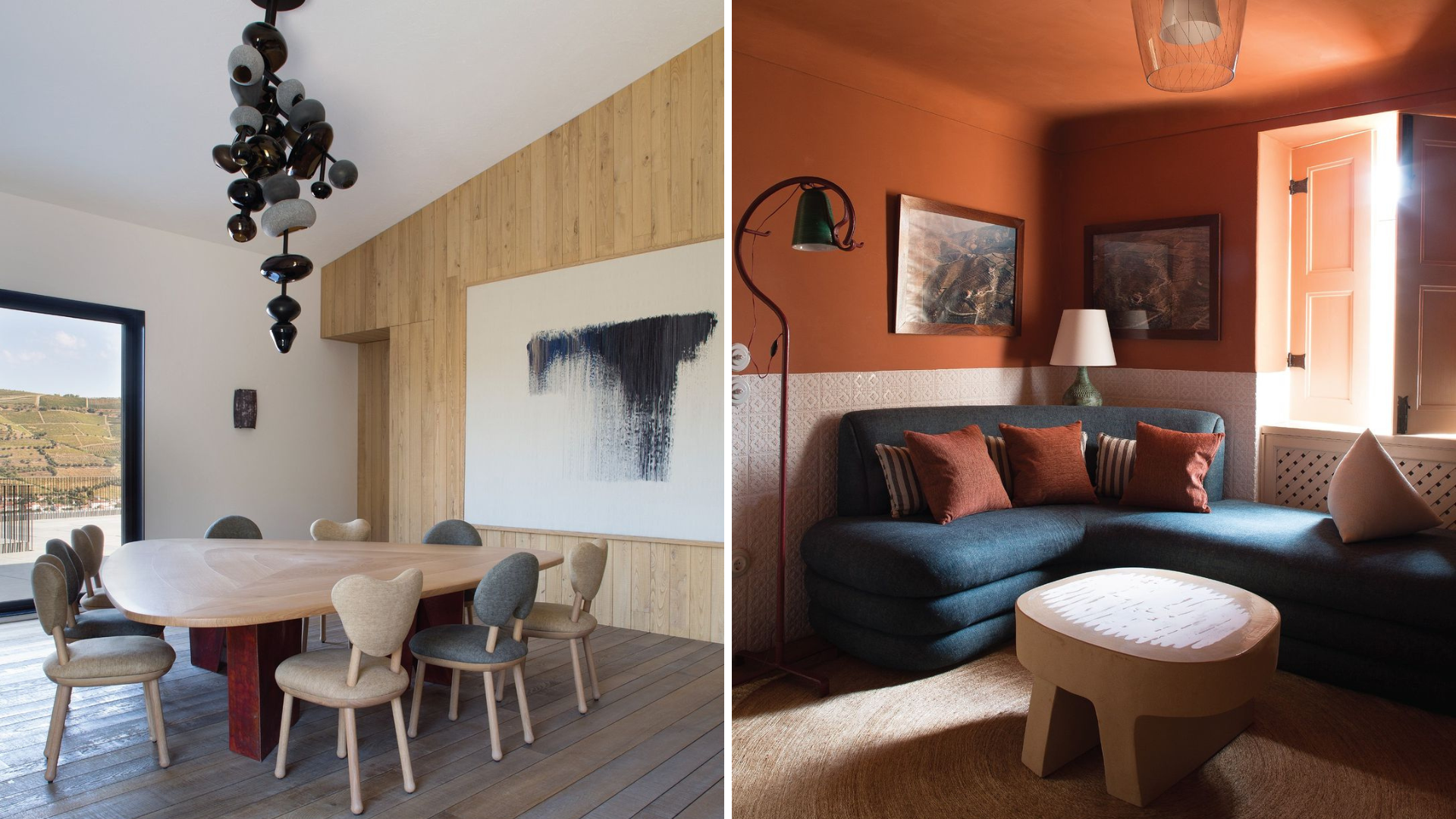 The eight bedrooms exemplify still-life simplicity, with wicker chairs, light from slatted shutters playing off textured plaster, and recessed niches adorned with jugs of wildflowers. On the veranda, the inky-blue expanse of the pool seemingly hovers over the stretch of mottled-green vineyards. Adding a functional Scandi touch, the new winery, a stark-white cube, protrudes from a bluff below the main house. After meandering along the river in flat-bottomed wooden boats or exploring nearby port houses, guests can gather for Porto tónicos before partaking in family-style suppers featuring lemony grilled octopus and traditional cozido meat stew. Located just a two-hour drive from Porto, this is the kind of destination where a discerning crowd seeks a lo-fi recharge—a leisurely long weekend following an urban escapade.
Six Senses Douro Valley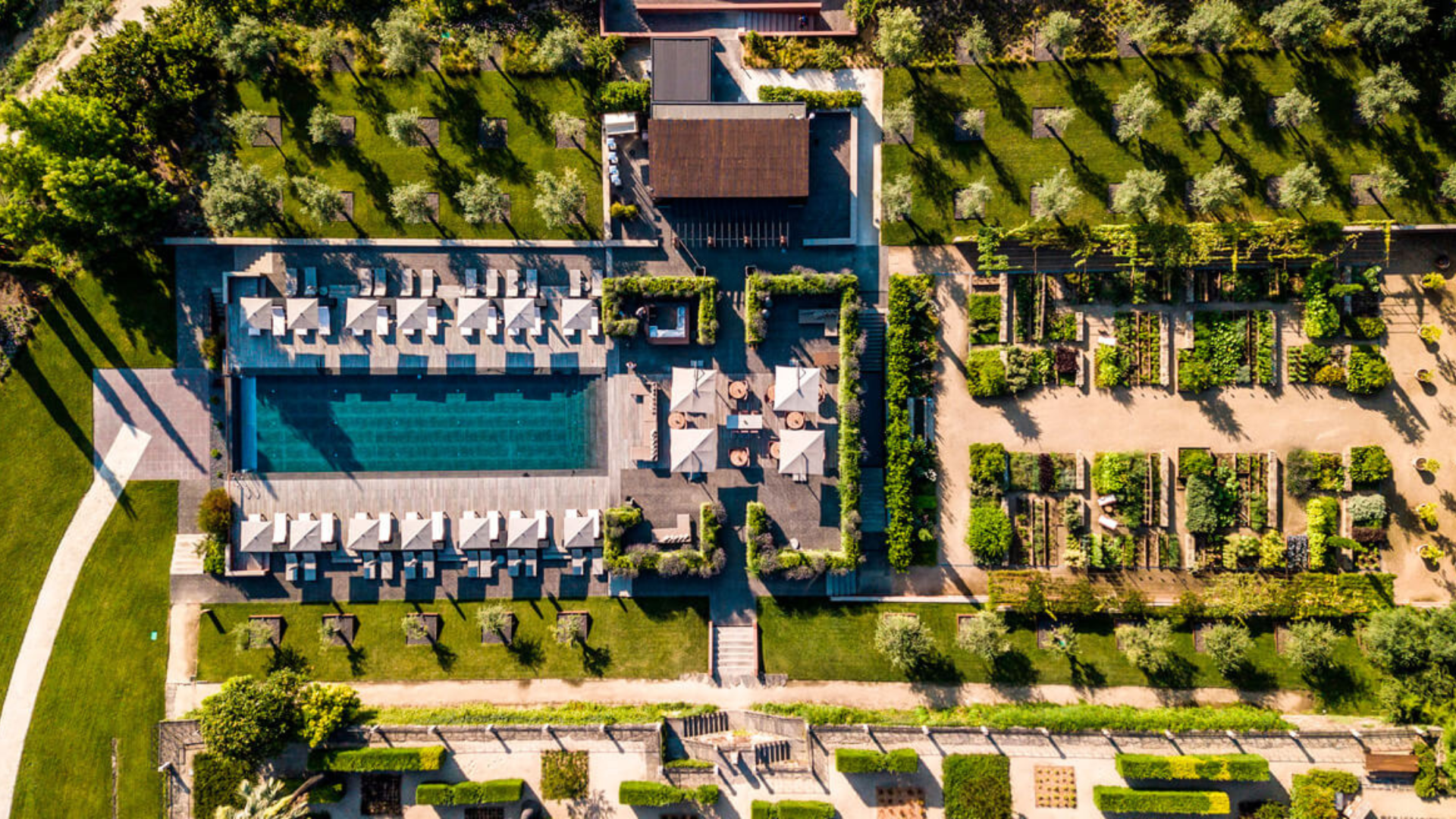 At Six Senses Douro, the exquisite and multi-layered panorama of the Douro Valley unfolds in a perfect tableau, where the river converges with vineyards, enveloped by nothing but space, fresh air, and grape-laden landscapes. For those venturing into the wine region for the first time, the emphasis on local vinhos (wines) is gracefully highlighted at this retreat. Guests can partake in nightly tastings or seek advice for the perfect wine pairing at the Vale d'Abraão restaurant—a cozy haven for evening enjoyment.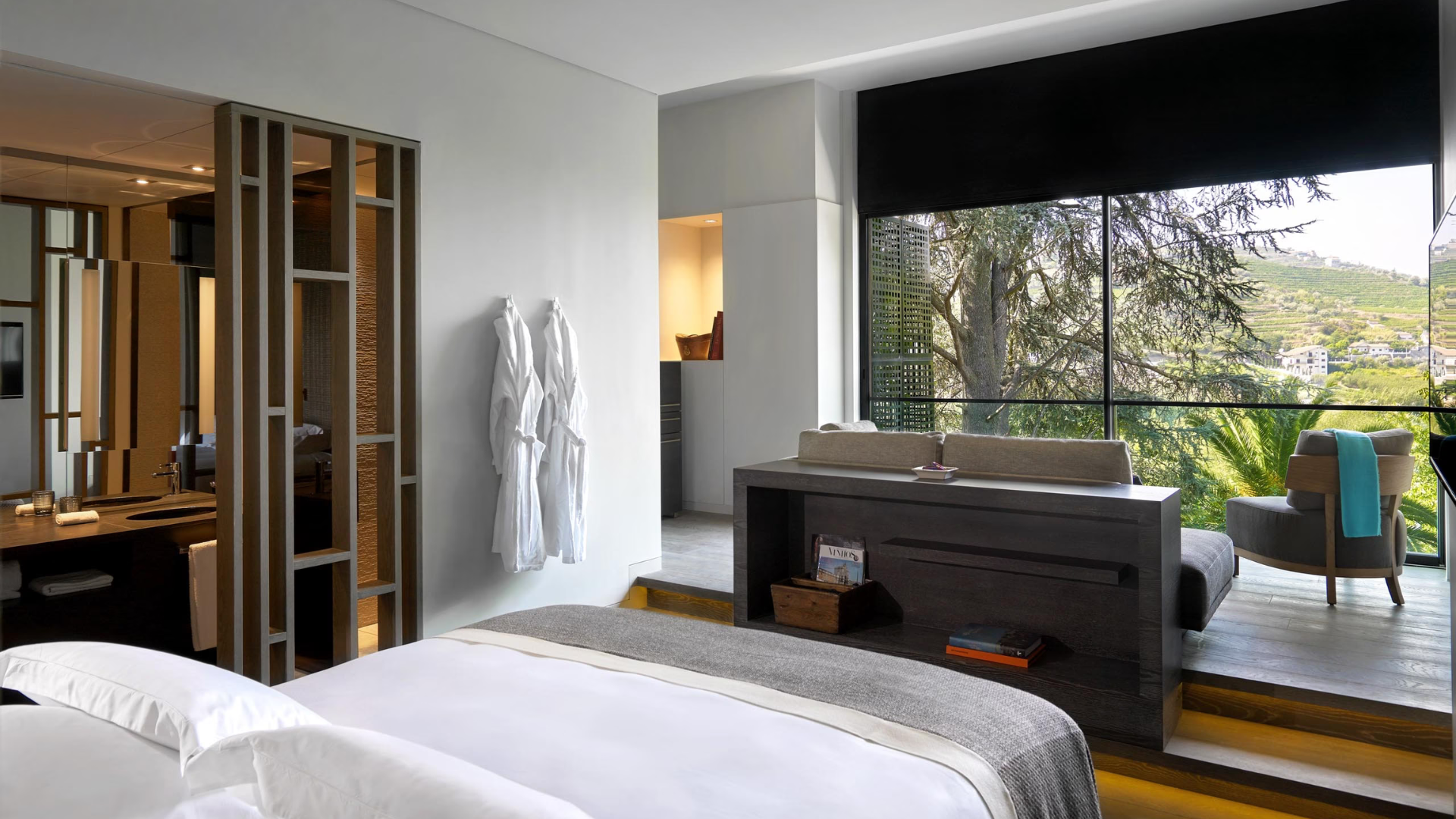 Reflecting the hallmark excellence of Six Senses properties, the spa at Douro Hotel is a sanctuary of perfection. With 10 treatment rooms offering views of the garden, guests can indulge in massages using bespoke oils crafted from the property's on-site garden or opt for facials incorporating skin analysis for optimal results. The spa also features an indoor pool with jets, an invigorating ice bath, and a jacuzzi, along with saunas and steam rooms, inviting guests to fully embrace the relaxed ambiance of the hotel.
Casa de Sao Lourenço, Serra da Estrela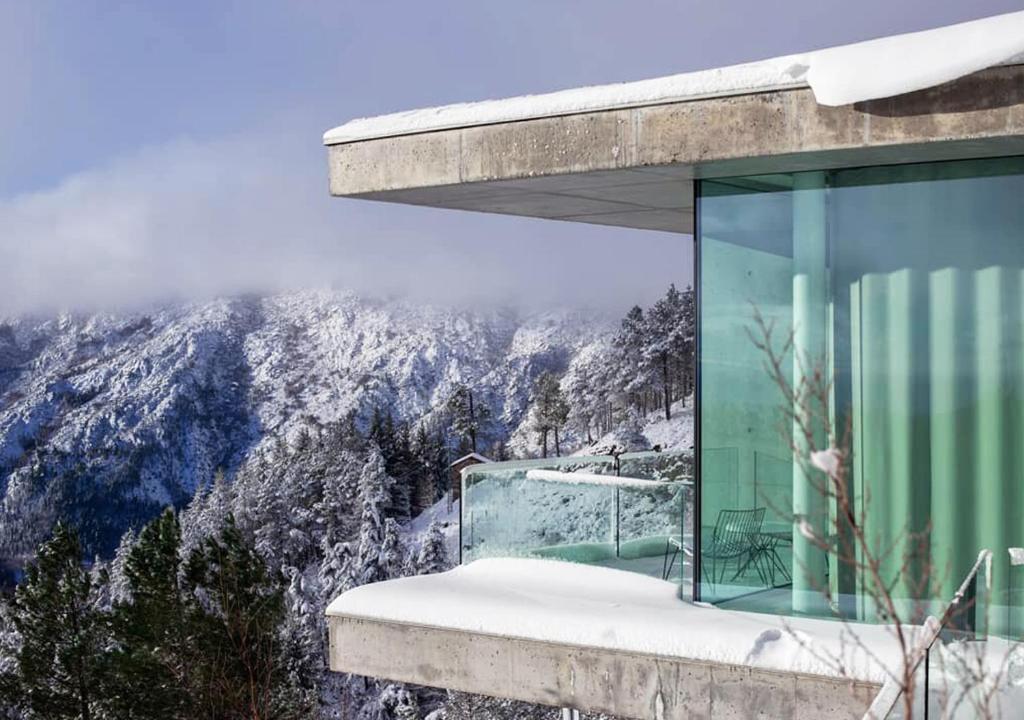 The route to the town of Manteigas weaves through the rugged and boulder-strewn terrain of Portugal's high-chaparral interior. In this picturesque setting where clouds smudge the hillsides and folk tales endure, a brick-built village warehouse buzzes with activity as machines clatter and produce endless spools of vibrantly colored twine. This twine is transformed into the magical woolen felt known as burel, woven so tightly that it repels water. It is then expertly crafted, snipped, clipped, and sewn into various designs. Now, what does all of this have to do with hotels? The woman who revitalized this factory also turned her attention to two pousadas, or hotels, perched on the ridge above the valley.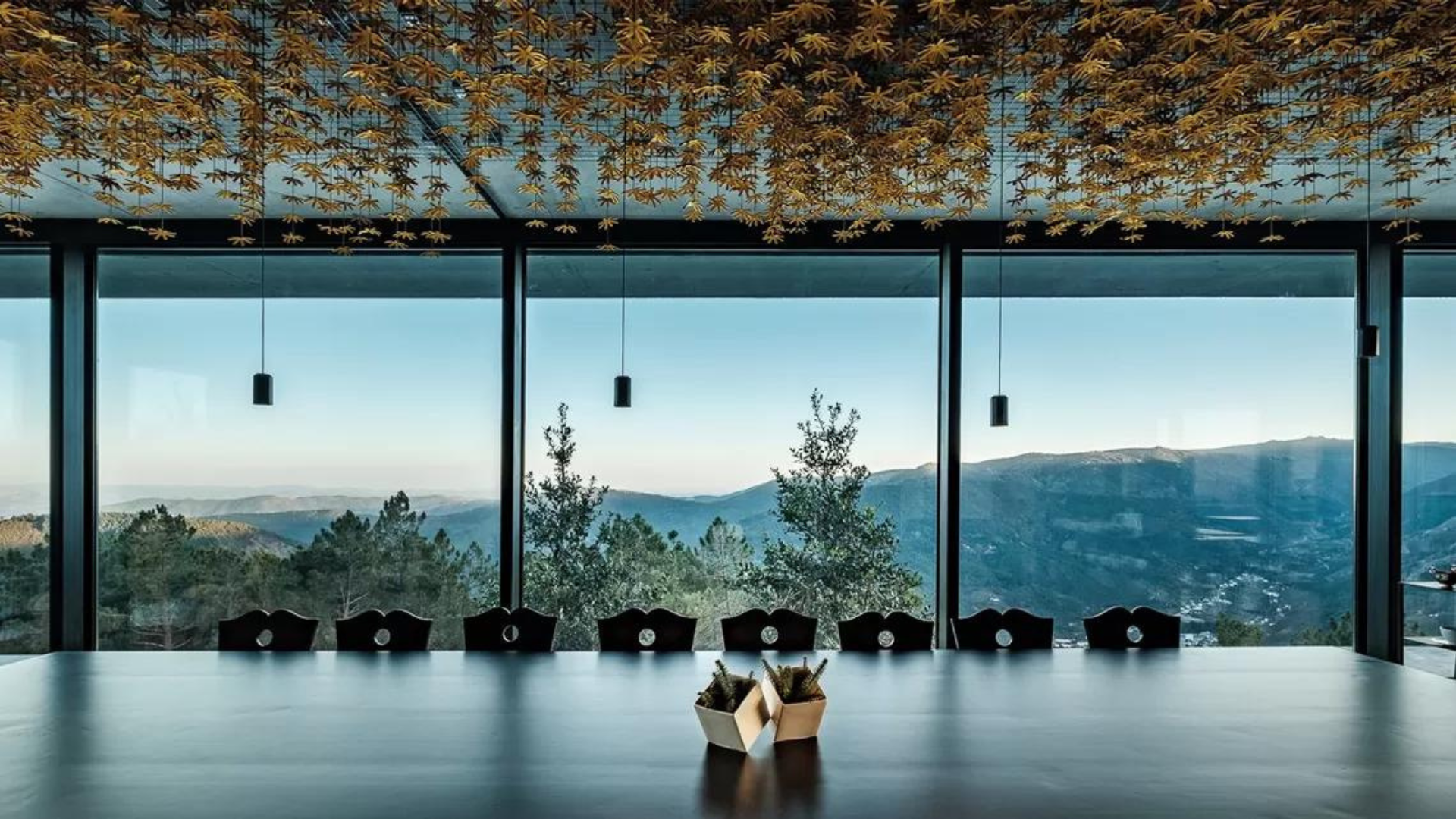 The first pousada exudes the cozy charm of a wood cabin with lacquered walls. However, the second, originally built in the Forties and unveiled last year, pays homage to felt. This remarkable textile graces the walls in intricate patterns, forms tufts on ceilings, and hangs in a cascade of little stars in the restaurant. The former lobby has been adorned with it, gathered into hundreds of small diamonds to create a contemplative dome housing a wood-burning fire. Tactile and never overwhelming, it complements the pale, Shaker-style timber etched with simple motifs. Playful, Scandi-style chairs are strategically placed beside windows offering expansive views over the valley. During the day, the casa empties out, with some guests venturing over rocks with resident guide Luis Cunhal, who points out villas constructed for consumptive Victorians seeking the benefits of mountain air.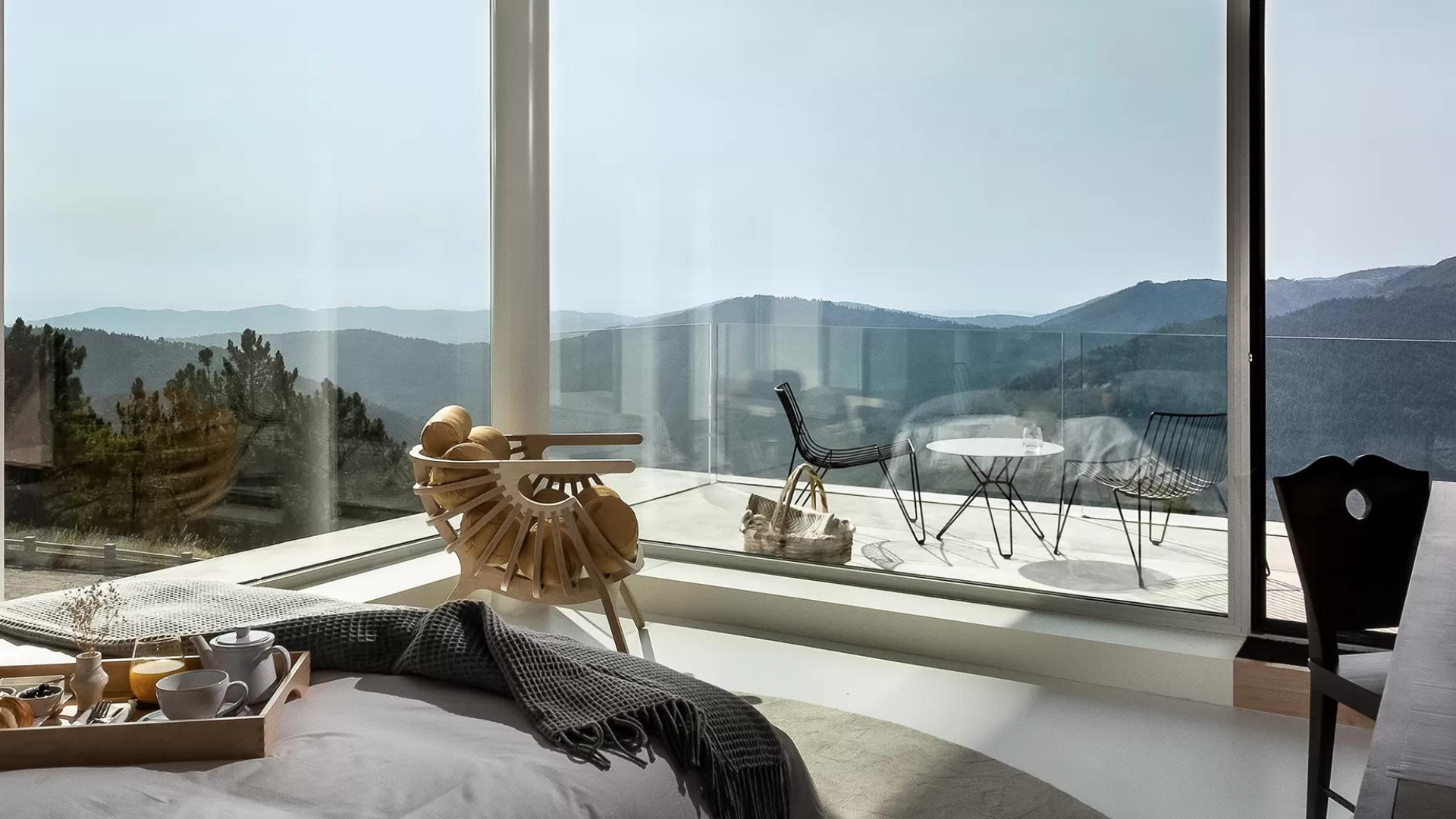 For those incurably uncurious, a trip to the factory is a must. Returning to the casa, they are greeted by the scent of wood smoke from the four-sided fire and served artfully rustic plates of croquetas and game. The property features a swimming pool that spills outdoors, with steam rising against the tree line, and fleece blankets provided for cozy moments on terraces while gazing into the dog-bark night. One of the highways leading to this haven is the N2, often dubbed Portugal's Route 66. In a country perfect for road trips, this is undeniably an exceptional place to park and soak in the surroundings.
Reid's Palace, A Belmond Hotel, Madeira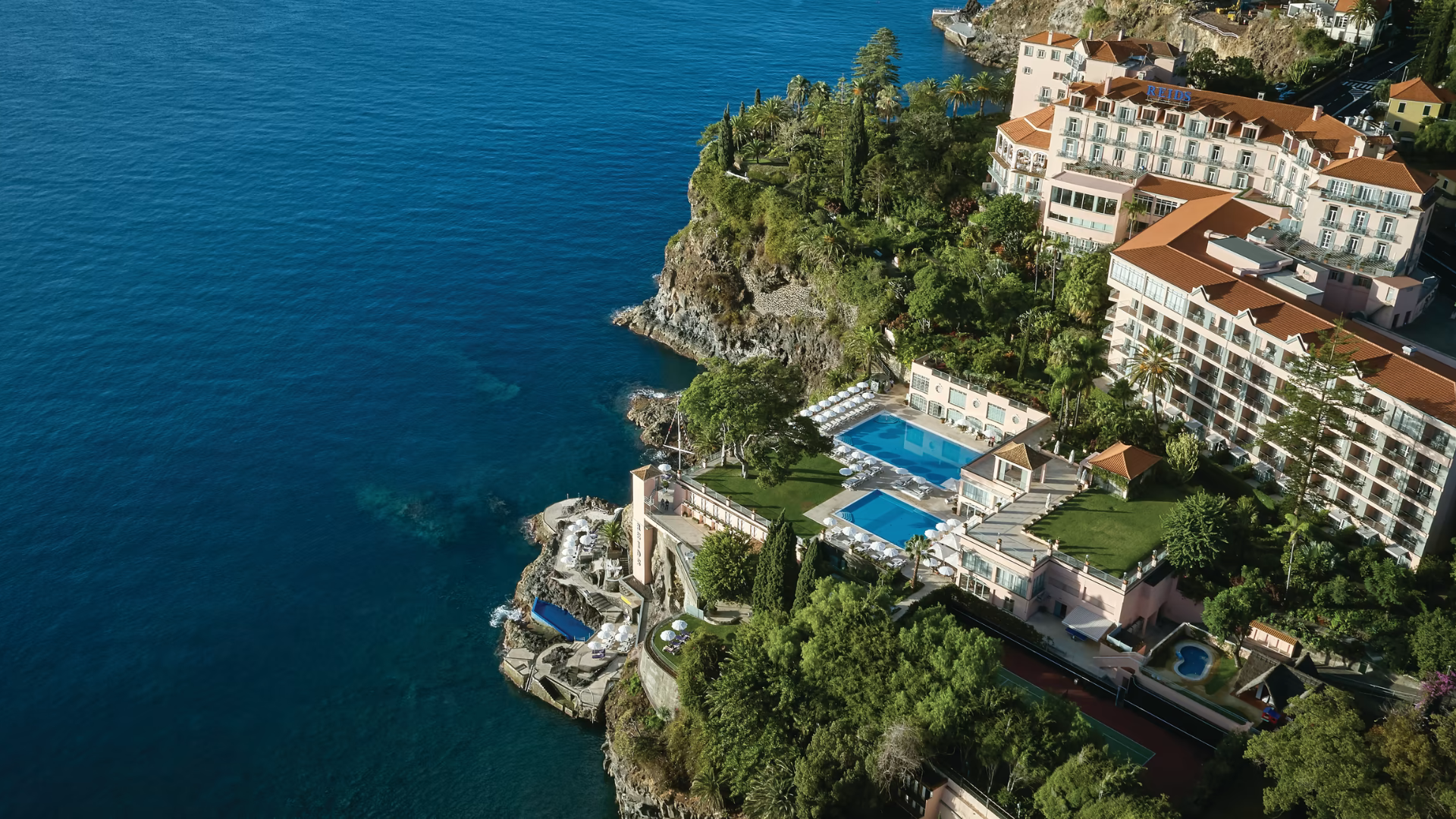 Perched gracefully atop a rugged cliff, Belmond Reid's Palace stands as an enduring five-star haven in Funchal. The hotel's lush gardens and awe-inspiring sea cliffs provide a captivating glimpse into the natural splendor of Madeira. Featuring 158 rooms, including 35 suites, guests are treated to the luxury of crisp embroidered bedspreads, marble bathrooms, and wicker furnishings, all while savoring panoramic views of the Atlantic Ocean or Funchal Harbour.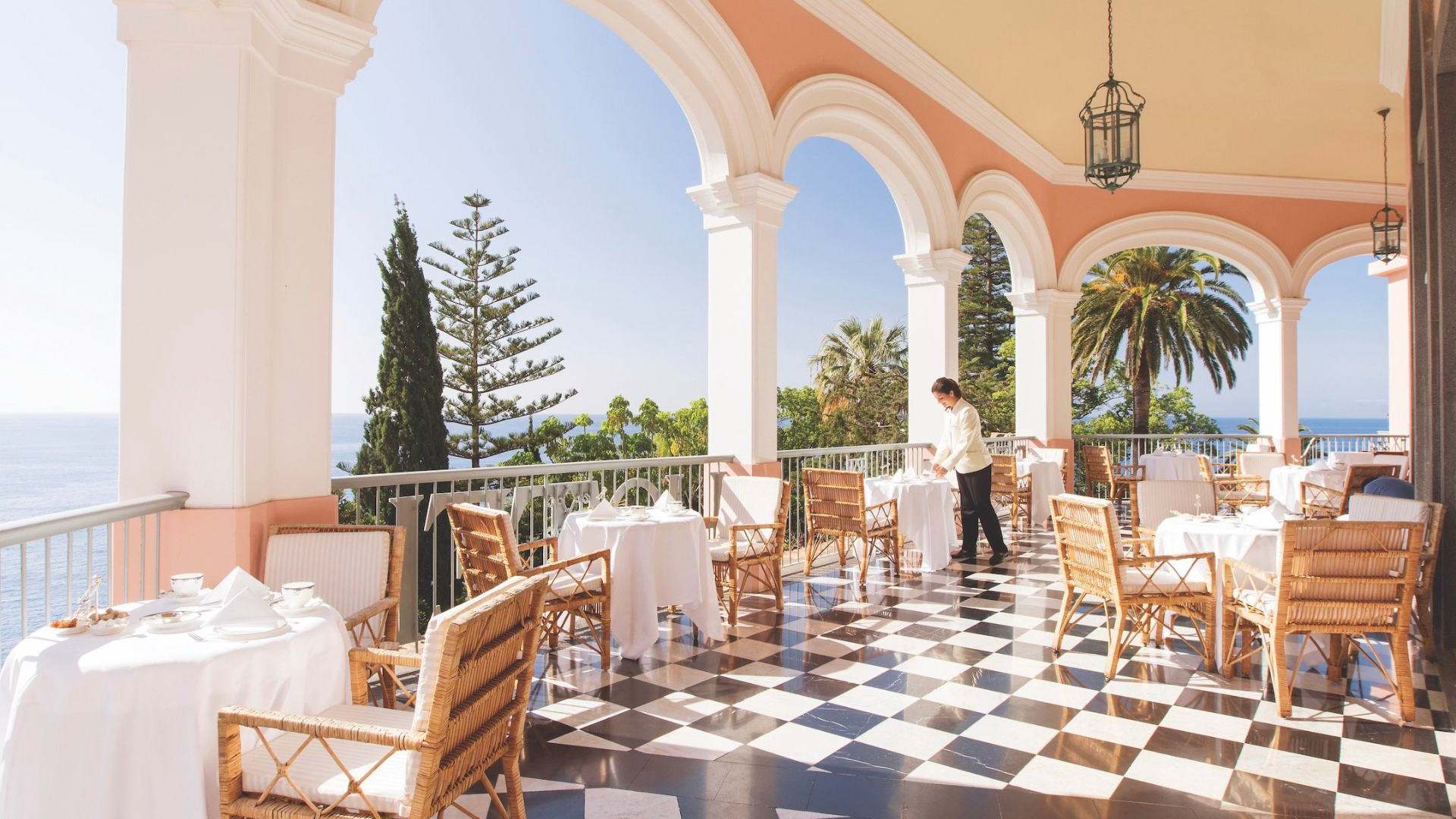 The hotel offers a myriad of amenities, including various dining venues, three inviting swimming pools, a rejuvenating spa, tennis courts, and even dancing classes. Guests can enjoy a signature drink at the Cocktail Bar while taking in panoramic bay views, or partake in the iconic afternoon tea experience on the terrace. Embark on a complimentary garden tour to explore the island's botanical wonders or discover the world-renowned Madeira wine through guided tasting. Steeped in a rich history dating back to the late 19th century and having hosted distinguished guests like Winston Churchill, Belmond Reid's Palace is the epitome of a classic five-star retreat in Funchal.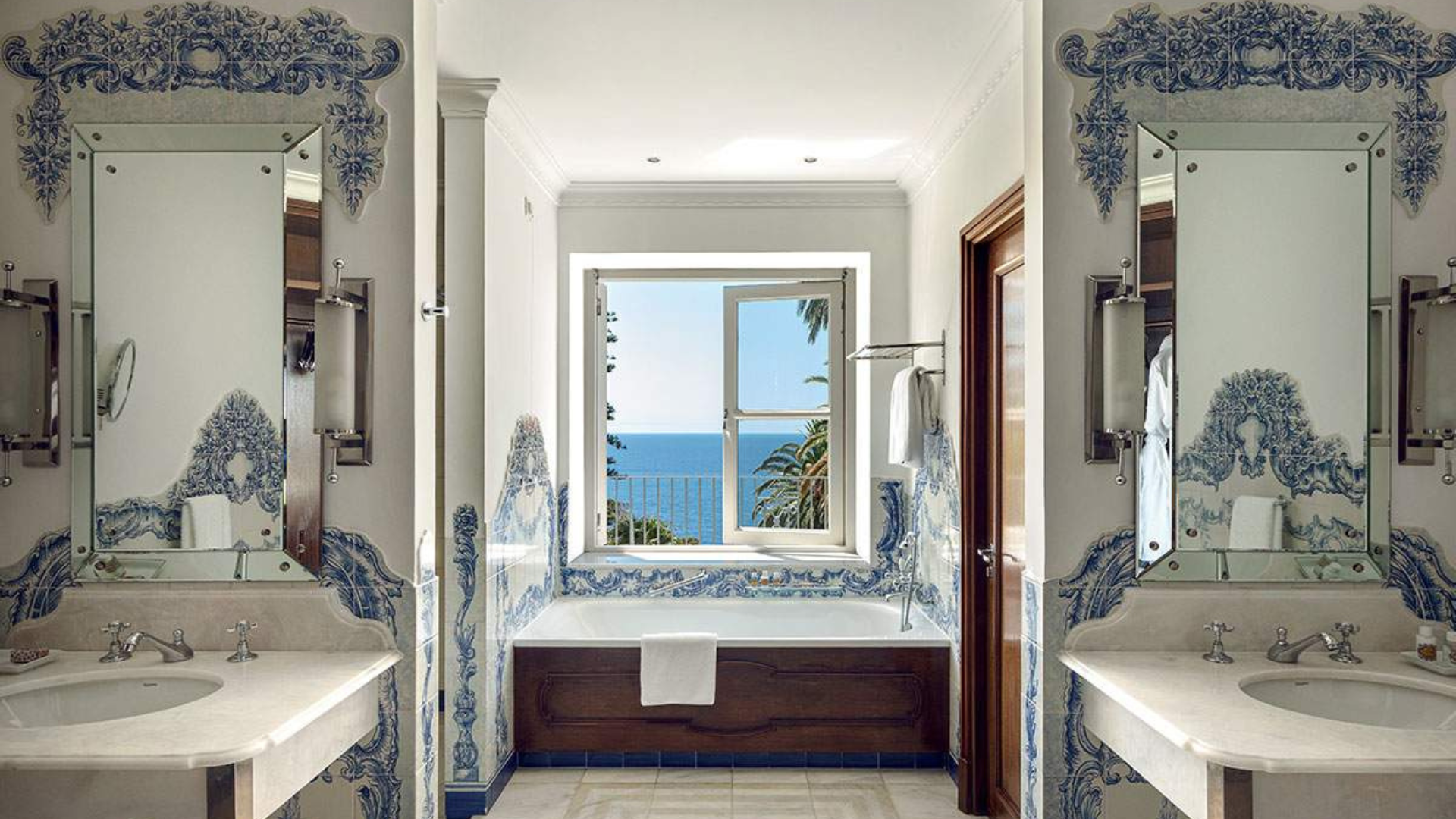 It's clear that this diverse and captivating country offers an array of exceptional accommodations, each with its unique charm and character. From the sun-kissed coastal retreats to the historic gems nestled in charming villages, Portugal's hospitality scene is a testament to its rich cultural tapestry. Whether pampering in the opulence of renowned establishments or discovering hidden gems off the beaten path, travelers are sure to find a perfect haven that complements the enchanting landscapes and warm hospitality that define Portugal. Embark on a journey that seamlessly blends luxury, culture, and natural beauty in a tapestry of experiences that only Portugal can weave.