There are some restaurants in Portugal that are special, mainly because they are much more than restaurants. The Restaurant at the Yeatman Hotel, in Porto, is one of them and I am lucky enough to be here writing this review!
The Yeatman Gastronomic Restaurant is surely the best Michelin star Restaurant in Portugal. A second Michelin Star certainly due!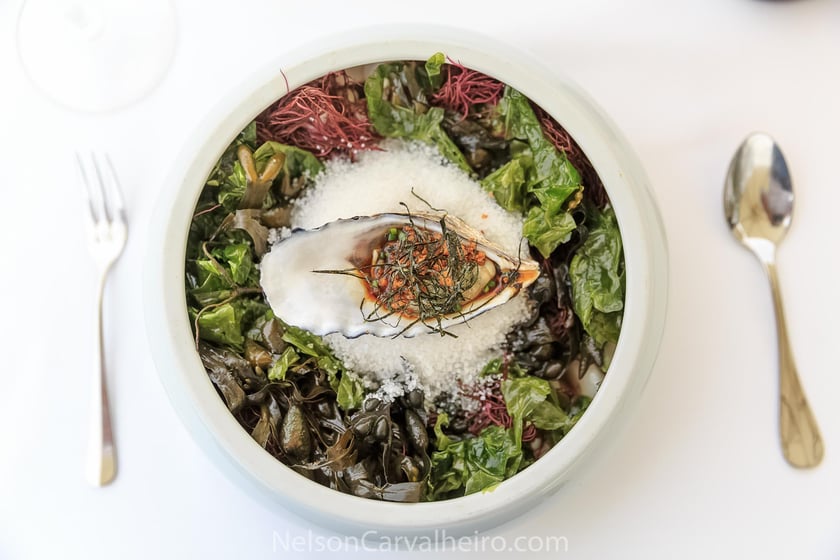 When I walk into the Gastronomic Restaurant, the best table on the terrace was reserved for me. Regardless of the carefully ironed table cloth, the sturdy cast iron furniture or the friendliness of the staff, it was only when I noticed the 10 cm thick black marble slabs which support the umbrellas, that I knew the food is going to be something out of this world. For me its always the little details which make the most important part of the experience, and a place that can afford black marble for it garden ware is surely not looking for anything other than perfection.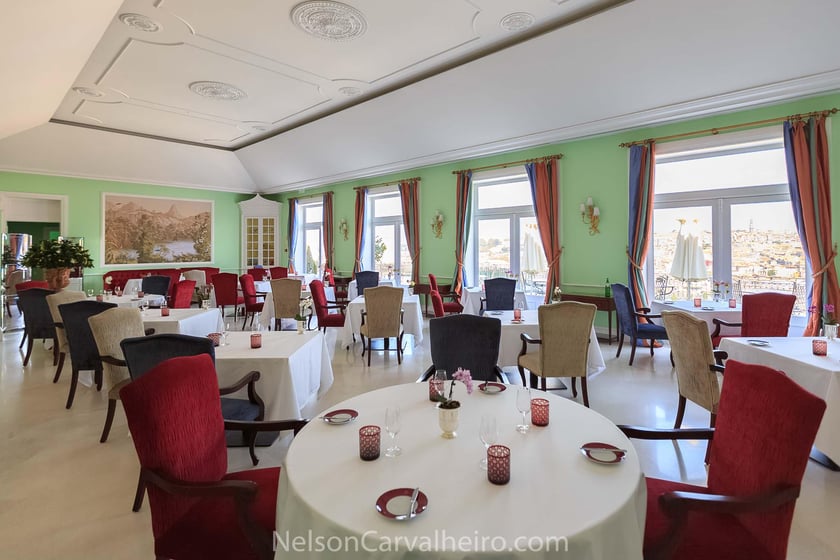 Let's not forget that the Yeatman and its restaurant are located in Porto, a city which I have forecasted to become the next European food Mecca, simply because Porto's culinary landscape rests solely in traditional Portuguese cuisine, small eateries and simple but intense Portuguese flavours. And this is what truly sets the tone for that Chef Ricardo Costa is trying to do - he want to be a ambassador for traditional Portugal. He is not trying to impress its patrons with space age cooking techniques or modern art plating presentation. He wants to recreate Portuguese Tradition in a Michelin Star environment.
Only a person which is connected in such a way with a country's food heritage can produce such stunning results, and personally for me, I only enjoy these stiff places when there is some anti stiffness around. What was presented before me was a clear indicator that Chef Ricardo Costa would provide me with this exact feeling.
About Chef Ricardo Costa
He was hired as the executive chef of the Yeatman, just a few months after being awarded his first Michelin star at Casa da Calçada in Amarante. It was a huge leap and also a tremendous amount of responsibility to take on. The personal bet by the Fladgate Partnership certainly paid off, with the Gastronomic Restaurant at the Yeatman achieving its first Michelin Star in November 2011. And keeping it ever since.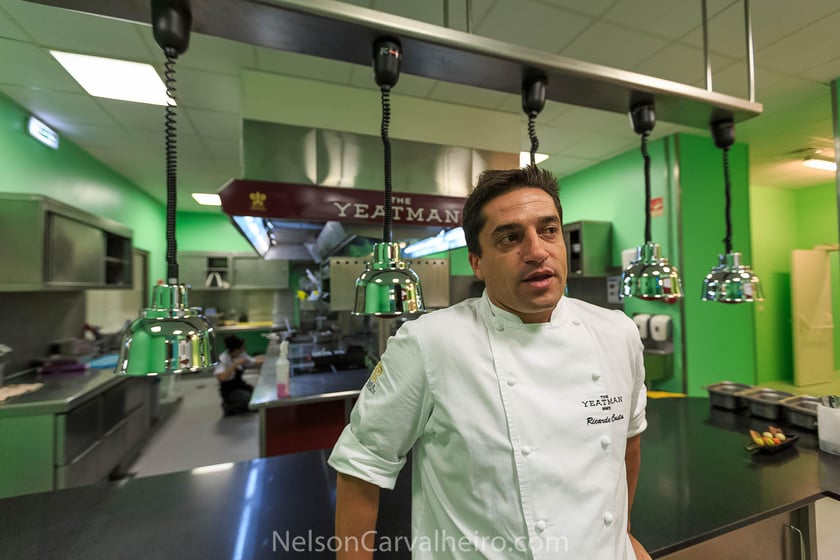 He designed the kitchen with the team from Adisa (the manufacture behind some of Barcelona's best restaurants), he was involved in everything involving food in the Yeatman - layout advisory, hiring the team, menu planning, equipment purchases...He was the one who insisted on an independent kitchen, separated from the hotel's operation and the need for a Gastronomic Restaurant's dedicated team. Midst through my interview, Chef Ricardo Costa complements my photos of the oyster dish we had the day before, claiming "sometimes these self-entitled "professionals" come here with their studio lights, making a mess, taking 1 hour to photograph each dish, and you just took the photo like it was. It's a great photo. No trouble, no hassle. I like that".
In his opinion Portugal's late discovery within the culinary world is its biggest asset. "We still have our food heritage well embedded in our culture. There is not one single Portuguese that does not rave about the Portugal's traditional cuisine, and this is worth a lot. We did not lose our roots. This is our biggest weapon in making Portuguese cuisine one of the best and most attractive cuisines in the modern world. The centuries old recipes, techniques and know how is being practised everyday by chefs across the country. They may not have haute cuisine training, but their entire life has been dedicated to our traditional flavours. This is absolute gold. Other countries, like Spain, Italy, France, have lost this connection to the essence of what their cuisine is all about. The touristic masses and the overcomplicated Michelin establishments have mischaracterized and adulterated what one is supposed to eat in these destinations."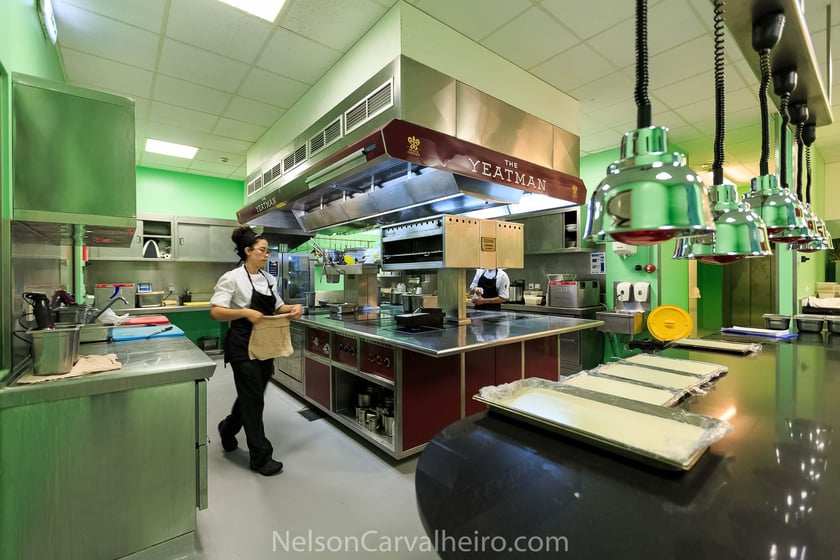 "For example, if I tell you to go and eat some "Chanfana" - traditional Goat stew cooked with spices in clay pot for several hours - you think immediately of the interior Centre of Portugal. This is where the dish originates, where it is best cooked, by the persons who have done it for years. Now imagine taking this into a Michelin Star level. It is unprecedented. Nobody has ever tried to do something like this, as any Michelin Star chef know, they must have a lot of Italian and French influences in their menu, as well as use some "not normal" cooking domestic cooking techniques".
"But I say different. I say let's bet on the base of our cuisine. Let's take this bold rustic and primal flavours and give them a new look and feel. For me this would be the way to go, and I'll give you another example. I come from the Bairrada region, where the suckling pig (leitão) comes from. I can assure you, that if I could make a Two Michelin Star establishment in this region only selling suckling pig. Nothing else! Simply because it's a unique product that you can't find anywhere in the world."
He finishes the idea stating that this should the mind-set of every restaurateur in Portugal, who wishes to make the experience at his/her establishment a memorable one. "I mentioned the idea of the sickling pig, but the very same idea would be possible with our fish and seafood".
10-Course Tasting Menu at the Yeatman Restaurant
Portuguese Sparkling Rose - Colinas de São Lourenço 2009 from Bairrada, produced from the Pinot Noir and Pinot Meunier. Crisp and crackling. Fine bubbles and extremely dry. Wine Dry Port - the icon of the Taylor's brand the Chip Dry - Its name derives from its characteristic of being as dry as a chip of wood.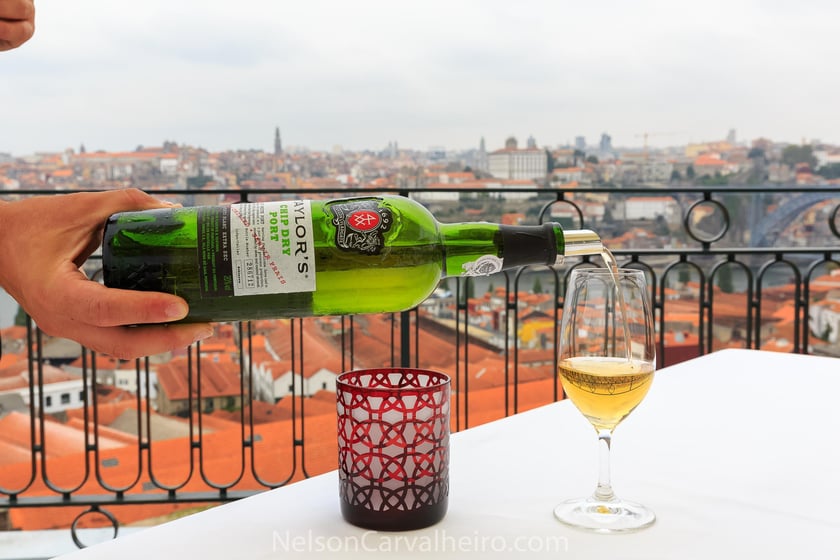 Cannelloni with fish eggs and crayfish, crackling of veal tendon, vitello tonnato mousse, a tuna cube and a string anchovy on top. Tastes like the sea, fresh fish, with a hint of home-made pasta, melting in the mouth with a light taste of beef, terminating in a viscous wrap around the tuna. With the anchovy only being felt at the end. Melting tuna.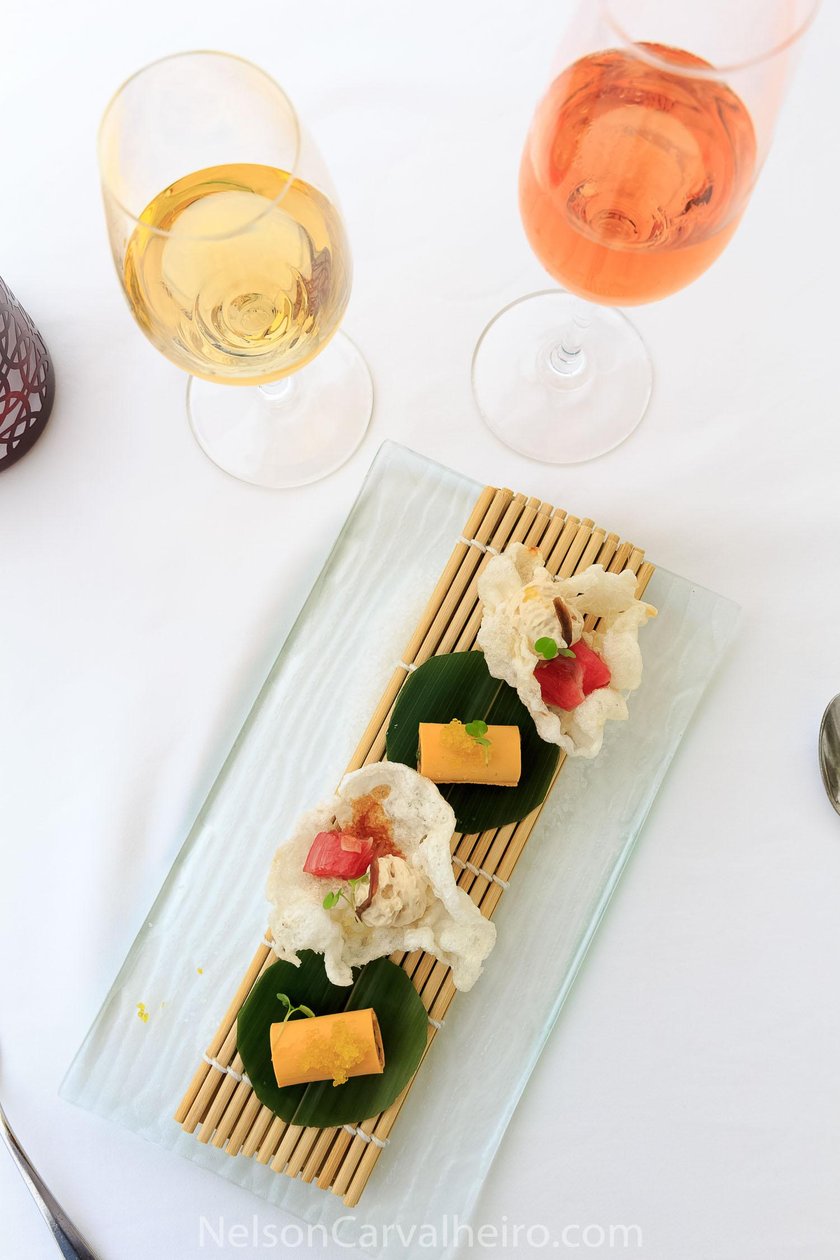 Spice sandwich, pumpkin jam with a foie gras fillet and the biggest surprise of the meal - a poultry and mushroom consommé inspired by a vintage port wine with over 30 years, same colour as the port wine. Where Chef Ricardo Costa tried to recreate the principal flavours and aromas of this vintage port in the consommé - cardamom, nutmeg, curry leaves,. The consommé comes smoking hot from the pan in a decanter and is served in a red wine glass, to be drank the moment you swallow the foie gras sandwich. Now I know where the dish from Castas e Pratos was inspired from.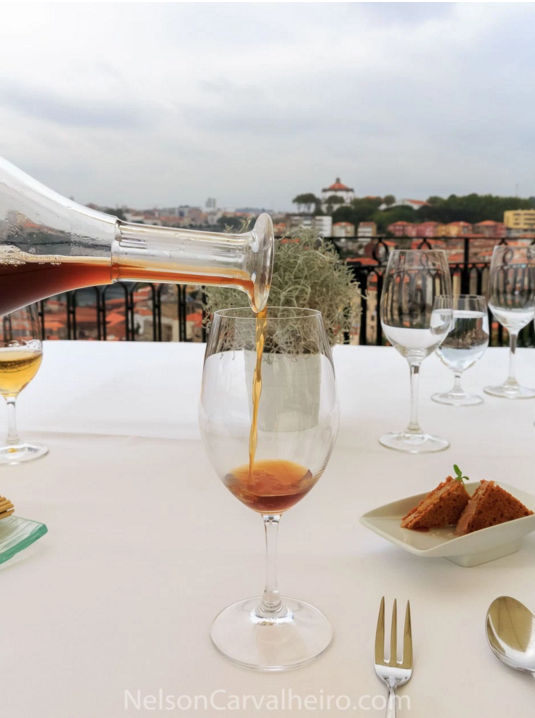 Oyster. Uau!. For me this was the best. The final prof that Chef Ricardo Costa means business and is up there to play with the big boys. One can't help the uuuuu, and ahhhhh, when the oyster surrounded by nori algae is placed in front of me. It's a radiant picture, something I almost don't want to spoil by eating it. Oyster with tramezzini bread, veal sauce on top. AMAZING! Meatiest oyster you will ever eaten, when you slurp it, you are expecting a taste from the sea, but you get meat and earth instead.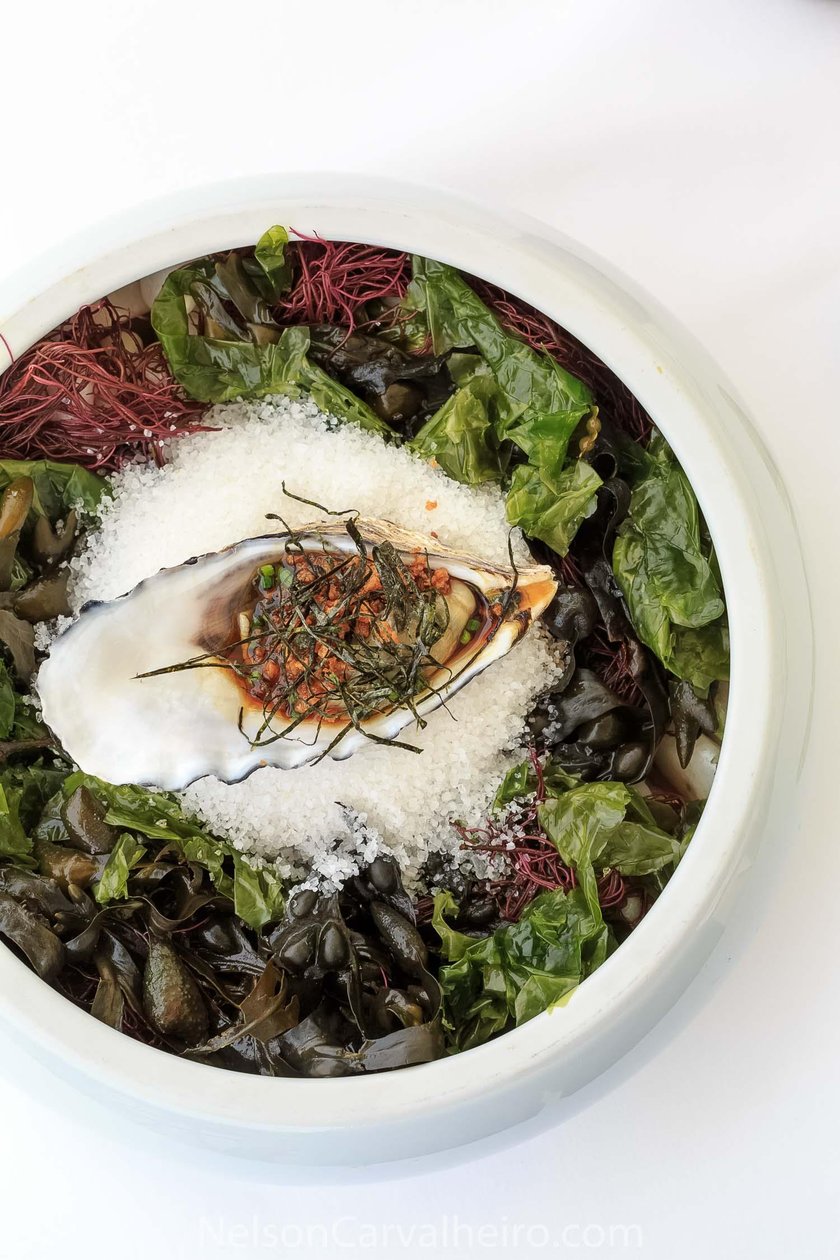 Tomato served with buffala mozzarella, and Azores Cheeses in a molecular shape, tomato sauce, and tomato bread and tomato foam. Reminds me of a tomato dish in the 2015 summer menu served by Alain Ducasse at the Dorchester in London. Served by some Douro Olive Oil - Quinta das Vargelas made with 100% Portuguese olive varieties, homemade butter from sheep, cow and goat. A light aromatic butter and served with some algae and olive oil bread. Poached bull's heart tomato.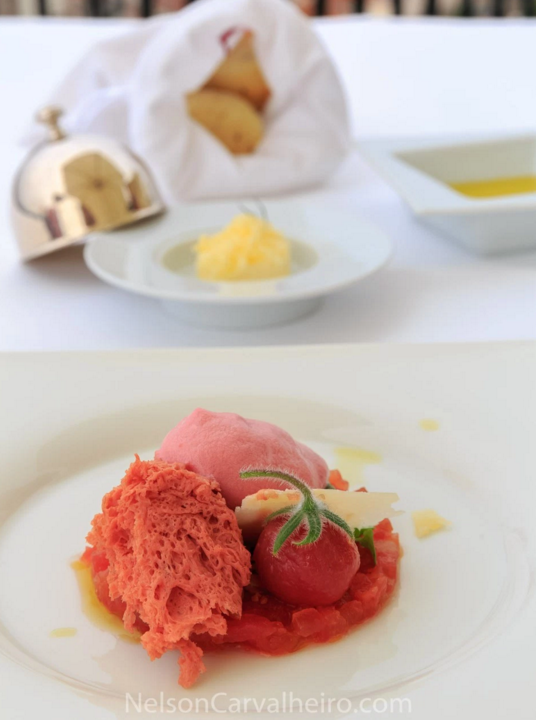 Crayfish poached in spices, ginger and carrot pure, orange pure, Lime foam. Foams is like an ice cream, very fresh, succulent cray fish, it's like butter, Micro carrots, orange ode to colours, the carrots let down a little bit. The big star is the crayfish. Chardonnay glass for the full-bodied wines, to increase the temperature a bit, and to drink it more carefully, as the mouth of the glass is more open. Vales dos Ares, Alvarinho, 2014 from the Monção and Melgaço wine regions.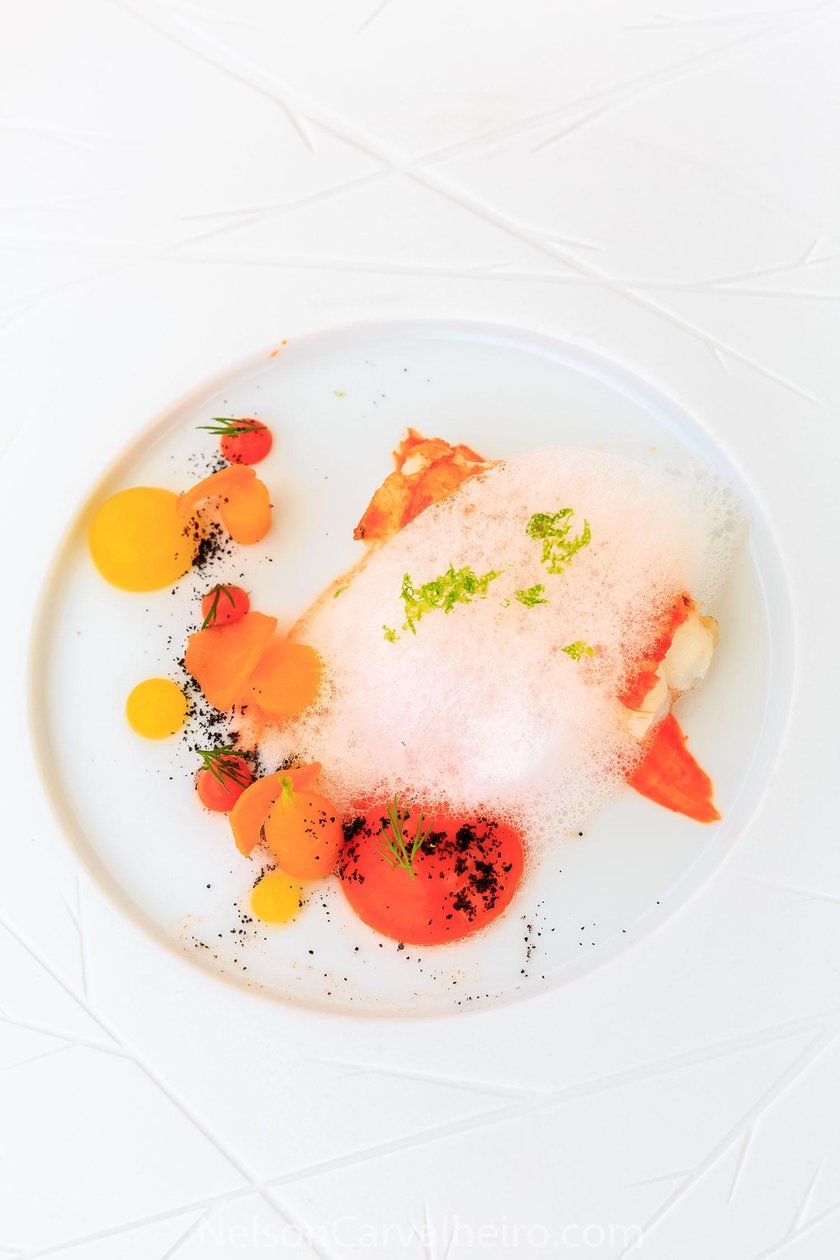 Stone bass steamed with seaweed, and goes with some fish ravioli underneath, and a touch a chick pea pure and a champagne sauce. The ravioli are hidden under the sauce. Perfectly cooked fish. One couldn't expect anything else.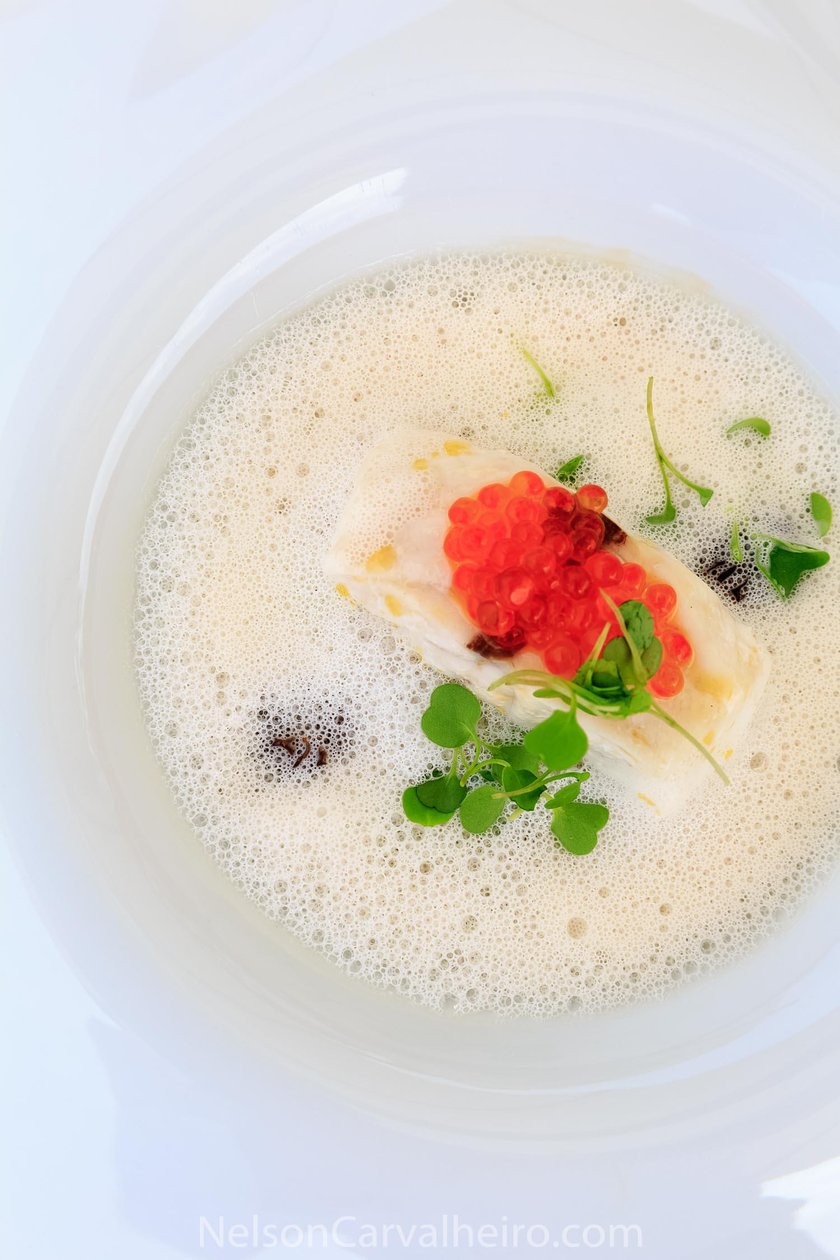 Suckling pig belly with crispy skin and several textures of celery - caramelizes, in a flan pudding, pure all served with a spicy Indian tandoori sauce. This dish comes from the heart of Chef Ricardo Costa as he was born close the Suckling pig capital of Portugal - Mealhada. So he has eaten this Portuguese delicatessen his all life, and can cook the famous "Leitão" in a clean and inspiring and stylish way. It was so good I asked for another serving. The sphere surprise - a "cabidela de leitão" a traditional Portuguese rice dish, which uses the animal's blood and vinegar. Served with some Dona Maria, 2010 from Alentejo.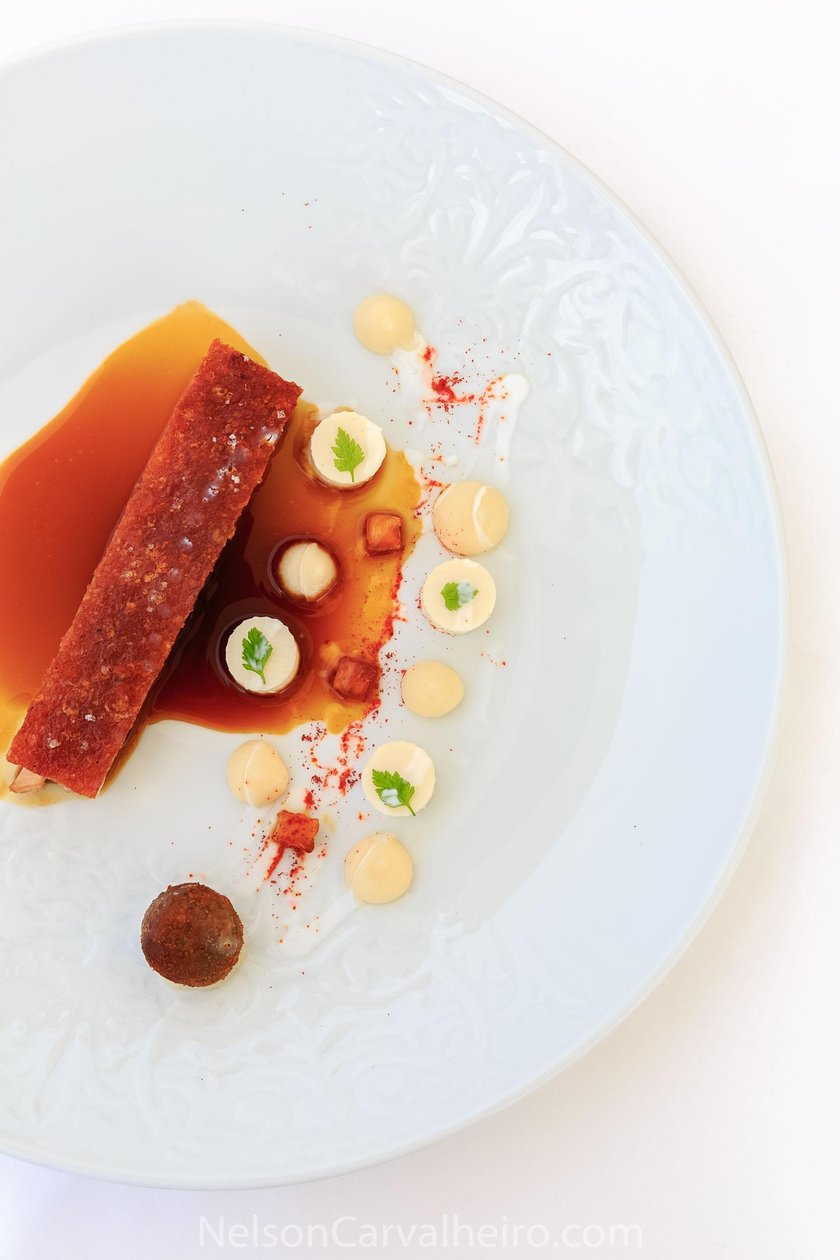 Coconut surprise, the fresh coconut with coconut panna cotta, with coconut milk, coconut ice-cream, and mint on top - looks like something out of a tropical James Bond movie. Served with Taylor's 20 year Tawny Port.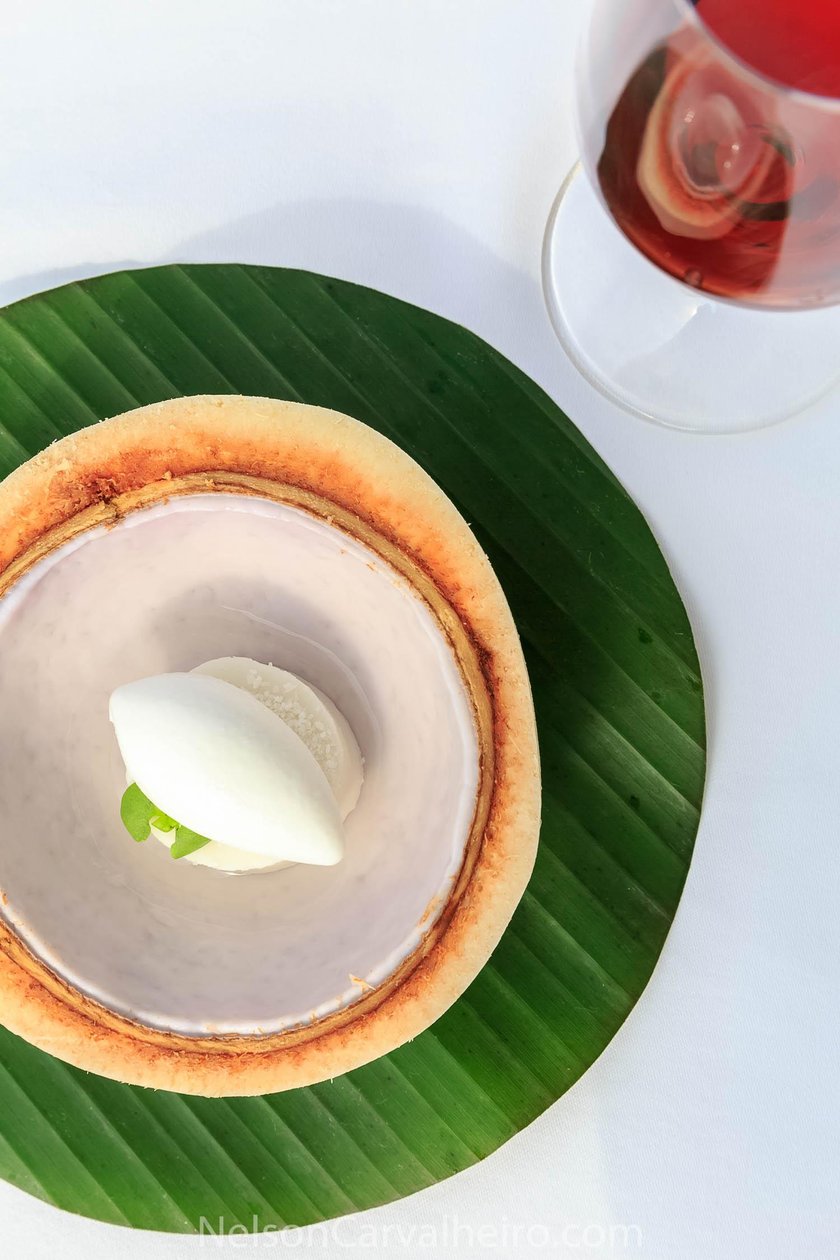 Chocolate dessert - Chocolate mousse, with some chocolate aero maltesers, chocolate bread, caramel cream and cacao ice cream. The aero was certainly the highlight of this dish, although for me I think that this was the least do dish of the meal. Presentation wise it looks a little clunky. It requires a bit more finesse from the Pastry Chef.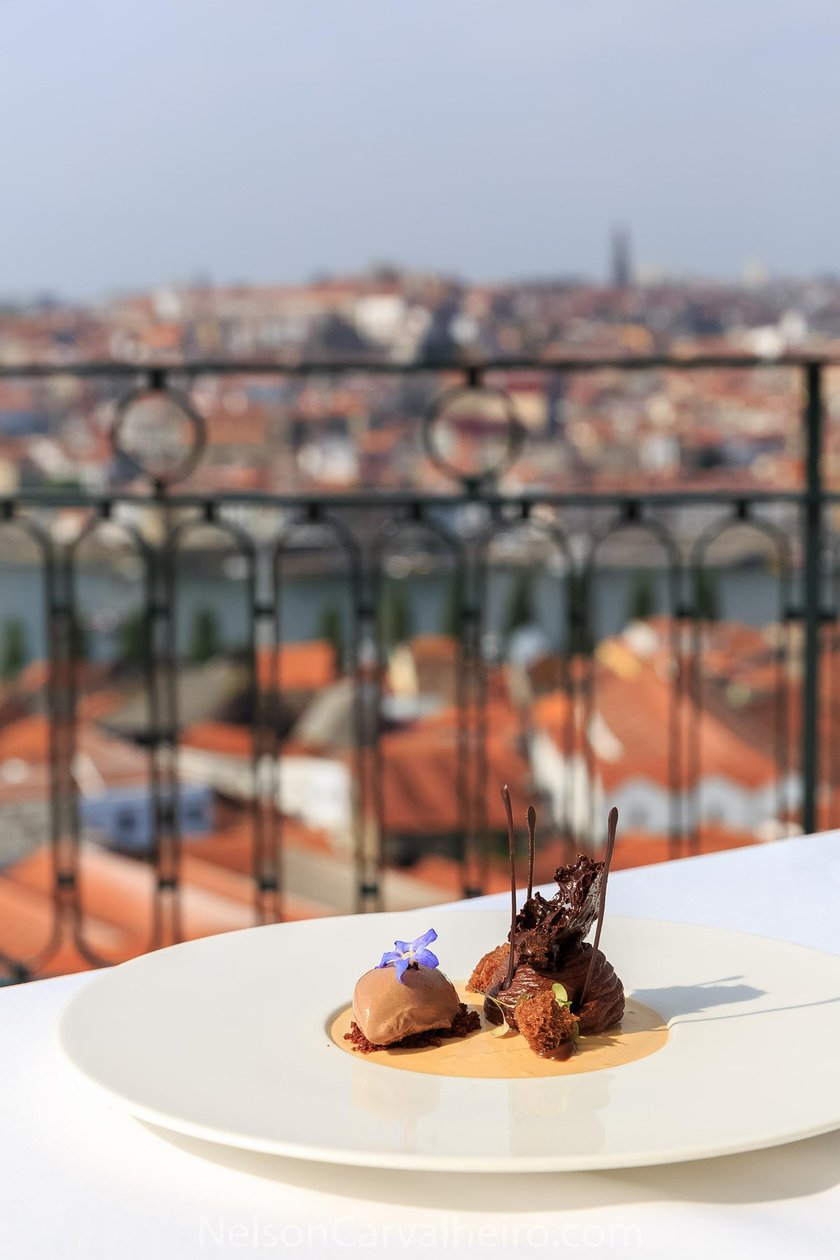 As you could read I truly recommend as I have also recommended a stay at The Yeatman Hotel in a previous review. What are you waiting for?