We bring you a selection of the best wine experiences photos of 2016.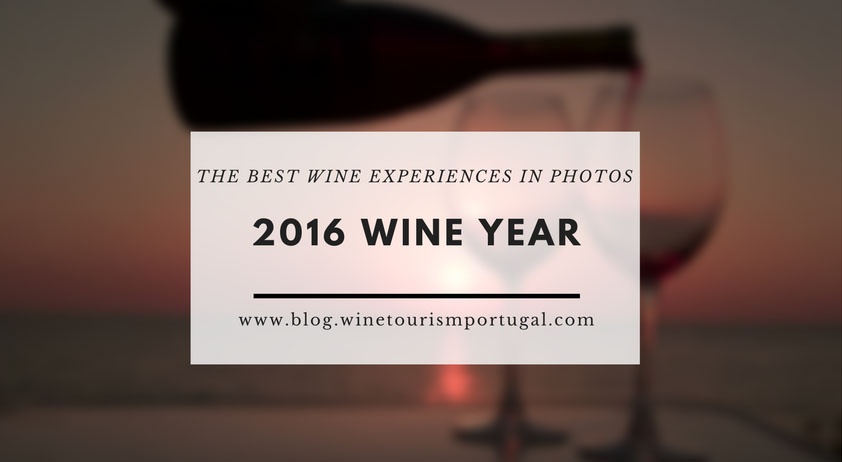 We went through hundreds of wine experiences and thousands of photos to bring you our selection of the best ones. We hope it will inspire to travel, to explore, and arouse the curiosity to discover more about the fascinating world of wine. Don't forget to vote on your favorite picture on the pole right at the end of the article. Enjoy!
This photo has become one of the most emblematic ones of wine tourism in the Douro Valley in Portugal. Quinta do Crasto offers guided wine tours to the winery and meals overlooking this stunning landscape. Even Harrison Ford didn't resist in visiting it this year. To be able to enjoy this Douro gem, you need to book your wine experience at Quinta do Crasto several months in advance!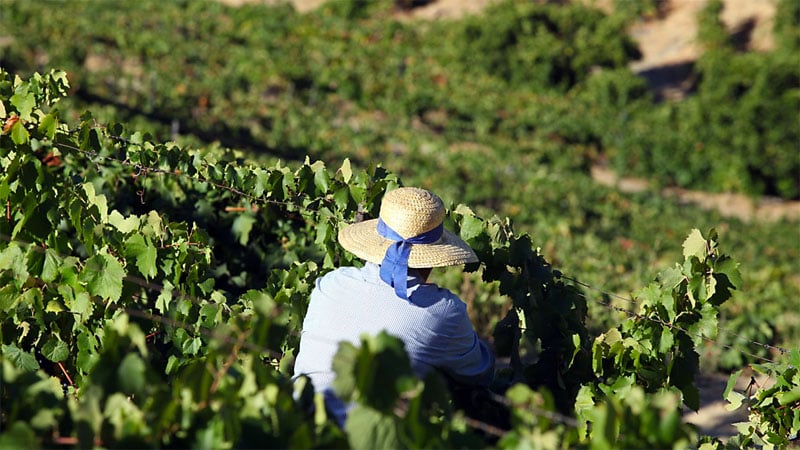 One of the wine experiences with the highest demand in 2016 was the grape harvest tour, such has this one captured in this photo taken during the harvest season at Quinta do Gradil, in the Lisbon region. A truly inspiring experience that allows you to participate in one of the most ancient wine traditions of our civilization.
This wine experience was specially prepared for Nelson Carvalheiro, an award-winning travel blogger, during his Alentejo Wine Travel for Wine Tourism in Portugal. This picture shows Nelson tasting Alentejo's flavors in the middle of Herdade dos Grous's vineyards in the company of chef Rui Prado. Although very few wine estates offer this as a bookable experience, with a customized wine tour you just might get lucky and book this experience for yourself, just like Nelson did.
This picture was taken during the vintage tour at Quinta das Carvalhas, considered by many "the best wine experience in the whole Douro Valley". In the picture, you can see Alvaro Martinho, the agricultural engineer that takes you through the vineyards while sharing his knowledge and passion for the earth, grapevines, and the Douro region. All this while contemplating breathtaking views over the valley.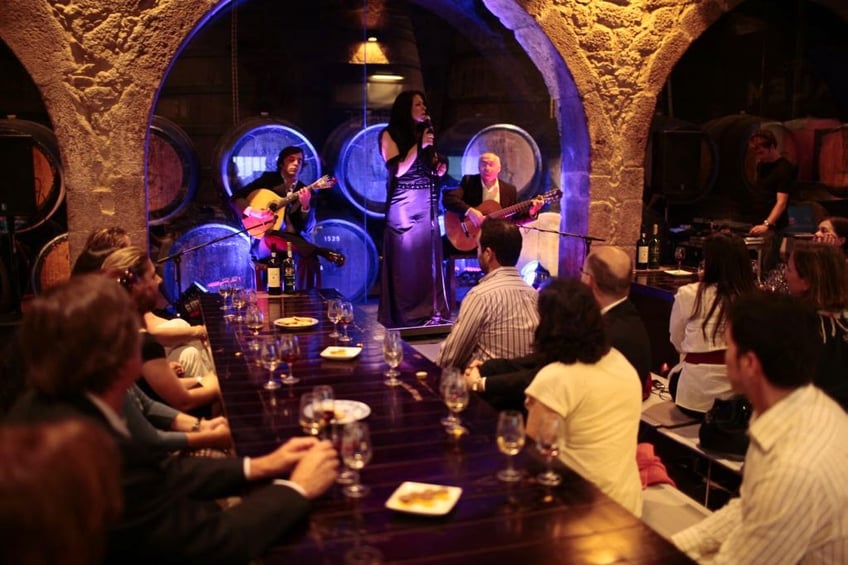 We chose this picture simply because it gathers two great icons of the Portuguese culture, Port wine and Fado, a Portuguese music tradition that was promoted to the category of UNESCO Intangible Cultural Heritage. A truly unique wine experience available at Cálem Port Wine Cellar.
The Vila Gale Country Club, joins the comfort of a house of the Alentejo with the attraction of the wine tourism in this region, promising unique experiences. Besides wine experiences, they also provide other activities such as a Jeep Safari through the wine estate, horse riding, and, of course, hot balloon rides. Just imagine hovering over this stunning landscape with a nice glass of wine in your hand.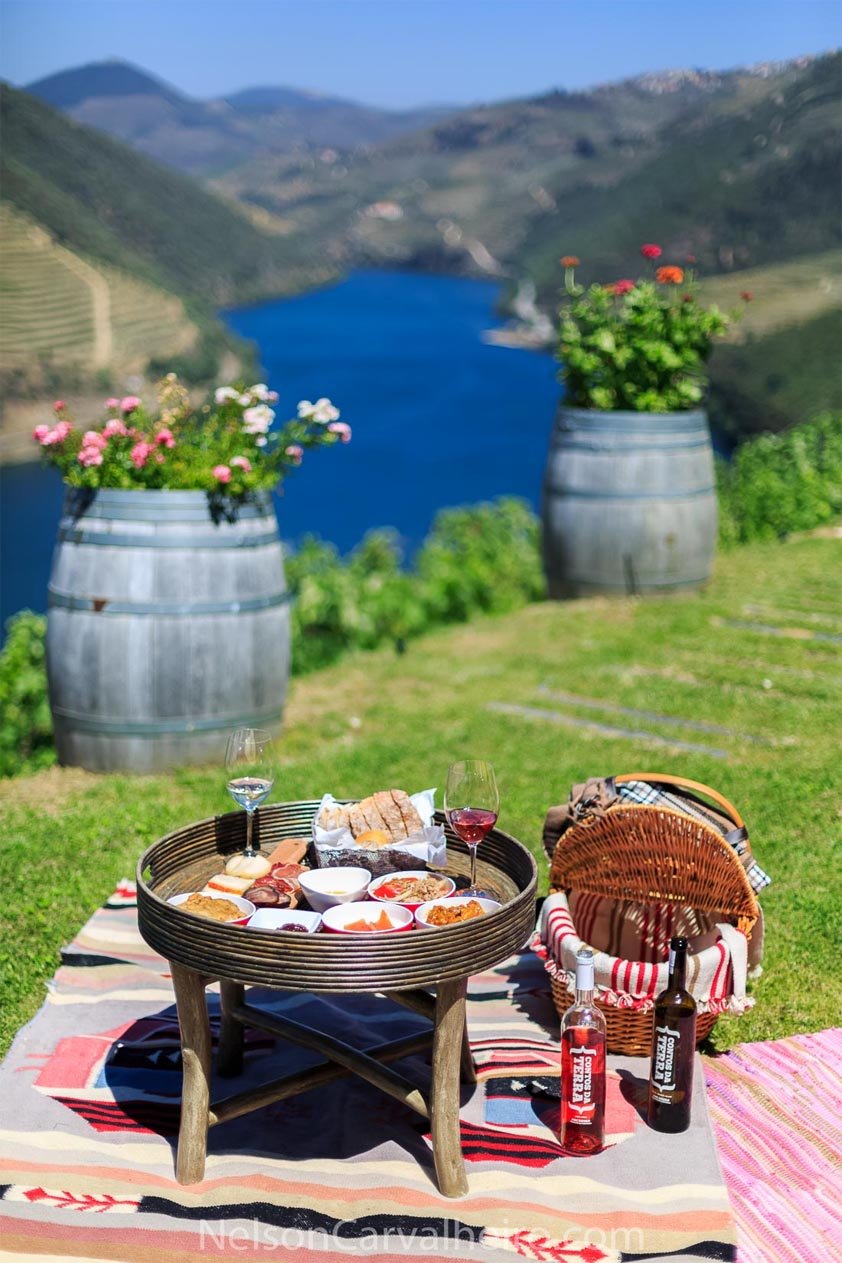 Quinta do Pôpa provides a picnic right in the middle of the vineyards! There, you'll be able to sit on vineyards sloping down to the river offering you an amazing view over the Douro Valley. You can walk around the vineyards or just lay on the blanket while you taste great wines and delicious regional.
How about having a meal in a restaurant with more than 700 different wines housed in an old converted railway station warehouse? This wine experience is only available at Castas e Pratos restaurant in Régua. Have you ever had lunch in an old train wagon? Now you can!
You are probably wondering what Buddha has to do with wine experiences. This picture was taken in Bombarral at Quinta dos Loridos. This winery is the stage for the largest oriental garden in Europe, the impressive Buddha Eden, a true place of worship where you can find all the calm and serenity while you taste the famous wines of this estate.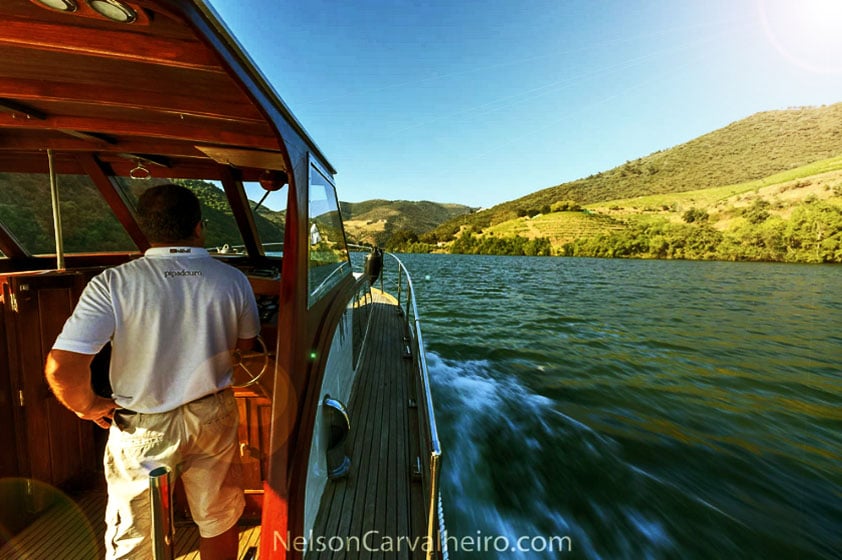 This sunset Douro wine cruise aboard a wooden 1950s vintage intimate boat, Pipadouro, is one of the most pleasant wine experiences you can enjoy in the Douro Valley.
I hope you enjoyed travelling with me through these pictures and most of all, I hope it will inspire you on your next travel adventures.