A few months ago we had the privelige of having Marcelo Copello in Portugal and we were able to exchange some words with him about his passion for wine, wine tourism, what he loves about Portugal, and a few other topics.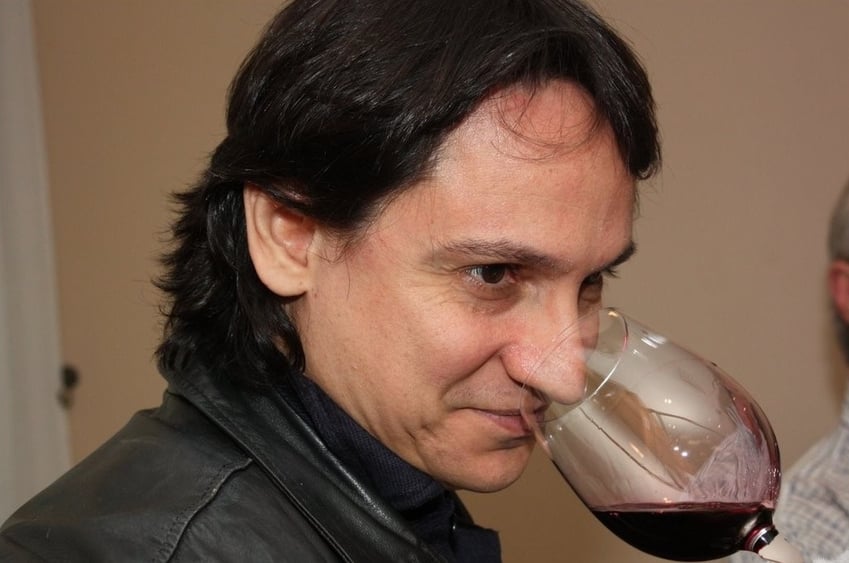 Marcelo Copello partnered with Wine Tourism in Portugal back in 2015, just when he was celebrating 20 years as a wine professional. Now, with a long award-winning career, he is also the main promoter of the most enriching and unique wine tourism experiences in Portugal with the best and most awarded partners.
He has been recognized and distinguished with several awards, such as "THE MOST INFLUENTIAL WINE JOURNALIST IN BRAZIL" by the magazine Meininger's Wine Business International, the most respected world publication dedicated to the wine business, as well as "Wine Personality" 2011 and 2013 by the site Enoeventos.
We invited him to visit one of the most famous Port wine cellars, Caves Calem, for a little chat with Fado playing in the background, the traditional Portuguese music.
How did your passion for wine come about?
- That is a long and very wet story. I started enjoying wine 30 years ago, I studied on my own, then started talking to friends and talking so much about wine that some friends asked me to teach them, so my career began by teaching my friends about wine. It was a bit catechetical, I started spreading the word, that for me is divine, about wine.

Do you remember the first time you tasted wine?
- Probably, in Brazil, it was demijohn wine. Anyway, it was probably good and as a result, here I am today.

What about the first time you tasted Portuguese wine?
- I don't know...I used to browse wine shops always looking around for good offers, and Portugal has much wine to offer. I was able to find some vintage wines from Portugal and at the time it was very hard to find the same from other countries, and my Portuguese wine tasting probably started that way.

Portuguese wine has been recently recognized and awarded a bit all over the world and the message that keeps being sent out is that Portuguese wine is more that just Port wine. How do you see this paradigm change and expansion of Portuguese wines?
- It's flagrant, Portugal produces spectacular wines of many categories. Port wine, of course, and fortified wines, to me they are the best ones in the world, there is no other country that can compete with Portugal when it comes to this kind of wine, but also white, red, roses, and with such a great diversity from the north to the south, grape varieties, terroirs...Portugal may be small in size but it's giant concerning the production of great wines in several styles.

So, you're a big fan of Portuguese wines?
- Yes, and also a lot of other Brazilians.

That's just what I was about to ask you. We know that Portuguese wine is very enjoyed in Brazil. How do you explain this fact?
- In Brazil's wine import ranking, and for some time now, Portugal is the third biggest contributor, the biggest contributor from Europe, but third in general, just right after Chile and Argentina. These countries are Brazil's neighbors, they are right there, they have another kind of access to the Brazilian market, fewer taxes, so it is only normal that the average Brazilian wine consumer starts drinking Argentinian and Chilian wines. It is also normal that they want to know Europe through Portugal, it's the natural flow.


Do you think that wine appreciation is interconnected and has consequences in wine tourism?
- I do. Our generations are increasingly looking for the emotional experiences rather than material ones, to live it instead of owning it, and wine brings culture and demands a broader experience. Wine is the origin, so you have to search for it. When people visit a winery, they immediately become clients for life, they share the experience with everyone, as well as the wines they bought. Wine is an experience.
What is your opinion about Portugal from the wine tourism perspective?
- Just take a walk down the streets in the riverside, just outside this Port wine cellar, and you immediately become fascinated, it's beautiful. It has a fantastic history and very connected to wine. Like I mentioned before, Portugal has a huge diversity, from the north to the south. The country is just a big vineyard, a small country but a big vineyard, and in every vineyard you came across, you find a touristic attraction. The possibilities are infinite.

Which are your favorite regions for wine tourism in Portugal?
- I always say that the Douro Valley's landscapes are spectacular and, to me, it's the most beautiful wine region in the world. I usually say that the Douro competes with Tuscany but in terms of wine, Douro wins because it is still very authentic, and Tuscany has become very international. The plains of cork oaks of the Alentejo are fantastic...Portugal has amazing castles, Lisbon, the capital, is also very beautiful...there are many attractions that combine culture, history, wine, gastronomy...my waist doesn't let me lie, I carry a lot of Portugal with me.

What is a good wine tour, in your opinion?
- It always needs wine and that is the tendency, but it can't be just that. The key is to balance the amount of visits to wineries and wine tastings with cultural and unusual attractions. It has to include shopping, some kind of visit that isn't directly connected with wine, a hot-balloon ride, a river cruise, museums, fado, other more modern music, or even fado revisited in a more modern style. So, it's about the culture, to live and experience the country and place wine as part of its culture, not just about visiting wineries and more wineries. You need to place wine and tasting experiences as a part of a context.

As an ambassador of Wine Tourism in Portugal, what advice would you give to someone who wishes to endure in wine tourism activities in Portugal?
- Just go to the website and make your reservations, you have everything there, that's my first advice! We studied and created itineraries together thinking about what I just said, to combine the best of each region and to balance the visits to have wine in the right measure, the essential, and also culture, leisure, and entertainment in a way that can please the whole family.

As a prominent figure in the wine industry, you are probably approached by several companies from all over the world with partnership proposals. Why did you choose to become an ambassador particularly of Wine Tourism in Portugal?
- They are innovative, all in one, you have a full service, national expertise, and who knows, international in the near future.