Whether you want to soak in the fresh mountain air, delight with the colorful vineyards or slip away to a cozy inn, we thought we would share with you our 5 places to savor the season's vibrant atmosphere and pleasures.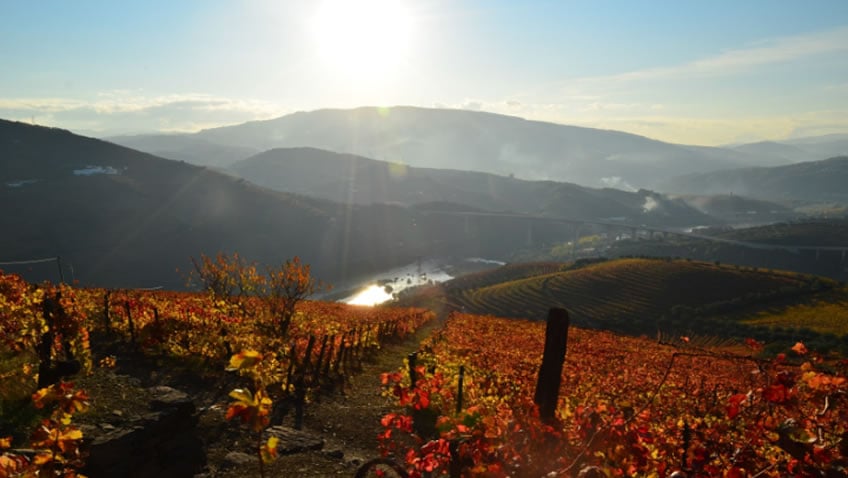 Fall's crisp air and bright colors tempt travelers to embrace the countryside, hit the outdoors and savor leisurely wine tastings. Traveling to Portugal in the fall often means fewer crowds, great weather and better deals.
The countryside is filled with amazing scenery, with the beautiful displays of autumn foliage making it all the more spectacular. A visit during the month of September and October also gives travelers a chance to attend a harvest event, featuring grape picking and stomping, food and wine tasting as well. With that in mind, we've pinpointed our 5 favorite places to stay on the upcoming season.
Quinta Nova Luxury Winery House
With great views of the river and the estate's vineyard, Quinta Nova Luxury Winery House was billed as the first wine hotel in Portugal. Born from the rehabilitation of a 19th century-old manor, visitors can take part in a number of wine-themed activities, which combined have earned it the Luxury Hotel & Winery of the Year Award for 2018 by the English-born Luxury Travel Guide.
Their guided tours include a visit to the 1764 winery, vineyard, and underground cellar where the best lots selected by the family age. The visit ends at a panoramic room where tasting sessions take place. There are different visits available, varying in the number and type of wines offered. The estate offers some other unusual experiences, such as the winemaker for a day program, fire bottle opening, as well as 6 miles (8 km) of hiking and biking trails which you can enjoy free of charge.
At Conceitus Winery Restaurant – Quinta Nova in-house restaurant - there's no menu and you will get served whatever the kitchen has cooked, in perfect tune with the property's wines. Quinta Nova's in-house restaurant offers excellent food in a stunning outdoor setting overlooking the valley. We'd also recommend doing the wine pairings, so that you can try their various wines.
If you're planning a weekend getaway, our 3-day tour in Douro makes the most of a short trip. Starting with a pick-up in Porto, we'll take you inland to the Douro Valley where you'll have the chance to stay at a local winery, visit some others, and try some of the best wines produced in the region. Sometimes, a weekend trip is all you need to have a memorable and rejuvenating experience.
If you'd like to extend your stay, we have a 5-day option available as well, which tackles all the Douro Valley highlights. As usual, any of these options can be customized to your taste and needs, from duration to hotels, restaurants and wineries, which can be altered to fit your expectations.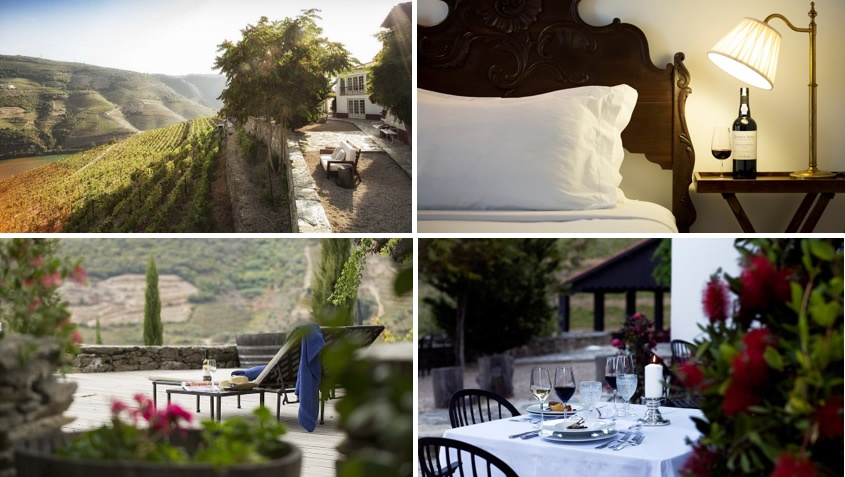 Carmo's Boutique Hotel
Intimate and stylish, Carmo's Boutique Hotel is beautifully located in Ponte de Lima - dubbed the oldest village in the country - in the heart of the Vinho Verde Region. This is the largest of the country's wine regions, running all the way from Porto up to the Spanish border.
With 15 glamorous suites, the hotel provides an extensive selection of wine-related activities and gastronomic experiences for guests to enjoy during their stay. It features an outdoor swimming-pool, a restaurant and terraced dinning room, and a spa offering aromatherapy treatments.
When it comes to visiting the most northerly part of Portugal, there's no way around the wine produced here. The name alone - which translates to "green wine" - says it all. Some will tell you that the somewhat misleading name refers to the lush natural setting, when in fact suggests the wines are intended to be enjoyed young.
They are usually light, fruity, and have a slight fizz, making for the perfect tipple to pair with late-harvest vegetable dishes, adding a kick of crisp.
Obviously, the fields of grapes and all the wineries are a big part of this region's appeal. If you'd like a tour that combines visits to nearby wine-growing farms, as well as day trips to the region's main towns - such as Braga and Guimarães - take a look at our 3-day tour in the Vinho Verde Region for inspiration.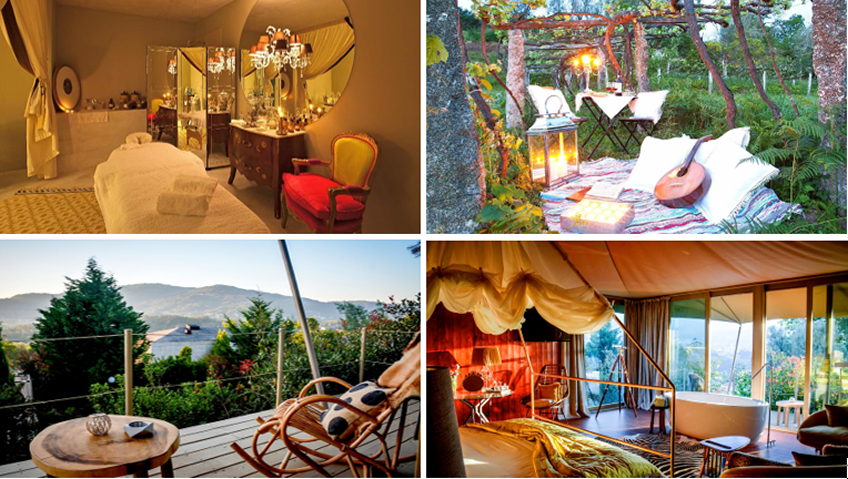 Casas do Côro
Beyond Viseu and the mountains lies the Beira Alta tableland, where scattered stone villages cling to the slopes of Portugal's highest mountains. As the temperature starts to fall, a short break in the countryside is the perfect way to enjoy some quality time with friends and family.
Located in Marialva - one of the region's picturesque historical villages - Casas do Côro provides unique and tastefully decorated accommodation, whether you choose to stay in a hotel room, a suite or a villa, combining modern features with some rustic details and pieces.
Have yourself a cozy hygge fall and stay by the fireplace with a nice drink in hand. The unit also features a large swimming pool, its own chapel, a biological vegetable garden and an Eco Friendly Concept Spa. You may treat yourself to fine dining on site, which will give you the chance to sample the Casas do Côro wine.
They also offer several themed programs, such us the Cooking Experience, which includes a culinary workshop, or the Electric Bike Tour complete with a Gourmet Picnic.
When traveling through Central Portugal don't miss some of the other historical villages such as Castelo Rodrigo, Trancoso and Belmonte, which are just over a 1-hour drive away from the property. Here, surveying the borderlands and the many medieval fortress-towns, you'll feel miles away from the frantic pace of everyday life.
With a car, you can easily see the whole region in a couple of days. Take a look at our hiking, wine and food tour for inspiration and let us know what you're looking for. We can prepare a custom-made itinerary for you with transportation and a set itinerary that will take you through the region's main locations.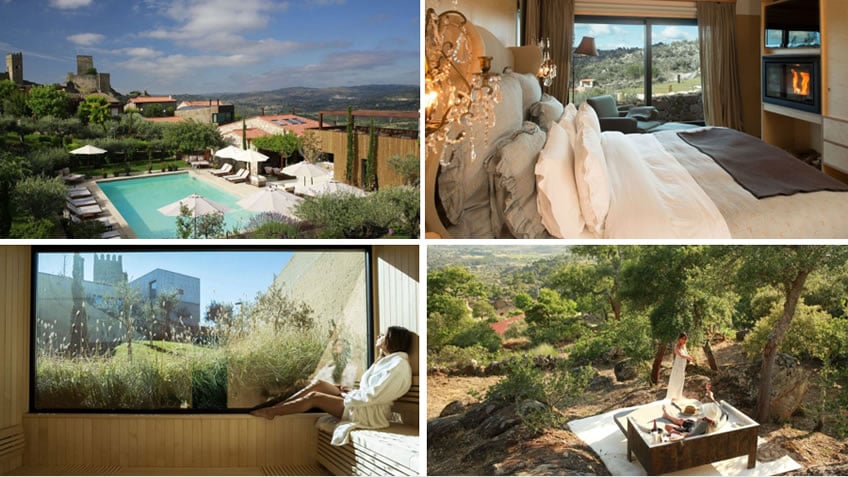 L'AND Vineyards, Luxury Wine Resort
Located only one hour drive from the capital city, the Upper Alentejo Region makes for a wonderful laid-back destination. Wheat fields alternate with vineyards, olive groves and forests of cork oak, as the region has been touted both the Provence and Tuscany of Portugal and has confidently taken its place as an area of outstanding wine production.
It is no wonder, then, that food and wine are important in Alentejo. While there, you cannot miss the chance to taste some of the region's best wines, as well as sample some olive oil paired with ingredients such as the traditional bread, olive oil, black pork, lamb, and egg-yolk based desserts.
If you are looking for the opportunity to spend the night at one of the region's incredible wine estates - without renouncing to the most exclusive comforts granted by modern-day resorts - L'AND Vineyards may be just what you're looking for.
This oenophile's dream resort is the perfect haven for those keen to enjoy the calm of the countryside. Indulge in relaxing spa experiences at the in-house wine therapy spa by Caudalie and revel in a gastronomic experience at the Michelin-starred restaurant. The menu has incredible dishes and food is creative and finely crafted. The dining room is absolutely beautiful, sparse and comfortable, with dozens of Tom Dixon-designed pendant lamps.
On our 3-day tour in the region - which could easily be trimmed to whichever duration suits you - we tackle the region's best restaurants, country estates, and wine tastings to give you a complete overview of this place in a short period of time.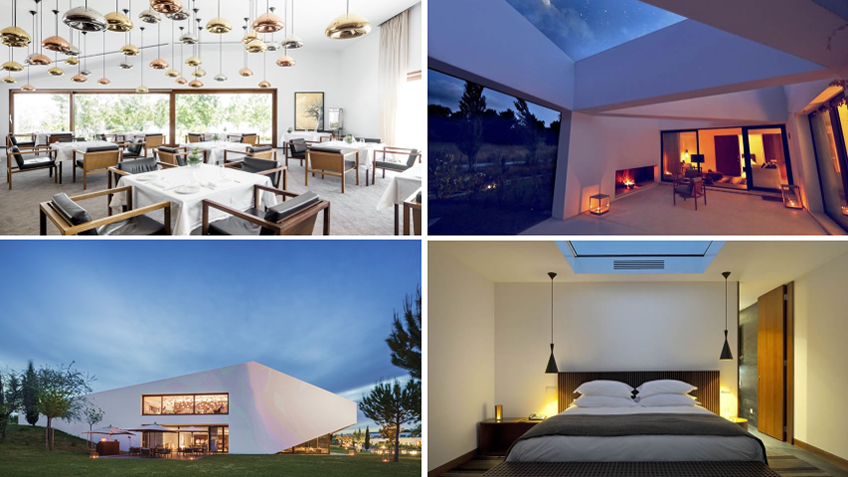 Torre de Palma Wine Hotel
A member of Design Hotels, Torre de Palma is housed in a beautiful manor house. Located in the Upper Alentejo Region, not far from the Spanish boarder, its is a short drive from the hilltop village of Estremoz, away from the hectic hub of Lisbon.
Dating back to the 14th century, it was entirely renovated into a beautiful charm hotel. Everything in it revolves around wine: there's a wine cellar and tasting room, several wine-related activities, and vineyard all around. It has an in-house restaurant and spa, where you can soak in a hot tub, get a massage, and wallow in one of the two swimming pools - one indoors and another outside. At the horse riding centre you can take riding lessons or do some horse trekking with the in-house instructor.
At the in-house restaurant Basilii you can experience Alentejo's flavors with an extra touch of sophistication by Chef Filipe Ramalho.
Alentejo's slow paced vibe is a big draw for visitors seeking to unwind. With a few days in this beautiful region, you'd be able to further explore the area and visit some of the many local wineries and picturesque walled towns, such as Marvão, Elvas, Vila Viçosa and Monsaraz, which are located close by.
Our 5-day tour in the Alentejo Region or 6-day-tour option will allow you to travel further south, to the Lower Alentejo Region. They both include private transportation - which is an absolute must, especially in such a rural, underpopulated area - as well as accommodation at some of the best wine hotels in the area, and visits to traditional wineries where you'll have the chance to sample the famous Alentejo-born wine.
If you're in search of inspiration, these pre-made tours can give you an idea of what the options are and how they would work out. However, if this is not exactly what you're looking for, we can customize any of our tours to your taste and add any experience you'd like to include.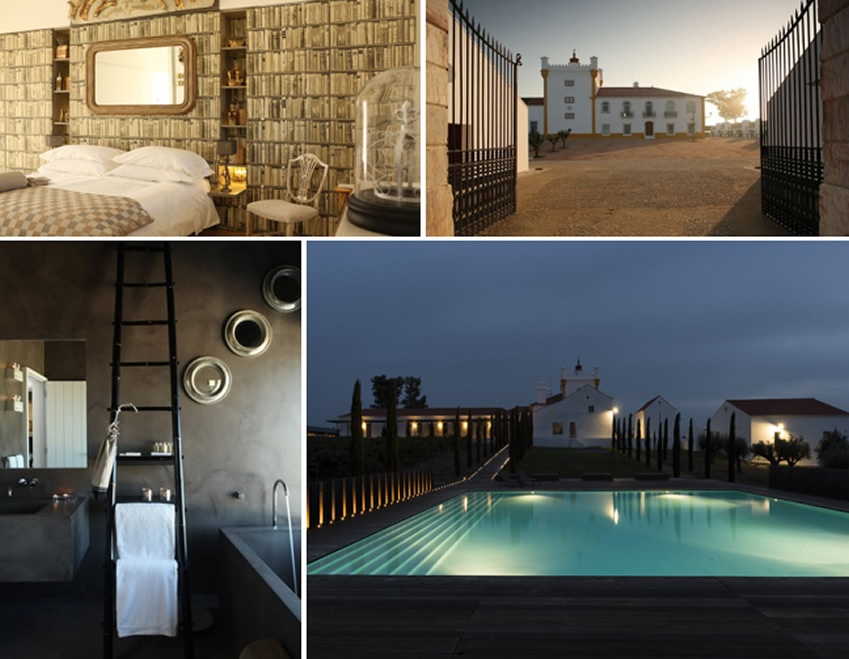 Love traveling but hate the logistics? There is a way to make this process simpler for you. By booking with us, you'll have saved hours of research comparing hotels and experiences, cross referencing review sites, and looking at endless pictures of your chosen destination.
Our expertise is in creating an itinerary that runs smoothly and is perfectly suited to your needs. You will work with one dedicated consultant, who will not only take time to listen to your requests, but also discuss different options with you. All of this coupled with a knowledge of the country means you'll get the best out of the time you have to spend on your next tour in Portugal.