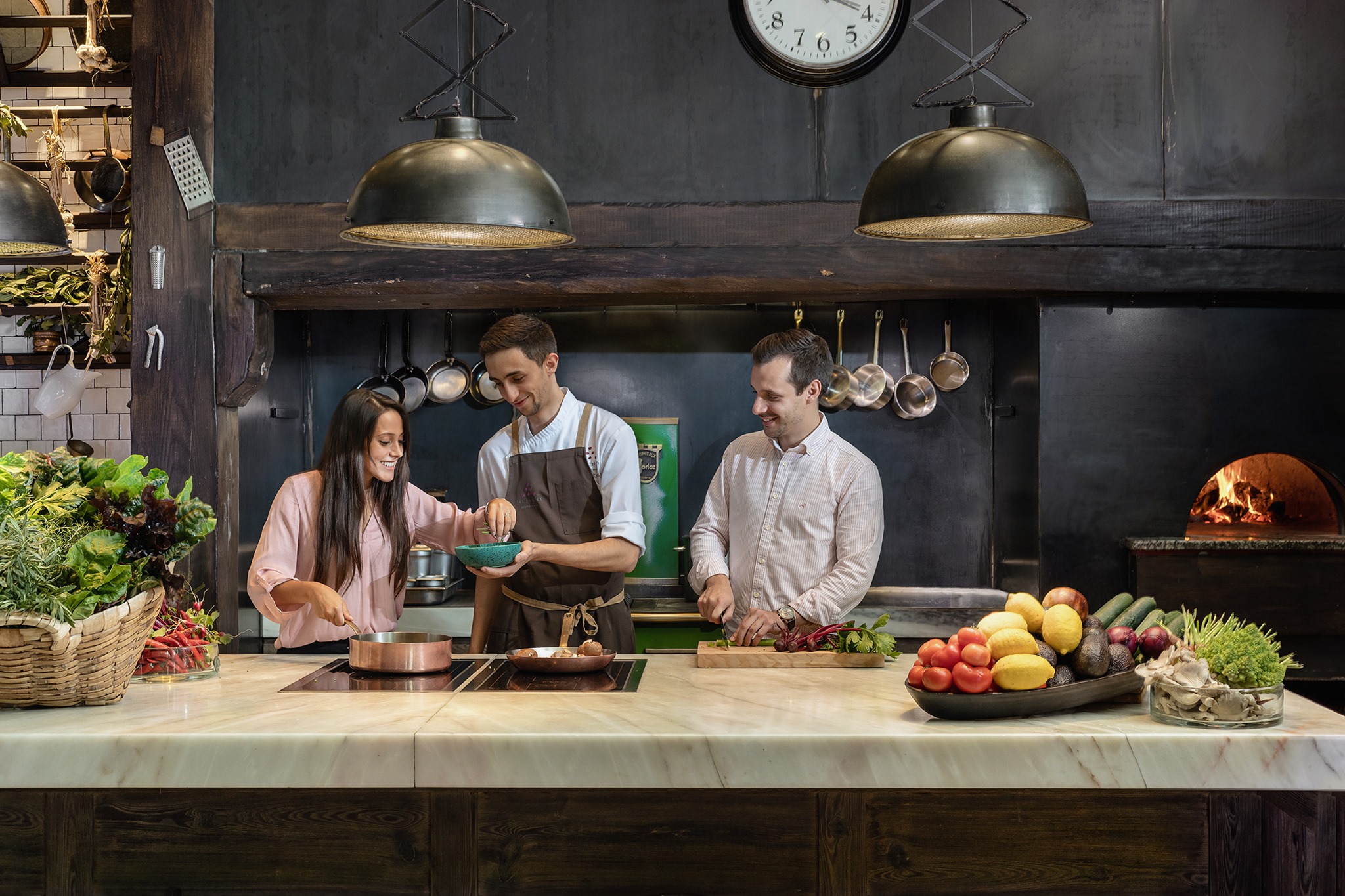 Searching to sample authentic cuisine and truly immerse in the experience of living in that place through the food? Then look no further because the culinary tourism experiences in Portugal will deliver you just that.

Popular among professional chefs, wine connoisseurs, and food enthusiasts, culinary tourism has witnessed an exponential rise in the past few decades. As a result, cities that are particularly known for their excellent food and beverages have put on the map the best places to eat and drink.

Moreover, if you are interested there are tours that are specialized in culinary tourism in which also may include some sightseeing and other fun activities on the side. These fantastic wine and food tours, therefore, are a great idea for those who wish to escape tourist traps and really enjoy an eating experience like a local. Besides, you have the chance to savor an unforgettable taste of the place, in which it may be offered by renowned cookery schools, within resorts to in-house guests and individual chefs who specialize in the local cuisine.

So, if you are an enthusiast of food and wine in which you will also love to combine food local cooking classes that will let you take home some valuable recipes and cooking techniques, then this article is for you!

Wine Tasting in a Secret Cellar, Algarve
The winery of Vila Vita Parc has a Gothic style and is located 8 meters (26 ft.) below ground, built with bricks made in Egypt, Austria, and Greece more than 150 years ago. The cellar houses 11,000 bottles of wine from all around the world which are kept with all the Sommelier's attention and affection. The deep cellar is the testimony of the perfect temperature and humidity conditions required to harbor a collection of over 1,200 references of the best wines from Portugal and around the World.
In addition, the well-versed sommeliers will guide you through the nuanced flavors of various vintages during wine and cheese tastings, complemented by traditional Portuguese tapas, homemade bread, and olive oil from Herdade dos Grous, Vila Vita Parc's own farm and vineyard in the Alentejo. Besides the wine tastings, the Wine Cellar is also open for private dinners. A unique experience that you will never forget, whether it's a more intimate affair for two or a dinner with friends, co-workers, clients, or employees.
Be a Winemaker for a Day, Douro Valley
This is a true sensory and didactic experience, where you will create your own wine at the amazing Quinta Nova de Nossa Senhora do Carmo. Be a winemaker for a day in an activity that seeks to highlight one of the main success factors of Portuguese wines, the art of blending blended wines.
This experience starts with a visit to the winery dated from 1764 and the Wine Museum, the barrel's room, and the underground cellar where we age the best lots selected by the Amorim family. After the visit, you will participate in the activity "Winemaker for 1 day", with the creation of a batch, bottling, corking, image creation, and bottle labeling which you will take home at the end of the experience in order to offer as a unique souvenir to your friends and family or keep as a token of an incredible experience.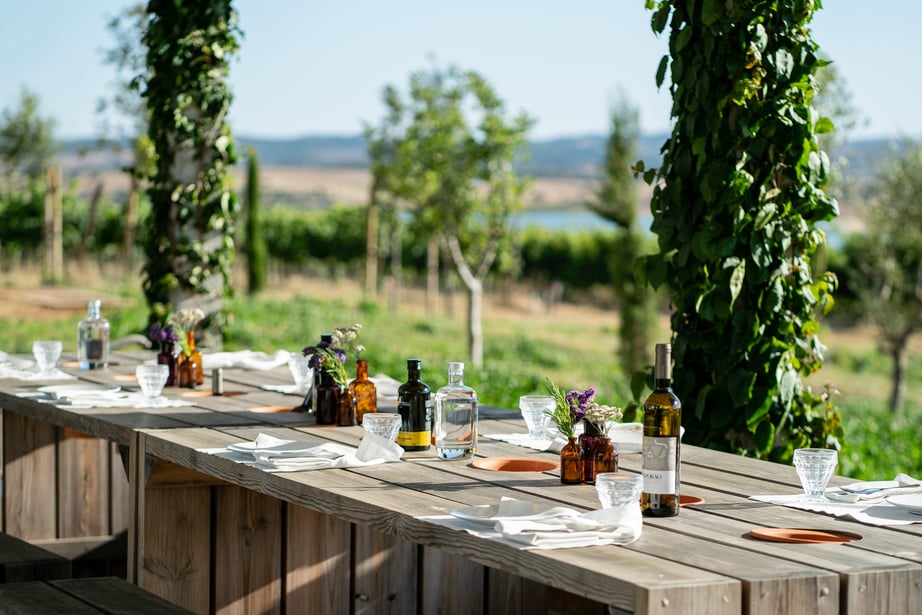 Enjoy Farm to Table Hands-On, Alentejo
This incredible and very original experience consists of the new "slow cooking in fire" kitchen of Herdade do Esporão. It is outdoors, by the vegetable garden, and with a view over the vineyards. Chef Carlos de Albuquerque welcomes three chefs from several Portuguese regions, and all of them share the respect for local seasonal products, which is the motto for every meal delivered to the table. This also consists of seven moments tasting menu, made with each chef's approach and using local products from Esporão's vegetable garden, and all paired with the amazing wines. This is served at sunset, so you can enjoy delicious food with breathtaking scenarios.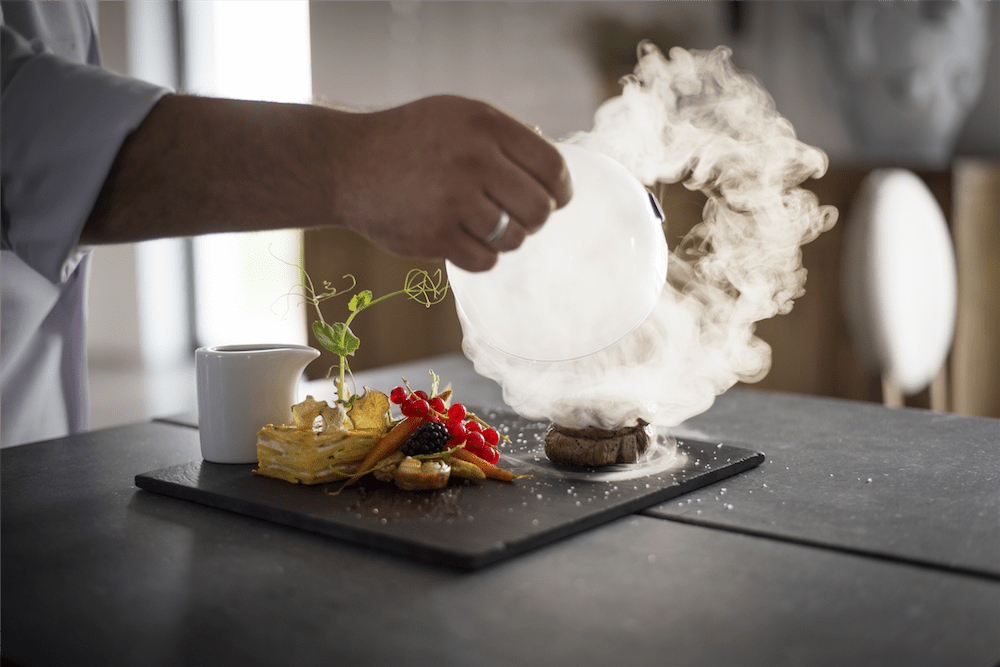 Kitchen Workshop With a Chef, Alentejo
With a duration of three hours, this incredible gastronomic experience at Torre de Palma consists of a dinner in the private kitchen in the property of this unique wine hotel. Trought the experience it will be delivered to you a selection of dishes carefully prepared by the Chef. All the meals will be carefully prepared and executed in live cooking, where you will have the possibility to participate in the preparation of each dish and get to know some of the techniques that the Chef uses as well as a few secret tips, that you probably wanted to know all along. In the end, you will enjoy a delicious meal.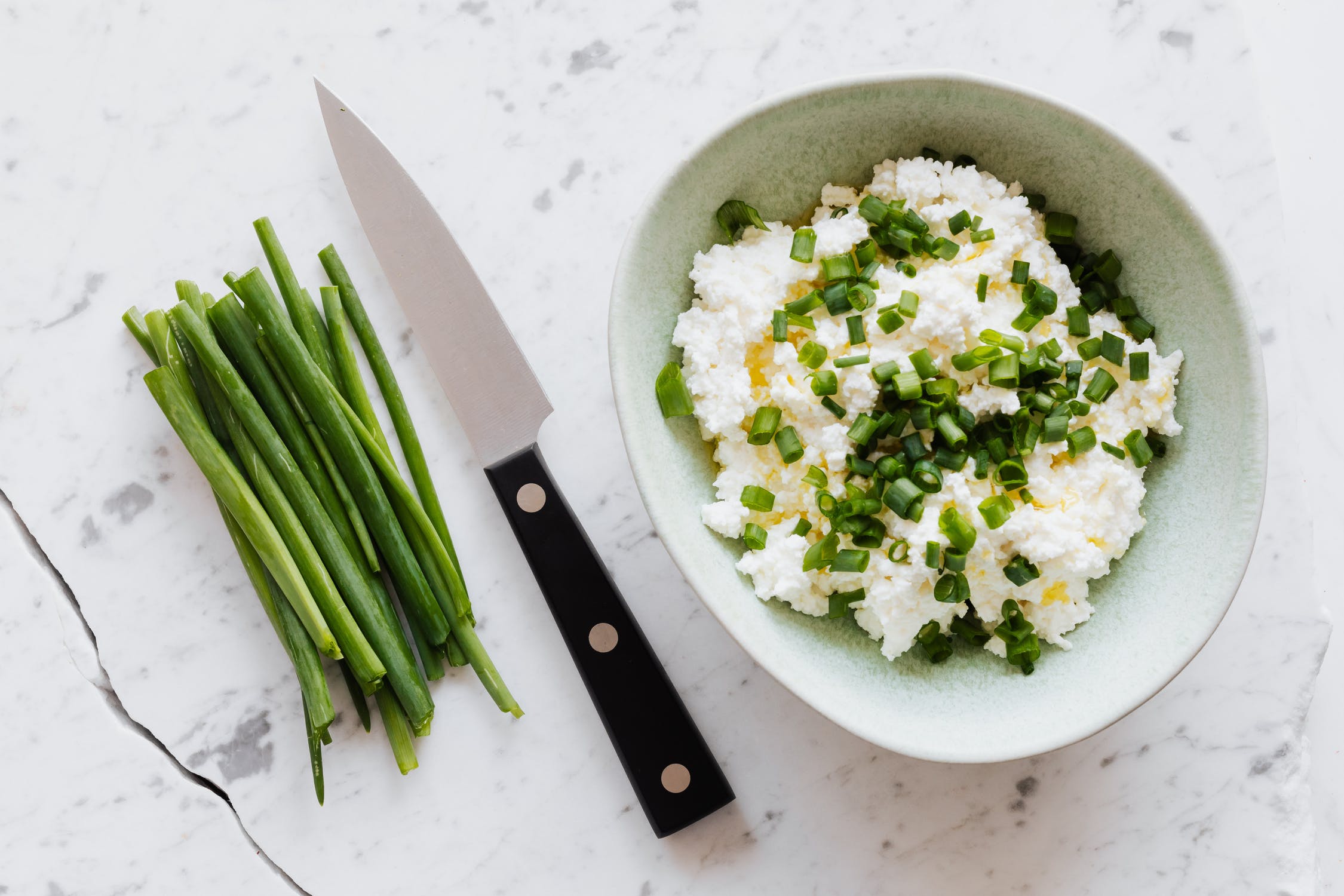 Fresh Cheese Workshop, Alentejo
If you are a cheese lover, especially fresh cheese then this amazing workshop is for you. Learn all about a very important activity, that will be heading sheep and goats with a local Shepard so you can make your own fresh cheese. There is also the chance to try your hand at milking the herd, the traditional way. Moreover, enjoy your work paired with a great glass of wine of Herdade do Grous.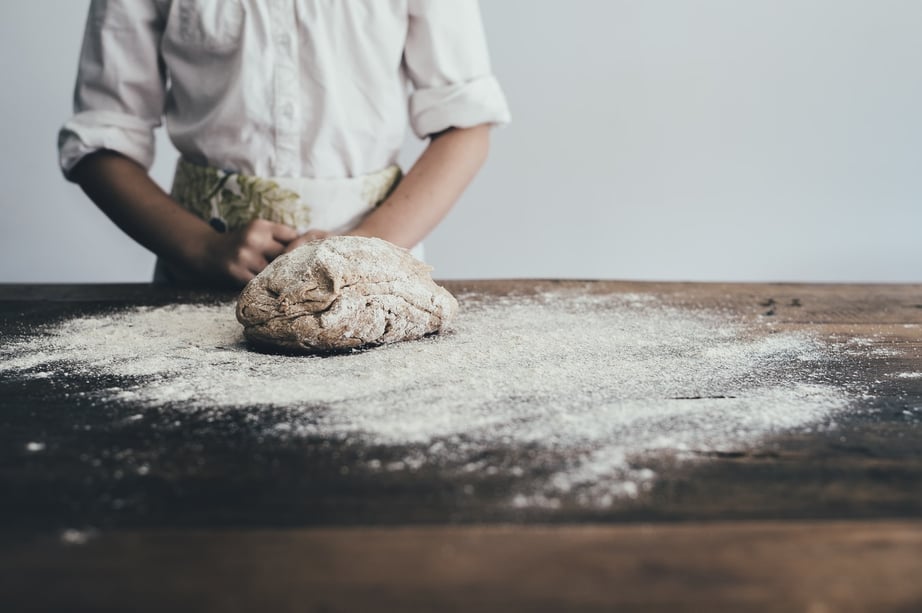 Alentejo's Bread Workshop, Alentejo
If you are a bread lover, that loves pairing it with all types of food with mouthwatering bread, then this is your chance to learn how to make it at home, so you can elevate your dishes to a whole new level thanks to fresh bread. Learn the many ways to knead, bake, and all the correct techniques and secrets with the Herdade's do Grous baker. In the end, delight yourself with fresh bread, after your hard work. In addition, it will be given to you the recipes of rustic bread in order for you to do it at home and surprise your guests with your new bakery techniques.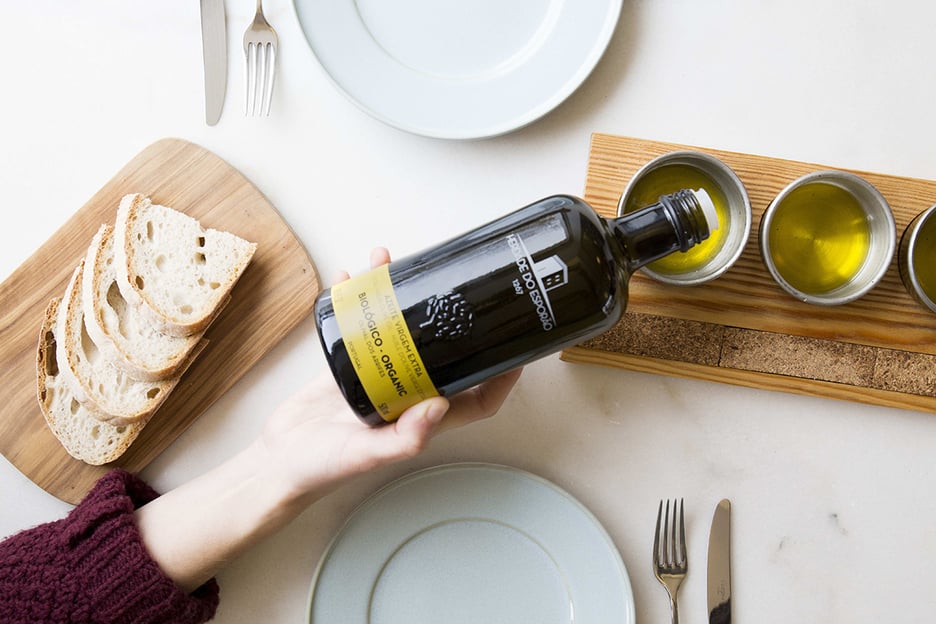 Olive Oil Tasting, Alentejo
Olive oil has been produced around the Mediterranean for millennia and it's one of the Alentejo region's main agricultural products along with cereals and wine. This is also a fantastic experience for your palate. The tasting consists of a selection of amazing olive oils that you have been curious about and is also guided by an olive oil tasting expert, in which through the tastings you'll learn everything there's to know about the growing and production of olive oil. It is possible to enjoy amazing olive oil tastings in Lagar do Marmelo or at Herdade do Esporão.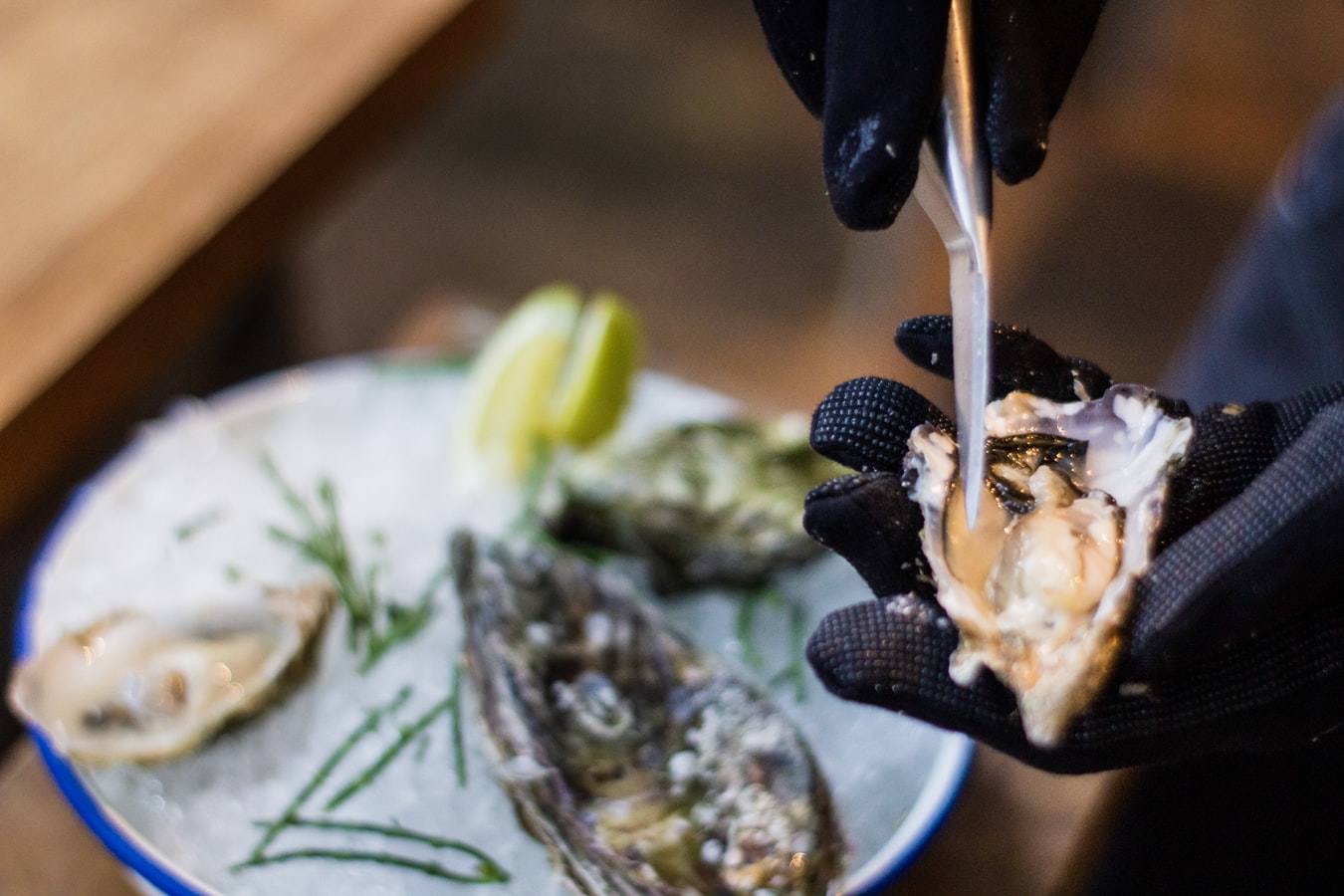 Catch Oysters with a Chef, Algarve
If you are looking for a unique and authentic day that will be in your memories of vacation experiences for a long time, then this is the experience that you have been looking for you, your friends, and your family. We all know how delightful an oyster can be, its flavor, and how it is served delivers a unique gastronomy experience. But did you ever ask yourself how was the process behind it, before it is delivered to you in a wonderful restaurant? Here you will adventure yourself in the backstage of their catching, and while doing it you will learn all the secret techniques of the process.
Why book now your 2021 tour? Because by booking all your tours with us you will have flexibility in the future, plus all the COVID-19 Health & Safety Guidlines. Through these unique times, we are available to plan, reschedule, and move your trip around your needs, as always. If your new dates may no longer work with your initial travel plan, a dedicated consultant will be available to tailor and reschedule your time in Portugal according to your needs and preferences, and to assure you that you will have the best and most memorable experiences.