One of the trickiest things when travelling is figuring out the best places to stay, eat, and visit. If one goes wrong, it can throw everything off. That's why it is so important to make the right decision. Read on to discover our best picks on where to eat, where to stay, and the must-see attractions in Porto and Douro.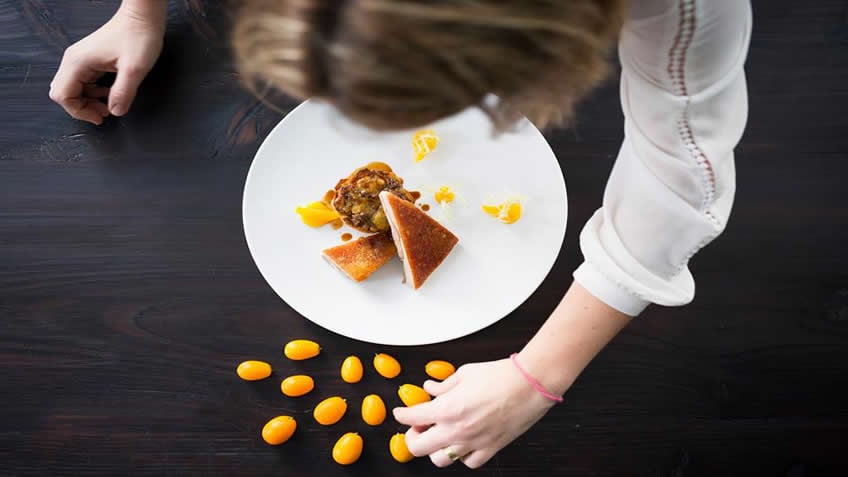 Porto and Douro have been on the rise in recent years. Fuelled by the wonderful sights, delicious cuisine, and deep-rooted welcoming culture of the place itself, both are joined by a growing number of visitors and international praise. With so much on offer, it can be difficult to find the best places so here's a few suggestions to get you started.
Where to eat
Located near Port wine town and cruise centre of Peso da Régua, is the young and stylish food hangout Castas e Pratos. Set in a refurbished railway shed with exposed original timbers, it is split into a wine bar on the first floor and, above it, a dining room. Praised by The New York Times for its beautifully composed small dishes, it does contemporary riffs on Portuguese cooking such as in the Salted Cod in Almond and Ham Crust on Prawn Brandade or Suckling Pig with Vitelotte Potatoes.
Further downstream, in the city of Porto, is the contemporary looking DeCastro Gaia. Located on the third floor of Espaço Porto Cruz - where visitors can explore all things related to the production and culture of port wine - this riverfront restaurant led by talented Chef Miguel Castro e Silva matches ports and wines with petiscos rooted in traditional Portuguese flavours. Try the Brás Style Codfish or the Pork Cheek cooked in Red Wine and Cumin and have a Port Wine Cocktail on the rooftop with all-around views across the Douro to the old city.
On the opposite river bank, right in the heart of the city, is Rui Paula's DOP. Tucked in a beautiful building where once stood an old monastery, this creative and sophisticated spot lives up to the expectations surrounding the Michelin starred-Chef, with a creative menu rooted in both tradition and modernity - with ingredients like Octopus, Veil Tenderloin and Salted Cod - smartly paired with a comprehensive 60-page wine list.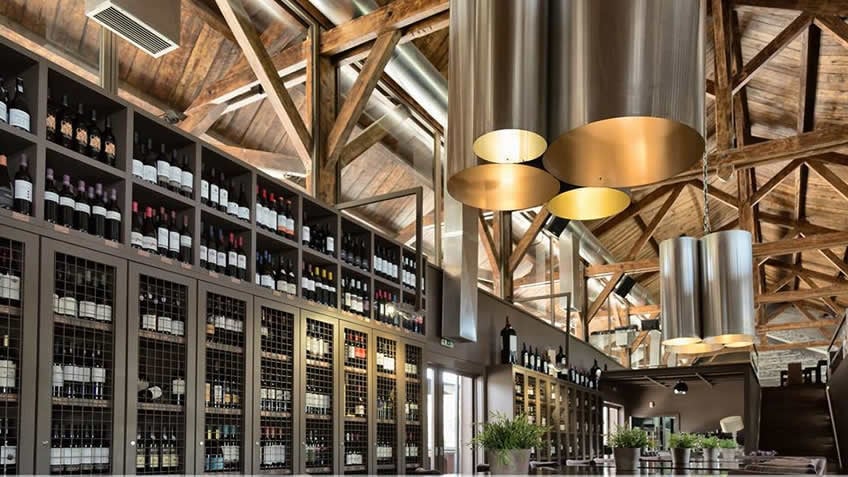 Where to Stay
Located just across the river from Régua, Delfim Douro Hotel sits perched on a mountain, nestled amongst the surrounding vines. It features an outdoor swimming pool, a rooftop terrace, a restaurant serving a variety of national and international dishes and wines, and spa facilities. Best yet, the stylish rooms and suites have private balconies overlooking the Douro River. Guests at Delfim Douro can enjoy a drink poolside, relax on the rooftop, and take advantage of the hotel's privileged location to explore the valley.
Following the Douro river east, there's Quinta Nova Luxury Winery House, with great views of the river and the estate's surrounding vineyards. Billed as the first wine hotel in Portugal - born from the rehabilitation of a 19th century-old manor - visitors can take part in a number of wine-themed activities, which combined have earned it the Luxury Hotel & Winery of the Year Award for 2018 by the English-born Luxury Travel Guide. The hiking and biking trails, as well as the beautiful outdoor swimming-pool will keep you from getting bored. At the in-house Conceitus Winery Restaurant there's no menu and you will get served whatever the kitchen has cooked, in perfect tune with the property's wines.
Sitting in between several port lodges - where for centuries wines have been blended and matured - The Yeatman stands out on Porto's skyline. In this luxury wine hotel and spa everything revolves around wine. It has a wine cellar - one of the largest in Portugal - wine bar, two-time Michelin starred restaurant and even a wine spa. The hotel itself could keep you occupied for days. You can soak in a hot tub, get a perfumed massage, wallow in one of the two swimming pools, or take a guided tour with the in-house sommelier through the 25,000-bottle wine cellar.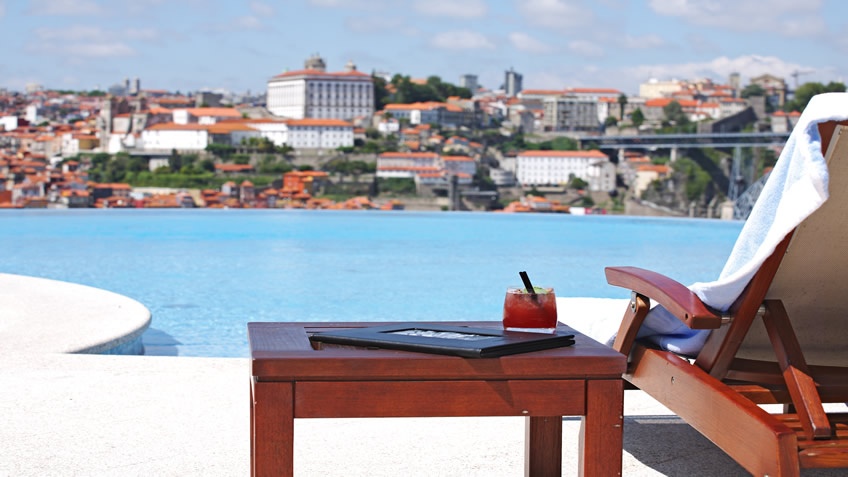 What to visit
There's far more to the city than its most famous wine but it'd be a shame not to give it a try. Port has been produced in the Douro Valley for centuries, and then taken downriver to the city to be stored before shipping. A large number of port warehouses soon began to spring up in the suburb of Gaia, across the river from the city, and are now open for visits - and wine tastings. If you're having trouble deciding which ones to visit and in what order, our Port Wine Cellars Tour is just right for you. We'll choose three wine cellars and put together an itinerary for you. By the end, you'll know more about port wine than you had imagined possible.
When it comes to wine, the Douro Valley doesn't need much of an introduction. After all, it is the oldest demarcated wine region in the world, particularly famous for Port wine, as well as a number of other world-famous reds. It is no surprise, then, that its wineries are an underlying part of the region's strong culture and identity. With this full-day tour in Douro you'll check some of the region's must-dos off your list, when visiting some of the most famous wine producing estates in the region, picnicking in the vineyards, and sampling its most famous port wine.
No trip to the Douro Valley would be complete without some time on the water. The journey upriver is one of the most scenic routes in the world. River cruises can last from an hour to one or more days, with or without meals, and are a delightful way to enjoy the landscape. On board of a private sailing boat with a picnic on board, or simply a shared traditional boat, you'll have the time to soak up the atmosphere and take in the sights.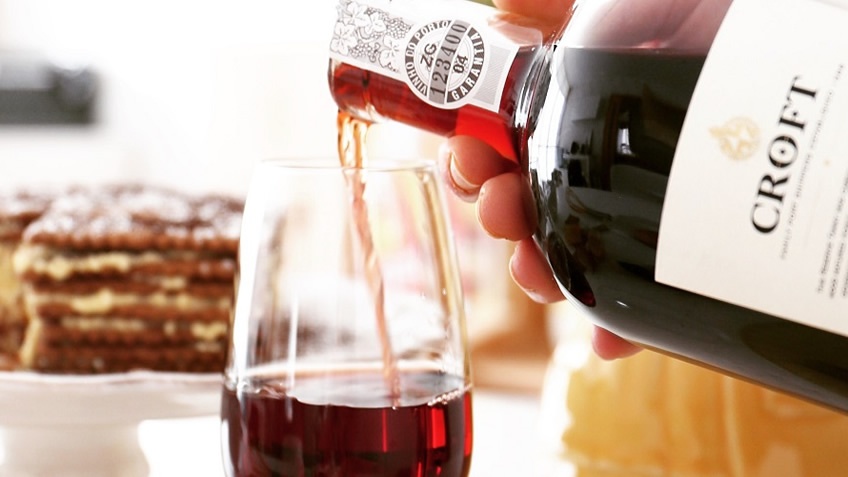 A customized solution for you
If you're looking for an experience that runs smoothly from the moment you start planning to the drop off at the airport, our all-inclusive Porto Luxury Tour is the perfect pick. Your private driver will be with you for the entire time of your stay, ensuring peace of mind and comfort - especially in such a hilly city - while you have the chance to experience the best hotels, restaurants, and cultural getaways the city has to offer.
If you're hoping for the same experience up in the Valley, our 5-day Luxury Tour in Douro will not disappoint. We'll pick you up at the airport and drive you up through the hills. You'll stay at one of the most beautiful hotels in the area - just by the river - and we'll make sure you have plenty to do, from wine tasting experiences, to cooking workshops, exclusive cruises, as well as time to simply unwind.
If you're looking to combine both city and country, our all-inclusive Porto and Douro Luxury Tour will give you just the right amount of both.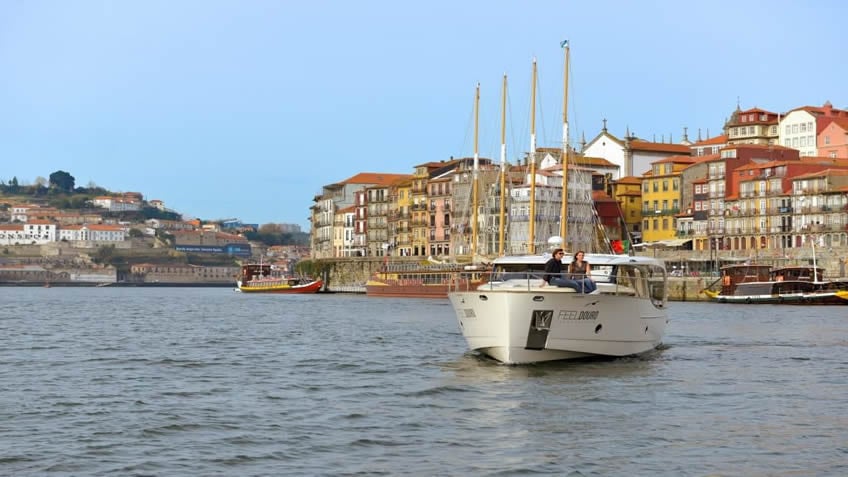 No one knows better than you what you want. But our staff has the experience and knowledge to show what is available and what is possible.
By booking with us, you'll work with one dedicated consultant, who will not only take time to listen to your requests, but also discuss different options with you. All of this coupled with a knowledge of the country means you'll get the best out of the time you have to spend on your next tour in Portugal.