Traveling to Portugal in the fall often means fewer crowds, great weather and better deals – along with jaw-dropping displays of fall foliage. If you're thinking about heading to Portugal, we've done our homework to come up with 10 great places to explore in autumn.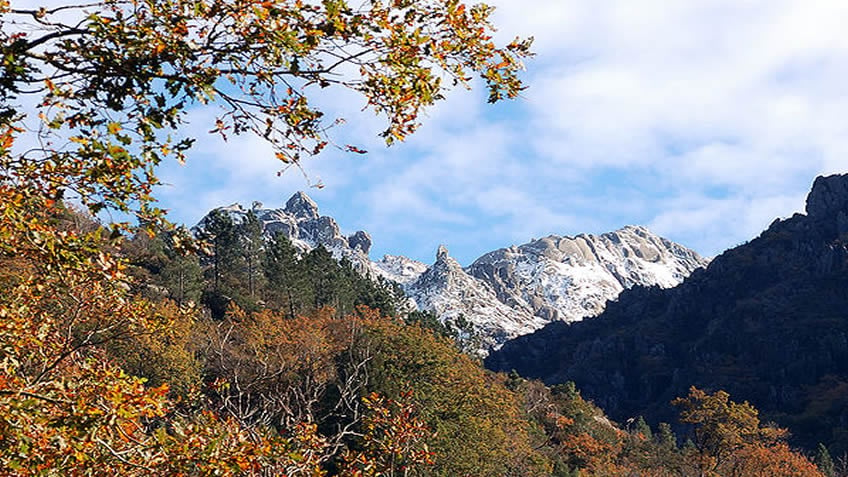 © Wikimedia Commons User:Fulviusbsas / CC BY 2.0
Peneda-Gerês National Park
Established in 1971, Parque Nacional da Peneda-Gerês is Portugal's first and only national park. If you are visiting in Porto or in Northern Portugal or even Galicia in Spain, a visit to the National Park is definitely worth it. This 703-sq-km (436-sq-miles) park encompasses windswept peaks and valleys of woodland, quaint towns, mountain streams and waterfalls, and lovely views.
Start by exploring the riverside town of Ponte de Lima, dubbed the oldest in the country. Located a short 30-minute drive from one of the park's main entrances, it is a great base for exploring the region. Stay at Carmo's Boutique Hotel or Ameal Wine and Tourism Terroir for a more countryside experience. There are also a couple of wineries nearby where you can try the famous Vinho Verde. Take a look at our 3-day tour in the region for inspiration and let us know what you'd like to see and do. We'll put an itinerary together for what you had planned as well as other ideas to fill your time.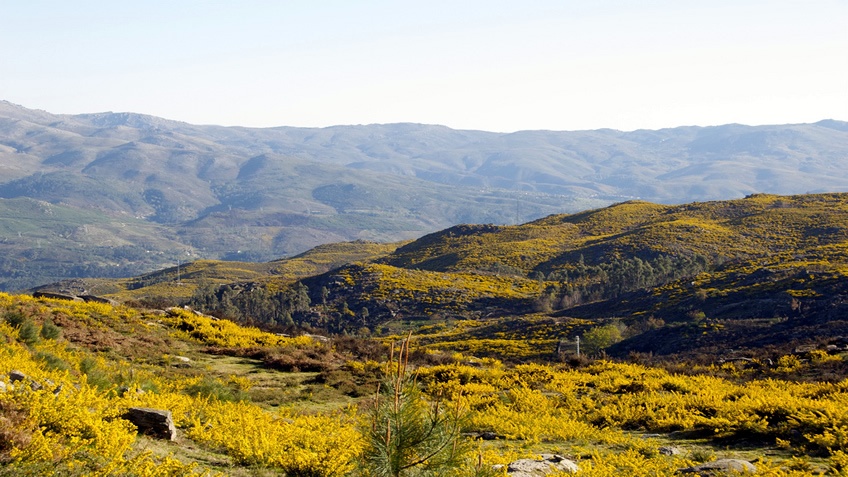 © Wikimedia Commons Transferred from Flickr by User:JotaCartas / CC BY 2.0

Douro Valley
A UNESCO-listed World Heritage Site, the Douro Valley is jaw dropping on its own, but is even more spectacular during the autumn months. The Douro Valley is one of Portugal's main wine regions and the hills here are covered in rows of terraced vineyards which turn to red and yellow as autumn casts its spell.
If you're planning a weekend getaway, our 2-day all-inclusive tour in Douro makes the most of a short trip. Starting with a pick-up in Porto, you'll have the chance to stay at a local winery, visit some estates, and try some of the best wines produced in the region. If you'd like to extend your stay, we have a 5-day option available as well, which tackles all the Douro Valley highlights. As usual, any of these options can be customized to your taste and needs, from duration to hotels, restaurants and wineries, which can be altered to fit your expectations.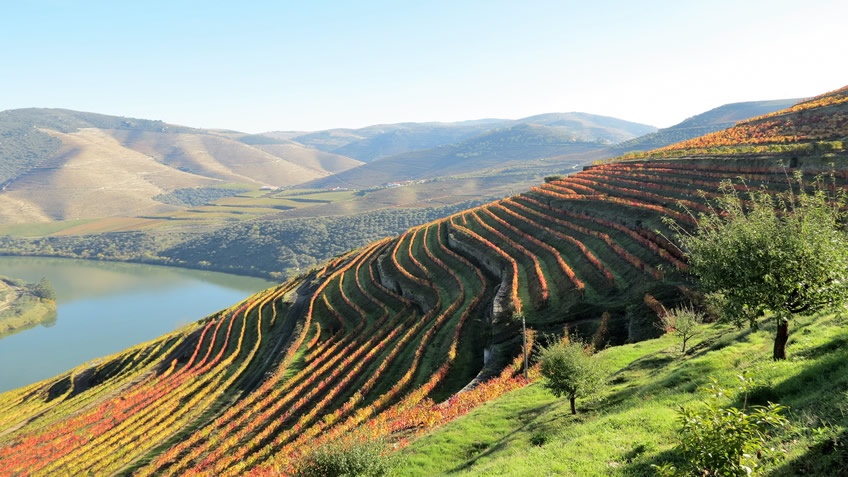 Porto
Fall in the city means fewer crowds, shorter lines, and easier restaurant reservations. Many feel that it's really the very best time of year to go. Standing as one of the most eclectic destinations in Europe, it has something to offer to everyone: historic splendor paired with a contemporary buzz, sweeping views, architecture - with one of the most beautiful train stations and bookshops in the world - as well as a strong food and wine culture.
If you're short in time or would like to experience some of the city's must-see attractions our day tours will make it easier for you. For those wanting to stay longer, our private all-inclusive Porto Luxury Tour has been designed for travelers wanting to experience the best hotels, restaurants, and cultural getaways the city has to offer. A private driver will allow you the opportunity to delve deeper into the local culture, traditions, and history, while comfortably moving around - especially in such a hilly city.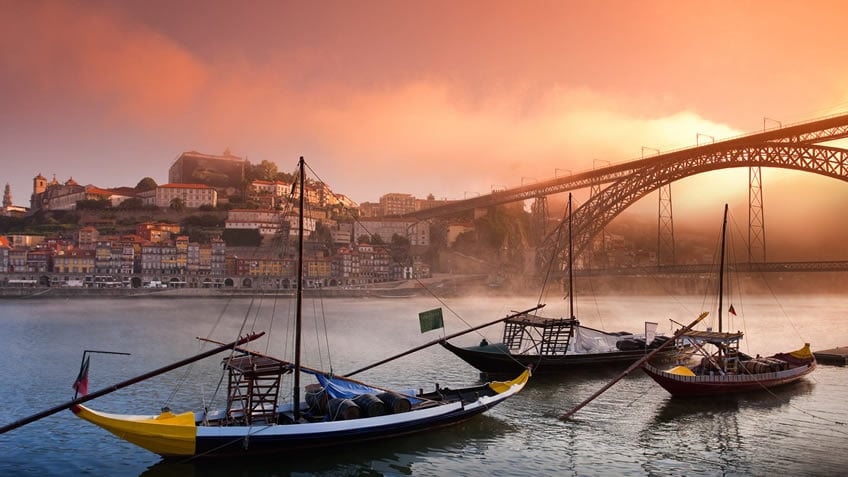 Serra da Estrela
These are the highest mountains in Portugal and a really lovely national park with incredible scenery, glorious flowering beauty, and spectacular rock formations. Rising dramatically to the southwest of Guarda, it is still very untouched. The roads, though narrow and windy, have plenty of places to pull over and take in the view.
A network of hiking trails covers the area and fall is arguably one of the best seasons to get into the mountains. Forget the blazing heat and bugs of summer and take in some of the best fall foliage. Check Rota das Faias - Beech Trees Trail - for a glimpse.
The delightful small town of Belmonte makes an excellent base for exploring the region. With a car, you can easily explore the surrounding area in a couple of days. Take a look at our hiking, wine and food tour for inspiration and let us know what you're looking for. We can prepare a custom-made itinerary for you with transportation and a set itinerary that will take you through the region's main locations.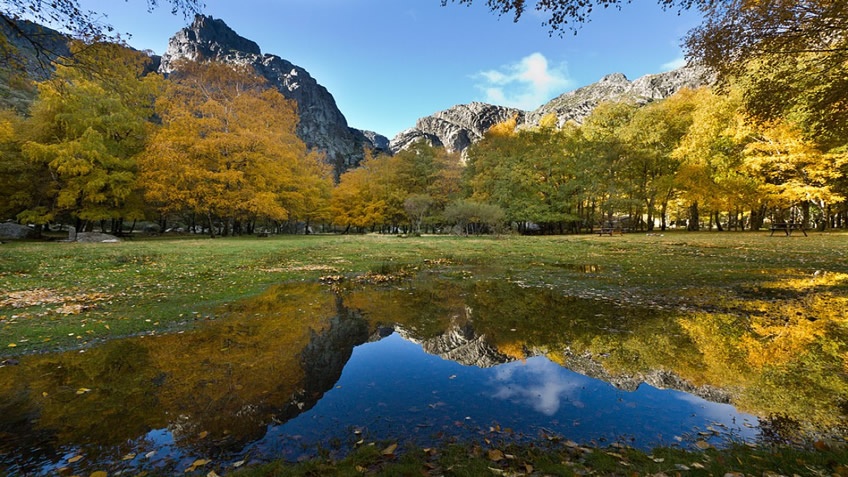 © Wikimedia Commons User:Hurtuv / CC-BY-SA-3.0

Lisbon
Lisbon is lovely in autumn, when the sun mellows and the tree-lined streets turn honey-colored.
One of the sunniest and liveliest capital cities in Europe, the Portuguese capital has become unexpectedly fashionable as travelers from all around the world set foot upon this historical yet cosmopolitan city. It's easy to find what you're looking for in Lisbon as the city constantly reinvents itself, while looking back on its rich history.
Our 9-day all-inclusive Lisbon Tour won't leave any stone unturned. You'll get to know Lisbon like the back of your hand as you walk the city streets along a knowledgeable exclusive guide and explore even the furthest neighborhoods, taking advantage of your very own private driver. You'll also have the opportunity to delve deeper into the surrounding area and attractions, from the beautiful coastline to the wine-producing countryside.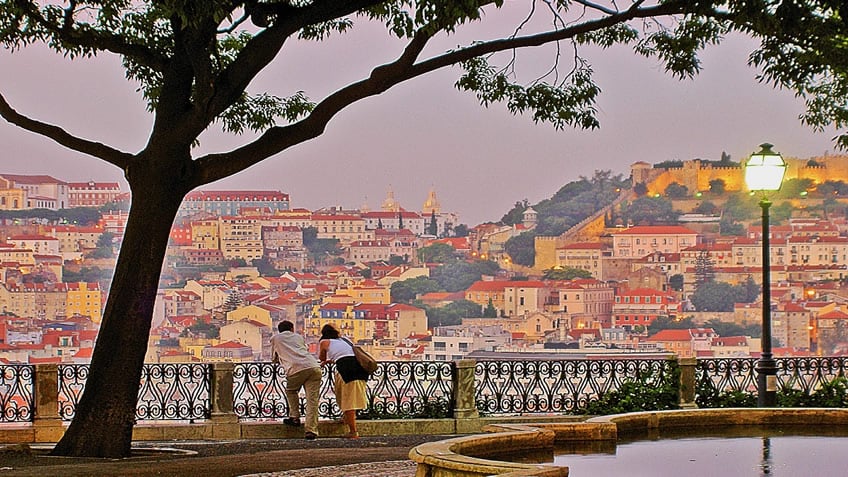 Sintra
Sintra is at its most charming during fall, thanks to the town's beautiful parks, public gardens and tree-lined streets, which transform into shades of reds, oranges and yellows. With its rolling hills and awe-inspiring palaces, the historic resort town of Sintra seems to come straight out of a fairy tale and is a must-do side trip from Lisbon.
The wine industry is also thriving as a result of the region's unusual wine, born of vineyards that grow in sandy soil on the coast, trained low to avoid the incessant wind that blows off the ocean. Local Adega Regional de Colares offers the opportunity to chat directly with the winemaker about one of the world's singular wine regions and its wines, while enjoying them.
Although you can reach some of these places by public transport, having a car will make it all the more easy. We can provide a private driver service that will make sure you get from one place to the other on time, while leaving you free to fully appreciate the views.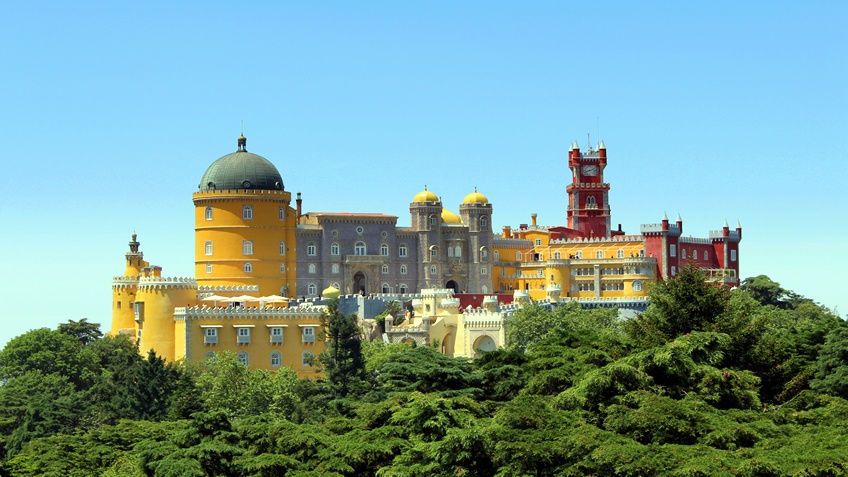 © Wikimedia Commons User:Tm / CC BY 2.0
Serra da Arrábida
Serra da Arrábida mountain ridge stretches along the southeastern coast of the Setúbal Peninsula. It is located on the opposite bank of the River Tejo - a short 45-minute drive away from the city of Lisbon - and is a very popular destination due to the natural landscapes, particularly its green, lofty mountains edged by a long coastline of golden beaches.
Our half-day tour in the region will take you to the two main wine producers in the region: Quinta da Bacalhôa and José Maria da Fonseca Company. The first is an innovative winery, palace and museum, which stands on a former royal estate dating back to the 15th century, complete with a formal miniature maze, a large pond, and vines within its walls. Five minutes away, are the original headquarters of José Maria da Fonseca, a family-owned company and the oldest producer of Muscat, the sweet dessert wine this region's is known for.
We can easily combine both experiences in a one-day tour, departing from Lisbon and stopping along the way to enjoy the views and the region's famous wine. Tell us your plan and we'll do the rest!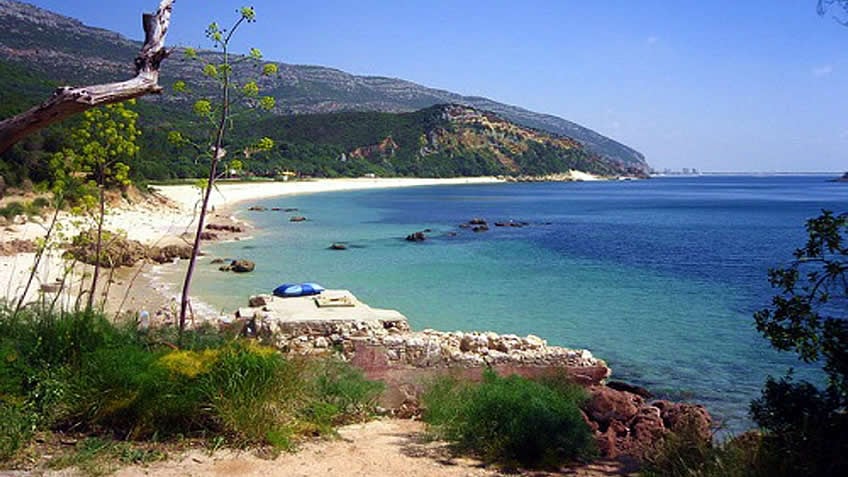 © Wikimedia Commons User:F nando / CC-BY-SA-3.0

Alqueva Reservoir
With temps in the 20 º C - high 60's - and fewer tourists, fall is a prime time to head to Alentejo. Located on the border of Portugal and Spain, the Alqueva Reservoir is the biggest man-made lake in Europe and the views into infinity over the Alentejo plains are absolutely breathtaking. Wheat fields alternate with vineyards, olive groves and forests of cork oak - after all, Alentejo is the largest producer of cork in the world.
The blazing hot summer temperatures have subsided and cooler days call for outdoor activities. This is also a great time for water sports as water levels - usually lower during the hot summer months - have started to increase.
On this big fertile region - a third of the country by area - attractions lie further apart and can be difficult to see without a car. In our 5-day tour in Alentejo, we've round up the region's best restaurants, country estates, and places to stay. If you don't have that much time to spare, our 3-day tour will give you a 101 introduction to what you can do, see, and enjoy in Alentejo.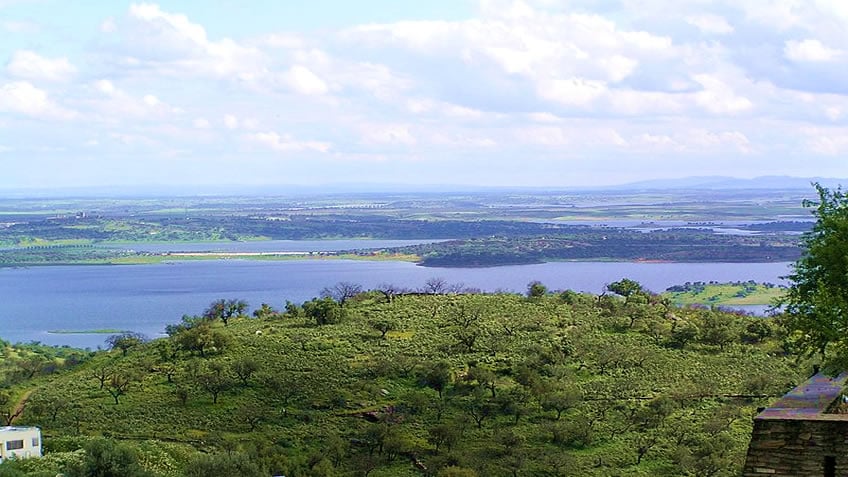 © Wikimedia Commons User:Tm / CC BY 2.0

Vicentine Coast
Alentejo's slow paced vibe is a big draw for visitors seeking to unwind. The region is lined with glorious beaches, but not many people seem to know about them. Covering over 100 km (62 miles), from Porto Covo in the Alentejo, to Burgau in the Algarve, it is protected by the South West Alentejo and Costa Vicentina National Park and is the best-preserved in Europe.
Away from the busy coastal resorts, it's a timeless, uncrowded, wildly beautiful place. By the fall, holidaymakers are long gone and, aside from surfers riding some of the best waves in the country, you'll have these spectacular beaches to yourself.
With our 6-day tour in Alentejo you'll have enough time to explore the region and visit a few more wineries and locations in the area. If you're in search of inspiration, this pre-made tour can give you an idea of what the options are and how they would work out - logistically and budget-wise. But, we can customize any of our tours to your taste and add any experience you'd like to include.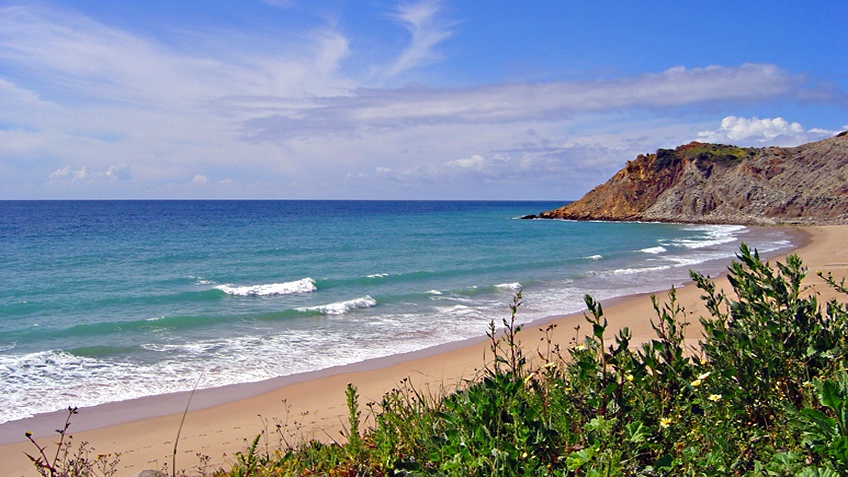 © Wikimedia Commons User:Xuaxo / CC-BY-SA-3.0

Algarve
As the summer crowds depart, tranquility returns to the Algarve. While the summer months are the height of season, September, and even October, are some of the best months to visit the region.
Weather is still warm enough for a day at the beach, yet fall colors are starting to erupt and a cool breeze blows in the evening. Also, make some time to travel inland, where you'll find an entirely different Algarve - white-washed quaint villages, lush woodland, and great food.
Our 3-day tour of the region will show you the hidden side of the region that goes far beyond the stretch of golden sandy beaches. On this tour you'll have enough time to enjoy the beach, but also discover the best spots for eating out, wine tasting, golfing, and sightseeing.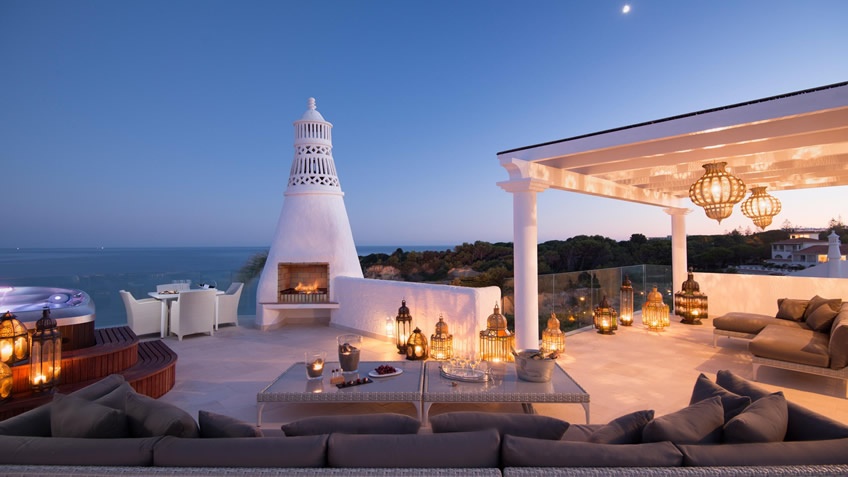 Love traveling but hate the logistics? There is a way to make this process simpler for you. By booking with us, you'll have saved hours of research comparing hotels and experiences, cross referencing review sites, and looking at endless pictures of your chosen destination.
Our expertise is in creating an itinerary that runs smoothly and is perfectly suited to your needs. You will work with one dedicated consultant, who will not only take time to listen to your requests, but also discuss different options with you. All of this coupled with a knowledge of the country means you'll get the best out of the time you have to spend on your next tour in Portugal.