Described by some as the chicest beach in Europe, for us a location not to be missed when planning to visit Portugal! But what is Comporta anyway? Today we bring you everything about this realm on the Portuguese coast near Melides, Sines, and other wonderful places in the west of Alentejo.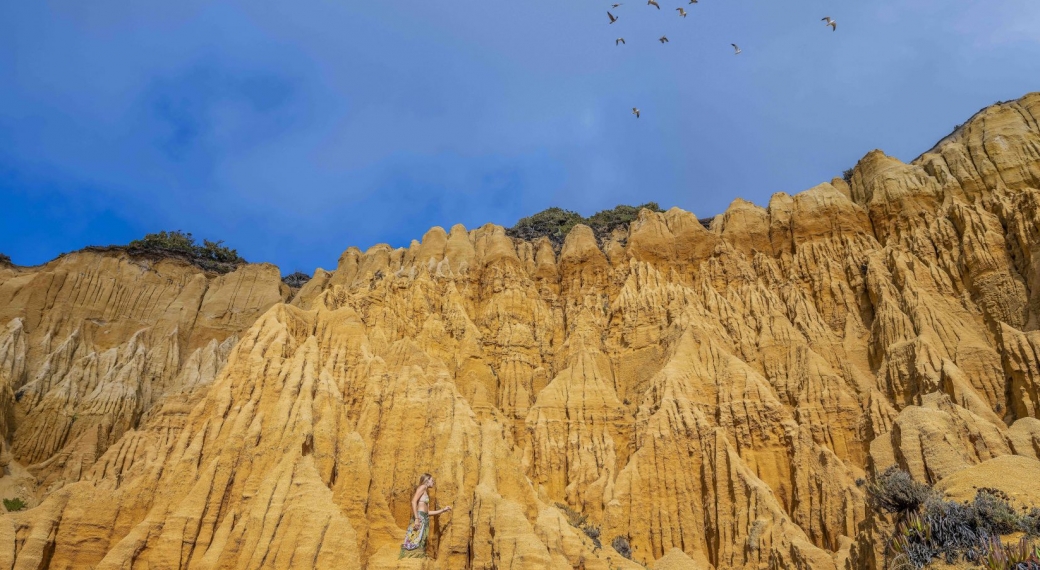 Dream beaches, unmissable restaurants, and hotels where we wouldn't mind living. The country's hippie-chic region, is a refuge for the rich and famous yet, still maintains a genuine side, with typical restaurants and untouched sands. More than a holiday paradise, this region, located just an hour south of the Portuguese capital, Lisbon, the breathtaking and elegant Comporta, is witnessing a spate of luxury real estate development, and an unstoppable increase in tourist demand.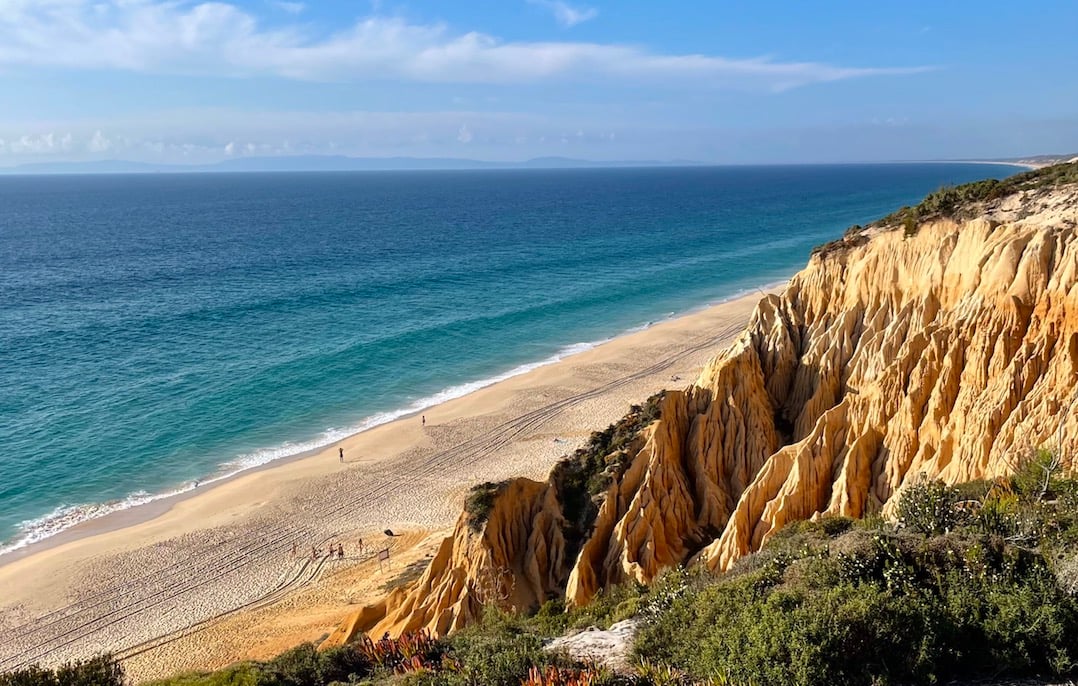 Praia da Galé
This small village in the literal Alentejo is an authentic painting. Instead of Van Gogh's infamous sunflowers, we are presented with groves, pines, dunes, and traditional houses, here silence fills our hearts, it's impossible not to feel at home. It is for this reason that personalities such as Madonna, Christian Louboutin (who seek the location for its simplicity), and Jacques Grange, among many others, choose Comporta and the regions that surround it as the location to live and relax.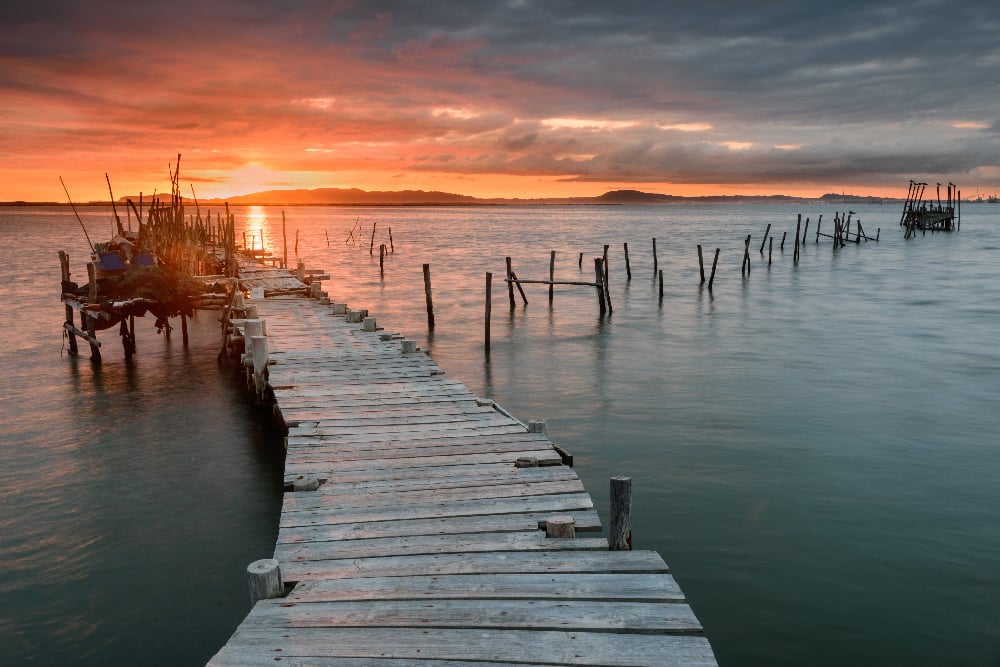 Cais Palafítico da Carrasqueira
Extremely well-preserved, as it is classified as a 'highly protected natural reserve', Herdade da Comporta remains untouched. This impenetrable reserve is surrounded by Herdade da Comporta, located between the Sado and the ocean. It covers seven wonderful villages: Pego, Carvalhal, Brejos, Torre, Possanco, Carrasqueira, and Comporta. This lavish homestead, where the chirping of storks intrudes, is one of the most sought-after places at the moment for its harmony and tranquility.
Comporta: Unique and unmissable
This region full of charm, luxury, and elegance presents the world at first sight with its simplicity. Its breathtaking rice fields extend to the beach dunes along the coast, so it is possible to see this unusual crop change colors throughout the year, following the seasons. We promise that you will never get tired of admiring the beauty of this place, which you can book with us, and take the opportunity to discover the Rice Museum, located at the entrance to the village of Comporta.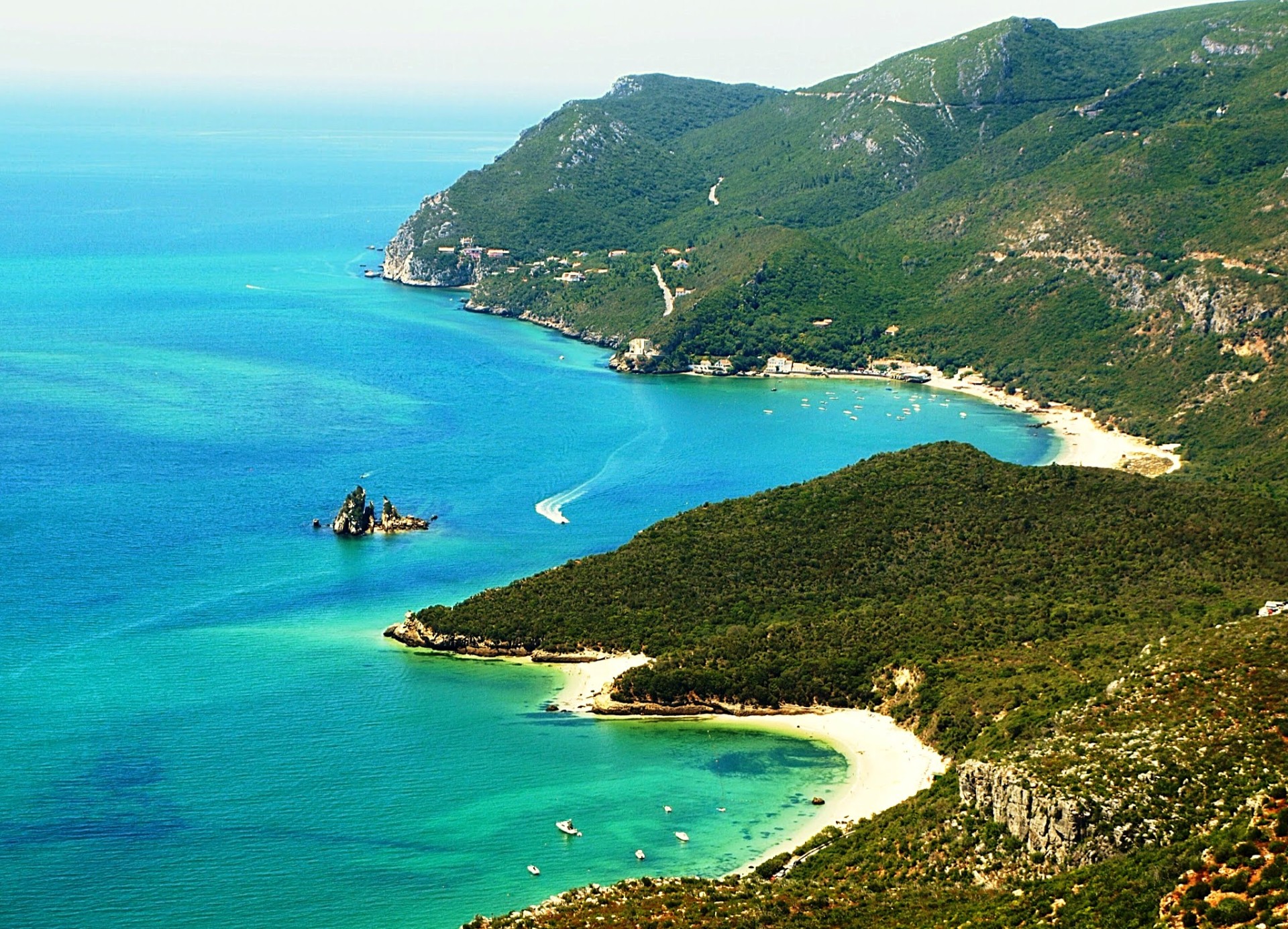 In addition to all the places not to be missed, such as Praia da Comporta, the Tróia area, and its crystal-clear water, Praia do Carvalhal, the carrasqueira pier, take the opportunity to end the day with a horseback ride, one of the activities Madonna's favorites in this region!
Golf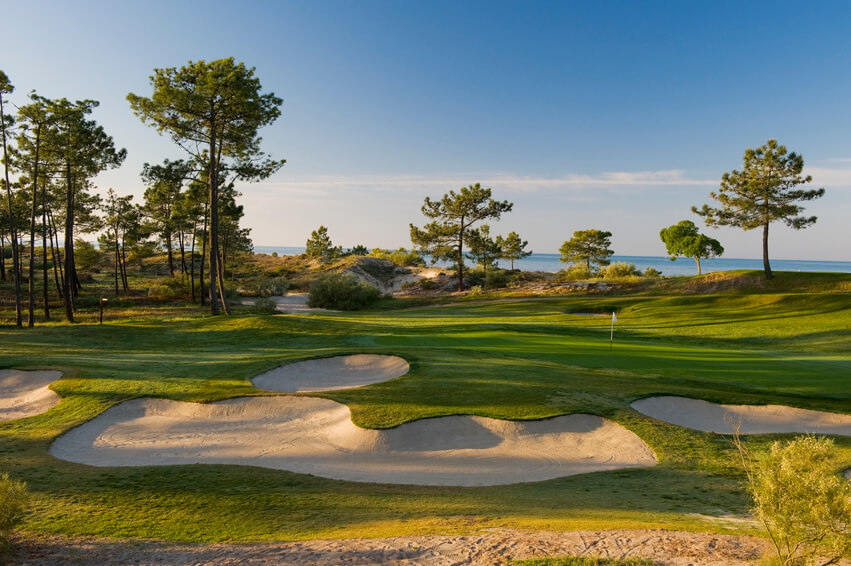 In the heart of the Peninsula is one of the most exciting and challenging golf courses in Portugal, Troia Golf, was voted one of the 10 best resorts in continental Europe by Golf World magazine in 2019. Experience 6 hectares of 18 holes and par-72 along from the beach and its stunning view over the Arrábida mountain range.
The Real Estate Empire
Casa M, Vincent Van Duysen
This is not Vincent's first project. The architect planned residences and offices, as shown on his website, and spaces across Europe, such as the august hotel in Antwerp, Belgium, and the Aesop ABC-Viertel in Hamburg, Germany, and Kim Kardashian and Kanye West's House in Hollywood.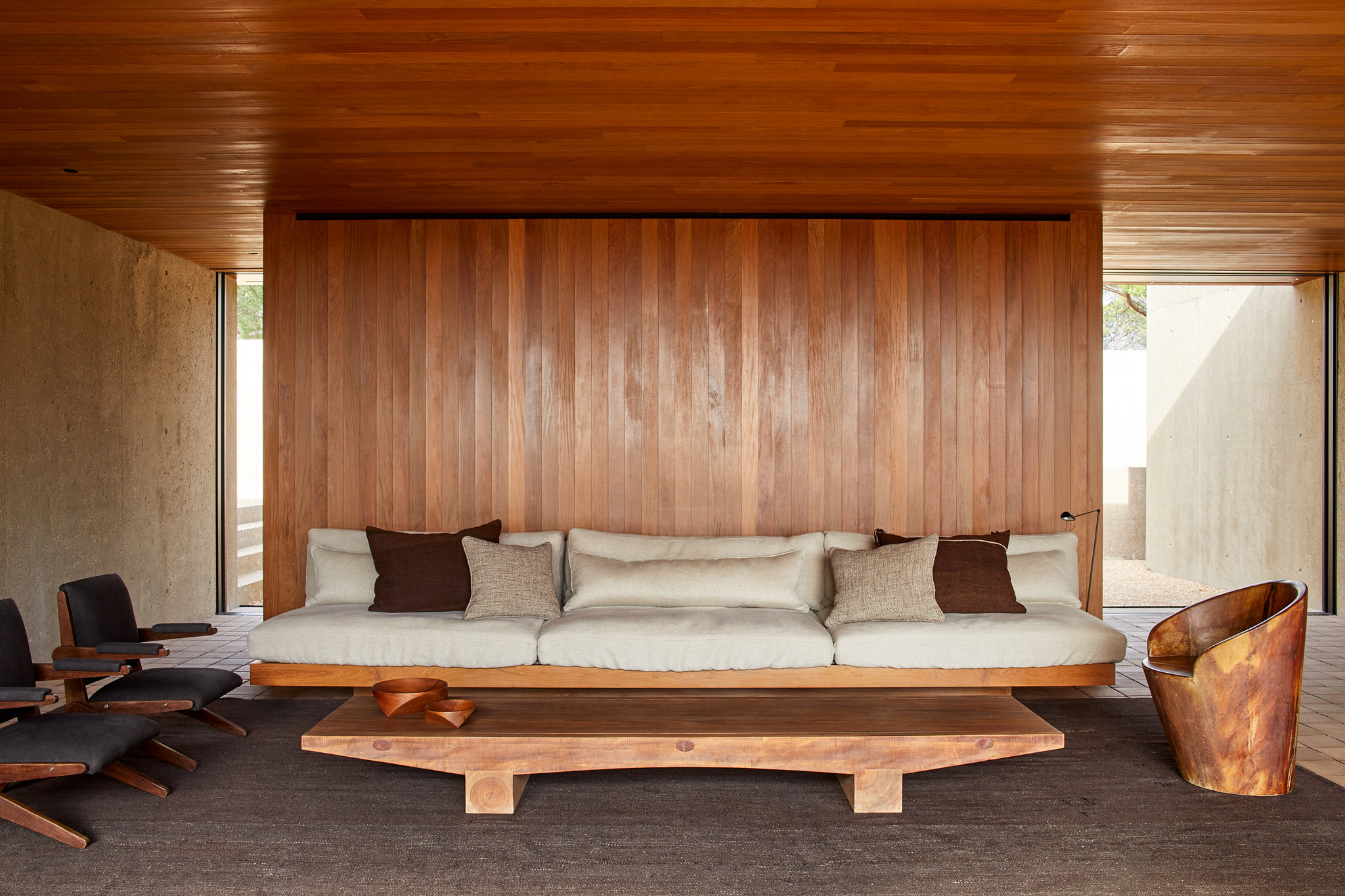 Vicent doesn't like to be called a minimalist, he prefers to define it as "hot brutalist", with brutalism being an architectural style characterized by gigantic, angular, and sumptuous buildings, which in itself already indicates what the interior of this property in Grândola is like.
The Atlantic Club Comporta, Jacques Grange
© Sanda Vuckovic
Atlantic Club Comporta, a luxury residential condominium in Comporta, promises to open its doors in early 2024. The renowned French designer Grange is the mastermind of this project and aims to convey a classic message, yet chic and relaxed. The complex will consist of 21 single-story villas ranging from 3,000 to 6,500 square feet, the biophilic concept reigns, and landscaped gardens and swimming pools are desirable.
Muda Reserve, Vanguard Properties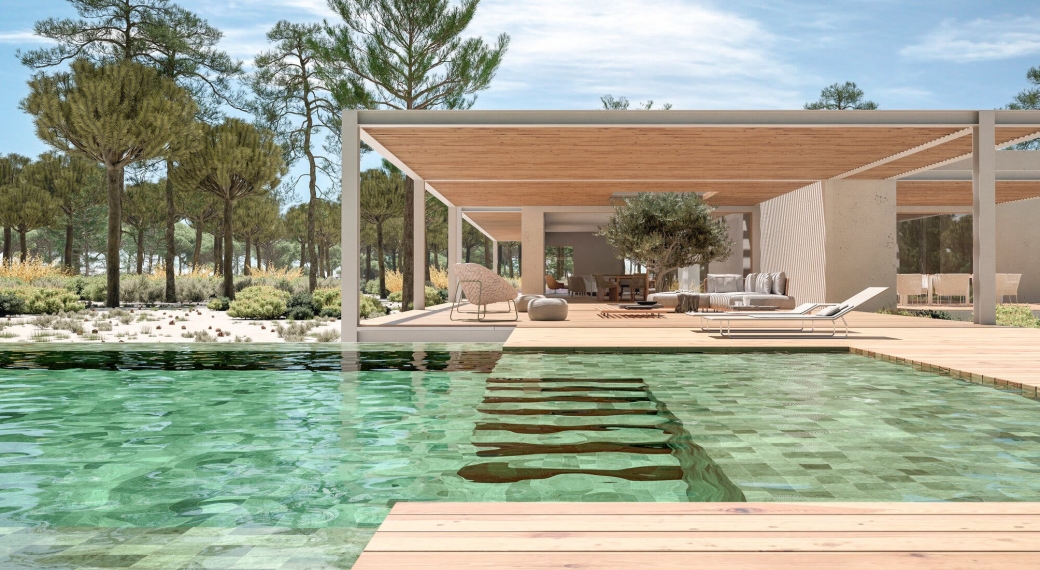 Muda Reserve, built by the Portuguese company Vanguard Properties, has a total of 175 villas, created with a new concept. Located between Comporta and Grândola, about 5 km from the Alentejo coastline. Here 50 rural plots were created with areas ranging from 4 to 6 hectares – the Quintas da Aldeia – which allow the construction of houses up to 500 m² per farm. It is a set of 50 fully infrastructure farms: access roads, water networks (agricultural use, firefighting, and human consumption), electricity, and telecommunications.
Hotels
Quinta da Comporta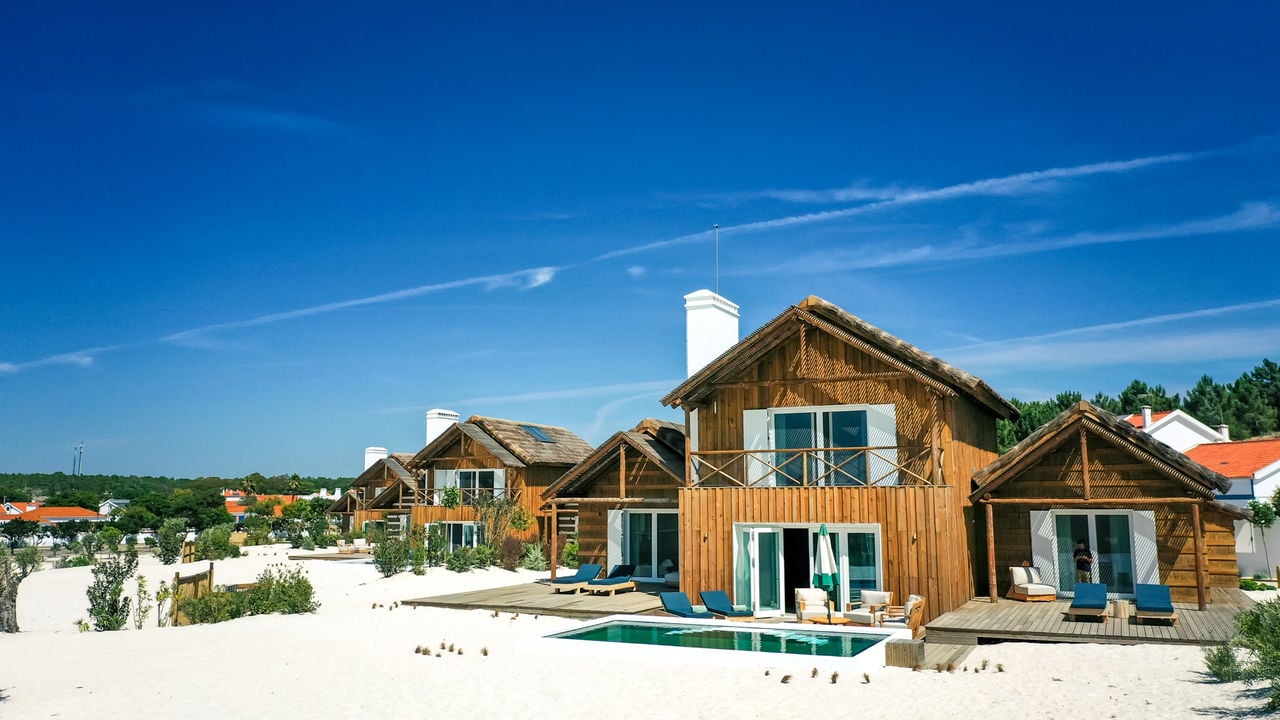 Unique in culture and stories, Comporta inspires us to reconnect with nature and its origins. Due to its calm, peaceful, paradisiacal, and natural characteristics, this Alentejo village is the best option for tourists willing and thirsty to travel.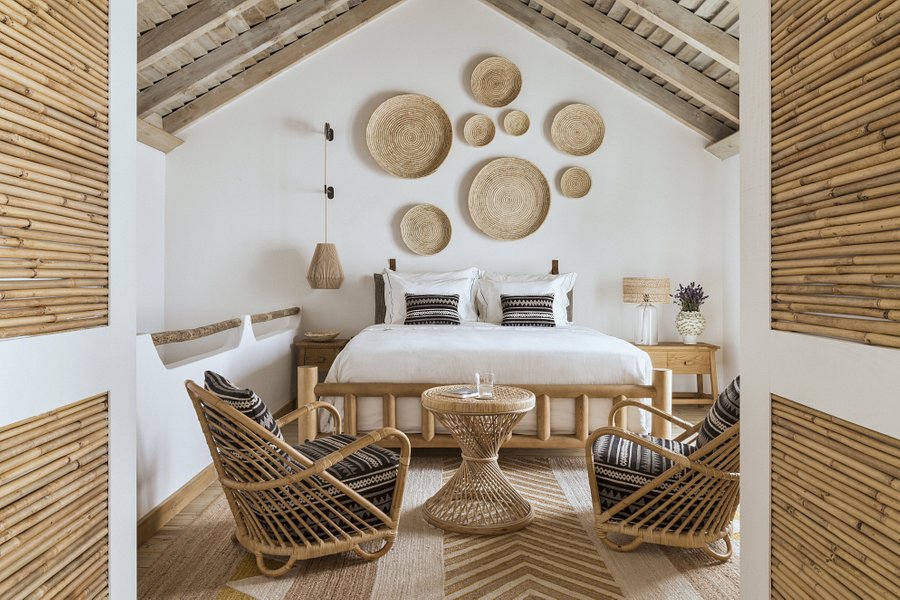 A new experience that is above all authentic and inspired by what Portugal has to offer. Located in the Comporta nature reserve, this project, built and designed by the renowned Portuguese architect Miguel Câncio Martins, is what you need to recharge your batteries.


Sublime Comporta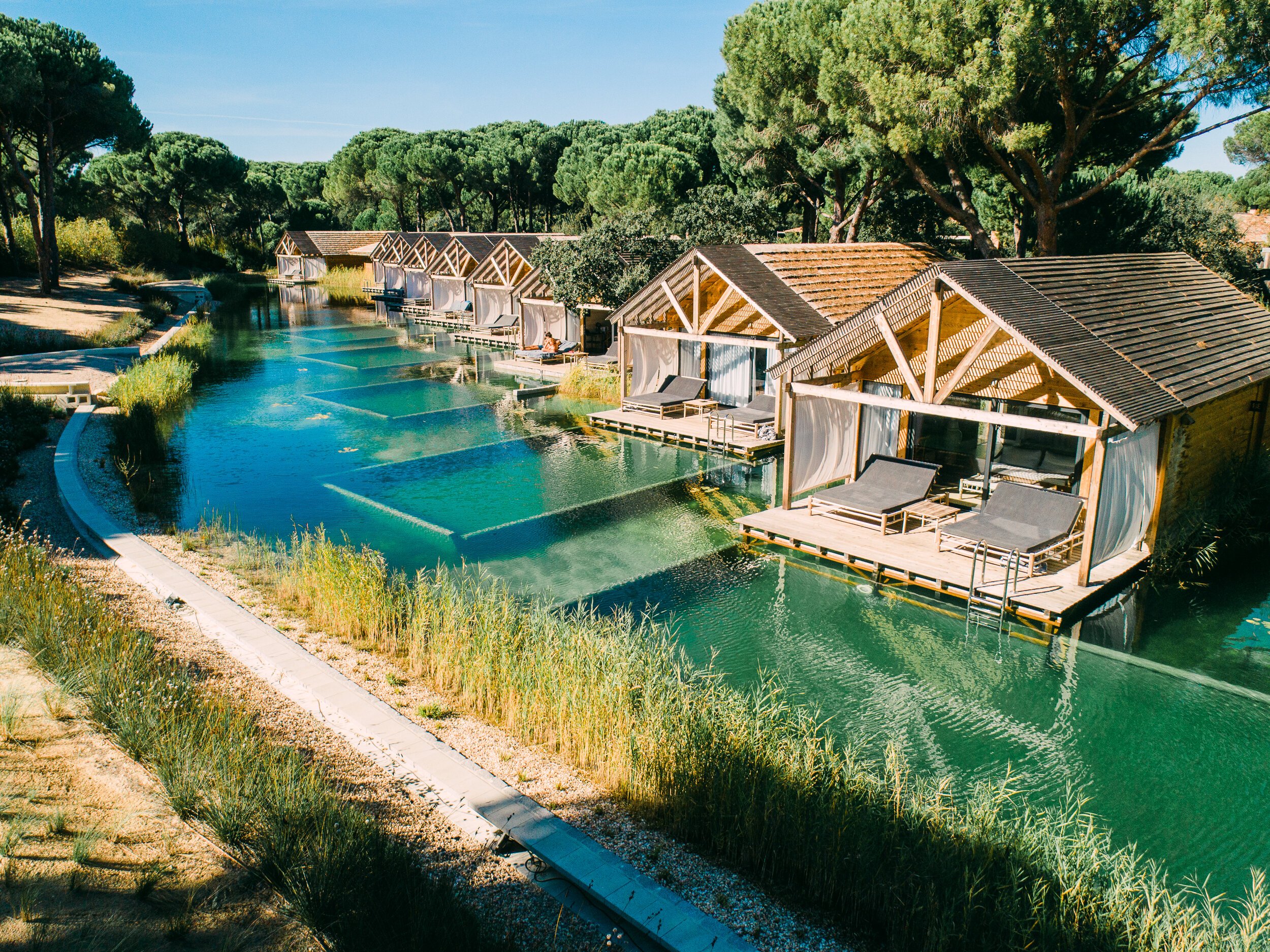 Here you can enjoy warm sunny days amidst nature, the ideal place to reconnect and enjoy the best that Portugal has to offer. Deserted beaches, sun and sea, montados with cork oaks, and huge and exuberant rice fields, are some of the characteristics that you cannot miss. The incredible hotel consists of 22 villas and 23 rooms. Each villa has its private pool, fireplace, and large outdoor areas, providing you with the greatest privacy possible. In addition to the room options, the hotel also has 4 restaurants and its new project: Sublime Comporta Beach Club located on Praia do Carvalhal.


Alma da Comporta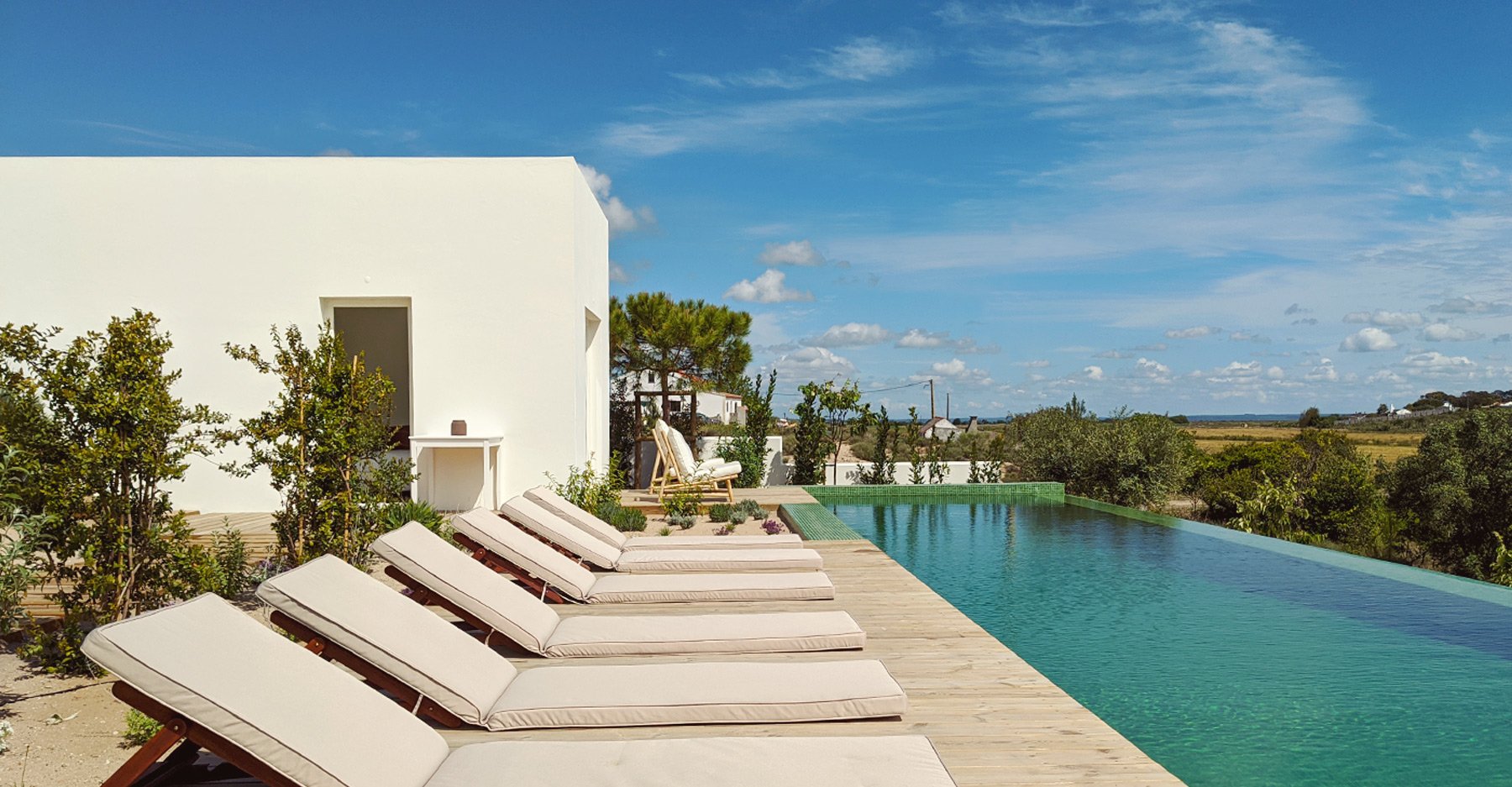 Alma da Comporta is the perfect tool for outdoor inspiration! The purpose of this project is to let ourselves loose and in its originality and peace, to experience the simple pleasures and unique experiences that this region offers us.
Restaurants and Bars
Sublime Comporta Beach Club
The refined and modern ambiance of the Sublime Comporta was transported to the beach. Ten minutes from the hotel, on Carvalhal beach, the brand has opened a beach club that will be open all summer until October.
It is a bar, and restaurant and also has a concession with sun loungers and shades. The wine list, in addition to national proposals, includes several international suggestions. They come from France, Italy, and New Zealand. At the bar, some cocktails go very well with the terrace facing the sea.


Quinta da Comporta Restaurant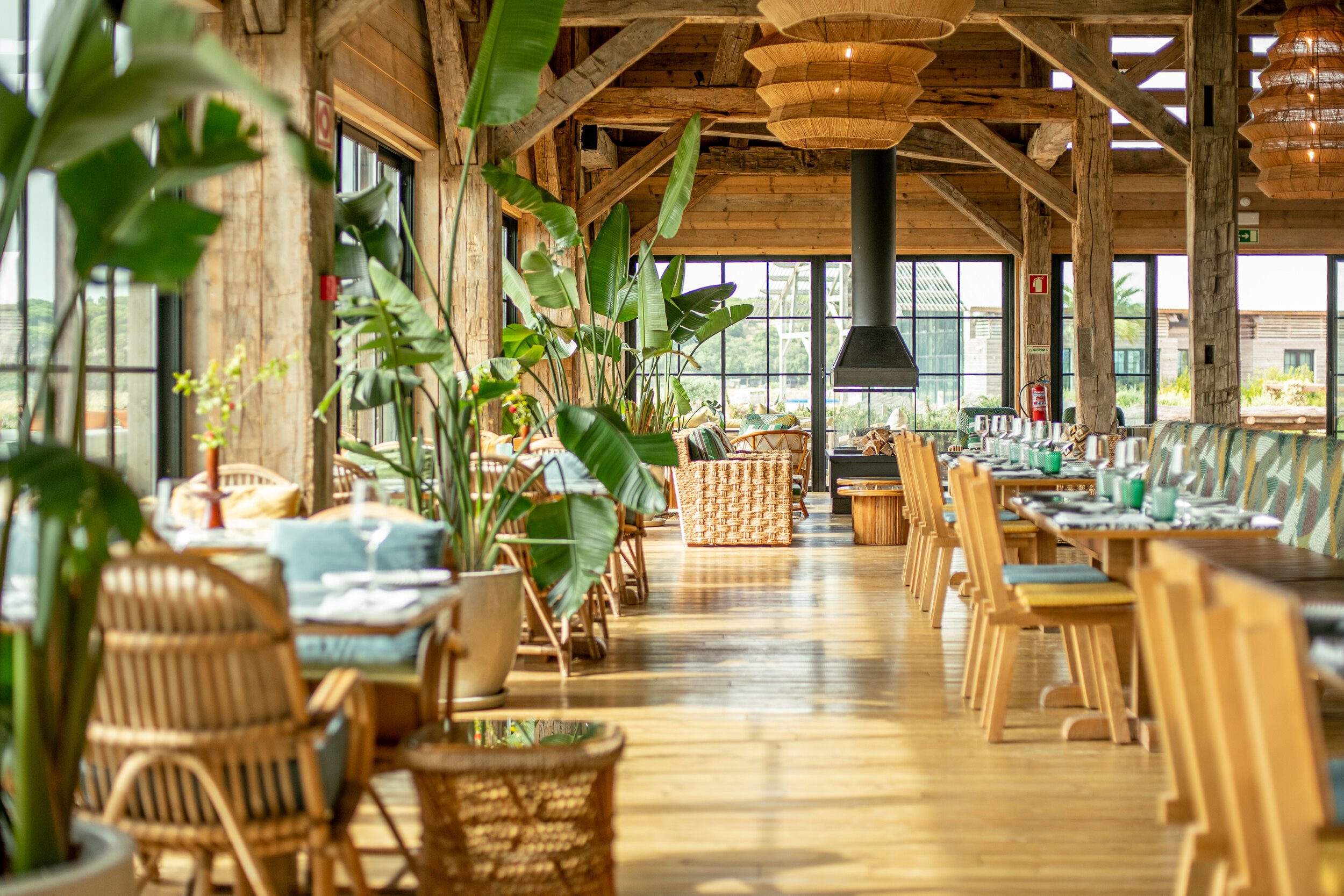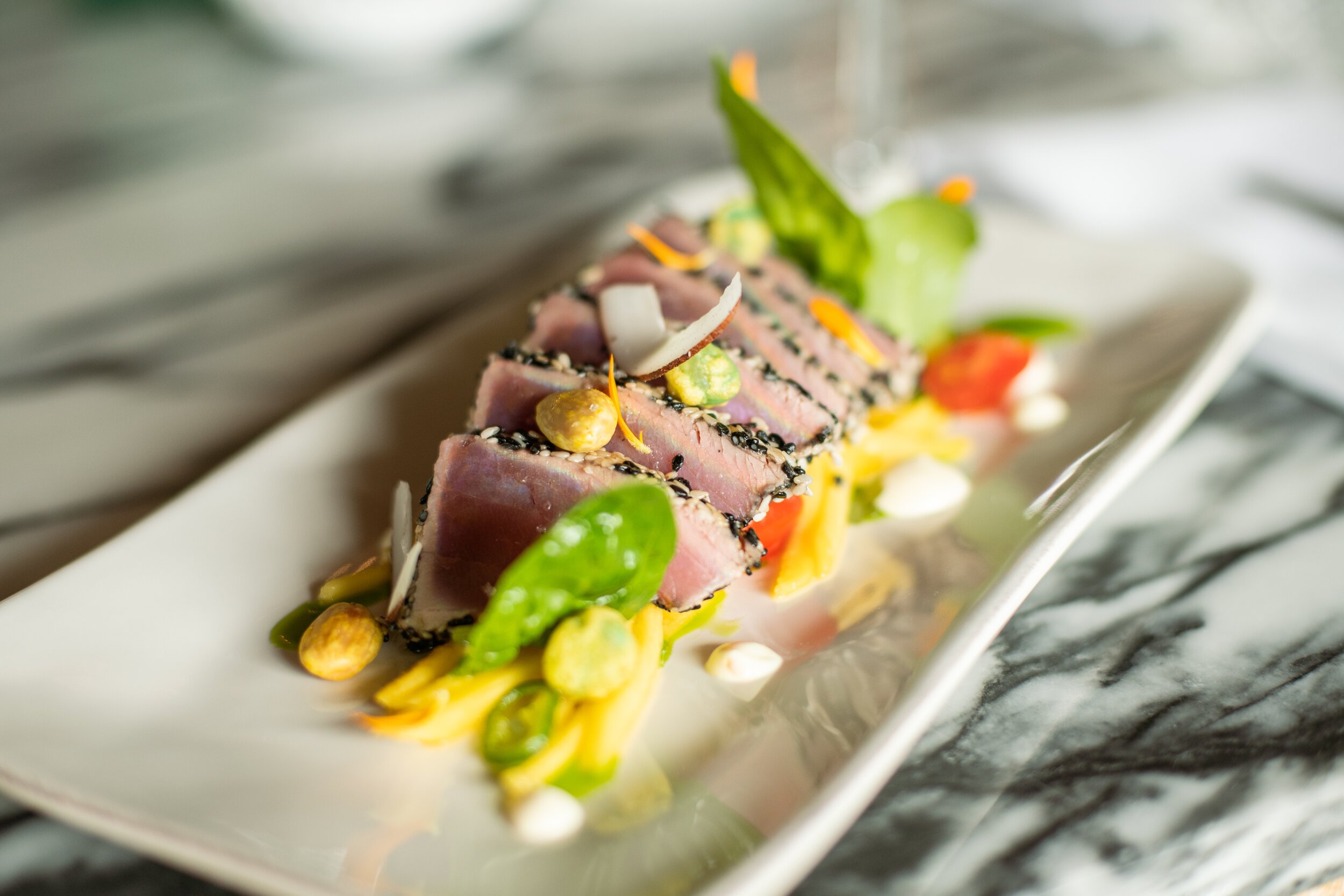 Here the culture is reflected in the flavors and the dishes are of the season, with ingredients that are always traditional. With a view over the rice fields, the restaurant promises to take you on a gastronomic journey.
All our tours, even the showcase ones, can be customized to your liking. If you liked the topics we talked about in the article, contact our reservations department, and build a tailor-made tour, designed for you from scratch. If you prefer, opt for the 14-day tour with customization, where you enjoy the region.