Although Portugal is more commonly associated with charming cities, golden beaches, and, of course, wine and good food, thrill seekers and extreme sports lovers will find their piece of paradise here. We've compiled our top 5 adventure activities in Portugal that will get that adrenaline pumping.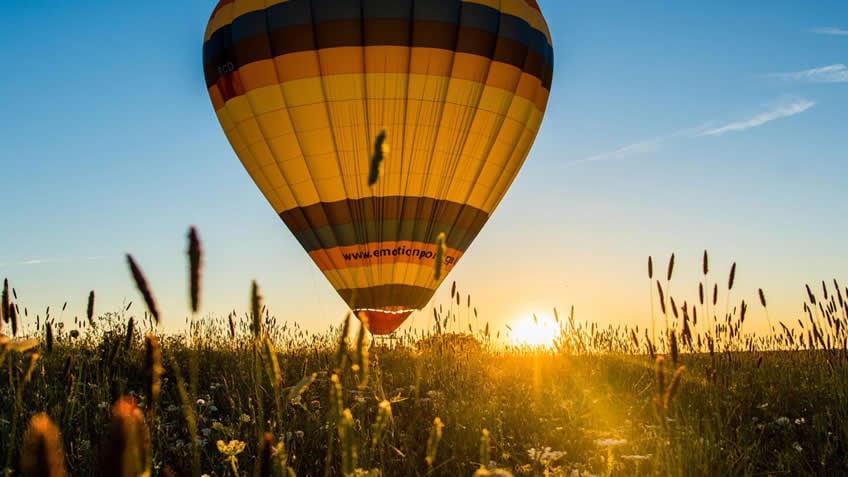 With such amazing natural wonders, visitors have no choice but to take advantage of the great outdoors with activities that range from hiking to horseback riding and hot air ballooning. Down below we've rounded up a selection of 5 favorite outdoor activities among those who visit Portugal.
Hiking in Central Portugal
Beyond Viseu and the mountains lies the Beira Alta tableland, where scattered stone villages cling to the slopes of Portugal's highest mountains. Whenever you're visiting, a short break in the countryside is the perfect way to enjoy some quality time with friends and family.
Located in Marialva - one of the region's picturesque historical villages - Casas do Côro provides unique and tastefully decorated accommodation, whether you choose to stay in a hotel room, a suite, or a villa, combining modern features with some rustic details and pieces.
The unit also features a large swimming pool, its own chapel, a biological vegetable garden, and an eco-friendly concept Spa. You may treat yourself to fine dining on-site, which will give you the chance to sample the Casas do Côro wine.
They also offer several themed programs, such as the Country Walking Experience, which includes a 2-hour walking trail through the beautiful Côa Valley, or the Electric Bike Tour complete with a Gourmet Picnic.
When traveling through Central Portugal don't miss some of the other historical villages such as Castelo Rodrigo, Trancoso, and Belmonte, which are just over a 1-hour drive away from the property. Here, surveying the borderlands and the many medieval fortress towns, you'll feel miles away from the frantic pace of everyday life.
With a car, you can easily see the whole region in a couple of days. Take a look at our hiking, wine, and food tour for inspiration, and let us know what you're looking for. We can prepare a custom-made itinerary for you with transportation and a set itinerary that will take you through the region's main locations.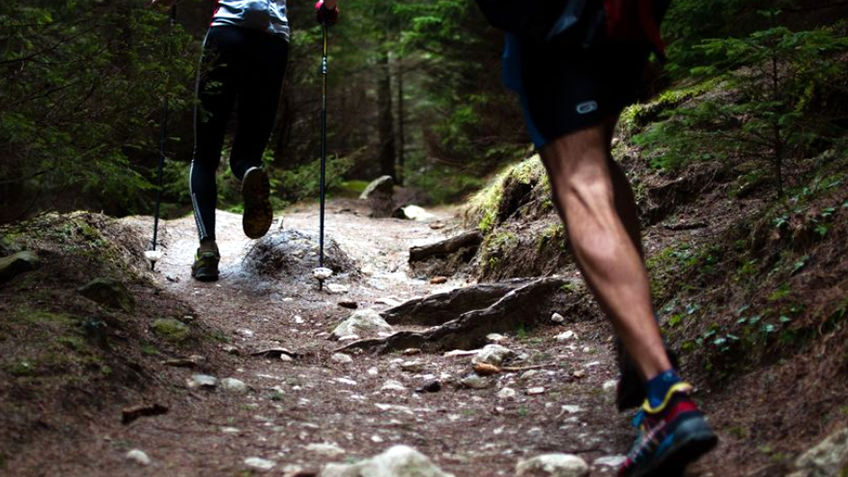 Horseback Riding in Alentejo
A member of Design Hotels, Torre de Palma is housed in a beautiful manor house. Located in the Upper Alentejo Region, not far from the Spanish border, it is a short drive from the hilltop village of Estremoz, away from the hectic hub of Lisbon.
Dating back to the 14th century, it was entirely renovated into a beautiful charm hotel. Everything in it revolves around wine: there's a wine cellar and tasting room, several wine-related activities, and a vineyard all around. It has an in-house restaurant and spa, where you can soak in a hot tub, get a massage, and wallow in one of the two swimming pools - one indoors and another outside. At the horse riding center, you can take riding lessons or do some horse trekking with the in-house instructor.
Alentejo's slow-paced vibe is a big draw for visitors seeking to unwind. With a few days in this beautiful region, you'd be able to further explore the area and visit some of the many local wineries and picturesque walled towns, such as Marvão, Elvas, Vila Viçosa, and Monsaraz, which are located close by.
Even if you don't have that much time, you can still take a 3-day wine and food tour in Alentejo and get a glimpse into what this wonderful region has to offer. While there, you will have the opportunity to taste some of the region's best wines - as well as sample some olive oil - paired with ingredients such as black pork, cheeses, salt cod, and egg-yolk-based desserts. You'll also have the opportunity to spend the night at two of the most incredible wine estates and historic buildings without renouncing the most exclusive comforts granted by modern-day hotels.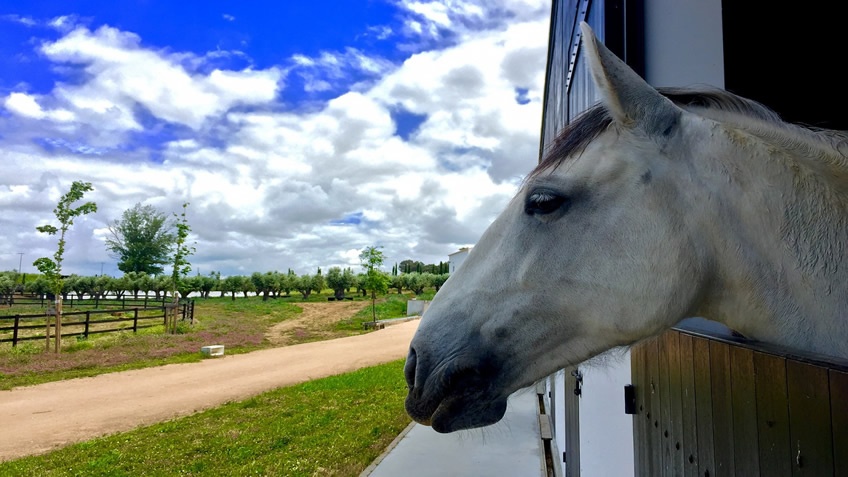 Bike Ride and Picnic in the Countryside
Located a short 30-minute ride away from Évora - Alentejo's main city and university town - Herdade do Esporão is a family-owned winery, originally founded in 1267, which includes vines, olive trees, a massive water reservoir, as well as archaeological monuments and an in-house museum.
There are various types of wine tasting that you can pre-book, as well as olive oil tasting which is very different from the usual tastings. On this tour you'll learn everything there's to know about the growing and production of olive oil, side by side with the in-house oleologist, ending with a technical tasting of Esporão's extra virgin olive oils.
If you're a bike rider yourself, borrow a bike and a map to explore the property, and stop along the way for a picnic, prepared and packed for you. By traveling on two wheels, you'll find it easier to get around and see more of this incredible estate. Head to the main cluster and take a look at the tower - which is Esporão's trademark and part of their logo - and the family chapel. When your legs need a break, choose a nice spot and lay the picnic blanket and all of the food.
Even if you don't have that much time, you can still take this one-day tour of Alentejo directly from Lisbon and get a glimpse into what this wonderful region has to offer.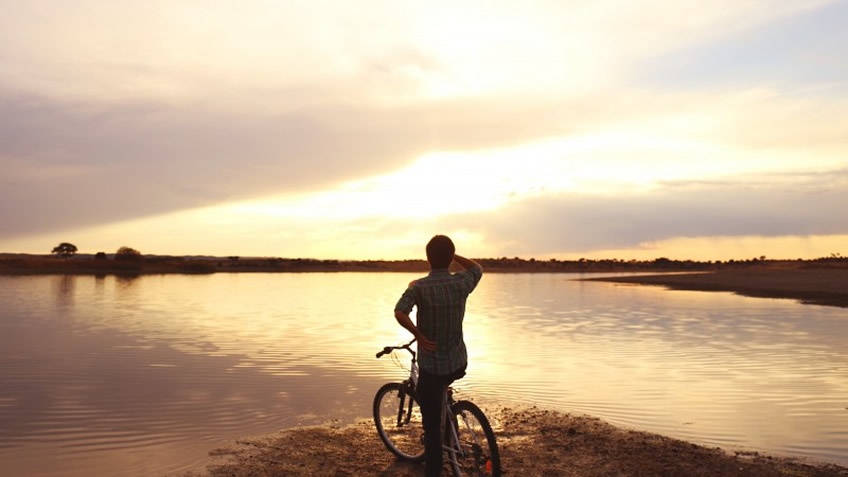 Kayaking Down the Guadiana River
The Guadiana River is one of Portugal's largest and most important rivers. It runs through the Alentejo plain and the Algarve all the way down into the Gulf of Cádiz, defining a long stretch of the Portuguese-Spanish Border.
The Alentejo Region - a third of the country by area - is traditionally divided into two different areas: Upper and Lower Alentejo, of which Beja is the capital. Down south, wheat fields alternate with vineyards, olive groves, and forests of the cork oak. After all, Alentejo is the largest producer of cork in the world.
The wild and remote beauty of the nearby Herdade de Malhadinha Nova luxury retreat in the Beja region is perfect for those looking for a secluded hideaway. Rooms are decorated in country-chic style and the hotel features an array of tempting features and services from a rejuvenating spa to a wine cellar complete with wine tasting options and an amazing restaurant. Led by Michelin-starred chef Joachim Koerper, Malhadinha restaurant offers seasonal menus inspired by the Alentejo cuisine, made with locally grown and fresh ingredients.
If you're a fan of adventure sports you'll find an incredible portfolio that includes paintball, archery, four-wheeler rides, microlight flights, parachuting, and surfing, among some other daring activities. Kayaking, for instance, features in the top ten most enjoyed activities for active travelers. They'll lend you a GoPro camera so you can record all the action and pack some treats prepared by the in-house chef.
Our 5-day tour in the Alentejo Region or 6-day-tour option will allow you to travel south, to the beautiful Lower Alentejo Region. They both include private transportation - which is an absolute must, especially in such a rural, underpopulated area - as well as accommodation at some of the best wine hotels in the area, and visits to traditional wineries where you'll have the chance to sample the famous Alentejo-born wine.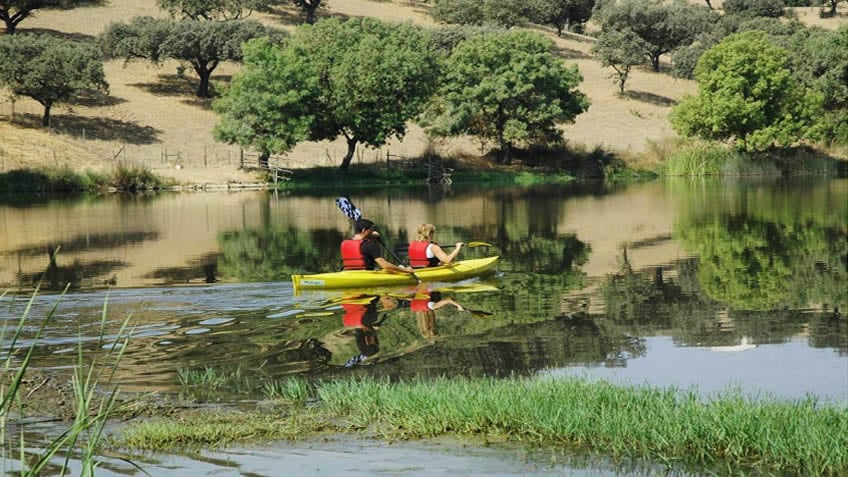 Hot Air Balloon Flight
This adventure is unlike anything you've experienced before. With breathtaking views in all directions, you'll get a spectacular bird's eye view of the gorgeous Alentejo landscape.
Along with many other adventure experiences, Herdade de Malhadinha Nova organizes hot air balloon rides complete with a gourmet breakfast picnic prepared by the Michelin-starred chef Joachim Koerper. The flights take place at sunrise and you'll get to soak up the early morning atmosphere.
Further north, Adega Mayor offers a similar experience. Located a short drive from the Portuguese-Spanish border, ir opened to the public in 2007. The setting and winery - designed by Pritzker-awarded Siza Vieira - are gorgeous. Tours include a guided walk through the winery and cask room, as you learn about the wine-making process. You're able to taste wines at the end and make some purchases in the shop. You can also choose to add a tapas tasting to the experience or pair it with a picnic or even a wine workshop.
For those looking for adventurous activities, Adega Mayor offers hot air balloon rides entirely customized to your taste, along with many other adrenaline-inducing activities, such as mountain biking, rope lining, geocaching, orienteering, etc...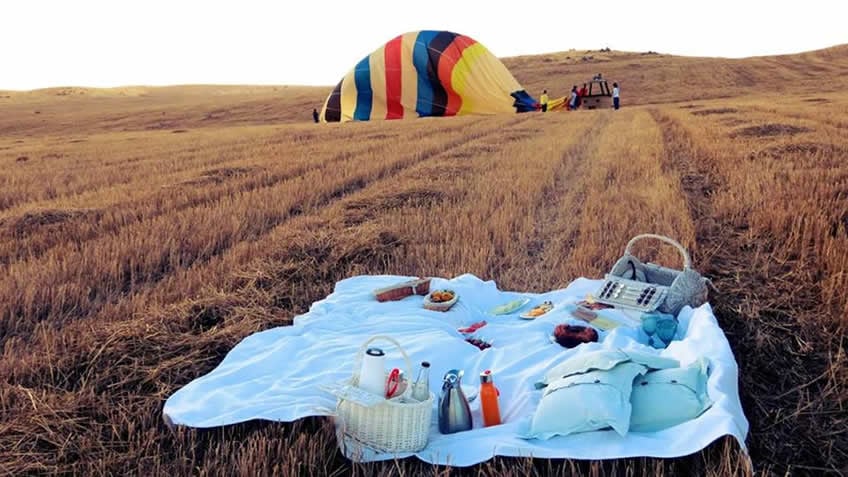 By booking with us, you'll have saved hours of research comparing hotels and experiences, cross-referencing review sites, and looking at endless pictures of your chosen destination.
Our expertise is in creating an itinerary that runs smoothly and is perfectly suited to your needs. You will work with one dedicated consultant, who will not only take time to listen to your requests but also discuss different options with you. All of this coupled with a knowledge of the country means you'll get the best out of the time you have to spend on your next tour in Portugal.