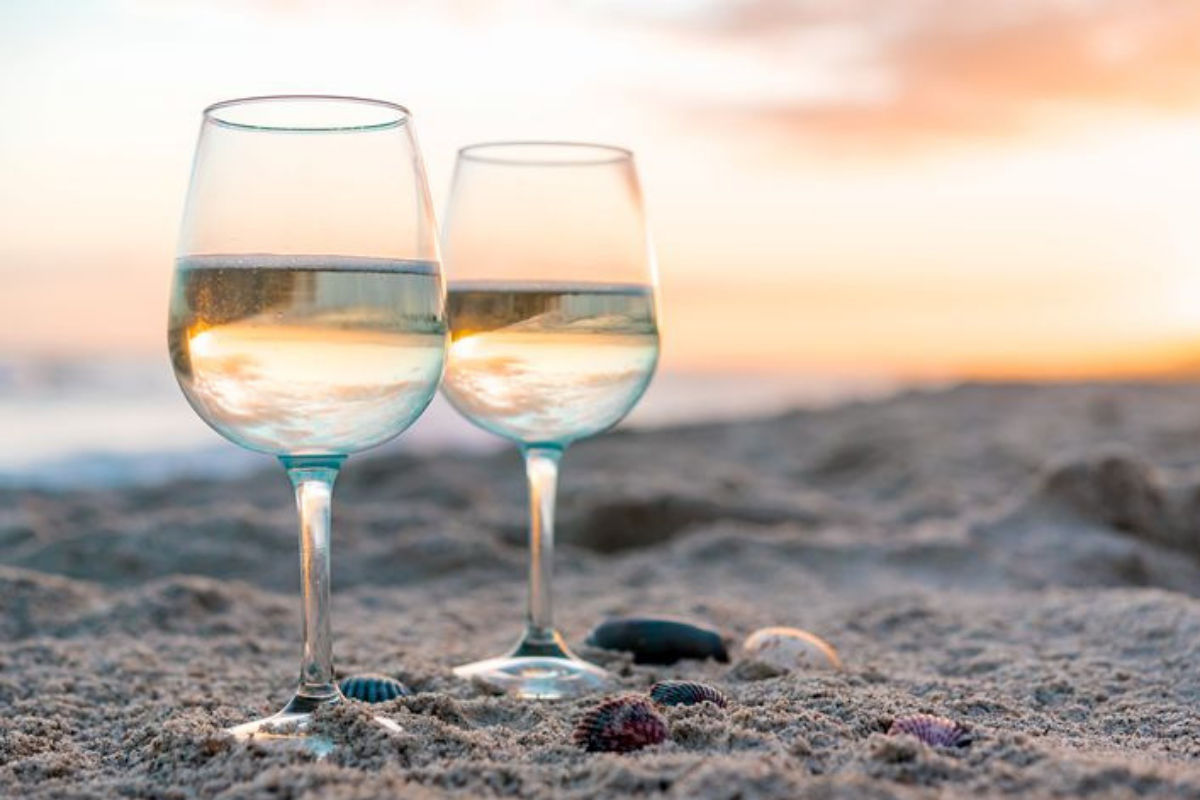 In the last months, you have been staying at home and all you need is a very well-deserved summer vacation and above all a safe place for you and your family.

Portugal has some of the most stunning, safest, and secluded beaches in Europe. With 600 miles of beaches that extend the entire length of the country, Algarve is the most popular region with its golden sands studded with incredible cliffs and rock formations, and secluded coves have been carved into the magnificent honey-colored cliffs along the coast. Furthermore, all of Portugal's is filled with great beaches.

Here are the most amazing and safest beaches in Portugal that offer the perfect escape filled with sun, sand, and all paired with a country of strong wine culture, and by default, good wine.
Comporta - Alentejo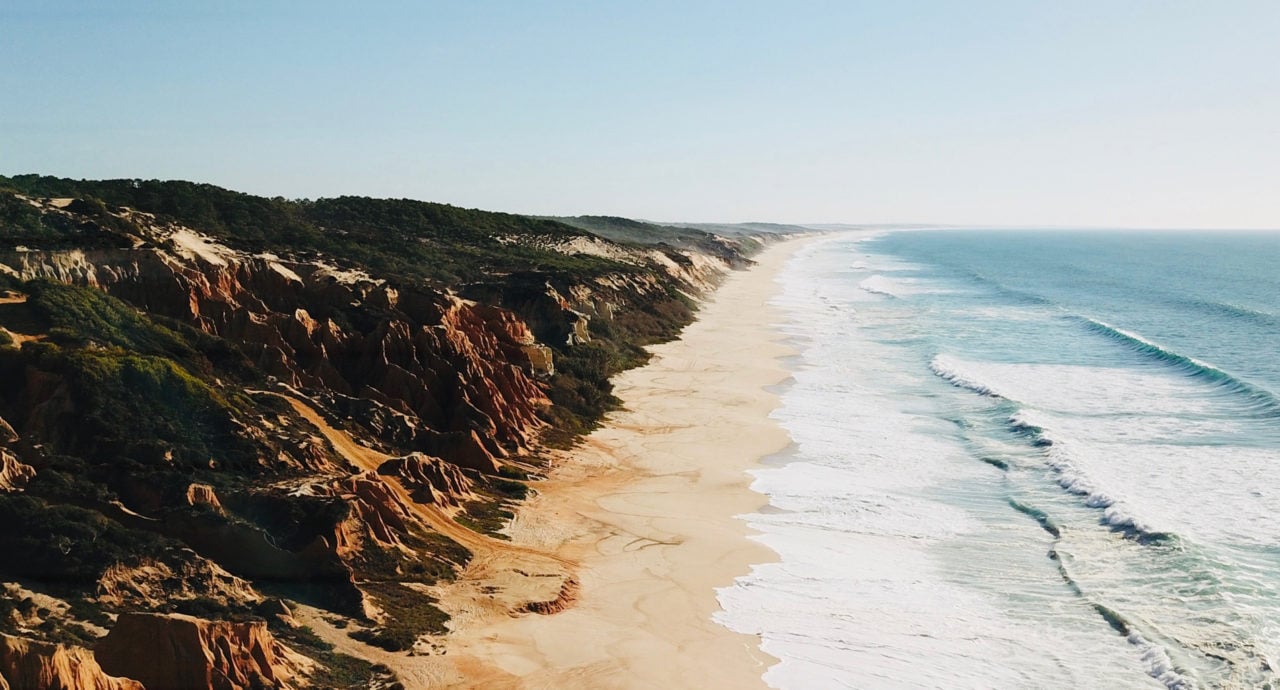 One of the most of Portugal's best secret beach spot is Comporta, in which this village on the west coast of Portugal is about an hour's drive from Lisbon. The area is very well preserved, due to a very highly protected nature reserve making this part of the Alentejo very well preserved and untouched. Moreover, the Herdade da Comporta is a swoop of coast between the Sado Estuary and the sea. Plus, Alentejo is known for its quietness and hidden-gems, and the beaches of this region are the same. With 20km long beach (12 miles) you have a lot of tranquility to enjoy. Comporta is never overcrowded even in July or August, so you have plenty of space for your beach towel. Besides, it has a great offer of private villas, charming hotels, and amazing wineries for you to visit, while enjoying the sun and the sea.
Meia Praia, Lagos - Algarve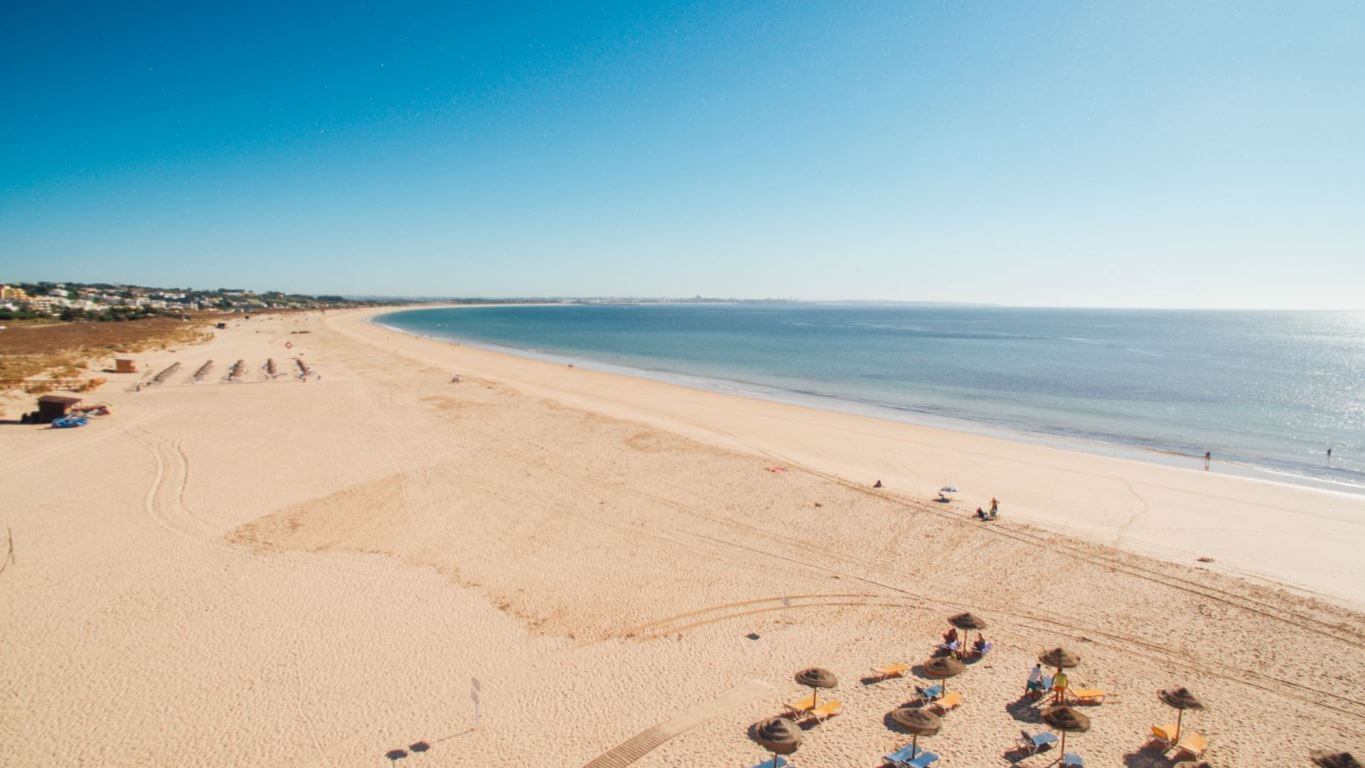 In the last few years, Algarve has become a favorite destination for travelers looking for safe destinations. Lagos is a historic and characterful city that is situated on the beautiful Western Algarve. It is a city rich in heritage and has a stunning and dramatic coastline that will delight its visitors due to its natural scenery. Besides, this has been Algarve's finest destinations for an incredible vacation and thankfully, Lagos has not succumbed to mass tourism, and the city still retains its distinctive character and charm. The largest beach in Lagos is "Meia Praia". With nearly 5km of golden sand you won't have a problem in knowing that the safety distances will be respected, even in the highest season. Afterward, enjoy also the wineries of Algarve, as well, its wine tastings and the history of the wine of this region.
Praia da Dona Ana, Lagos - Algarve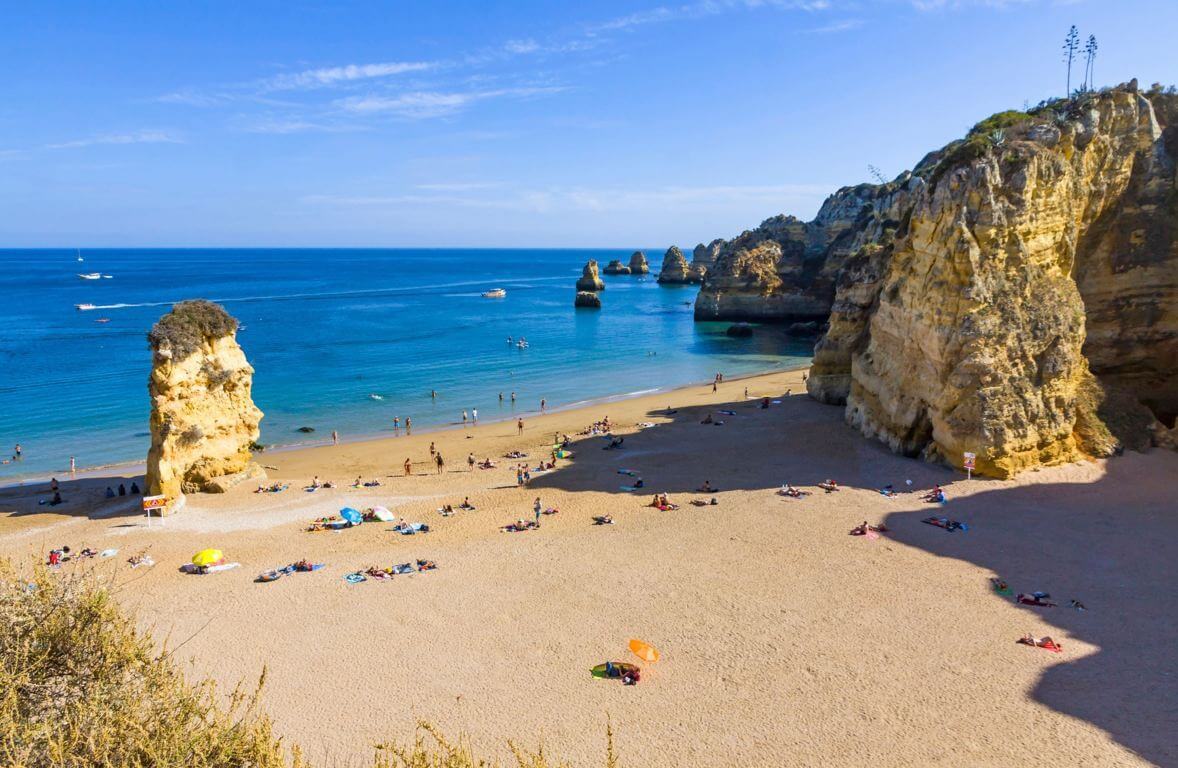 Another beach in the amazing Lagos. Dona Ana beach is a stunning beach that is surrounded by towering cliffs and striking rock formations. This beach is perfect for sunbathing, swimming, or snorkeling around the rocks, but keep in mind that this beach is perfect for the safest distance during the weekend. As we told you before, Lagos can be found within the historic center and is composed of beautiful streets, authentic restaurants, and an atmosphere that is relaxed and welcoming. Lagos perfectly combines traditional Portuguese culture, with beautiful beaches.
Portinho da Arrábida Beach - Setúbal
The alluring beach of Portinho da Arrábida is located in a calm bay within the Serra da Arrábida Natural Park. This natural park has been given protected status in 1976 to preserve its natural beauty scenery and its steep hills and green shrubs. The landscape was once used as a backdrop to the James Bond film On Her Majesty's Secret Service during the scene when Bond's newlywed wife is killed in a drive-by shooting. The route Estrada de Escarpa is known to be one of the most scenic in the country. Furthermore, this beach is one of the most tranquil and beautiful in the Lisbon area. The white sand and lush hills that surround the beach create a tranquil spot where you can have a relaxing break and where you can also go canyoning, sailing, or go diving thanks to the diverse marine life in the clear blue-green water, that makes this an excellent place for this activity. Plus, and while in the trip to this beach, discover and explore the Setúbal area, its estates and wineries that delightful you in every way.
Carvoeiro Beach, Lagoa - Algarve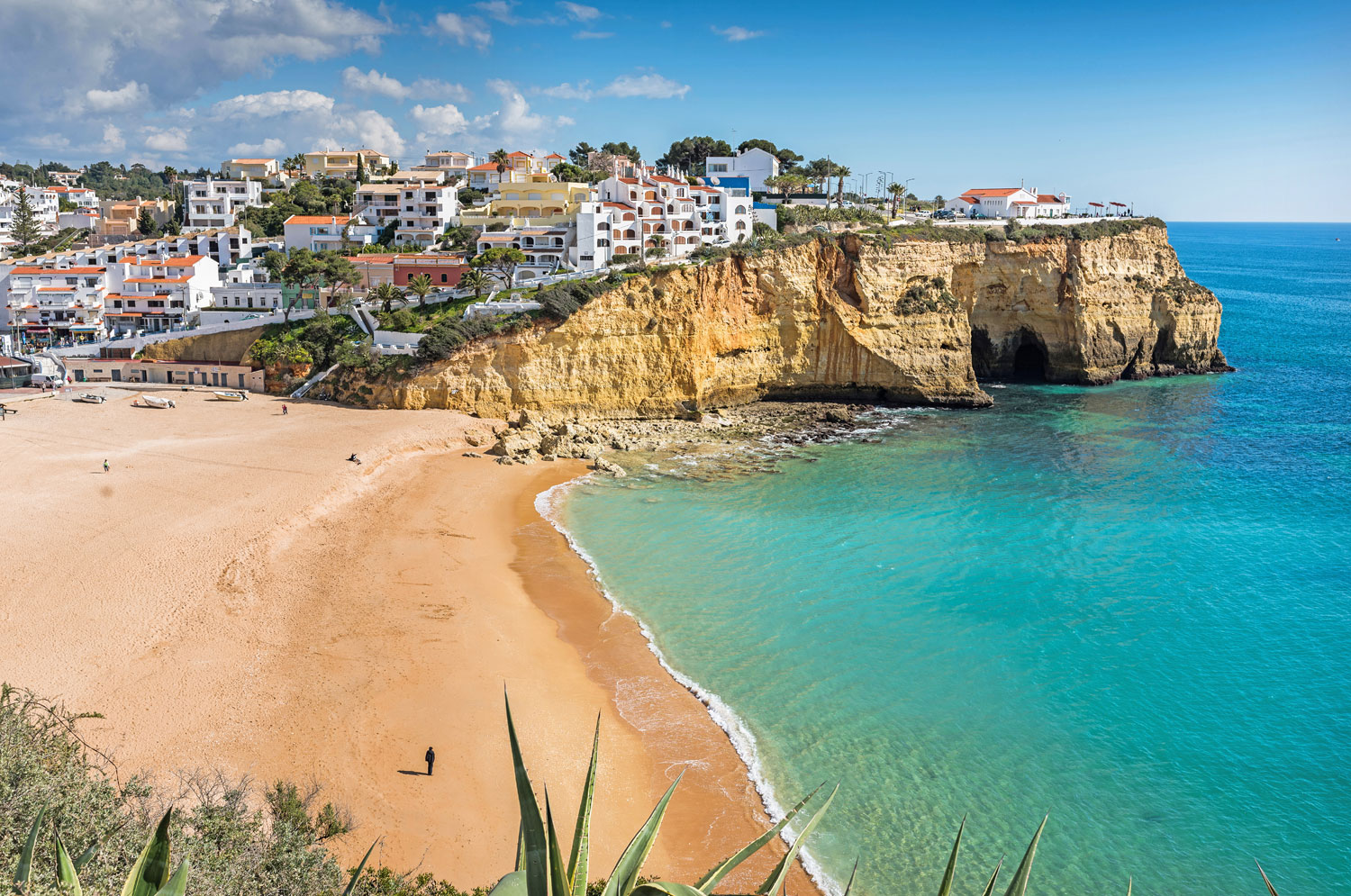 In the center of the town of Carvoeiro, nestled between the cliffs, you'll find Carvoeiro Beach. Carvoeiro is a picturesque fishing village, with a long history of settlement, which is great for those how are looking for a peaceful place to rest and to run away from the city. Plus, there are vestiges of human settlement dating to the Roman occupation of the peninsula, as well as early naval activity in the area. It was also historically unspared from frequent pirate and military assaults along the coast, with a number of naval battles occurring off the coast. For activities, you have Jet skis and diving. The calm waters of the sheltered beach and the wine culture surrounding this region makes this a fabulous escape for wine lovers.
Why book now your 2020 or 2021 tour? Because by booking all your tours with us you will have flexibility in the future, plus an acquired "Clean and Safe" seal. Through these unique times, we are available to plan, reschedule, and move your trip around your needs, as always. If your new dates may no longer work with your initial travel plan, a dedicated consultant will be available to tailor and reschedule your time in Portugal according to your needs and preferences, and to assure you that you will have the best and most memorable experiences.