It doesn't matter what kind of traveller you are or which activities you seek out - everyone has to eat. And, if you're going to do it, then you might as well do it as a Local! And the Portuguese gastronomy is just to die for. From wine producing estates to riverfront restaurants, we round up the best food and wine tours in Douro Valley.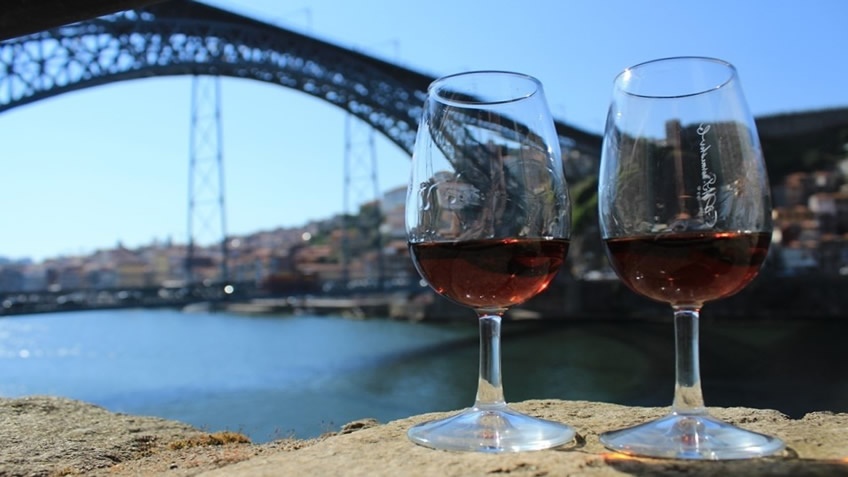 Douro on a plate
When it comes to wine, the Douro Valley doesn't need much of an introduction. After all, it is the oldest demarcated wine region in the world, particularly famous for the unique Port wine, as well as a number of other world-awarded reds.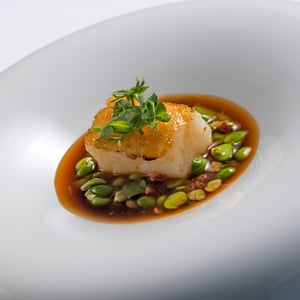 However, the Portuguese Gastronomy still remains a mystery to most food lovers although it is one of the best countries to eat in Europe.
Back in the day, and still in rural areas across the Douro Valley, families raised their own cattle and grew their own food. In Portugal it is common that people still make their own bread, olive oil, and grown fresh vegetables. Likewise the restaurants in Douro.
Likewise fresh fish and seafood are important ingredients to the Portuguese gastronomy. Do you wonder what is the "national dish" in Portugal? Well, cod. Cooked in 1001 different ways. Reinvented each time by prestigious Michelin Star awarded Chefs. Isn't it mouthwatering?
Upstream Journey - First Stop
The valley cherry picks the finest regional produce and combines them into perfectly simple, hearty dishes, strongly rooted in peasant cookery. Heavy on meat and freshwater fish - as well as egg-filled desserts - Douro's regional cuisine deserves a place in the gastronomic world.
The river forms the backbone of the valley named after it, winding from the Spanish border to the sea. On the bordering slopes, vineyard terraces and rows were artfully carved into the land like steps, spotted here and there by century-old manors.
Located near Port wine town and cruise centre of Peso da Régua, is the young and stylish food hangout Castas e Pratos. Set in a refurbished railway shed with exposed original timbers, it is split into a wine bar on the first floor and, above it, a dining room. Praised by The New York Times for its beautifully composed small dishes, it does contemporary riffs on Portuguese cooking such as in the Salted Cod in Almond and Ham Crust on Prawn Brandade or Suckling Pig with Vitelotte Potatoes.
Across the river from Régua, is Quinta da Pacheca, which was one of the first properties to bottle wine under its own label. The restaurant is spacious and elegant, with floor-to-ceiling glass windows with views onto the Douro River and the surrounding vineyards. Chef Carlos Pires serves regional cuisine with dishes such as Alheira Sausage and Asparagus Puffs and Sauteed Mushrooms or Cornbread Crusted Cod, all naturally paired with Quinta da Pacheca wines.
Slightly further upstream, is Rui Paula's DOC. Built over the river at Folgosa, this creative and sophisticated spot lives up to the expectations surrounding the Michelin starred-Chef. It has a colourful menu rooted in both tradition and modernity, smartly paired with a comprehensive wine list. It's no wonder it took the 15th place in TripAdvisor Traveler's Choice Awards for best restaurant in the world.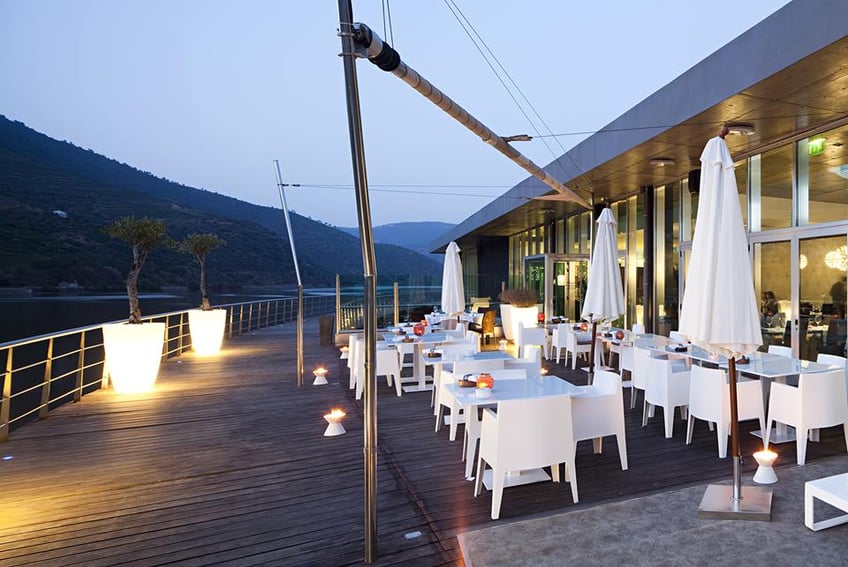 Brave the Wiggly Roads
From here onwards, the scenery shifts up a rather significant notch. The journey upriver is one of the most scenic routes in the world, and is reason enough to brave the winding and steep roads.
Beyond this point, the main stop is beautiful Quinta do Crasto. This family-run property has a privileged position high on a cliff above the river, with vineyards in every direction and an infinity pool, designed by Pritzker-winner Eduardo Souto de Moura. Its stone terrace outside serves as a dining room when the weather is nice, with views up and down the valley. This is all about traditional comfort food, with delicious regional dishes such as Grilled Cod, Roasted Octopus and Roasted Pork Loin, accompanied by in-house wines.
Following the Douro river east, there's Quinta Nova Luxury Winery House, with great views of the river and the estate's vineyard. Billed as the first wine hotel in Portugal - born from the rehabilitation of a 19th century-old manor - visitors can take part in a number of wine-themed activities, which combined have earned it the Luxury Hotel & Winery of the Year Award for 2018 by the English-born Luxury Travel Guide. At the Conceitus Winery Restaurant there's no menu and you will get served whatever the kitchen has cooked, in perfect tune with the property's wines.
Explore all that these restaurants can give you in our 3-Days Tour in Douro Valley.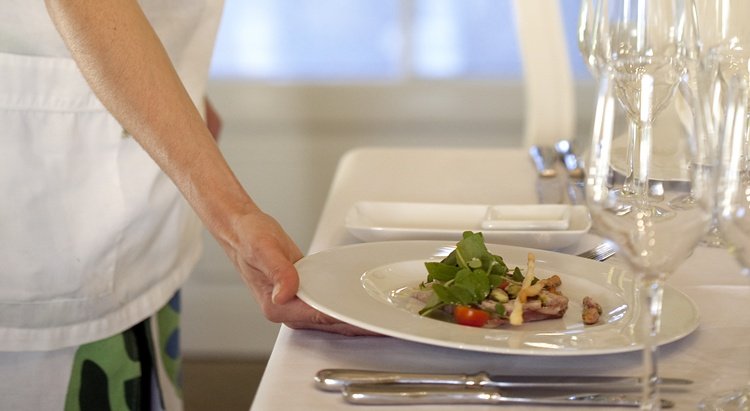 Final destination
The beautiful wine town of Pinhão is the most-visited part of the region, sitting by the river with its blue-tiled train station and iron tied-arch bridge. It is a centre of wine production and some of the Douro's most well-known quintas - the Portuguese word for farm or, in this specific case, wine-producing estate - are located here.
At river level, there's Quinta de La Rosa and its newly-opened restaurant A Cozinha da Clara - Claire's Kitchen - which stands as a tribute to the owner's grandmother. Back in the beginning of the 19th century, the family was one of the first to realise that quality table wines were possible, in a time when the region was solely known for its fortified wines. Claire's love of food and hospitality it's everywhere in the restaurant, which does creative contemporary riffs on Portuguese cooking.
From this point onwards, the road changes its direction, away from the river and into the hills. Located a 20-minute drive from Pinhão, Quinta do Portal stands beautifully isolated in the middle of their own vineyards. It belongs to a century-old winemaking family, who has been here for hundreds of years. The estate also houses an excellent restaurant, led by young and talented Chef Milton Ferreira, who uses locally-grown ingredients splendidly paired with in-house wines in a creative way.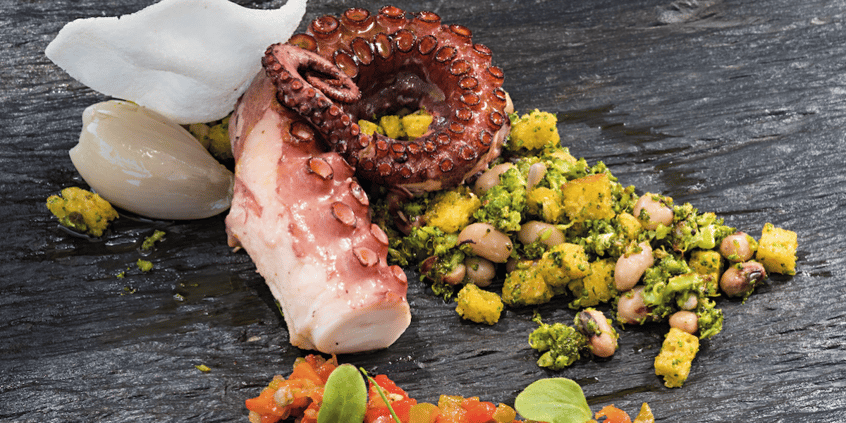 Combine all the above ingredients
When traveling, eating is part of the fun. Not only does travel allow you to experience new flavours, but it also allows you to experience foods you might not have the opportunity to eat otherwise.
We always advise our fellow travellers to schedule their travel itinerary in advance, so that we can book a time for you. Some country estate restaurants in particular are available by reservation only, and that's the only way to actually try their regional cookery. Best yet, if you wish to pair some of these experiences - whether during a trip to the valley or for some well-deserved self-indulgence - we can easily do it for you. No hassle, just fun.