There's no better time for a cruise than in the summer on hot sunny days and balmy nights. All the more so as a cruise around the Douro Valley is an ideal way to sample some of the best views the region has to offer on a short period of time.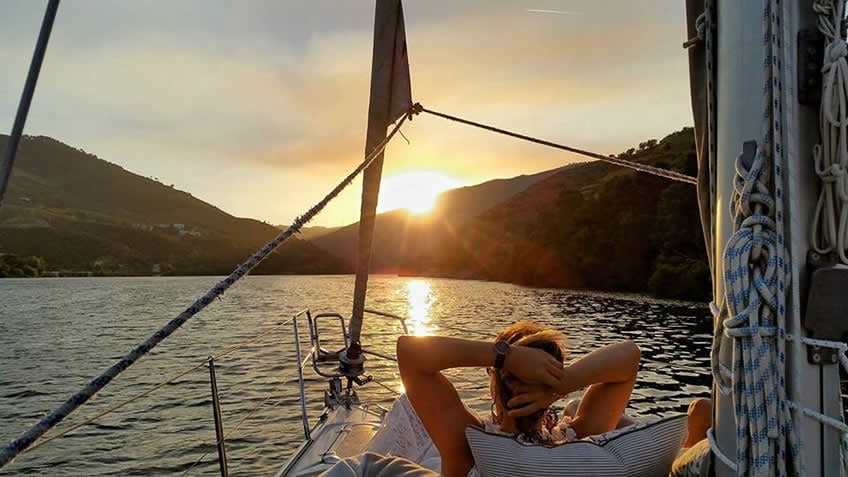 A trip to the Douro Valley would not be complete without some time on the water. The river is the region's defining feature and the journey upriver is one of the most scenic in the world, with staggering views of the dramatic valley covered in bright green rows of grape vines.
Relax on board of a private sailing boat with a drink in hand and don't forget the swimsuit. River cruises are, after all, a summer staple. The summer months bring bright, sunny weather and warm temperatures to the Douro Valley, perfect for enjoying the outdoors and spending some time on the water.
This is one of our most popular cruise options in the Douro Valley and it's perfect for those looking for a short-duration, intimate experience.
Cruising in the Douro Valley is an amazing opportunity to see the greatest meeting of land and river on earth and explore the beautiful setting. This cruise is the perfect sightseeing tour for first-timers and those short on time, plus you'll enjoy being out on the water instead of inside a car. As summer temperatures pick, you'll certainly enjoy the opportunity to dive into the river and cool off.
Catch the boat from the Folgosa Pier, just outside DOC Restaurant, and enjoy a 2-hour cruise with a complimentary drink on board. There's also a Romantic Dinner Program available, as well as an Overnight Stay Program for those who'd love to sleep over the water.
Libertu's is a 10,5 meters (34 feet) Dehler sailing ship with a 14 meters (45 feet) mast and a capacity of up to 12 passengers and is luxuriously equipped with 2 rooms, a lounge area, kitchen and WC.
If you'd like to extend the tour to include a visit to a winery, lunch on board or even a full-day program with the opportunity of going through one of the river locks, please shoot us an email and we'll get back to you with details and costs.
The price listed is based on a seven-person minimum (or pay €320 for two).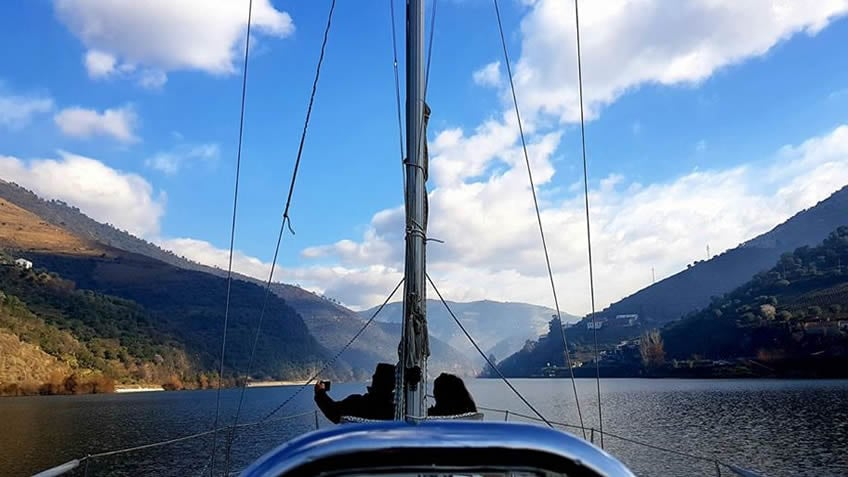 Pipadouro offers classic or tailor made programs, from two-hour trips to overnight stays. These are luxury river cruises, entirely private, which draw inspiration from the character and old-fashioned charm of classic gentleman's yachts.
The term 'gentleman's yacht' conjures images of sophistication, often suggesting pre-1970s classic sailing yachts, which allowed gentlemen to entertain and socialize in heightened comfort and style.
There are several programs available for direct purchase through our website, which can be tailored to your specific needs, from starting times to lunch menus. Some 1-day programs include a visit to a nearby winery followed by a wine tasting session, or even lunch or dinner on board catered by Michelin-awarded chef Rui Paula. Others offer a full day of navigation and passage through a lock where you can spend all day touring along the river and enjoying the delights of the landscape, food and wine in all its glory.
Built in 1957 for the British Royal Navy, their 20-meters (66 feet) Honduran mahogany yacht features a beautiful deck, two rooms each equipped with its own bathroom, and covered lounge area. Ever since its renovation in 2007, it is equipped with a new security system, air conditioning, and updated waste treatment system.
From entire events, ceremonies and venues to the smallest details, Pipadouro offers complete custom tours designed according to your own wishes. If you have something special in mind, ask for a quote and we'll help you make it happen.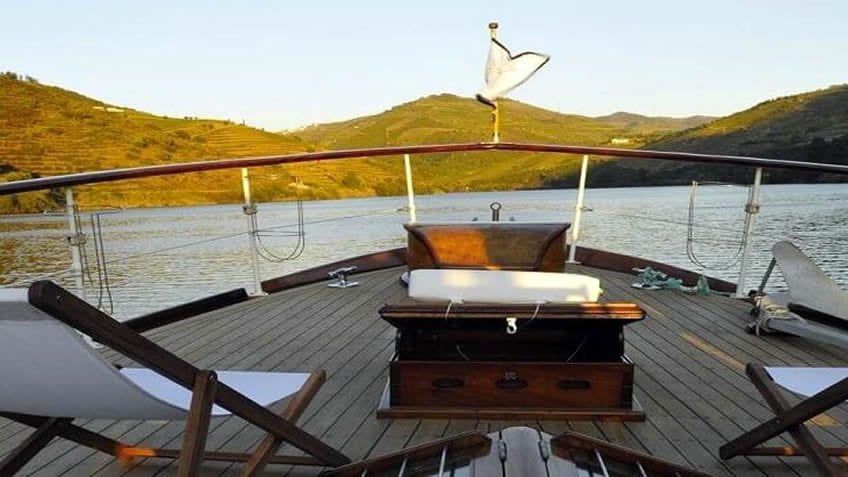 FeelDouro offers private cruises departing from either Porto and the Upper Douro Region. It is all about custom tours and tailor made programs which can last from a couple hours to two weeks depending on what you're looking for.
Those starting in Porto - Portugal's second city, located on the mouth of the Douro River and a great base for exploring the Valley Region - have different duration and itineraries. One of the most popular programs is the 2-hour cruise along the city banks, which allows for an entirely different perspective of the city and the beautiful colorful houses along the river margins. If you're looking for a countryside escape there are several programs available departing directly from the city which will take you halfway up into the Douro Valley or right to the heart of the wine region, with a picnic at the beautiful Ilha dos Amores or a lunch at a local, traditional restaurant.
If you'll be staying in the Douro Region, you can choose a 3-hour program or a full-day one, with a pit stop for lunch along the way, all available directly through our website.
Their fleet consists of 5 modern yachts and 1 catamaran, 10 to 12 meters long (33 to 39 feet long) and a capacity of up to 16 people. They're perfect for a summer party with their wide outdoor areas and bathing platforms, as well as inside lounge area and fully equipped bathroom.
Aside from the off-the-rack programs, FeelDouro is the perfect solution if you're looking for a customized option either for a friends reunion or corporate event. Cruises can last as many hours as you'd like and even into the night. If you're in charge of organizing one of these events yourself, send us an email and tell us what you have in mind.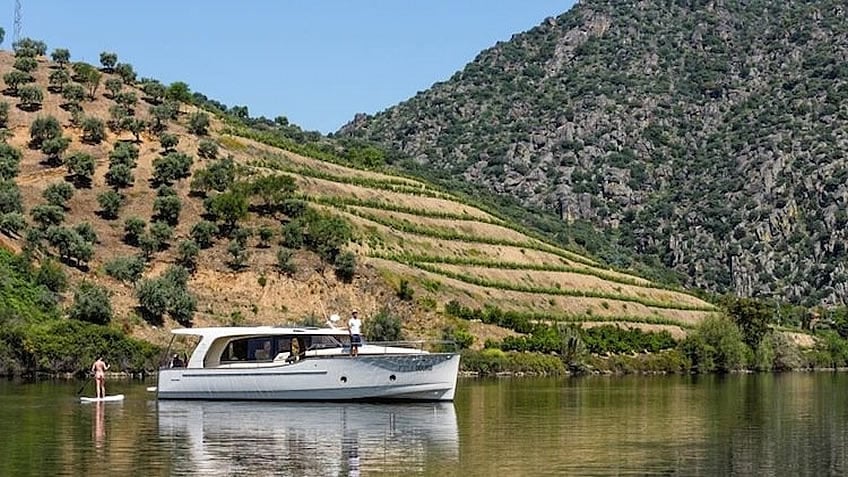 No one knows better than you what you want. But our staff has the experience and knowledge to show what is available and what is possible.
By booking with us, you'll work with one dedicated consultant, who will not only take the time to listen to your requests, but also discuss different options with you. All of this coupled with a knowledge of the country means you'll get the best out of the time you have to spend on your next tour in Portugal.