The Peninsula of Setúbal acquired great prestige and importance in the last decades of the twentieth century and is one of the most beautiful regions in Portugal.
Top Destinations in the Setúbal Peninsula
Between the hills and the river, this is a region of diverse flavors, history, unique landscapes, and welcoming people with smiles and open arms. Setúbal Peninsula offers exceptional conditions for tourism. From great infrastructures and heritage buildings to rich historical diversity, you'll have no trouble finding interesting experiences around every corner.
Setúbal
Setúbal city is the focal point of a hinterland like few others full of contrasts, running across blues, greens, and whites of homes. This city offers an incomparable set of delightful characteristics that few other Portuguese regions may claim to enjoy.

With the Arrábida hills to the west, the Sado Estuary Natural Reserve to the east, and one of the finest bays in the world, Setubal offers the comforts of a big city and, at the same time, the peacefulness that only nature can provide. The panoramic road that serpents around the Arrabida hills provides stunning views that will make you want to stop every few minutes to gaze at the natural spectacle.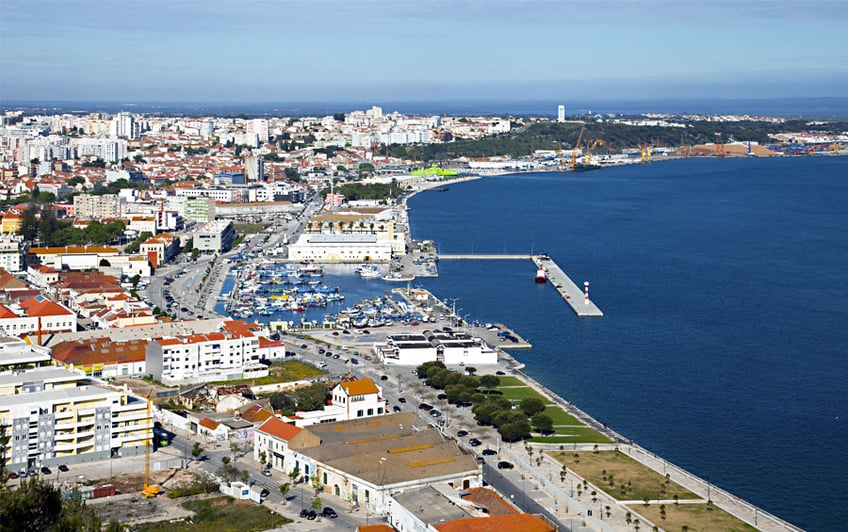 Its renowned gastronomy, which includes delicious grilled fish specialties, along with its monuments and natural beauty, turn this region into a tourist landmark. Adding to this, the Arrabida hills and Sado River provide an escape from city life where you can endure activities such as dolphin watching, outdoor sports, or relaxing on its beaches.
Wine
Setúbal Peninsula is one of Portugal's 14 wine regions and is quickly becoming a prime destination for wine tourism. Besides great wines, it also offers many wine-related experiences, such as visits to wineries, wine, and regional product tastings, among others. From the large farms dominated by the variety Castelão to the Moscatel, one of the national dessert wines, this region has always played a leading role in the history of Portuguese wines. Wine has been part of this particular region for thousands of years, in fact, grapes of seeds were found in archaeological excavations dating from the 8th century BC. Studies estimate that vineyard cultivation was introduced in the region in 2000 years BC by the Tartessians.
Best Wine Experiences
Herdade da Comporta
This herdade (winery) is located just 1 hour away from Lisbon and 40 minutes from the city center of Setubal and is framed in a unique landscape. In an area that covers more than 30,000 acres, this herdade crosses dunes, beaches, and forests and embraces two municipalities! A large plot of its land is integrated into the Sado Estuary Natural Reserve. Here, you'll be able to explore one of the most astounding wine estates in Portugal and access amazing wine experiences, such as wine cellar guided tours, and wine and regional product tastings.
José Maria da Fonseca
This winery is located in the heart of the Peninsula just 30 minutes away from Lisbon. Without disregarding modernization, it has been able to preserve its rich heritage and it meets the standards of the most demanding consumers. This wine estate's history dates back to 1834 when it was established by José Maria da Fonseca and it encompasses more than 30 high-quality wine brands that represent, not only the Setubal Peninsula but also other Portuguese wine regions. At this winery, you can visit the House Museum, built in the 19th century, walk through the beautiful gardens, tour the wine cellars, and taste the famous Muscat wines.
Palace, Museum, and Quinta da Bacalhôa
These estates are part of the Setúbal Peninsula's heritage and history and their origins date back to the 14th century. Surrounded by a unique landscape, the palace architecture and décor testify to the age of Portuguese discoveries inspired in the exploring journeys to distant lands. It is also on this property that the first dated tile in Portugal can be found.

In the museum, you'll find three thematic art collections. The first one is a tribute to the great Nelson Mandela. The second one is a glamorous mix of Art Nouveau with Art Deco. The last one refers to the significance of the tile in Portugal, a genuine national contribution to the world's artistic and cultural heritage.
Bacalhôa offers a differentiated ambiance to its visitors and aims to exceed their expectations by providing memorable wine experiences such as a guided tour to the Bacalhôa museum, palace, and gardens accompanied by a tasting of high-quality wines, and also the possibility of having lunch and dinner at the Bacalhôa palace.
Serenada Enoturismo, Winery
For last, but not least, Serenada Winery is also part of the region's heritage and history. It has belonged to the same family since the 17th century! A visit to this wine estate is also a visit to this family heritage, where the passion for wine and its cultivation passes on from one generation to the next. A bit farther from Lisbon than the previously mentioned wineries, but with good access, you can get there in one hour and a half driving from the capital.
Surrounded by centennial olive trees, a wide area of cork oaks, and the largest extension of pine trees in the country, its vineyards are located just 10km from the coast. Because of this, the grapes benefit from the fresh Atlantic breeze that provides conditions for proper maturation, resulting in very interesting and high-quality wines.
On a visit there, you'll be able to tour the property and discover its unique wines. You can also participate in a wine workshop that includes wine tasting, and a visit to the wine cellar and vineyards in the company of an enologist.
Setúbal Peninsula is definitely an unmissable region if you visit Portugal. Its close location to Lisbon allows travelers to easily arrive there. You can even book a tour to Setubal Peninsula where they pick you up from your hotel and drive you around the region while showing you the best experiences and landscapes. Whatever you decide to do when traveling through Portugal, make sure you dedicate time to discovering this enchanting region.