For travelers seeking a private experience, most wineries and restaurants offer the option of exclusive tours and tastings, along with several other wine-related experiences. As you ponder over which places to visit in 2021, we give you a handful of reasons why you should book a private tour as well as our best options throughout this wine country.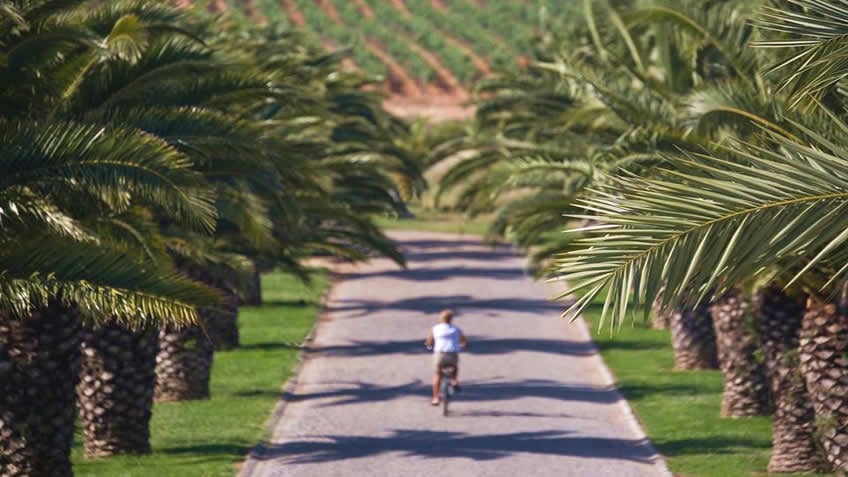 Private tours offer an entirely different experience from regular group tours. By choosing a private tour you'll have direct access to an experienced guide, who will answer your questions promptly and share information that otherwise they wouldn't have the time for. And, unlike what most think, prices are not that high, as it will include a private expert guiding you throughout the experience, the premium products for tasting and access to exclusivity and private places otherwise not available.
Some private experiences are available as standalone purchases on our website while the possibilities are endless when designed upon request.
Here we'll run through some of our client's favorite private experiences from our properties, from north to south.
The best private experiences in Portugal
Lisbon and Porto
Portugal has been the hottest travel destination and one of the most awarded, one of the reasons for that is the country's strong hospitality tradition, and the excellent quality of its wines and culinary treats. The Portuguese capital has become unexpectedly fashionable in the past decade as travelers from all around the world set foot upon this historical yet cosmopolitan city. There is no shortage of sightseeing places on top of every hill and the view is colorful and the light is just amazing.
Portugal's second city - but with no shortage of cosmopolitan attractions - is only a three-hour drive from Lisbon. The famous port wine is the namesake of the oceanfront city of Porto, a must-visit destination for wine lovers and a charming city to visit plenty of architectural interest, being Ribeira neighborhood a UNESCO protected landscape.
In both cities, we can provide exclusive walking guided tours - in different languages and entirely private, where you'll have the guide all for yourself - which will take you through both cities' most picturesque neighborhood and landmarks making the most of your time.
Though no trip to Portugal is complete without a stop in Lisbon, for those looking for a more laid-back vacation setting, there is plenty to see and do beyond the city limits, just a short drive away. Around Lisbon, you'll find some of the most traditional yet cutting-edge wine producing estates in the country.
Located just outside the small town of Bombarral, Quinta do Sanguinhal has been in the same family for 4 generations. This traditional wine estate has a rustic, almost idyllic charm to it. Part of the tour takes place outside in the beautiful gardens leading to the vines. You'll be shown through the barrel room where fortified wines are still made, and the antique distillery before a tasting session in the old pressing room. The tasting features seven wines as well as a selection of regional products - including some heavenly custard tarts -, and you may also combine it with lunch.
Travel an hour south from Lisbon and you'll discover Quinta da Bacalhôa. An innovative winery, palace and museum, with an astounding collection of contemporary sculptures and African art, Bacalhôa developed over the years a wide range of wines. The property stands on a former royal estate dating back to the 15th century, complete with a formal miniature maze, a large pond, and vines all within its walls. Aside from the daily group tours, they offer specific wine tastings paired with regional products, as well as the unique opportunity to have an entirely private dinner at the palace, available for a minimum of 6 people.
Our private all-inclusive Lisbon Luxury Tour has been designed for travelers wanting to experience the best hotels, restaurants, and cultural getaways the city has to offer. A private driver will allow you the opportunity to delve deeper into the surrounding area and attractions, from the beautiful coastline to the wine-producing countryside.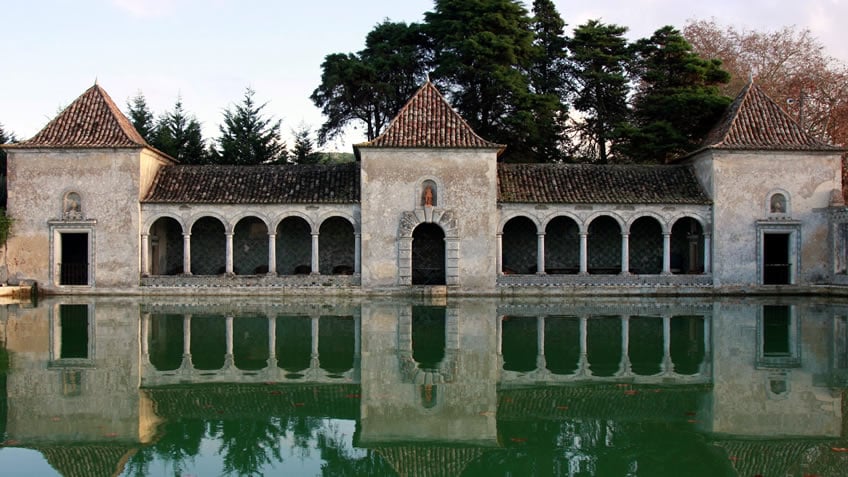 If you're visiting Porto, head to the city's long established port-wine cellars and take your pick between - among many others - Graham's Port Lodge and Taylor's.
The first alone will give you great views and excellent port wines. Their magnificent lodge is situated on a commanding ridge across the Douro River from Porto, affording spectacular views of Porto's historic city centre. For a more personal, in-depth experience, go with one of their private tours - specially crafted for all of our fellow wine geeks out there.
Established over three centuries ago in 1692, Taylor's is one of the oldest of the founding port houses and it is dedicated entirely to the production of Port wine. The visitor is given the opportunity to take a masterclass led by in-house wine professionals where they'll learn about vintage or tawny port. A private tour of the famous lodges is also included, with a visit to the staggering wine cellar, piled to the ceiling with huge barrels, followed by a wine tasting.
If you're looking to get an overview of the city,our private all-inclusive Porto Tour sums up everything you need to do before heading home. However, many of those who visit the city, pair it with a countryside escape in the Douro Valley. On our Tour in Porto and Douro we combine city and country on a luxury 7-day trip which will give you enough time to explore the best both locations have to offer.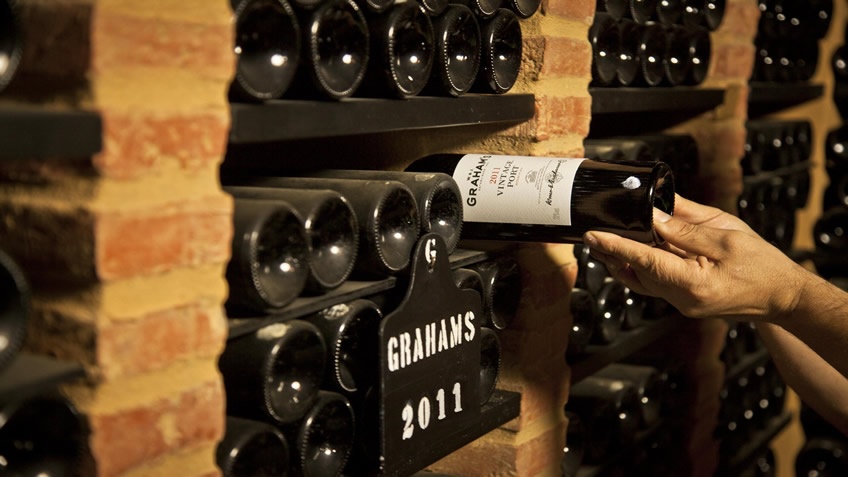 Douro Valley
If you're in the northern part of the country for more than a couple of days, don't miss out on the chance to head further inland to the Douro Valley. Near the picturesque wine town of Pinhão, you'll find Quinta das Carvalhas. This is one of the region's signature estates, with a breath-taking 360 degrees view over the surrounding valley. You can take a VIP Vineyard Tour here, enjoy a wine tasting, and chat directly with the in-house agricultural engineer about one of the world's most singular wine regions and its wines.
Nearby is Quinta de La Rosa. Back in the beginning of the 19th century, they were one of the first to realize that quality table wines were possible, in a time when the region was solely known for its fortified wines. Unlike most port houses – which make their port in the Douro but store and bottle it in Porto - La Rosa does everything in the Douro and they're able to show both wine and port making processes side by side. The visitor is given the chance to have a commented wine tasting with the estate's owner herself at the family's private wine cellar.
Worldly recognized for its wines and beautiful scenery, the river forms the backbone of the valley named after it. On the bordering slopes, vineyard terraces and rows were artfully carved into the land like steps, spotted here and there by century-old manors. Among them is the beautiful Quinta Nova Luxury Winery House, billed as the first wine hotel in Portugal, where visitors can take part in a number of wine-themed activities. One of their most popular group activities is the Winemaker for a Day - available for groups of 8 or more - which will take you through the process of making your own wine, from blending to bottling and corking. At the end, you'll get to take your own bottle of wine with you.
No visit to the Douro Valley would be complete without a river cruise. Cruising in the Douro Valley is an amazing opportunity to enjoy the diversity of culture and landscapes along the Douro banks. There are several programs available for direct purchase through our website, which can be tailored to your specific needs.
Pipadouro offers classic and tailor made programs, from two-hour trips to overnight stays. Departing from Pinhão, these are luxury river cruises, entirely private, which draw inspiration from the character and old-fashioned charm of classic gentleman's yachts. Some 1-day programs include a visit to a nearby winery followed by a wine tasting session, or even lunch or dinner on board catered by Michelin-awarded chef Rui Paula.
Departing from Folgosa Pier - near the town of Régua - Douro à Vela most popular program is a 2-hour sunset cruise on board a 10,5-meters (34-feet) Dehler sailing ship. There's also a Romantic Dinner Program available, as well as an Overnight Stay Program for those who'd love to sleep over the water. It is also possible to extend the tour to include a visit to a winery, lunch on board or even a full-day program with the opportunity of going through one of the river locks.
How to choose your Cruise experience? Find it here.
And like every great destination, you'll never run out of things to do. Either on a 5-day experience or 7-day luxury tour, we'll make sure you won't leave any stone unturned. You'll have the opportunity to stay at the best hotels, visit the most emblematic wineries and restaurants in the area, while crossing some things off your bucket list on the way.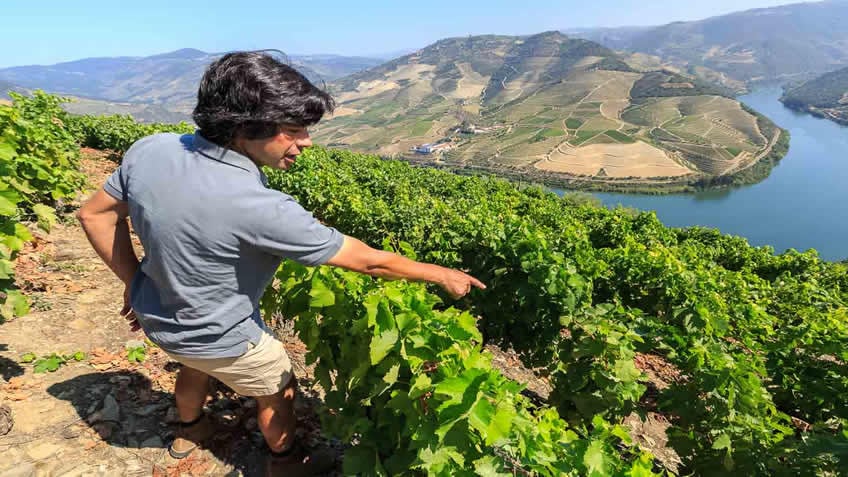 Alentejo
For those looking for a more bucolic setting, the Alentejo is the place to go. This sun-baked land - a couple hours away from the capital - has been dubbed both the Provence and Tuscany of Portugal and is enjoying a growing popularity for its beautiful landscapes, and outstanding food and wine culture.
More than a hotel, L'AND Vineyards is an exclusive wine resort which offers a set of wine-related activities such as a Wine Tasting Course and Private Guided Tour of the property customized to your wine preferences and led by the in-house wine concierge. He'll help you choose which wines to buy and will assist you with shipping them home.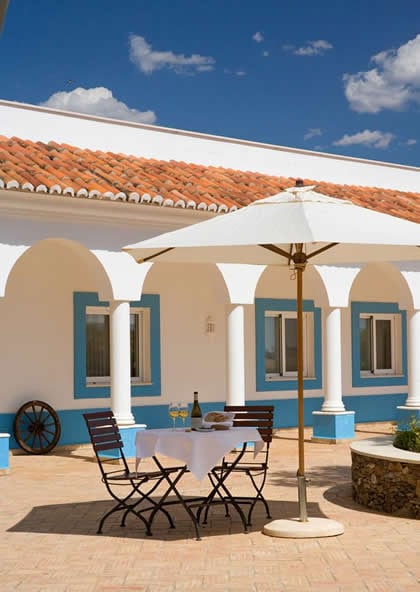 Near the beautiful village of Estremoz is João Portugal Ramos and the beautiful Adega Vila Santa. Built in accordance with the region's traditional architecture, Vila Santa offers several different wine tasting experiences, as well as a handful of lunch programs available for two or more people. All of them include a tour of the winery and cellars and the lunch menu varies from one to the other but it is always rooted in the flavorful Alentejo cuisine. If you're looking for something special go with the cooking workshop or spend the day with the winemaker.
From there, it's a short ride to the picturesque village of Arraiolos, famed for its exquisite handwoven rugs. Nearby Monte da Ravasqueira is just one of the many traditional wineries which have opened their doors to curious wine enthusiasts. If you're traveling in a group of 10 or more, it is a great place for a gathering over a very nice meal.
Further south is the charming country estate Herdade dos Grous. This beautifully secluded country estate spreads across over 1700 acres of gardens, olive groves, and vineyards. Grous offers guided tours of the producing facilities followed by a wine tasting session, as well as the opportunity to spend the day with the in-house oenologist where you'll learn about winemaking and viticulture.
In our 6-day tour in Alentejo, we've round up the region's best restaurants, country estates, and places to stay. If you don't have that much time to spare, our 3-day tour will give you a 101 introduction to what you can do, see, and enjoy in Alentejo.
Discover all the wineries you can't miss in Alentejo, here.
A customized solution just for you
Custom trips are building up a head of steam and are only limited by your imagination. On the other hand, our expertise is in creating an itinerary that runs smoothly and is perfectly suited to your needs.
Creating a custom trip begins with a Q&A session for the purpose of narrowing down possibilities to a realistic plan. You will work with one dedicated consultant, who will not only take time to listen to your requests, but also discuss different options with you. In the process, you'll save yourself the anxiety of having to rush with bookings and making the necessary arrangements.
If you're looking for something different, we'd be happy to tailor-make you a trip from scratch. Tell us your plan and we'll do the rest!